There is an ongoing debate in the shotgun community. Mossberg 500 vs Maverick 88. Which one is better? While I'm not here to provide you the answer to that, I'm here to provide you with some of the best Maverick 88 upgrades you can do.
With proper upgrades, it can compete if not outright beat the Mossberg 500. Fun fact, you can also do some upgrades to your Mossberg 500 as well. But that's not the motto here.
Each gun has its advantages and disadvantages. You are here to make the best out of those Maverick 88 advantages. Let's start.
1. Maverick 88 Stock Upgrades
The buttstock of a shotgun is a crucial part of the gun. Factory stock of the gun is not that bad. But it could use an upgrade. Here are some of the best Maverick 88 buttstocks you can buy right now.
i) Mossberg & Sons Synthetic Maverick 88 Stock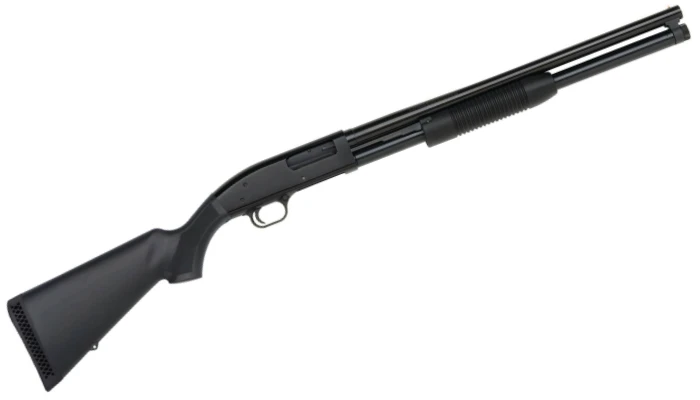 This synthetic stock is made by Mossberg for 835 590 500 models. But the stock is compatible with Maverick 88. As the name suggests, the stock is made out of synthetic polymer. A durable material that is also known to be comfortable.
The texture on the stock is quite nice to grab into. While it's not as soft as a rubber stock, it's quite grippy nonetheless. The weight of the stock is around 1.75 lbs. That's not too heavy to tilt the weight to the back by too much.
The stock isn't adjustable nor is it foldable. But it's a stock that will improve the stability of your gun and will help you control the recoil better. Something all hunters need in their shotgun.
ii) Magpul SGA Ambidextrous Butt Stock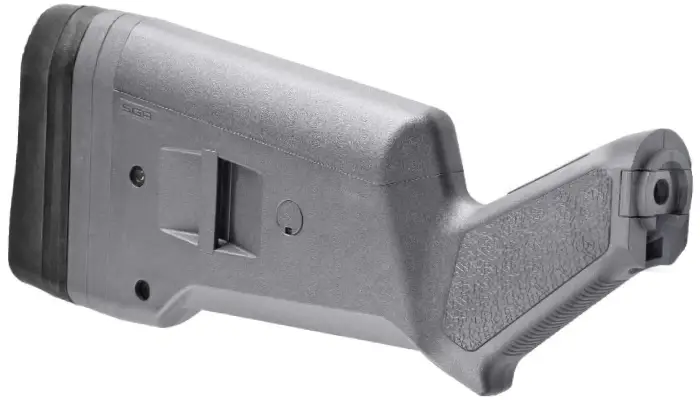 Magpul is one of the largest gun accessories makers in the USA. This American brand has been providing hunters and tac shooters with quality products ever since they started service.
The SGA is not made for the 88. But it's made for Mossberg 500. And like plenty of other Mossberg 500 accessories, this one is compatible with Maverick 88. This stock is made out of reinforced polymer.
Just like every other Magpul accessory, this one was made with durability in mind as well. On top of that, the flat dark earth color looks extremely appealing. For the price, this buttstock is unbeatable.
2. Maverick 88 Forend Upgrades
The stock forend grip of the Maverick 88 is decent. Just like the stock gun that is. But the upgrade path of this gun is quite huge. Upgrading the foregrip to make it even more stable and easier to shoot makes sense.
i) Black Magnum Maverick 88 Custom Forearm Strap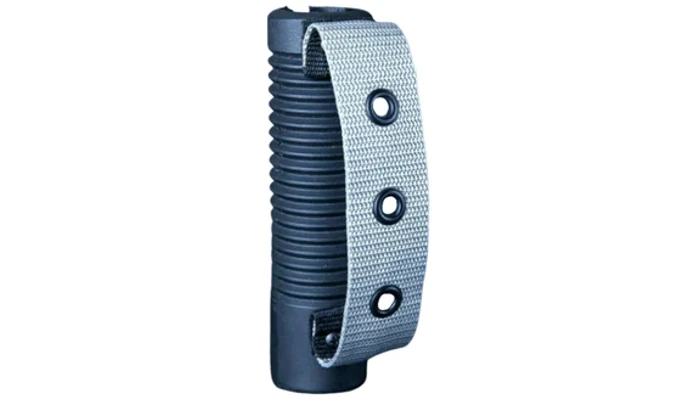 This custom foregrip made by Black Magnum is the ideal companion for your Maverick 88. The Maverick 88 stock foregrip doesn't have any strap in it. That's why grabbing it by the forearm is not the most comfortable experience.
By using this foregrip, your hand will stay firm inside the strap. The idea behind this is the same as a pistol brace with a strap. It's to keep your arm from moving. This way, you can control the recoil better. Resetting after each shot becomes easier with this foregrip as well.
ii) Shockwave Technologies Tactical Forend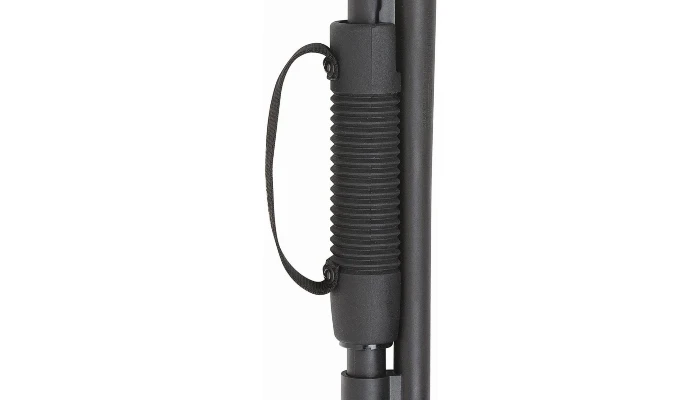 This Shockwave Tactical forend grip follows in the same footsteps of Black Magnum. This forend grip also comes with a strap. For a shotgun foregrip, the strap plays an important role.
As we know, shotguns have a lot of kickback. You often lose composure and fall from your offhand. So, to prevent that, designers have adapted this method.
If your offhand arm can't move away from the foregrip, you can control the foregrip better. Thus, giving you a better chance at controlling the recoil.
3. Maverick 88 Sight Upgrades
You can argue against this upgrade. After all, you are going to use this for CQB. Why bother installing a sight, right? Wrong. A sight will improve your short-range shooting accuracy.
i) Truglo Glo-Dot II 12-20 Gauge Sight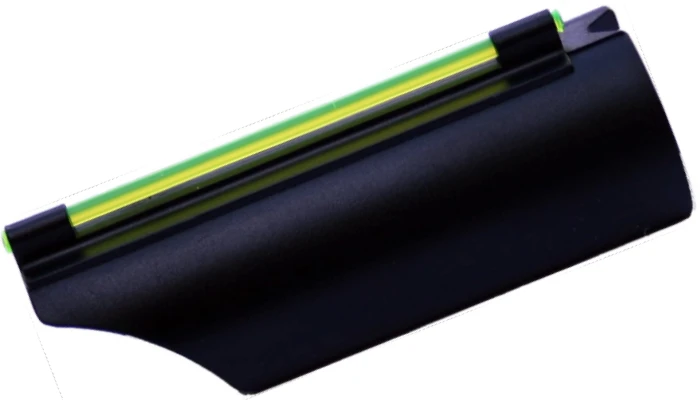 Truglo is one of the best night sight makers in the market. Their pistol night sights are just fabulous. The benefit of a night sight is, they are visible during the night as the name suggests.
On top of that, they don't require any kind of battery to operate. This is something most red dots require.
Glo-Dot II is a sight made for shotguns. It's a front sight that sits on top of the barrel of your gun. As it's basically light as a feather, it won't sway the weight at all. The tritium fiber stick in this sight is protected by a polymer shell.
Instead of metal, they did it to shave weight. But the polymer here is quite durable. And you can choose from green or red tritium.
ii) Ultimate Arms Gear Tactical Reflex Sight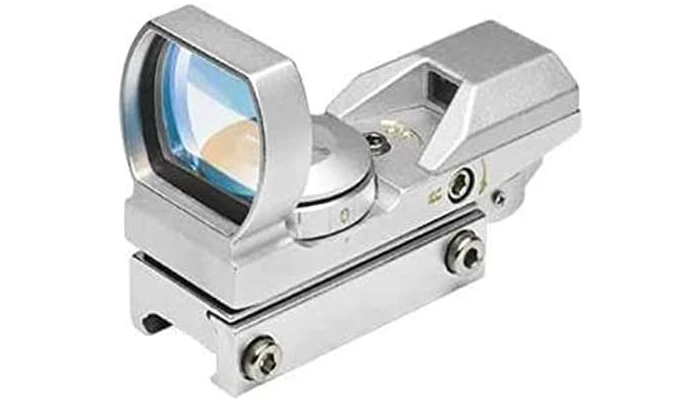 While there are quite a few 1x red dot options available for you to purchase, it doesn't make sense to buy a 1000$ red dot for a shotgun. That's why this red dot reflex sight from Ultimate Arms Gear is the perfect budget option.
With a fixed 1x magnification lens, the optic offers 4 reticle options. Either red or green dot reticle. You can adjust the brightness of it as well. But you cannot install this on your Maverick.
Not unless you buy the Trinity mounting rail for Maverick 88. This adapter will make your gun compatible with all Picatinny accessories. Including this wonderful 1x sight right here.
4. Maverick 88 Hunting Light Upgrades
Just like the Mossberg 500 and 590, the Maverick 88 is used as a hunting weapon quite often. Shotgun hunting is not a new method. In the wild, shotgun hunting is more effective against aggressive animals.
Anyway, to hunt during the night, you will need an artificial lighting source. What better way than getting a tactical light for Maverick 88?
i) Trinity 1000 Lumen Mossberg 500 Flashlight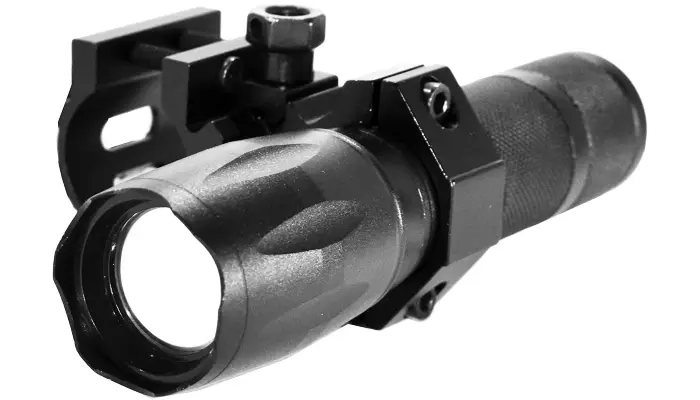 Like I mentioned earlier, the Maverick shares a lot of parts that are similar to the 500. The pump being one of them. So, you can use this flashlight on your Maverick 88 if you want to.
What makes it an even better deal is the replaceable LED light. The 3.5-watt LED bulb in the light is widely available locally. If somehow your light dies, you are not out of options to fix it.
The light is made out of 6061 T6 aluminum. An excellent material to make something like this that will take a lot of kicks from the recoil of the gun. And using this with the pump is not an issue at all. It won't interfere with your pumping.
ii) Trinity Tactical Green Laser Flashlight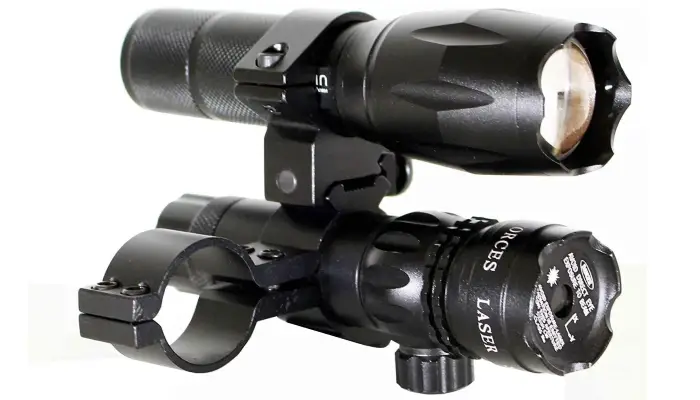 Another Trinity masterclass product. This laser sight is a 2-in-1 product. Something a budget enthusiast likes to death. While fancying a powerful green laser light at Class IIIa 635nM with less than 5mW power, this sight is completely legal.
The light and sight are smaller than your full sized flashlights that I just mentioned earlier. This waterproof torch also supports zoom in and zoom out. This feature in flashlights is amazing, to say the least.
With a durable alloy housing, water won't get inside it anytime soon. As the light is very power efficient, you can easily go on a full night hunting without worrying about the battery life. It won't add much weight to your gun either. Totally comfortable weight difference.
5. Maverick 88 Sling Upgrades
Just like the Mossberg 500, this one doesn't come with a sling from the factory either. To make it comfortable to carry and improve your overall hunting experience, you should invest in a good sling.
i) Maverick 88 Shotgun Ammo Sling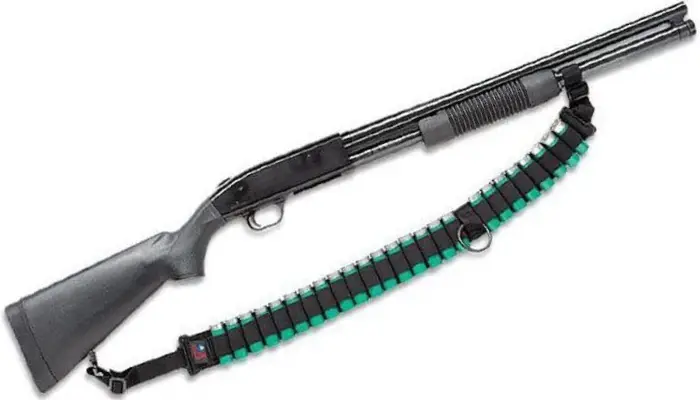 This shotgun ammo sling is made by Ace Case. An American brand that is working to make great shotgun accessories. As the name suggests, this sling is capable of carrying shotgun shells for you.
How many? 25 shells! That's right, this shotgun sling can carry 20 shells for you. The webbing on this is extremely comfortable. While it doesn't feature any padding, it's not uncomfortable to use at all.
But the adjustments here are quite low. You don't have much to adjust besides the edge of the sling on each side. That doesn't make it a weird purchase for short hunters. But for everyone else, this is a perfect choice.
ii) Mossberg Comfort Hunting Sling
Another Mossberg product for the Maverick. This sling here is marketed towards Mossberg 590. Lucky for you, this one works with Maverick 88 as well. This comfort sling was made for hunters.
Hunters tend to carry their weapons idle on their shoulders for a long time. Much longer than tac shooters, comfort is everything for them. It's a durable sling with a padded grip backing with rubber. The 2" comfort padded area will give you a comfortable carrying experience.
The webbing on this sling was made from Ballistic Nylon. It's excellent webbing. There is no residue left at any point of the sling. The integrated sling swivels are made out of metal. Ensuring longevity.
Should You Upgrade Maverick 88?
Alright, I saw this coming from miles away. Even though your prey won't see that. Jokes aside, the Maverick 88 is a great shotgun that is quite similar to another great shotgun, the Mossberg 500. Does that mean the 500 overshadowed this?
No, both of them have their communities and both are extremely popular among different sorts of crowds. While from the surface it seems like Mossberg 500 has more upgrade paths, Maverick has nearly similar paths as well.
So, if you want to build the ultimate hunting shotgun, upgrading your Maverick 88 is a must. Without proper accessories, it's a basic shotgun that even your neighbor has.
Conclusion
Maverick 88 is a lovely gun. You know it, I know it, the dog knows it. So, making the best out of that lovely gun makes perfect sense, doesn't it? That's why the gun deserves nothing but the best.
While there are some minor upgrades you can do down the line, these are the best Maverick 88 upgrades you can do right now. Making a custom sticker, a custom art for the body, those things can come later. And honestly, they look extremely cool.
And that's about it. That's all I have to say in this matter. I hope you found this upgrade guide useful. I will be back with more upgrade guides in the future. Till then, take care and keep yourself out of travel. Ciao.