Tavor X95 is one of the best bullpup carbines out there. Even then, you can improve the stock Tavor X95 accuracy by upgrading the gun. Bullpup carbines are fun, to say the least. Upgrading them is not that hard either.
But finding the best Tavor X95 Upgrades among so many Tavor X95 accessories is not a simple process. To make that process easier and provide you with a great performing gun, I have managed to put up a list of upgrades that you should do to your X95.
While there are quite a few upgrades that you can ignore, there are also few upgrades that you must do to the gun. That's why finding the right upgrades is absolutely necessary. Let me help you find them. Without further ado, let's get started and take our X95 to the next level.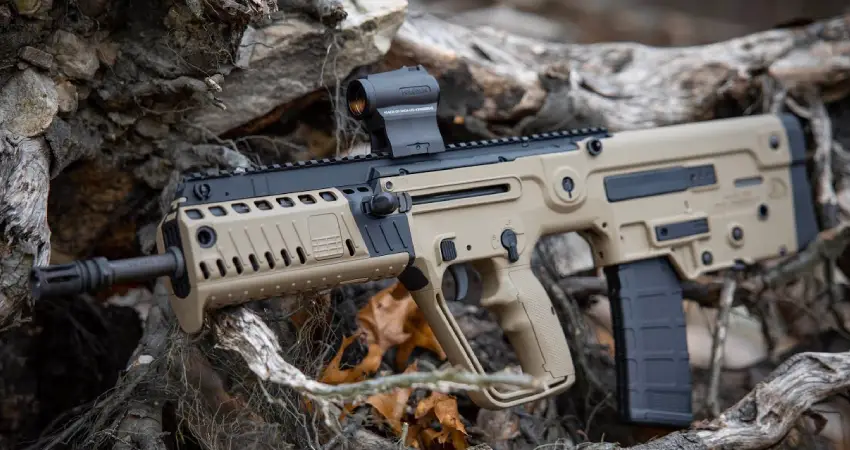 1. Tavor X95 Trigger Upgrade
The first gen of the Tavor X95 guns suffered from severe inconsistent trigger pull and miss-registering a lot. Even though they are past those issues now, the major upgrade you should do to your X95 is to ensure getting a better trigger system.
i) Geissele Automatics Super Sabra Trigger Pack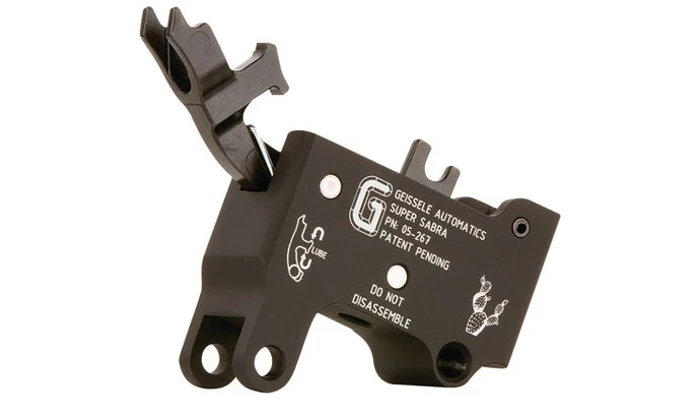 Geissele is one of the best trigger makers in the market. Their triggers for various different carbines is what makes them so relevant even now. This Super Sabra Trigger shines with the bullpup.
This precise 2-stage trigger allows you to adjust the weight of the trigger pull as well. The first stage has an adjustable weight between 3.5 to 5.5 lbs. While the second stage has a fixed 2 lbs weight.
Drop-in installation process makes it an appealing choice for lazy folks like me as well. You don't need to go to your local gunsmith to install this. As long as you know how to assemble and disassemble this gun that is.
2. Tavor X95 Handguard Upgrade
Handguards are quite an important part of guns like this. As they allow you to attach more accessories and they help you to grip the gun firmly. It helps you control the recoil a lot.
i) Manticore Arms X95 Cantilever Forend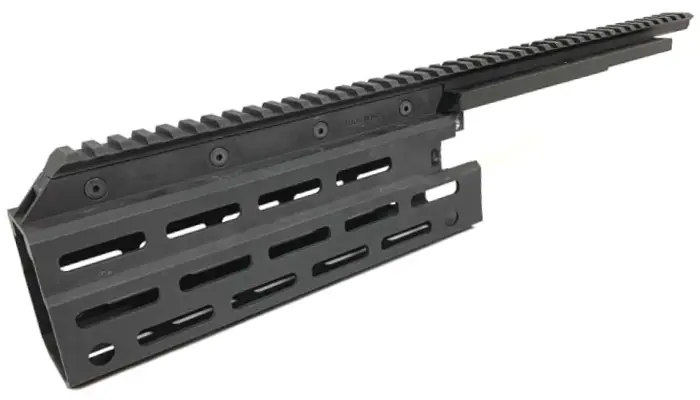 The Manticore Arms cantilever forend for X95 is made out of 6061 aluminum. This two part forend comes with a separate 39 slot picatinny rail for you to install accessories on top.
The forend is also made out of aluminum. It sits within the barrel height of your gun and doesn't interfere with it. Thanks to the AR-15 style internal chamber, this supports all Tavor X95 out there.
3. Tavor X95 Optic Upgrade
As you know already, the X95 doesn't come with any kind of scope. The mid-range accuracy of the gun is quite good. That's why people tend to upgrade the gun with a scope. Now that you have a handguard with mounting rail, it's about time you invest in a good scope as well.
i) Elcan SpecterDR Dual Role 1-4x32mm Rifle Scope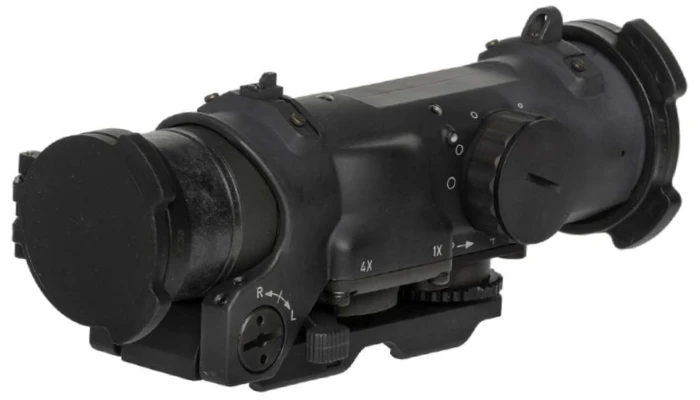 The first optic I would recommend is the Specter from Elcan. It's a premium rifle scope with a hefty price-tag. The rugged and steampunk theme really looks nice on the scope. Have to hand it to the designer for the looks.
The Specter comes in different colors. The scope is built with aircraft-grade aluminum. The finish is hard anodized. It doesn't have any flaws in the design or visual errors. The inside of the scope is also purged chemically to make it fogproof.
The lens is what makes it worth the money. This 4x scope is excellent in short and medium-range shooting. There is no distortion present in the scope and the magnification changes are smooth as well. Overall, it's one of the best Tavor X95 scopes on the market.
ii) EOTech HHS-I Holo/ EXPS3-4 Red Dot with G33 Magnifier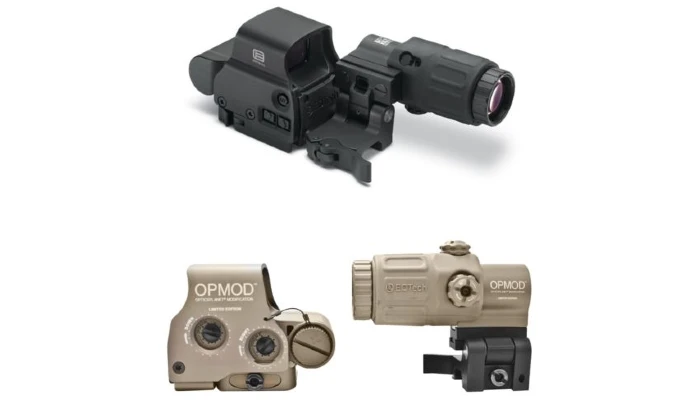 Eotech makes great holographic optics. Eotech EXPS3-4 and Eotech HHS-I combined are a hybrid holographic sight. When it comes to close quarter combat, holographic sight outperforms red dots often. That's why they are preferred by the US military as well.
Both the sight and the magnifier are made out of aluminum. Two extremely durable items that can serve you for a long time to come. The G33 magnifier comes with a flip to sight mounting system. Allowing you to use the holographic sight when you don't need the 3x magnification.
Holographic sights are preferred on a weapon like the X95. As the gun is suited for CQB more, you will be super accurate in short-range shooting. With the help of this combination, you can easily win tournaments and games.
4. Tavor X95 Weapon Light Upgrade
As bullpups are often used in nighttime shooting, a proper light source is always needed. Without a good weapon light, you won't be able to see during the dark at all. That's why you should think of investing in a good weapon light.
i) SureFire M600DF Ultra Scout Light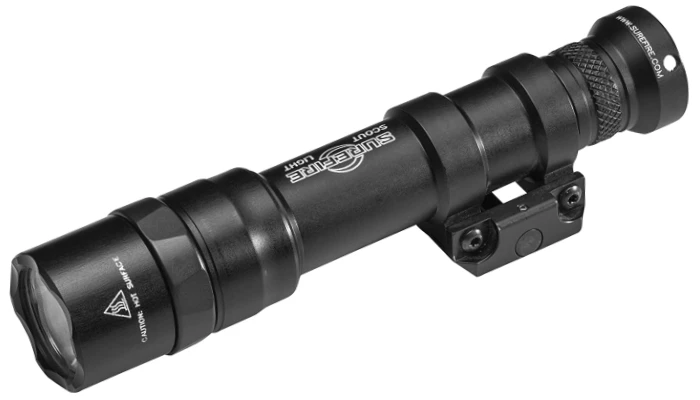 Surefire M600 lights are some of the best weapon lights you will ever come across. From solid build quality to humongous range, these lights are great for night wanderers. The M600DF comes with a 1500 lumens LED.
You can power this with a rechargeable lithium ion battery. Installing this is not that hard either. You will get the necessary mounting accessories in the package. With the screws needed for the job as well.
If you want a huge area covered during the night that will give you a solid battery backup as well, you cannot go wrong with the Surefire M600 series weapon lights.
But turning it on every time is a hassle. You could purchase a Surefire Pressure switch and install it near your natural hand positioning. That way, you can easily turn on or off the light on the fly.
However, to mount the light on your weapon, you will need an inline mount. The best possible option is from Arisaka. The Arisaka Defense Inline Scout M-Lok mounting bracket will come in a super clutch on the Tavor X95.
As for mounting the Surefire Pressure switch I mentioned above, you will need another mounting device. This small mounting device from Cloud Defensive is everything you need.
5. Tavor X95 Grip Upgrade
After installing the handguard on the gun, you can now proceed to install a separate grip to help you grab the gun better. Some prefer vertical grips while some prefer handstop. Here are both options for you guys to look into.
i) Magpul Industries M-LOK MVG Vertical Grip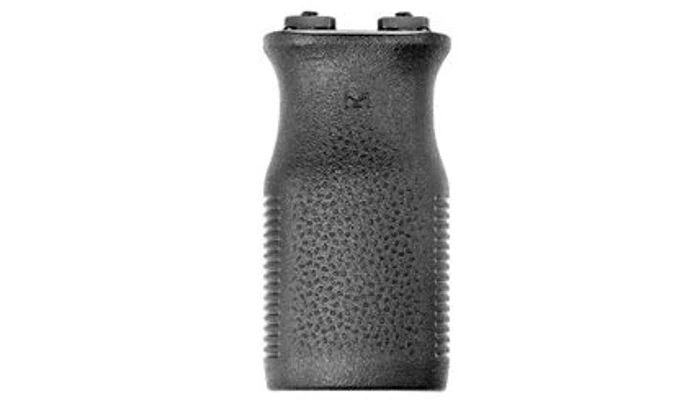 Magpul has 1 hand above everyone in terms of M-Lok accessories. This vertical grip from them is the go-to choice for most folks looking to make their weapon more comfortable around the front.
The grip is not made out of aluminum or steel. Rather synthetic material like polymer. Hardened plastic is stronger and more durable than ABS you see in toys. Polymer used in gun accessories isn't new. If you were worried about longevity, don't. Nothing to worry about.
The Magpul grip is available in tons of different colors. You can choose the color that goes with your custom Tavor X95.
i) Phase 5 Weapon Systems Inc Micro Stop M-LOK Hardware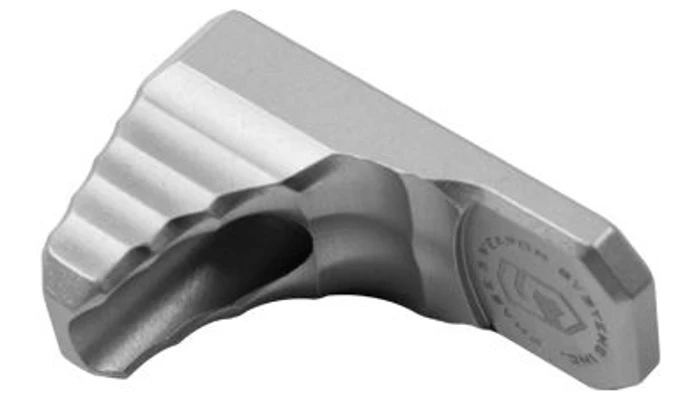 Phase 5 Weapon System is another great rifle accessories maker. While they are not that popular like other M-Lok accessories makers, they are quite proficient in their job. The purpose of this hand stop is to stop your hand from reaching the barrel.
On top of that, it gives you an angled grip that you can hold onto while firing. On paper it sounds like a great idea & On field that's a great idea as well. There have been countless incidents of touching the barrel accidentally and burning hands.
With this to indicate where your hand should stop, you can save yourself from that painful experience. If you don't enjoy vertical grips, this is what you should look into. It won't interfere with your sling either.
Should You Upgrade The Tavor X95?
Bullpup carbines are super fun. But they are not everyone's cup of tea. And that's totally understandable. If you are thinking that upgrading the Tavor X95 will turn it into a different gun, then you are gravely mistaken. But upgrading the gun will make it a better gun overall.
For example, a lot of people struggle with ammu management with bullpup rifles. After all, they fire pretty fast. With a couple of extra AR-15 magazines, you can easily avoid such issues.
Small upgrades like this and bigger ones like I mentioned above will turn your X95 into a beast. Consistency is the key to victory. Those upgrades are needed to make your gun more consistent and competition worthy. So, yes, the upgrades are totally worth it and you should invest in them.
Conclusion
There you have it. The upgrade path is all laid out with tons of options to choose from as well. I can imagine you being confused with so many options. But let's be real here, finding the best Tavor X95 upgrades isn't a child's play.
Of course, there will be options to choose from. But the benefit is, all of the options above are the right ones. No matter which one you choose, you are walking as a winner out of here.
And that's all for today folks. I hope you enjoyed the show. Don't forget to tune in later for more guides like this. Till then, take care and stay out of trouble.