To concealed carry users, HK VP9 is one of the famous names. You can use the pistol not only for self-defense purposes but also tactical purposes. They are extremely easy to carry and to make quick responses when needed. However, you can take your shooting experience to another level by making some changes in your firearm.
For a serious gun owner, gun upgrades are important because it allows him/her to enhance shooting skills. You will find many suggestions in the market while looking for upgrades for your VP9. Hence, to reduce your search-work, I have gathered the possible best upgrades you can consider for your gun. So, without any delay, let's get down to the business!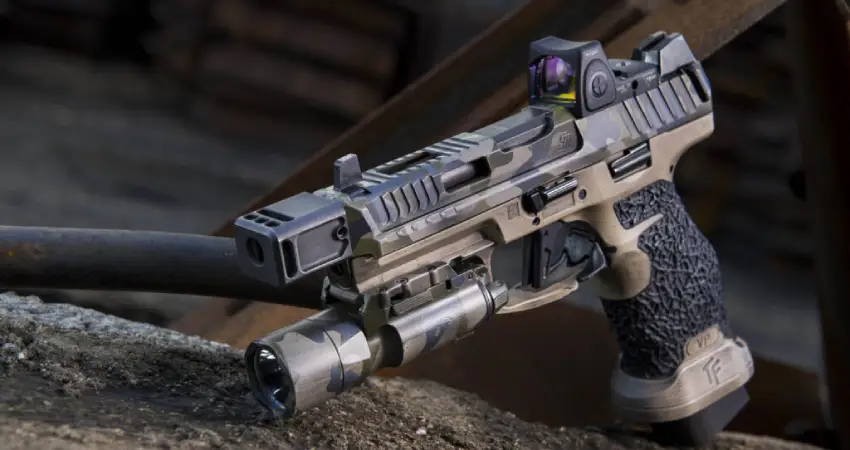 1. Best Vp9 Trigger Upgrade
In order to make rapid shots, it is important that the trigger works swiftly and takes little time to make overall travel. Well, there is no problem with the factory trigger. However, if you want to make your target acquisition more quick and precise, you should upgrade your VP9 trigger.
i) Lazy Wolf VP Series F3 – Full Flat Face Trigger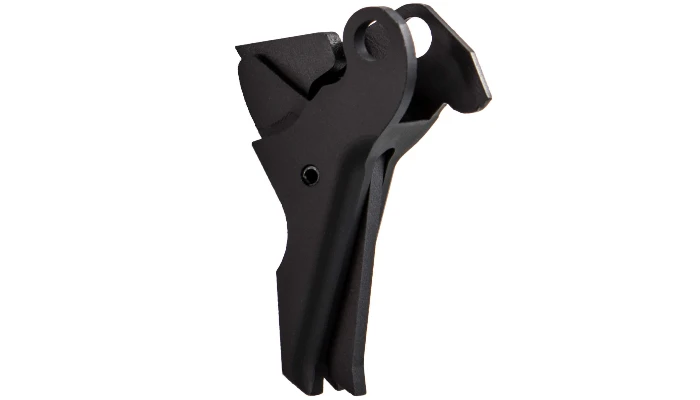 This is one of the finest aftermarket triggers you can find for your VP9 gun. What makes the trigger perfect for the gun is that it has been made by following the factory specifications.
Moreover, the trigger has been manufactured from the high quality material which ensures its durability in rough handling.
The flat face design works to give the shooter proper control as well as improves user interface. As a result, by installing the trigger you can enhance your shooting accuracy.
Note that the trigger is also available in curved style and in different colors, so if you want you can check these configurations as well before buying the trigger.
2. Hk Vp9 Grip Upgrade
It is important to have a proper grip of the gun when you aim for the target. With continuous use the factory grip of the gun loses its gripiness. Therefore, you might need a replacement for the grip. Below is the best grip you can find for your HK VP9.
i) Hogue Handall Full Size Grip Sleeve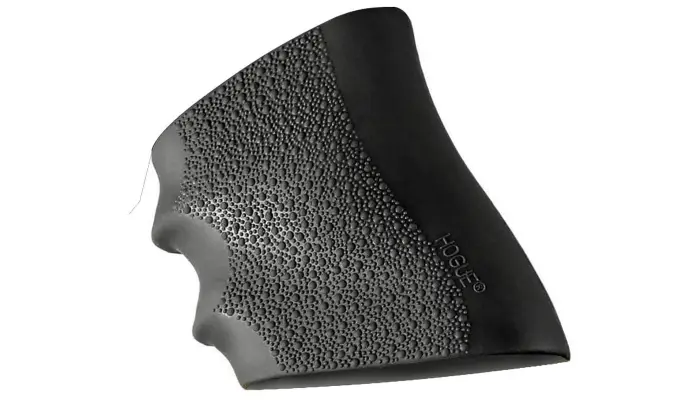 Whether you own a full-size gun or a semi-auto pistol, you can go for the grip. It is one of the most scientifically designed grip which has been crafted with a special contoured shape that hugs the contours of your gun. As a result, it gives a secure fit to your gun with no loose spots.
Additionally, the grip has been made out of a high quality modern soft but durable rubber material. Moreover, it has a unique cobblestone texture and ambidextrous palm swells for the ultimate comfortable shooting experience.
Besides, the grip is easy to install in the gun, so you won't need any lubricate in this process. Plus, it is impenetrable to oil and solvents.
3. Best Hk Vp9 Holster Upgrade
To keep your firearm safe from outer harmful elements, you should use a holster to store the gun. There are multiple options in holsters, however, not all of them will be suitable for VP9.
Especially when you use optics with the gun, finding a right holster becomes a bit difficult. Hence, I would suggest you to go with the following holster as it is the best around the market.
i) Blade-Tech Total Eclipse Ambidextrous Holster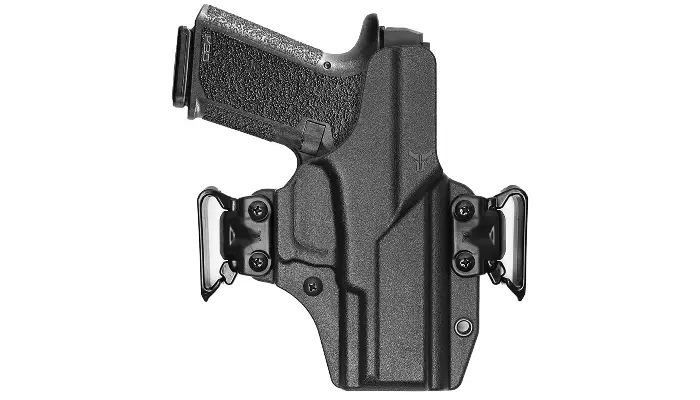 The holster is made to be an extremely user-friendly HK VP9 accessory. Both the left and right handed shooters can switch between the inside- and outside- waistband carry. The contour curved holster also comes with an attachment system. This klipt attachment allows you to easily holster on or take it off when needed.
Moreover, the holster has a durable plastic construction which is comfortable to wear as well. In addition, it has a partial dual sweat guard, ensuring that your sidearm remains protected.
Besides, the positive-lock trigger guard works to prevent snagging. Plus, it has an adjustable retention so that it can match with your draw-pressure preference.
4. H&K Vp9 Barrel Upgrade
If you want to mount muzzle devices on your VP9, you need a threaded barrel for your gun. Because the threaded barrel allows you to attach the devices on the gun. You will find many options in threaded barrels for VP9. But I believe the following suggested threaded barrel would be a best call for you.
i) SilencerCo Hk Vp9 Threaded 9mm 1/2×28 Barrel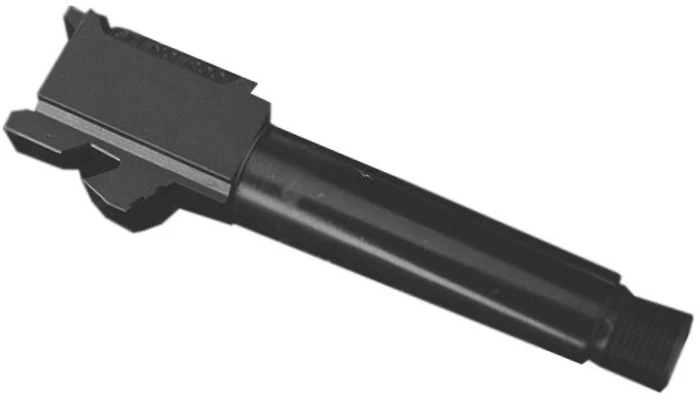 Since the barrel has been machined according to the factory dimensions, it installs perfectly on your VP9. The barrel is made to have a 1/2×28 thread pattern. Hence, it will be a right replacement for your factory barrel.
Plus, the barrel has rugged construction, enabling it to endure heavy impact or recoils.
This aftermarket part is crafted with 416R stainless steel which makes the barrel strong enough to withstand rough environment. With the help of the threaded barrel, you can upgrade your HK VP9 with different muzzle devices.
5. Vp9 Magazine Upgrade
The benefit of having a good capacity magazine helps you to make rapid shots without worrying about frequent reload of the rounds. So, it is wise to keep a backup magazine with more round loading capacity. Because it will enable you to make follow-up shots when needed.
i) ProMag H&K 9mm VP9 17 Rounds Magazine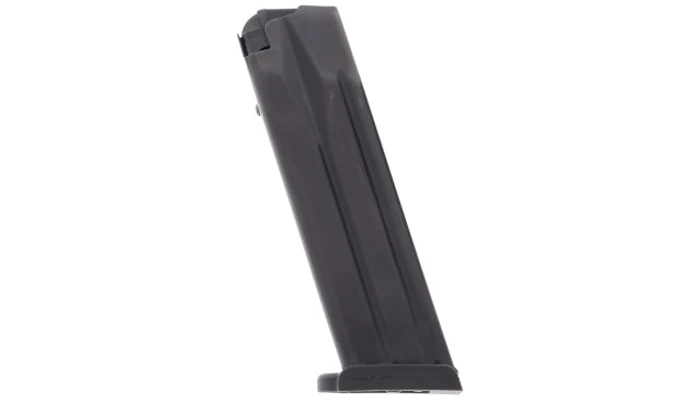 By replacing this magazine with your factory ones, you can have more reliable and smooth-feeding action with your HK VP9. If you own a 9mm cartridge VP9 gun and are looking for a large capacity magazine, you can consider this 17 rounds magazine without any worries!
Another best part of it is, the magazine has durable construction. It has been made out of heat-treated steel with polymer components.
As a result, it has better longevity compared to the other magazines. However, if you want a magazine with a more round capacity, you can choose the "HK P30 VP9 9mm 20rd Magazine" instead of this one.
6. Hk Vp9 Mounting Plate Upgrade
In case you have the original version of the VP9, you will need a mounting plate to install optics on the gun. However, finding the right mounting plate for the gun gets challenging. So, below is the one the best choices you can make to mount your optic on the gun.
i) EGW H&K VP9 Sight Mount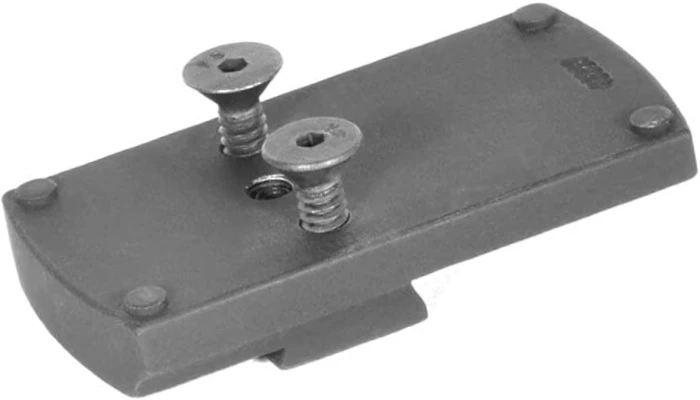 This mounting plate works not only on VP9 but also on other HK models such as HK VP9SK, HK VP40, HK P30, HK P30L, HK P30SK, HK 45, HK 45C. To enhance your shooting skills, it is essential that you upgrade your firearm with optics. Hence, you should consider this EGW Sight Mount for your non-optic ready HK VP9 versions.
You will find this mounting plate quite strong in terms of heavy impact and recoil endurance. It is mainly because it has been crafted with 7075 Aluminum which ensures its durability.
Plus, it also comes with matte black hard-coat finish. Note that, while installing the red dot sights, make sure you're installing them from the left to the right (with the muzzle facing forward).
7. Hk Vp9 Suppressor Upgrade
We all love to make rapid shots on the target and we all want to improve our accuracy. But sometimes the noises of the shots become an annoyance to many shooters.
Therefore, they look for a muzzle device that can eliminate the noise problem. So, if you want to mitigate the noise, you can consider the suggested suppressor for your VP9.
i) GRIFFIN Armanent Revolution 9mm 7.6in Suppressor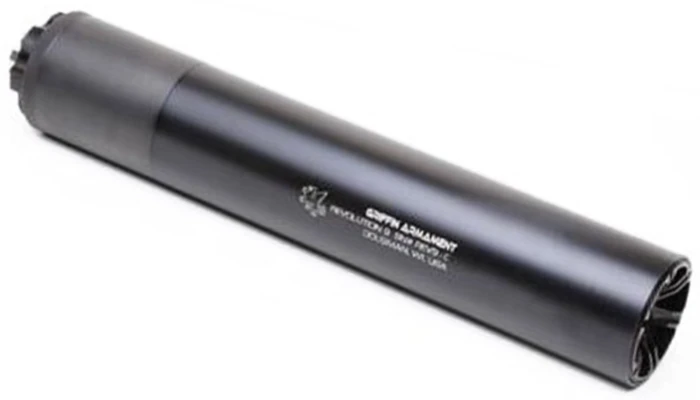 You can use the suppressor whenever you want. Whether you're in action field or in practice range, you can quickly attach or detach the suppressor on your firearm.
One of the good things of the suppressor is that it has durable construction. It has 17-4PH H900 heat treated baffles which works great in taking heavy impacts as well as reducing the noise.
Additionally, it comes with an easy return to zero baffle technology. Moreover, the device is provided with 1/2×28 Piston, Griffin Armorers Wrench, Front Cap take down tool.
Besides, it is also offered with a fully shielded silencer tube so that you can clean it easily. However, if you want to reduce your recoil effect as well, go with this "DPM Recoil Reduction System".
8. Hk Vp9 Optics Upgrade
By adding optic to your gun, you can take your shooting experience to another level. Optics come as a great help to make precise and quick shots on the target. They help you to aim better for accurate target acquisition. Depending on your shooting needs, you can go for any of these given optics.
i) Crimson Trace LG-499 Laserguard Laser Sight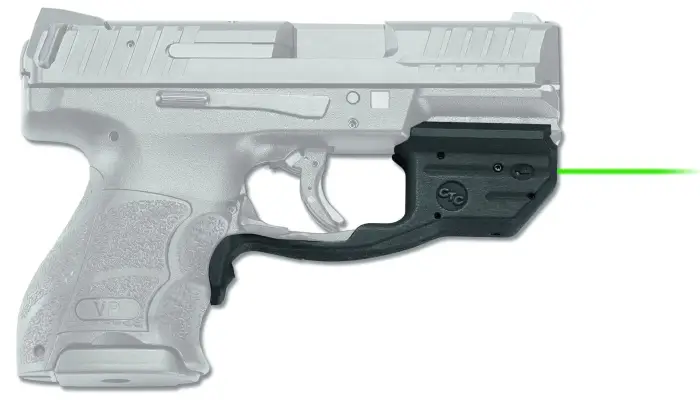 If you like to draw direct reference to the target, a laser sight is the best option for you. For a laser sight it is important for it to have a bright laser beam. So, keeping it in mind, the laser sight features a 5Mw peak, 515-532nm, class 3R visible green laser which is the brightest beam allowed by Law.
To operate the optic, it is provided with a 1/3N Battery, enabling the optic to run around 2 hours of its battery life. In addition, the laser is designed to have a front activation button so that you can quickly turn on the sight whenever needed.
Moreover, the installation system of the optic is really easy. Therefore, if you own guns such as Heckler & Koch VP9, VP40 & VP9SK, it is going to be a perfect choice for you.
ii) Trijicon RM06-C-700672 RMR Type 2 LED Sight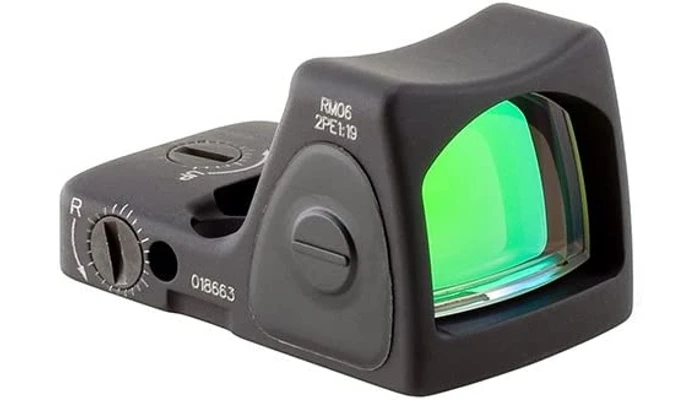 The red dots make your target acquisition faster and accurate. They are also lightweight to mount on the gun. So by installing this red dot, you can quickly aim for the target. The optic comes with both automatic and easy push buttons to control the brightness level.
Additionally, the brightness setting has 2 nv and 1 Super bright systems.
The optic is powered by a CR2032 Lithium Battery which allows you to use the red dot for more than 4 years of continuous use at 70ºF (21ºC)) at setting 4 of 8. Plus, it is equipped with a button lockout system, preventing any accidental adjustments in the optic. Besides, the red dot housing is forged with military-grade aluminum alloy, keeping any outer impact away from the lens.
iii) TRUGLO TFX Pro Tritium and Fiber Optic H&K VP9 Sight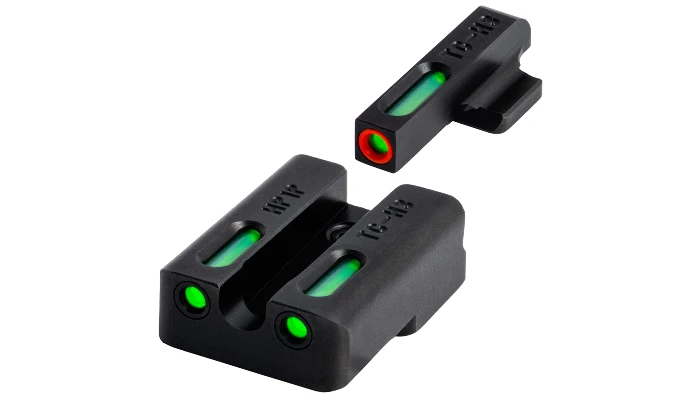 If you mostly shoot at nighttime, night sights will be a right choice for you. As the night sights are incorporated with Tritium vials, they allow you to make precise shots on the targets by glowing in the dark. The best part of this TFX night sight is, it is designed to have both Tritium and Fiber optic features. So, you will be perfectly able to shoot in all lighting conditions.
Moreover, to ensure maximum brightness, the night sight has been made of high quality Swiss Tritium.
Additionally, the front sight features a first lock system for fast and accurate shooting. Besides, the optic is impenetrable to oils, chemicals, cleaning solvents and ultrasonic cleaning processes.
iv) Streamlight 69260 TLR-1 HL 1000-Lumen Weapon Light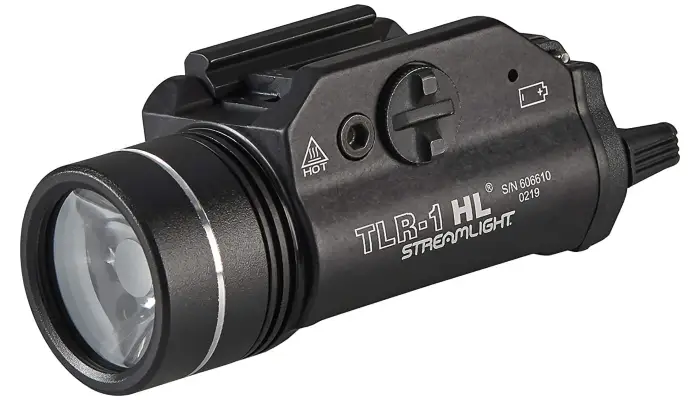 When you also need to have a clear visual of your shooting environment, lights come really handy. The speciality of this light is that it offers 1,000 lumens, 20,000 candela peak beam intensity and 283m beam distance, meaning it shines as bright as possible whenever you need it.
In addition, the light is powered by two 3-volt CR123 lithium batteries which allows it to continuously run around 1.5 hours of its battery life.
Plus, the optic is crafted with a rail clamp system, enabling you to quickly attach or detach the light without any special tool. In terms of its construction, the light has a rugged construction since it is made of Aluminum and anodized finish. It also has a high temperature, shock-mounted, impact-resistant BoroFloat glass lens. Besides, the optic is IPX7 rated, so it has submersibility nearly 1-meter for 30-minutes.
However, Streamlight has another light that is quite lightweight compared to this one. So, if you want something lightweight, you can consider the "Streamlight TLR-7 Tactical Light". But note that, this light features 500 lumens whereas the "69260 TLR-1 HL" is equipped with 1000 lumens. Hence, if you decide to purchase the "Streamlight TLR-7 Tactical Light", you need to do a bit of compromise in lumens.
Conclusion
To conclude, sometimes you need to upgrade your firearm for better shooting performance. However, since there are multiple options in aftermarket parts that you can use to upgrade your HK VP9, it is quite normal to get confused while considering any upgrade.
Therefore, to save you from this dilemma, I have brought the list of best upgrades that you can consider for your pistol. Now depending on your shooting needs, go through the upgrades and choose the one you feel right for your firearm. Good luck!