The Aimpoint Pro is one of the best red dot sights till this date and there is no way of denying how good of an optic this is. While the Aimpoint Pro does come with a mounting system built-in, the height of that optic is not optimal for everyone.
In fact, some might prefer co-witness or even higher positioning. While I have already made a guide of how to choose the best magnifier for Aimpoint Pro, this guide is a bit different. It's catered towards folks that are not satisfied with the stock mounting system of the Aimpoint Pro. Without further ado, let's find out the best mount for Aimpoint Pro.
1. Aimpoint FlipMount – Fits All 3X and 6X Magnifiers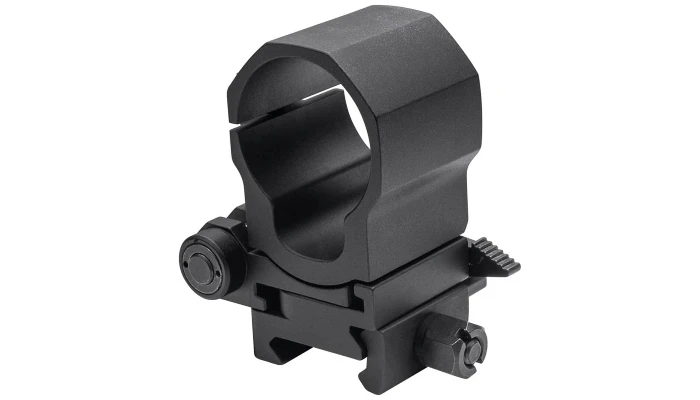 You might be wondering what's a magnifier mount doing in the list? Well, the magnifier is a part of the Aimpoint Pro deal. That's why I thought why not give something to the owners of magnifiers as well? After all, a good mounting system for the magnifiers will do good with the regular Aimpoint Pro.
This mounting system is made out of durable and high quality aircraft-grade aluminum. On top of that, the mounting system weighs only 129 grams. In terms of durability, the flip mount is one of the best at the job.
As the name suggests, you can flip the mount towards the left to keep it away from your field of vision. Giving you direct access to the Aimpoint Pro with unlimited eye relief. Installing it on your gun is quite easy as well.
Will this fit with the 6x magnifier?
Yes, it will. While Aimpoint does say not to use the 6x magnifier, you certainly can use it. No issues whatsoever.
Does the mount lock in a closed position?
No, it doesn't. It doesn't lock into any position. There is no locking mechanism present on the mount. It's hold with a strong spring mechanism.
Will this be equal for the Aimpoint Pro red dot height?
Yes, it will be the equivalent of Aimpoint Pro red dot sight. It's the same height as the Aimpoint Pro. No adjustments are required.
2. Scalarworks LEAP MRO Co-Witness Mount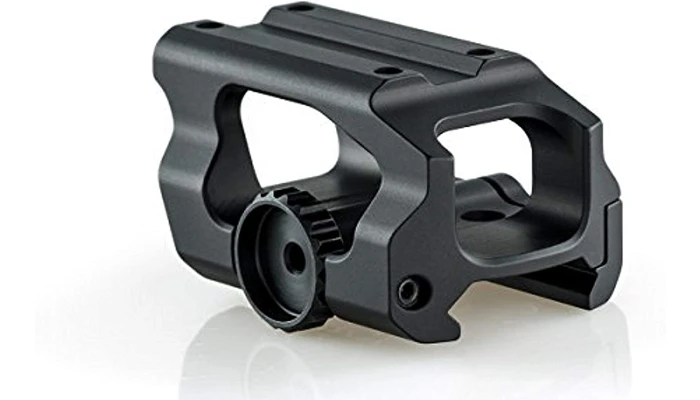 Scalarworks is one of the best third party mounting accessories makers around. Their mounting systems are expensive, but worth every single penny you spend behind them. If you are someone that appreciates co-witness viewing experience, then you might be interested in this Leap MRO mount.
Made from 7075-T6 aluminum, the mounting system is as durable as possible. With a type III hard coat anodization, the mounting system is extremely durable. On top of that, it weighs only 40 grams!
That's just not all, Scalarworks also offers a lifetime warranty with their products. You can contact them with any manufactured issue and they will take care of you with zero cost. But your products need to follow their terms and conditions.
Will this work with the MRO HD Model?
Yes, it will. In fact, it works great with the MRO HD model. If you are looking for the best MRO HD mount, this is the one to get.
Is this compatible with Holosun products?
Unfortunately no. Holosun doesn't follow the same footprint as Aimpoint. Some of the Holosun sights are compatible with Aimpoint T2 mounts. But this one isn't compatible with any Holosun.
Will this fit the Comp M4 as well?
No, it won't. They are model specific unless stated otherwise. Which in this case it isn't stated. So, stick to Aimpoint Pro only.
3. Aimpoint 12923 QRP3 Mount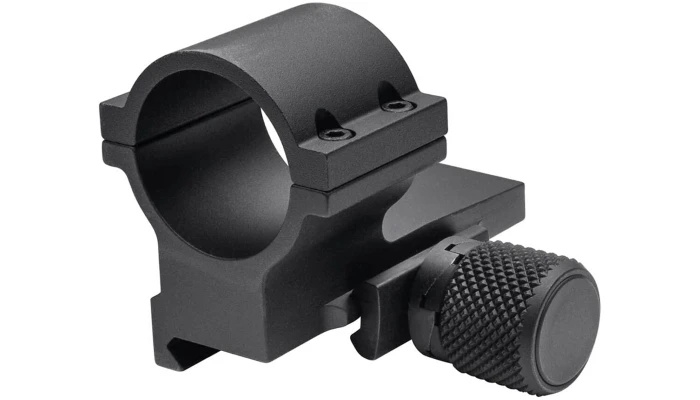 If you are planning to make your Aimpoint Pro a quick release product. This is one of the best options available to you. This QRP3 mounting system comes with a quick release knob that is surprisingly sturdy.
Instead of the traditional clip system that you are used to in quick release mounts, this one has a rotatable knob. The knob tightens or loosens the grip of your mounting bracket. Making it a toolless process to install.
The mounting system is made out of durable and lightweight metal. With a hard anodized coating, the mounting system is very sturdy and good looking. Not that the look matters, but just felt like praising a beauty.
Does Aimpoint offer any warranty?
They do offer a warranty on their optics. But they don't offer any specific warranty on the mount alone.
Is this lower ⅓?
No, it's not. This mount will give you a height of 30mm counting from the top of the rail. If you use spacers, the mounting height will increase up to 39mm. Giving you an absolute co-witness situation.
Will this work with Aimpoint Patrol Sight?
Yes, it will. The Patrol uses a Comp ML3 mounting footprint. It's the same as this mounting system. So, it will fit.
How To Choose The Best Mount For Aimpoint Pro?
Now that you know what are some of the best mounting systems for your Aimpoint Pro, how do you choose the right one? Well, outright there isn't one best. If there was, I would have only posted that one and be done with it.
From the three I mentioned on the list, all of them have something going on for them. For the Scalarworks, build-quality and performance and a cool look. For the QRP3, the price. It's a budget oriented mount that won't give you co-witness without spacers. So, the ultimate decision is whether you need co-witness or not. If you do, Scalarworks. If you don't QRP3.
Also, one of them is quick release while the other one isn't. If you fancy the toolless design, then you should go for QRP3.
Conclusion
And there you have it folks. It was rather a short read compared to what I usually post. But I hope you still learned something from it regardless. With that said, enjoy the newly purchased mounting system for your Aimpoint Pro and Aimpoint 3x magnifier, I will see you guys on the next one.