Who hasn't heard of the ever so famous P90 submachine gun? It feels like every shooting game and every arena around the country has one of those in their arsenal. Can't blame them.
After all, it's one of the best SMGs you could invest in. What if there was a version of the gun that could fire 5.7x28mm and be available for the masses to buy?
Drum rolls, please! You are greeted with the PS90. FN America makes this semi automatic SMG for both commercial and enforcement usage.
Like most other commercial guns, this one doesn't come with any optics. By now, you are already aware of how necessary it is to use an optic with a gun.
I couldn't let you guys wonder for ages to find the best optic for PS90, that's why I'm here. To help you find the best for your PS90 within your budget. Without further ado, let's jump straight into it.
What Kind Of Optic Does PS90 Support?
There are tons of optics available for the gun, but all of them don't sit on the rail right. What are the types of sights or scopes that you should look for? Well, here is the list.
Red Dot Sight
Now, this is a common optic that can be used with most of the guns in existence. From pistol to rifle, you name it. In fact, some people use red dot sight with bolt action rifles as well. And I can totally see the appeal of that.
After all, red dots are some of the easiest to use and install optics on the market. No wonder I highly recommend them to you guys.
Now that we know a bit more about what red dots are and why they are good for PS90, let's find out the best red dot sight for PS90.
1. Holosun Hs510c Red Dot Sight For Longer Barrels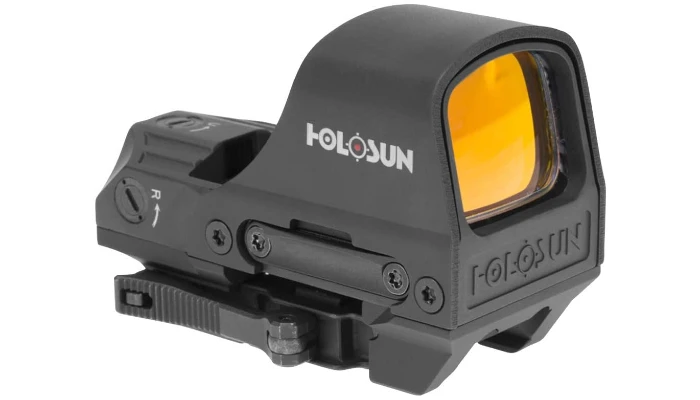 Holosun red dots are some of the most praised and featured red dot sights in the market. You won't find a single reviewer that hasn't mentioned at least one of their sights in their gun or optic reviews.
The HS510c is the one that I'm going to recommend to you guys today.
It's the most upgraded model in the HS510 series and it is available with a 2 MOA red dot and 65 MOA red circle reticle. The sight looks a lot like a holographic sight in appearance. But it isn't one. Appearance wise it looks like a toy. But don't let the appearance fool you, it's made to last on top of an AR rifle for years to come.
Being durable is a must for red dots. After all, the manufacturer can't predict where you are going to put them in and use them for just how long. To make sure this optic can outlast your expectations Holosun used high-quality aluminum to create the housing of this red dot sight.
The housing is water, fog, and shockproof simultaneously. The holy trinity of a good optic. The housing can carry the sight only so far. If the lenses aren't good on the unit, then there is no point in purchasing or even recommending the sight.
The lens features an etched reticle directly on the glass. Besides that, the lens is also fully multi-coated with several layers of different chemicals.
The idea behind chemical coating is to eliminate any kind of glare coming directly from the light. Chemical coating also helps prevent moisture build up and works as the first layer to protect the lens from scratches. It also makes the lens easy to clean and less dust sticks to it.
Can you clean red dot sights?
Of course, you can. There are several cleaning kits available in the market that you can use to clean your lenses safely without destroying any coatings on them. Make sure to use these types of kits instead of harsh chemicals.
What is the expected battery life on this sight?
The expected battery life on low brightness on this optic is 50k hours! That's huge considering it won't continuously run for that long. You can just turn it off while not using it and save battery.
Is night vision compatible?
Yes, the sight comes with 2 night vision compatible brightness settings that makes the reticle shine enough to see clearly during the night.
2. Vortex Optics Venom Red Dot Sight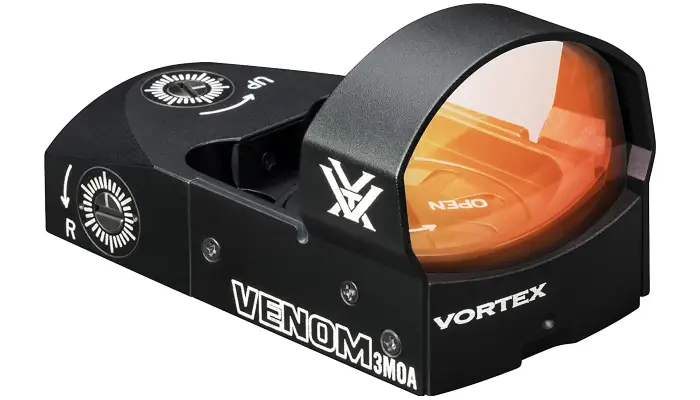 The Venom is a crowd pleaser from Vortex. Unlike The Spitfire, this one doesn't have a successor, yet. That's the keyword. But that's not the point. Is the sight good enough for FN PS90? That's what you and I are going to find out.
To start off, the build quality. Like most of the sights I have mentioned thus far, this one is also made out of aluminum. Aluminum is a durable material that is extremely light and durable. It is a preferred material in the CNC processing as well. There are no machining errors visible on the sight at any corners.
The lens on this one is just fabulous. There are no visual errors or any kind of glare from the direct sunlight present on them. Chromatic aberration is also non-existent.
The fast focus allows you to locate your target fast and easily. The smooth transition from target to target makes it easier to use from a distance and it's a blessing to folks that wear glasses.
Besides having a gorgeous body and lens, Venom also has all of the necessary features required for a good sight. It is water, fog, and shockproof. Making it suitable to use in any given rough conditions and weather. A very good companion for hunters and range shooters.
With the PS90, you are guaranteed to have a blast. After all, the synergy between these two is quite real and visible. No pun intended.
What kind of battery does Vortex Venom use?
Vortex utilizes a CR1632 battery to operate this red dot. It can brighten up the sight to the max and use during low light as well. You can expect around 3k hours of battery life at the lowest brightness.
Does it include mounting accessories?
Yes, you will find a small packet containing all the mounting screws necessary to mount this on a gun like PS90 for example. You will also receive the T15 torx wrench as well.
Does Vortex provide a warranty?
Yeah, they do. They are also known for providing good customer service. They offer a lifetime warranty with each purchase of Venom.
3. Burris FastFire III Red Dot Sight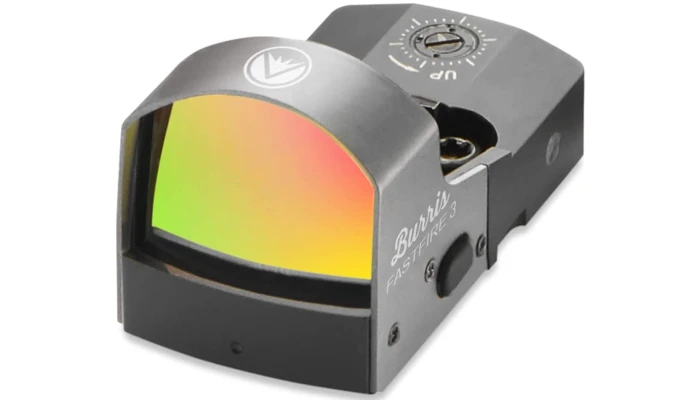 The third time is the charm! And what a charm it turned out to be! Burris' FastFire series has always been critically acclaimed and has a good fan following all over the world.
Hopefully, Burris will manage to make you a fan of theirs too. After all, the Fastfire 3 is one of the best red dot for FN PS90.
A red dot can only go far with a weak structure. Whether you are placing it on an AR or a SMG, it can only take so much load. But if the housing of the optic is built differently and suitable for various conditions, it will be a good choice for most.
That's why Burris went with lightweight and durable aluminum to construct the entire housing of this optic.
The housing is made via CNC machining. It makes sure there are no unnecessary curves or sharp edges. To make it look like a premium sight, they used black anodization. That makes it look classy and appealing.
The lens is extremely well constructed. From multiple layers of coating of several different chemicals to choosing the right aperture lenses, Burris put a lot of effort into this department and it shows.
Quite literally, you can see the visible difference between other similarly priced optics and this one.
Mounting this on top of PS90 is not a hard task either. Even if you never mounted a sight before, you can mount this. It's a Picatinny mounting system that is also considered universal.
Is there two versions of this available?
Versions? No. Variant? Yes. There are two variants of this that come with different reticles. One comes with a whopping 8 MOA red dot reticle and the other one has a 3 MOA red dot. Depending on how big you want your red dot to be, choose one.
Is this illuminated?
Yes, it is. In fact, it also has an automatic brightness sensor in it. Depending on what environment you are in currently, the brightness will adjust accordingly. This way it conserves a huge amount of battery.
What kind of battery does this sight use?
It requires a single CR1632 battery to operate. With that single battery, you can expect it to last up to 5 years in usage.
4. Vortex Optics Spitfire HD Gen II Red Dot Prism Scope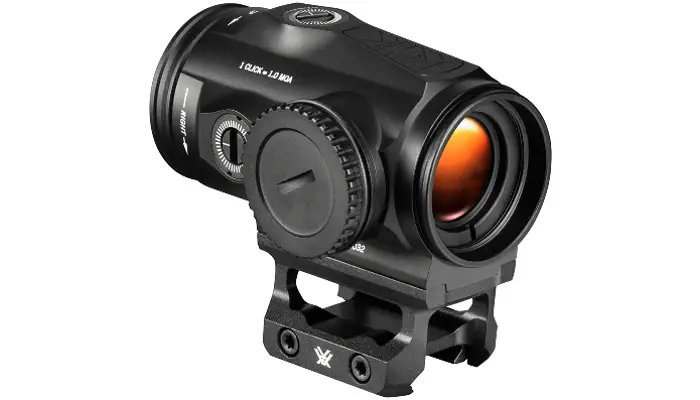 Vortex is known for their reliability and their great performing optics in all budget ranges. Besides making riflescopes, they are also well versed in red dot sights.
The Spitfire HD Gen II is the second iteration of a 3x red dot sight from Vortex.
Like most other premium optics of Vortex, this one uses aluminum too. The housing is made with CNC machining. The inside of the tube also has been purged with chemicals to make it immune to fogging and moisture.
A lot of shooters prefer the 3x range over 4x in LPVO and ACOG. The lenses of this sight are fully multicoated. They don't show a single sign of glare or chromatic aberration.
Even in broad daylight, the red dot performs exceptionally well. Given it's from Vortex, it's understandable that you expect raw performance from it.
The adjustments on this are quite good. The best part is, that even a newbie that never operated a sight before can use this with ease. All you need to do is follow the guide provided by Vortex and sight it in with your PS90.
Voila! You got a great portable setup for the next time you visit the range.
Is this 100% waterproof?
Yes, it is. Vortex wouldn't lie without putting it under enough stress to make sure it is what they are claiming it to be. After all, their reputation depends on their products.
Can you use a magnifier on this sight?
Yes, why not? You definitely can use a magnifier with this sight. You can buy the Vortex Micro 6X Magnifier and make your 3x red dot sight act like a 6x scope.
Can you use this with AR rifles?
What's stopping you? You can put this on a shotgun even. In fact, besides pistols, you can put it on almost any guns you have in your arsenal. That does include the PS90.
5. AT3™ Magnified Red Dot with Laser Sight Kit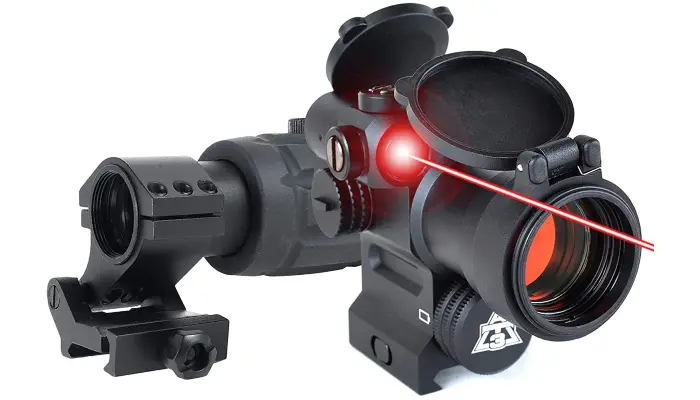 Okay, that's a huge name for a tiny red dot, isn't it? Within the name lies all the secrets of this kit tho! So, I can understand why they decided to stick with this long name.
This magnified red dot kit from AT3 Tactical is a popular kid on the block. Most people love how great it is, some don't appreciate the installation process.
But none can deny it's a good sight for PS90. If you are anything like me and big into lasers, but not really feeling good by ditching the red dot for a laser, this is what you have been waiting for.
This kit combines the AT3 Leos red dot with an integrated laser sight and RRDM 3X magnifier.
The sight weighs a mere 6 ounces. While the Leos is designed for AR rifles, it accepts SMG and other hybrid small guns as well.
If anything, it tells us just how durable this sight is. The housing is made out of 6061 aircraft grade aluminum. Besides being light, it is ready for heavy duty work as well.
Don't worry, they didn't blow their entire budget on the housing and the laser, they took care of the lenses as well. The lenses on LEOS are fully multi-coated. They gather plenty of sunlight and work with that to create crisp images.
Like all the sights I've mentioned so far, this one is also fog, water, and shockproof simultaneously. An AR15 won't be able to put this out of business by breaking it from regular use.
Should I buy the 3 separately instead?
If it was a better deal to buy them separately, I wouldn't be mentioning them together, would I? In my opinion, the kit makes more sense. It's just simply a better deal.
Does the combo work or is it a gimmick?
No, not at all. It's not a gimmick to the slightest. The LEOS on its own is a great laser built-in sight and when you add in the RRDM 3x magnifier, it suddenly becomes even better at doing what it does.
Is the battery life poor?
Valid concern, when two battery operated things are working simultaneously, I would be concerned about the battery life as well. Don't worry, LEOS comes with a 50k hours rated battery (red dot only). You can continuously use both red dot and laser for 40h straight.
6. Vortex Optics Strikefire II Red Dot Sight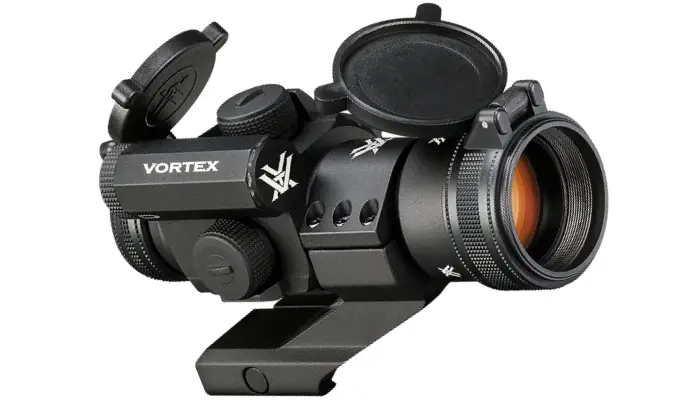 Vortex is here to make your pocket go boom with another optic. This one is, however, very different from the Vortex I have mentioned so far. Just from the looks of it, you already know it looks very different from the others. It looks almost as big as a rifle scope.
This one might be the best one for folks who are looking to future proof their purchase. What do I mean by that? If you are into night vision or just want to keep the sight and increase the magnification with a magnifier, then this is one of the best options for you.
What I'm trying to say is, that Strikefire 2 is a good option if you are planning to buy something like a Vortex Magnifier, you will be able to use it with that. Or if you are planning to purchase a PVS-14, you can use it with Strikefire as well.
The sight is constructed from aluminum and CNC machining was used in the process. That makes the edges of this unit extremely trimmed and comfortable to touch.
To take the comfort and durability to the next level, matte black anodization was also used. Anodization coating works as the first layer of protection against fall damage and scratches.
The lenses are fully multi-coated. They are extremely clear and vivid. They don't have a hint of glare from direct sunlight. As the reticle is etched on the glass, it won't move accidentally either. The reticle is also illuminated. You can control the brightness of the reticle while using the sight.
The cantilever ring mount can be a bit tricky to install as a beginner. But you can do it with a bit of effort. It's not that different from a typical mount after all. There are benefits of the mount as well. It supports a lot of guns thanks to the durable structure and mounting system.
What kind of battery does Strikefire II use?
The Strikefire uses a CR2 battery. It offers around 80k hours of battery life at level 6 brightness setting. That's a long time on a single battery!
Can you adjust the brightness of this sight?
Yes, you definitely can. It offers 10 adjustable brightness levels on the sight. The 4 MOA reticle is ideal for both daylight and low-light usage. It lights up enough to focus on the target quickly.
Does it require a magnifier?
Out of the box? No, it doesn't. But if you are shooting mid-range and feeling like 1x just isn't cutting it out, you can get a magnifier. I recommend you to get the Vortex VMX-3T 3X Magnifier.
Holographic Sight
The usage of a holographic sight is vast. It's mostly used in the enforcement environment while general consumers love these as well. Why? It's fast, accurate, light, and easier on the eyes. All of them are kind of necessary in a good optic. And it supports the gun rail of the PS90.
Now, let's talk about the best holographic sights for PS90 available on the market.
1. Eotech HWS 512 Holographic Sight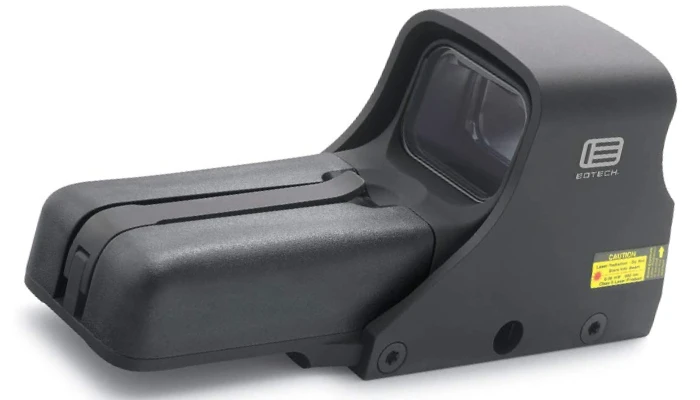 Even someone who never held a real gun before has heard of Eotech. They are famous for their holographic sights and their relation with the military.
Many Chinese brands often clone their products and sell them for a much cheaper price on different online platforms. Often, I have received complaints of them being fake and sellers turning out to be frauds.
Thankfully, the one here I'm recommending to you guys is the real deal. That's why the price tag looks so high at first glance. Trust me, Eotech will easily pay back the cost with its longevity and performance on the field.
The sight is made out of high-quality and durable aluminum. Despite being built to survive the warlike experiences, this sight is extremely lightweight.
That's why pairing this with PS90 makes total sense.
It won't increase the total weight of the gun by much yet it will give you access to high quality imaging. It will also help you to focus on the target and shoot much faster and more accurately. The sight is also water, fog, and shockproof.
Where was this manufactured in?
Eotech holographics are always made in the USA. If you are buying this from China, 100% you are either getting scammed or you are receiving a counterfeit product. Make sure to buy the original one.
Can you use this in the cold?
Yes, you definitely can. The holographic doesn't suffer from fogging or related issues. If you want to, you definitely can use it in a much colder area.
What kind of reticle does this come with?
This one comes with the Eotech One Dot reticle. It has a red dot in the center and a 68 MOA ring surrounding it. The ring has 4 directional short strokes around it.
LPVO
What's an LPVO you may ask? It's a tactical scope that comes with a fixed magnification and is almost the same size as a regular scope but doesn't include all of the regular scope features.
LPVOs are mostly used by law enforcement holders and range shooters love them as well. If you are one, you might like them over others. What's a good LPVO for PS90 then? Well, here is my recommendation.
1. Tacticon Falcon V2 1-4x24mm LPVO Scope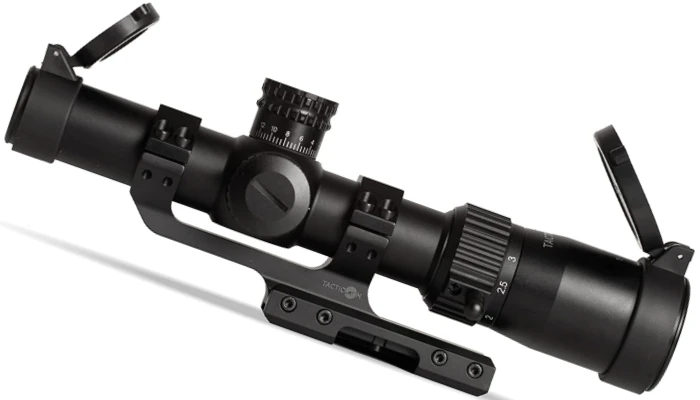 When it comes to LPVO, you seldomly outclass the Tacticon Falcon. The V2 of this series of LPVO scope improves on its predecessor and makes the LPVO experience even better.
First of all, why an LPVO? You can just buy any of the red dots above and add a magnifier to make it similar to an LPVO, right? You are not far off. But the LPVO is one unit and not two. The weight balance tends to be better and often it comes with better housing.
Let's not forget it looks better to some degree. Then again, looks are subjective. I will let you be the judge of that. The inside of this LPVO is purged with chemicals to make it immune to fog and let it work under rainy or cold weather. The outside is made out of high-quality aluminum which you see in much more expensive optics.
The housing is also shockproof and the lenses are sealed to be waterproof as well. Speaking of lenses, they are fully multi-coated. Their light-gathering capability of them is simply majestic. They are also great at rejecting unnecessary light glares. Giving you the most natural presentation of the scenery and lets you focus on your target with ease.
The highest magnification of this scope is 4x. Even at that magnification, it doesn't fall off in clarity and image processing. It will make you a better mid-range shooter that's for sure. 4x is plenty enough for range and plinking as well.
Is this illuminated?
Yes, the reticle is illuminated. You can adjust the brightness of this as well. There are a total of 11 levels of brightness adjustments present on the optic.
Does it offer unlimited eye relief?
No, the eye relief isn't unlimited. But it offers incredible eye relief at 4 to 4.5 inches maximum. Even a glasses user can use this optic with ease.
Does Tacticon offer a warranty?
Yes, they do. They may not be as well-known as someone like Vortex, but they are very good at customer service. You will get a lifetime warranty with this optic.
Scope
Last but not least, a riflescope. I know what you are thinking. Will the small rail of the PS90 really support a scope? Absolutely! It has enough rail points to use a rifle scope on top of it. Now, why would you use one? That's up to you. Preference gets priority after all.
Let's take a look at a scope that is perfectly suited for PS90.
1. Vortex Optics Strike Eagle 1-6×24 SFP Rifle Scope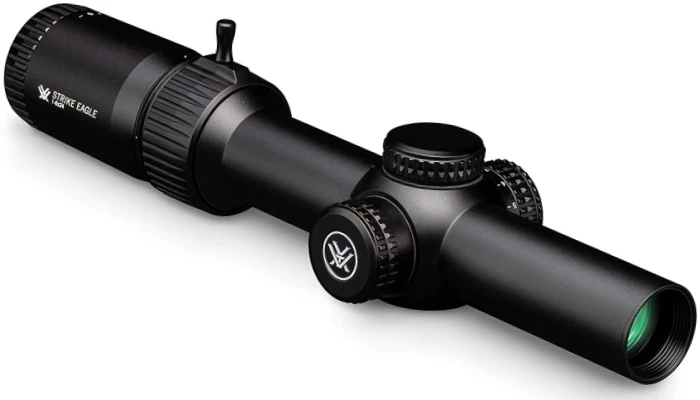 Vortex Strike Eagle is one of the most-known if not the most-known scopes in the market. The fandom it has is unbelievable. Vortex created magic when they first introduced this optic to the world.
The strike eagle comes in plenty of different variants. The one I recommend for the PS90 is the 1-6×24 variant of the Strike Eagle. It's a lightweight and durable rifle scope that you can in future use with your AR rifle.
The scope is made out of aluminum completely and it's a single piece design. The inside of the tube is completely purged. Purging is necessary to eliminate the chance of moisture building and fogging from the inside.
The lenses are O-ring sealed. Making the scope completely waterproof. Yes, it is usable under heavy rain as well.
The lenses are fully multi-coated. Vortex never fails to amaze with their lenses, that remains to be true here as well. It's one of the best pairs of lenses in this price range. You will immediately fall in love with the clarity and resolution of the lenses.
They show true to life colors and there are no hints of aberration or distortion either. In short, the performance of this scope is stellar. To make it even better at low-light performance, they made the reticle illuminated. That's right! You can see your target on a cloudy day or during the dusk as well.
What kind of battery does this use?
The Strike Eagle uses a single CR2032 battery to run. The glass etched reticle can stay lit at its lowest brightness for around 50k hours. Insane battery life.
Does Strike Eagle come with mounting rings?
No, none at all. Depending on the gun rail you have, you will need to buy the rings separately. The Strike Eagle has a 30mm tube diameter. Make sure to buy rings that support 30mm tubes.
What reticle does the Strike Eagle come with?
It comes with a BDC3 MOA reticle that is suited for AR rifles. The reticle is also suited for hunting and range practicing as well. All in all, it's a versatile reticle that will fulfill everyone's needs.
How To Choose The Best Optic For Ps90?
Now that you know what are the best optics for FN PS90, how do you approach them? What should you consider before finalizing the decision? Here are a couple of pointers that I personally hold close to before pulling the trigger on a sight.
Durability
The elephant in the room. How durable is it? Will it break within the warranty period? Or will it outlast me? These are the most asked questions in gun forums.
Everyone is concerned about the durability of the scopes. You should be too, frankly speaking. If the optic is not durable, I don't see why you should invest on that one.
Performance
Durability is great, but it performs poorly. Should you consider that? In my opinion, no. Don't even bother with such a unit and move on to the next one. There are sights that are good performing and well-built. Wink-wink, look at the sights I've mentioned thus far. You will get what I'm saying.
Lens Quality
This is something you should NEVER compromise with. Emphasize the word never heavily. Lenses need to be good. Or else, the optic won't perform up to standards. And it will leave a bitter memory. No one wants that. Save yourself some trouble and invest in an optic with good lenses.
Budget
Last but not least, the amount of money you can spend. We all have a specific budget set in our mind. About how much we are willing to spend or how much we consider "justified". You should create a budget before diving in too deep.
Conclusion
Well, looks like we have reached the end of the road. I hope you found the light I lit at the end. At the end of the day, the idea was to provide you with the best optic for PS90 and I gave you several of them.
Whether you enjoy a red dot or an LPVO, I hope you found the one you have been looking for. With that said, that's all for now. Don't worry, I will be back with more soon enough. Till then, take care of yourself and keep on gunning.