When it comes to mentioning the most popular rifle of the United States, AR-15 rifles always come as the first choice of shooters. This firearm is known for its standard construction that not only assures of the perfect target acquisition but also ensures your safety. Hunting, competition, home defense- you name it and Ar-15 will serve you in all fields.
Today I wanted to mainly focus on the optics side of this rifle. We all know every firearm has its own set of iron sights which are mostly factory-made.
Now, what makes the AR15 iron sights different? Any AR-15-style rifle uses the traditional A2 iron sights mainly because of its sturdiness and low maintenance attitude.
Actually, the iron sights are not the problem here. When you are purchasing an AR15 rifle you will notice the rifle only provides a single A2 front sight. That's why, the back side remains empty giving you the headache of finding a good AR15 rear sight for an A2 front sight.
The good thing is you don't need to take on that headache because I am more than happy to help you find the best rear sight for your A2 front sight. But before that, let me brief you on the need for rear sight or even iron sights for your AR-15 rifles.
Then, I will review all my recommended rear sights that will match your A2 sight and you can choose the one that fits your AR15 the most. So, without further adieu let's begin!
Buying Guide For A2 Front Rear Sight
In the buying guide section, we are going to discuss the benefits and importance of iron sights for your rifles and find out the things you will need in your AR15 A2 rear sight.
Why are iron sights important?
Iron sights are the most basic optics you will find for your weapon. Since they mostly come with firearms, generally shooters don't care for them. But they are a good source of power when you are out of luck during critical situations.
Their low maintenance and rock-solid construction invites more benefits than you actually guess. These iron sights hold onto the zero like it's their dear life. So you don't actually need to worry too much when your other optics give up. These iron sights will always have your back.
What kind of iron sights will you need?
What kind of iron sight suits you need will solely depend on your preference. To be honest, every shooter knows best about his needs so it is best to match those needs with a particular sight and go for it. Now in the case of iron sights, you get two types- fixed and backup.
I would say fixed rear sights are a good catch but having a backup will always come in handy. There are different backup iron sights available in the market such as flip-up iron sights and offset iron sights. Each of them have their own benefits. Take them into account when deciding for an iron sight.
What qualities should a rear sight have?
Coming to the talk of the town, you will need rear sights for your AR15 rifle when you only have one fixed front sight. When looking for a great sight the thing you need to look for is actually the brand meaning quality, reliability, and price range.
Of course, you are not getting a rear sight from an unknown brand that cannot confirm its authenticity. Therefore, always go for authorized stores whether it's online or outlet.
Another thing is these rear sights need to be reliable and durable to give support for a long time. AR-style rifles are not easy to handle and you will need something sturdy enough to take up with it.
And finally, finding a rear sight that does not break your bank account is also necessary. All these points will land you a great rear sight if you follow it religiously.
What kind of rear sight works best for A2 front sight?
We have discussed the rear sights and now I will be elaborating on the rear sights specifically for A2 front sight. In this case, I can only say one thing and that is compatibility.
Since you are already following the points said above the only thing you need to focus on now is the interaction between the A2 sights. The rear sight you are choosing needs to be able to work with the front sight and mount on the AR rifle.
Follow this and you will be able to get yourself the best sight for your A2 front sight in no time.
Reviews of Top 5 Best Rear Sights For A2 Front Sight
So, we have a basic concept about the kind of rear sight you would want for your rifle's front sight. Now it's time to actually review the best rear sights for your AR15 A2 front sight and find out its perfect companion.
1. UTG Super Slim Flip-up Rear Sight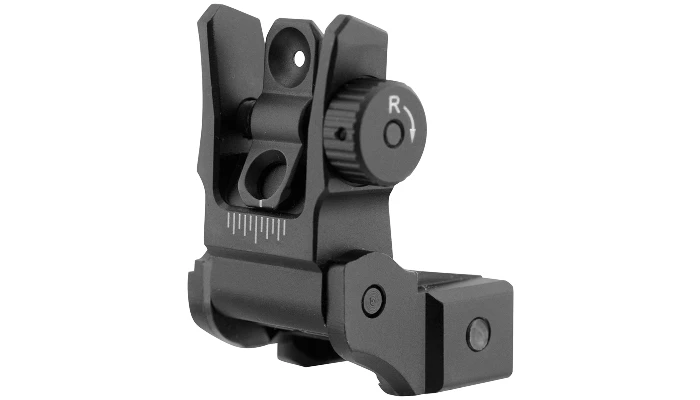 The first product on my list for your A2 front sight is the UTG Flip Up rear sight. This backup AR15 rear sight for the A2 front is very popular because of its slim body structure and easy-to-use setup. With the tool-less adjustment, you can just take this rear sight and mount on your rifles to connect with the front sight.
This flip-up rear sight holds its place in any position you want with the posi-lock retention design. This structure protects the sight and prevents it from falling off after going through external impact.
It is designed to match the UTG front sight and the low profile mount allows the sight to co-witness with other standard optical devices.
Even with the minimized 3 mm locking bolt mounting deck, you can easily bend the sight and it will not obstruct your view with other optics. This easy open-up and close-off structure really helps when you are in a hurry and do not want to take off the rear sight entirely. You only need to push the sight forward by hand and it will open. A similar way works for closing it.
This Flip-up sight also features two different apertures to maintain both close and long distance aiming. The large aperture works great for close range targets whereas, you change it to the small aperture to get a clear mid to long distance view of your aims.
In addition, its windage adjustments come with a tactile thumb wheel that allows you to easily change the point of aim without tools.
This UTG rear sight pairs up with the UTG front sight that is equipped with a standard AR-15 front sight post. You can mount this front sight using a 4 prong sight adjustment tool or with the tip of a cartridge.
In case you don't like it you can also swap it with any other aftermarket sight and the rear sight will easily adjust with it.
Both the sights mount to a MIL-STD 1913 Picatinny rail base so it will attach to any weapon including the MSRs and other platforms with a straight sight line configuration or has the 12 o'clock Picatinny rail.
I like the fact that this sight is versatile enough to go with any front sight whether it's the A2 front sight or not. This leaves the opportunity to play with the sights.
But since we are talking about the A2 front sight here I will say that this UTG sight holds the advantage of having a quality brand name behind it and so I can recommend it without thinking twice.
What is the height of the peephole from the top of the rail?
The sight measures 1 3/8" from top rail to peep hole. Hence, the sight also works well with the M4 sight post.
What is the adjustment click value of this sight for windage?
The adjustment click value will mostly depend on the distance between the rear and front sight. For example, in the case of a 16 inches barrel, the click value will be 2 MOA.
Will this sight co-witness with other red dot sights?
The ability to co-witness with other red dot sights will depend on the optics. With the UTG iron sight, you can use a .83" riser mount to achieve absolute co-witness.
2. Ozark Armament A2 Rear Sight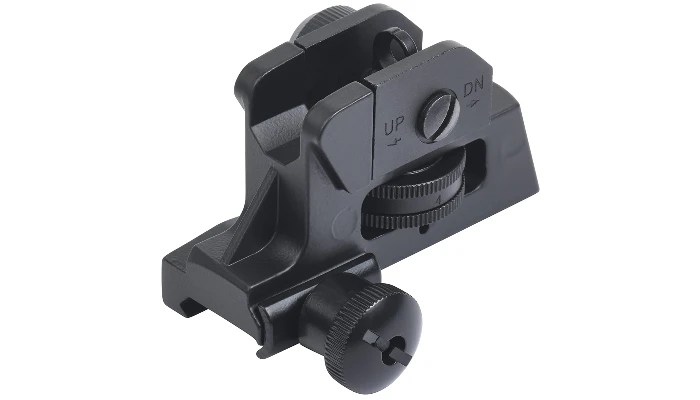 The next rear sight for the A2 front sight is the Ozark A2 rear sight. This metal constructed sight swears on its durability and reliability during the most difficult situations. With the hard metal body, this will be a perfect fit for any AR rifle. But let's not forget about its other benefits.
This fixed A2 rear sight comes with a tight tolerance design that helps you to secure the sight on any standard Picatinny rail without budging. It also ensures the same height over other bore sights which allows you to sight unchanged pictures without any additional training.
Ozark sight has the perfect height for co-witnessing with any standard height optic or front sight post, giving you the opportunity to pair it up with any external sights and exercise your both-eyes-open shooting techniques for faster target acquisition.
Plus, the sight ensures easy installation with the included pressure screws to mount it on your firearm without any hassle of gunsmithing.
You are also getting dual action mode with two different apertures. The CQB mode uses a larger aperture for close targets by increasing the field of view without distorting the image.
On the other hand, the small aperture works for precision which you will need for any mid to long distance aiming.
Besides, the windage and elevation settings are fully adjusted for this Ozark rear sight. You can easily detach it from your firearm using a flathead screwdriver which you can also use for both windage and elevation adjustments. All of these good features and you are getting it without putting a dent in your pocket.
Hence, this Ozark sight makes a good deal for your A2 front sight that too within a budget. With its durable construction, you will be able to put this sight in good use for a long period of time.
Will this rear sight fit on Weaver mount and 11mm or 22mm dovetails?
The sight may fit a Weaver mount depending on the relief cuts on the rail. However, it will not fit a dovetail directly. You can mount the sight using adapters.
Can the sight flip from low light to regular?
Yes, there are two apertures on this sight. The larger one is for low light or CQB and the smaller one is for precision that works on regular light.
Will the rear sight absolute co-witness the front sight of an AK47 with a texas weapon system dog leg Picatinny rail cover?
No. unfortunately, this sight will not co-witness with a good leg Picatinny rail cover as it will be too high for co-witnessing.
3. Marmot Flip Up Iron Sights A2 Front Sight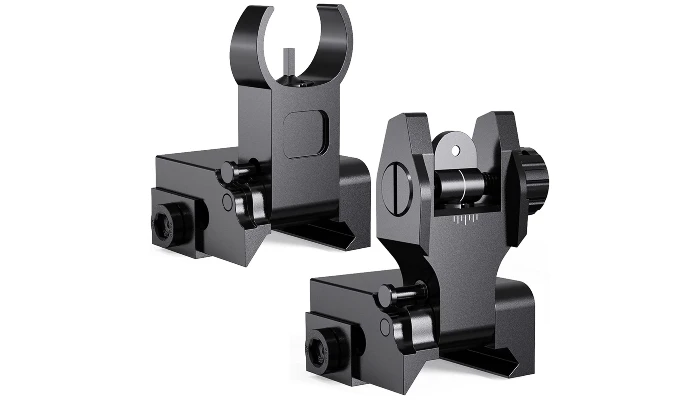 This time I want to recommend a pair of iron sights where you can either use the rear sight with your existing A2 front sight or you can replace that front sight with the new one.
What it will do is give you the freedom to experiment with different types of front sight in order to find out which one suits you the most. The iron sights will also come in handy when your A2 front sight gives out in an urgent situation.
Now then let's look at the iron sights from Marmot. They are flip-up iron sights that you can keep as a backup. I also like the configuration of these sights.
With both sights, you just need to tap the pushing button and it will lay completely flat on the surface which is good when you only want to sight with the red dots or other external sights.
At the same time, you can fold them without the need to use the pushing button. You can just do it using either of your hands.
The A2 front sight post is also fully adjustable for elevation and it comes with a standard height for an AR-15 platform. I think this is a bonus point even when you don't want to use the front sight.
However, keep in mind that you can easily use this sight as a replacement for your original AR15 A2 sight and this will give you the same effect.
With the rear sight, similar to any other flip-up rear sight you are getting the option of using two different sized apertures. The CQB aperture is large in size which will help you get a closer view of the targets.
I like using this aperture for home defense or even for smaller size targets. On the other hand, for the smaller aperture, you are getting the Precision mode that performs best for mid to long distance targets. I like using this mode for big games such as deer or coyotes.
Similar to the front sight, in the rear sight you will get full windage adjustments and together using both you can reach a perfect point of aim which will ensure better target acquisition. Both these sights mount on any standard 21.4mm Picatinny Weaver rail base.
Therefore, you can not only attach the rear sight on your AR15 platform rifles but also attach the front sight on the A2 front sight base.
Another point to mention about these Marmot sights is that they are extremely durable with their aircraft grade aluminum housing.
In addition, the low profile sleek design will be an advantage when you are co-witnessing the iron sights with other external optics. I personally believe that with the price tag taking both the front and rear sight is quite a good deal.
Can the rear sight be adjusted for elevation?
Yes, you can adjust the elevation of this rear sight with an elevation tool but you have to purchase it separately.
How do you get the rear sight to change from CQB to Precision?
The rear sight has a larger circle peephole for CQB and a smaller defined peephole for precision. When the sight is set to CQB mode you can simply push peep forward to change to precision and pull the precision peep towards you to switch back to CQB. After you change the mode each setting will click into place and you will know that it worked.
What type of adjustment tool is included in the package?
The sight does not come with an adjustment tool in the package. It includes an Allen Wrench which you can use to make necessary adjustments.
4. Nelahol Flip Up Low Profile A2 Front Iron Sight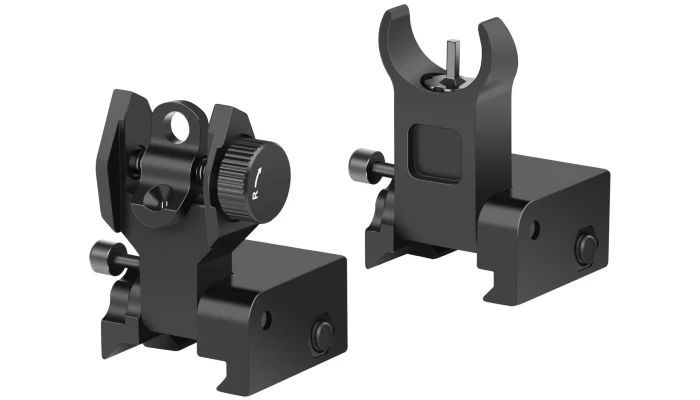 I have yet another flip-up rear sight for your A2 front AR15 sight by Nelahol company. This time the flip-up sights offer an upgraded spring load button which is way better and faster when it comes to flipping the sights down.
By pressing this button you get a smooth landing of both the front and rear sight which makes it easier to navigate through the sights during critical moments.
When you flip up the rear sight it co-witnesses with any other optical sights with standard height. Also, because of its low profile design, you can easily fold the sight down by pressing the button and it will be completely out of your view when using other sights.
Besides, this rear sight also comes with a large and small aperture. For this reason, you are getting two modes- CQB and Precision modes. Now this is not something new with rear sights.
Normally you get both modes to accommodate different positions of your targets. What is really important is the peephole size and lens quality of the sights.
About the windage and elevation adjustment, the rear sight allows you to adjust windage settings with the windage tool. You can use the Allen wrench which is included in the package to make the changes.
The front sight also has elevation adjustments but you will need an elevation tool. You need to buy it separately as they do not include it in the package.
These iron sights will mount on any 21.4mm Picatinny Weaver rail base like any other iron sights. So they are versatile enough to go on any rifle and shotgun.
Plus, the aluminum alloy finish will keep the sights protected from any external impact so that you can keep using it for a long time.
What kind of elevation tool is needed for this sight?
You will need a four prong adjustment tool for the elevation setting of this sight.
What is the height of the rear sight when the sight is in the up position?
The height of this sight from the top of the Picatinny rail to the peephole is 1.4" and to the very top of the sight is 1.6".
Does this sight co-witness with red dots?
The sight will co-witness with any standard height red dot sights. However, it does not co-witness with all the magnifiers. So, make sure you check the magnifier's height before mounting with this sight.
5. Green Blob Outdoors Rear Front Iron Sight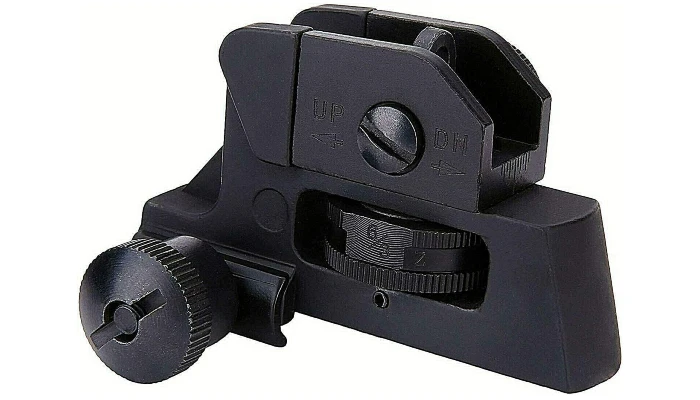 For my final product recommendation, I have included the Green Blob outdoors iron sights. These iron sights are a match grade rear and front sight pair that goes perfectly with the AR15 platform rifles such as MSR. you get standard height sights to co-witness with other standard external sights.
Now let's talk about what's different in this sight. Like any other rear sight, you can mount this on Picatinny rail but with this sight, you are getting an extended mounting option.
This rear sight will clamp tightly onto your rifle's rail with the Quick Detach thumb nut that you get in the package. Its retention design and securing locking plate ensures zero movement that holds zero even during strong vibration.
You are also getting dual aperture modes like the other sights in the recommendation but with this sight, you will have an extra option for increment.
There are ½ minutes of increments that allow you to acquire precision with the windage and elevation adjustments. That way you can adjust the point of aim accurately in a rapid manner.
Oh, how can I forget about the front sight you are getting in this pair! The front sight has a height of 1.75" and you can mount on the same plane as the rear sight for any flat top rail. Which means you have the freedom to co-witness the sights.
You are also getting elevation adjustments on the front sight. Because of these positive sides, you can keep the front sight as a backup for your A2 sight.
Coming to the durability and reliability of the iron sights, they have anodized finishing on aircraft grade aluminum housing so it is as strong as the other sights from the list. There is actually no difference or speciality in this section.
Although most of the features are similar to other sights, I think with the price point this sight has some good points that are worth noticing. And with the short increment for windage and elevation adjustments the iron sights actually offer a considerably good deal.
Does the rear sight come with Precision mode?
Yes, the rear sight features both CQB and Precision mode in order to work for both close and long range targets.
Does the rear sight hold zero at all times?
Yes, the rear sight of this brand is durable enough to hold zero in harsh environments, especially with the superior locking plate.
Will the sight be able to take chemical reactions?
Since the aluminum anodized housing has a Manganese Phosphate coating, it is resistant to corrosion. But a serious chemical explosion can cause damage to the sight.
Conclusion
In conclusion, the front sight of AR-15 standard rifles needs a rear sight that will enhance the shooting experience for its user. And since this search party has taken up the job of finding the perfect companion for your A2 front sight, you can rest assured that all your worries are over.
Just make sure you know the kind of rear sight you want to mount on your AR rifle by going through the questionnaire in the buying guide section.
After that, you can choose to match your expectations with the products I have reviewed and pick the one that fits the most. So, do you think your AR15 A2 front sight has found its perfect companion?