The FN 9mm caliber handgun has been striking the weaponry world with all its amazing features since this striker-fired autoloader was released. I love the two magazine capacities where you get 17-round or 10-round options. And with the double-action operation, this 509 FN gun gives you a better shooting experience than most of the guns you will find on the market.
Now that does not mean you can not experiment with the parts of this gun. FN 509 gives you more than enough opportunities to upgrade its different parts and see what works best for it. And that is what I am trying to do here today.
With the trigger, grips, and magazine extensions, there is so much you can do with this weapon and make it field perfect. Of course, there are sights and light/laser combos to partner up with this guy.
Hence I have listed down all the upgrades this FN 509 pistol can have and how they can make your shooting experience way better than before. Then, without wasting any time let's dive straight into the products.
1. FN 509 Trigger Upgrades
First things first, let's talk about what kind of trigger upgrades we can make to this 509 handgun. Don't get me wrong. There is no problem with the existing trigger. It has all the things you would like to have in a pistol. The trigger pull is between 5.5lb to 7lb so there's nothing really wrong with it.
You might then wonder why I am suggesting a trigger upgrade. Well, I actually want to make it even better if that's possible. This is why I found a trigger kit that can not only keep the trigger pull as long as possible but also reduce the overall trigger travel. Let me introduce the product to you.
i) Apex Tactical Action Enhancement Trigger Kit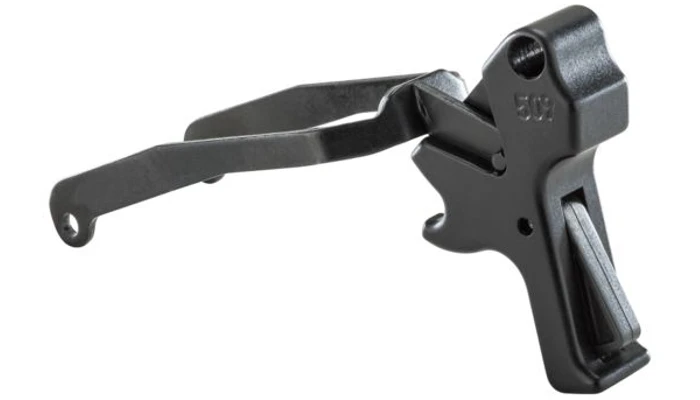 This Apex trigger kit is actually a direct drop-in replacement for the factory trigger of the FN 509 gun. You get all the parts including a polymer trigger, trigger bar, and sear.
This trigger is better because of its revolutionary design. It reduces trigger pull weight keeping it in the 5.5lb range so that you can get an approx.
With this aftermarket replacement, you will also get reduced trigger travel including pre-travel, over-travel and trigger reset distance. That way you get an uptake while delivering a crisp trigger break and enhance your overall target accuracy.
2. FN 509 Grip Upgrades
After the trigger replacement, the next thing I would change in my FN 509 pistol is the grip. Having a good quality grip is very important to get better accuracy control and improved posture while ensuring comfort.
This is why I have suggested these Talon grips that you can get in three different types. Choose the one you feel the most comfortable with.
i) Talon Grips for FN 509 Midsize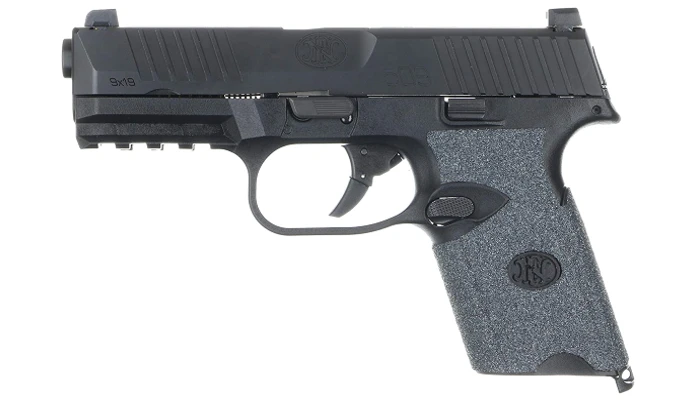 The Talon grips come in a durable one-piece design which is firearm specific, meaning you get to have a perfectly fitted grip for your gun model.
As a result, you are getting a custom fitted Talon grip even for your FN 509 Midsize handgun. The proprietary material of this grip is less than 0.5mm thick and so adds minimal bulk to your gun, ensuring your utmost comfort.
This top quality fit and housing finish helps you to increase your overall control and accuracy. At the same time, the grip reduces muzzle flip which works in making your shooting smoother.
3. FN 509 Optical Sights
When I am talking about FN 509 upgrades, there is no doubt that I will talk about sights and lights. While using a firearm whether it is a handgun or a rifle, you can not do without a proper optical sight. That's why you will find the two best red dot options for your FN 509 gun here.
Oh and about the fixed iron sights of this gun. There are fixed 3-dot translucent sights on this gun. Now, in case you are not a fan of the colorful dots on these sights, I have the best option for you. You can simply use these phosphorescent Glow-on Gun Sights Paint to cover them up with your favorite color. Now, let's move to the sights.
i) Trijicon RM06-C-700672 RMR Type 2 Adjustable LED Sight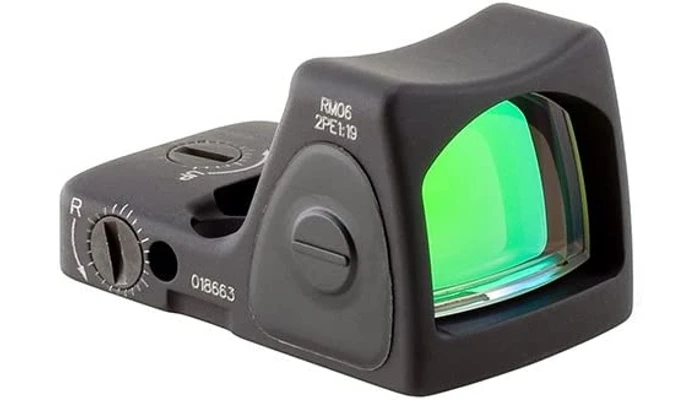 For your first sight recommendation, I have the Trijicon RMR Type 2 red dot sight. This sight will be a perfect fit for all versions of your FN 5-9 pistol. It comes with a 3.25 MOA dot reticle which is great for targeting middle range objects.
There's also an automatic brightness mode and easy push buttons which will navigate you through its 8 adjustable brightness settings. Not only that, in these brightness options there are 2 night-vision compatible modes and one super bright option.
Its military grade aluminum alloy forged housing makes it a perfect candidate for any critical mission. Also, you are getting 4 years of continuous use at setting 4 with this Trijicon red dot sight.
ii) Leupold DeltaPoint Pro Reflex Sight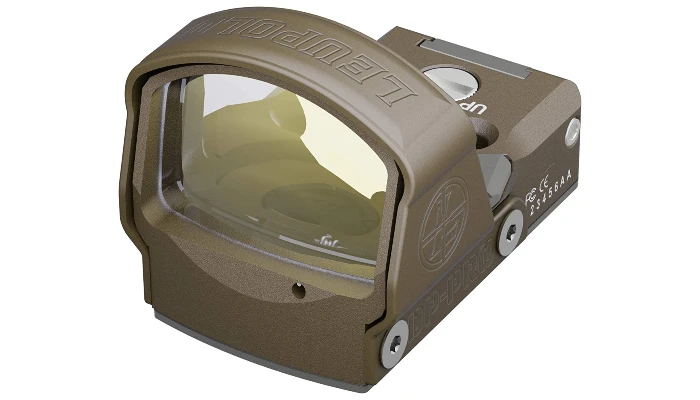 Another great optical sight is the Leupold DeltaPoint Pro reflex sight. This 2.5 MOA reticle sight is awesome when you are targeting at a long distance and keeping the point of aim sharp is the priority.
The sight is a battery saving motion technology where it automatically deactivates the brightness option after 5 minutes of inactivity and powers up as soon as it detects movement.
It is also waterproof and shockproof so you can carry this with you on whichever journey you want to make with your 509 FN weapon.
4. FN 509 Tactical Light/Laser
Other than the red dot sights, the tactical lights and laser/light combos will also be good FN 509 accessories. Having a weapon light or laser will help you target during the nighttime. It will also ensure situational awareness during critical times.
I personally prefer tactical light because of human defense purposes. It is a perfect accessory to keep at home with your FN 509 handgun. Again I have two different FN 509 flashlights to recommend to you. Let's look at what they have to offer.
i) Streamlight 69265 TLR-2 HL G Rail Mounted Tactical Light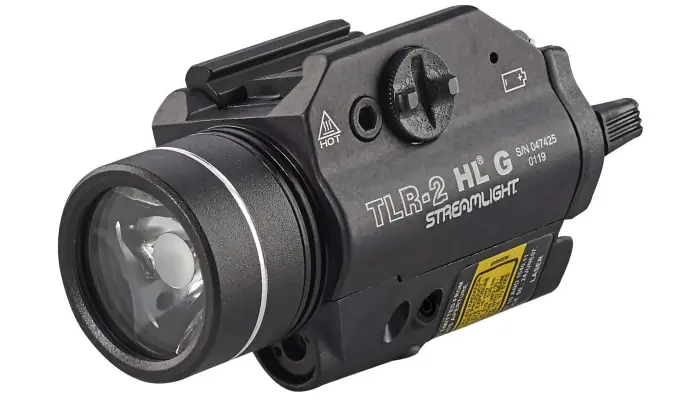 Streamlight is a popular brand in the weaponry world for producing some finest pieces of tactical lights that provide you with high LED flashlights. Today's product is the TLR-2 high lumen laser light combo that comes with C4 LED technology along with a green laser light.
The light is impervious to shock and has a long 50,000 hours lifespan to give full support during long missions.
The direct drive green laser has a 510 to 530 nm wavelength which goes as far as the human eye can capture. Its one-hand snap-on/tighten interference keeps your hand away from the pistol muzzle when you are mounting or detaching the light. That way you stay safe from any unintentional accident. Plus, you don't need any extra mount as it directly attaches to handguns like FN 509 models.
ii) Kiarswe 500 Lumens Red Green Laser Light Combo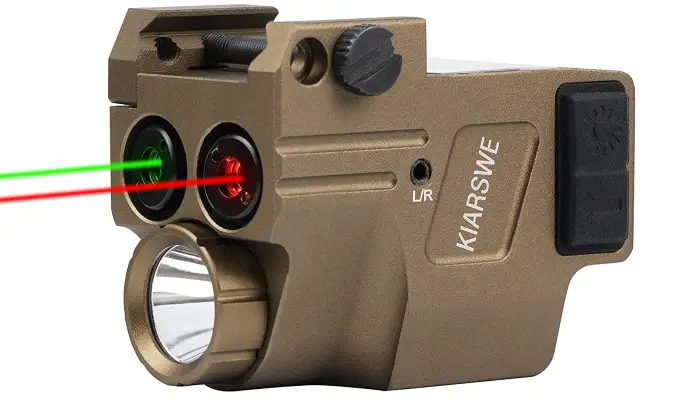 Another great weapon light option is the Red/Green laser light combo by Auclay Tech. The light features both steady on and strobe modes. The class IIIA grade laser and the light combo have 150 yards of beam distance.
The hard anodized aircraft grade aluminum housing keeps the light intact even during harsh environments, promising you a long performance.
This Streamlight model is very lightweight, only weighing about 0.15lb. Besides, with the rechargeable battery, you can use both the light and laser simultaneously for 45 continuous minutes.
5. FN 509 Barrel Upgrade
I think for our next FN upgrade a barrel would be a great option. Now you know how threaded barrels are important for installing the right kind of muzzle brake or compensator. That is why it is important that you have a good quality threaded barrel for your handgun.
Since the FN 509 and 509c uses the 9mm Luger caliber, the ½"x28 thread pitch will work for these models. That's why I personally prefer the Apex tactical 9mm ½-28 threaded barrel for my gun.
i) Apex Tactical Specialties 105072 Apex Grade 9mm Barrel
This Apex Tactical Barrel is specially made for the FN 509 models and pistols that come with factory 4 inches barrels. You can easily attach this to your pistol in order to use any muzzle brake or compensator. This aftermarket barrel has ½-28 threaded pitch, just the one you need for your 9mm caliber.
Its heat-treated stainless steel surface has a black Melonite finish to give it a slick profile. You get a 1:10 twist rate with this barrel which will ensure increased accuracy performance.
6. FN 509 Compensator
After you have a good quality threaded barrel, the next you will need is a muzzle device. And guess what? I have the perfect compensator for your FN 509 weapon. A compensator will actually be a better option for any handgun including this model rather than opting for a muzzle brake.
Even with the 9mm caliber a compensator will give you better recoil and muzzle rise control than the muzzle brake without adding too much weight on the firearm.
i) PMM FN 509 Compact Tactical JTTC Compensator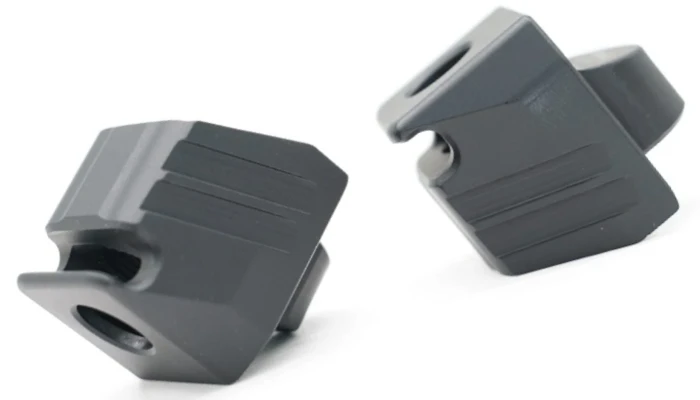 The PMM tactical compensator here is actually a genius rapt in a type 3 Class 2 hard coat anodized 7075 aluminum body. The model has a single port design at the 12 o'clock position which it utilizes to maximize the effectiveness of the device.
This allows the slide to "track" faster and more accurately for follow-up shots.
The compensator is designed around the FN factory threaded barrels and also will work with the aftermarket barrel I have recommended. You don't need any set screws as it mounts like other muzzle devices. And in case it comes loose you don't need to worry about impediment in its performance as the capture design keeps it afloat for the rest of the shooting.
Conclusion
To sum up, I have given quite a few upgrade choices for your FN 509 handgun. If you go through them, I can assure you that you will find the perfect 509 accessories you need for your FN pistol.
So what are you waiting for? Go and grab the ones that will make your shooting experience with this firearm unforgettable.