.300 Winchester Magnum is one of the most popular rifle cartridges you will ever find in the market which is versatile enough to meet almost all your needs. It is a belted, bottlenecked cartridge that was first introduced by the Winchester Repeating Arms Company in 1963, designed to fit in any standard rifle.
I love this cartridge that accepts .30 caliber bullets which you can use for almost anything. Hunting or target shooting for military units and law enforcement departments you name it and .300 Magnum does it all.
Some of the most commonly used rifles such as Remington 700, Ruger Precision, Armalite AR-30A and Browning BAR Mark use this Magnum 300 to capture big games like deer, moose, elk and bighorn sheep.
But today I am not going to focus on what this awesome cartridge can do. Rather my concern lies on how you can adjust the recoiling parameter of your rifle while using these 300 win magnum bullets.
But before that we need to understand how to do that. In order to dampen the recoil of a rifle, muzzle brakes are the best solution as they can reduce the velocity of cartridges and reduce the amount of recoiling by almost 50 percent.
Just to give a more in debt idea about muzzle brakes I have jotted down some commonly asked questions and explained them in the buying guide section.
To know more about what these muzzle brakes will do to your rifle and cartridge, you need to go through them. Then you can look at the reviews of top 7 muzzle brakes for your 300 win mag so that you can find the best option that suits you the most.
Reviews Of Top 7 Muzzle Brakes For 300 Win Mag
After explaining the main segments of a 300-wm muzzle brake, I will review the best 7 muzzle brakes you will find for your 300 Win Mag. Then, let us look at what these products have to offer us.
1. Area 419 – Hellfire Match Muzzle Brake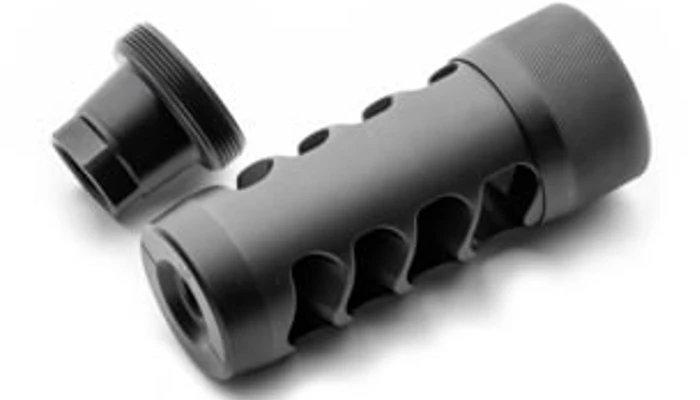 Since its release in 2016, Area 419 Hellfire has been creating buzz in the market because of its 4 port design that will change your whole experience with muzzle brakes. And this is also the reason for my choosing this product as the first recommendation for 300 win mag.
Each port of this brake is redesigned with different length, angle and height that optimizes each one to provide you with an ideal functionality depending on the pressure and volume of gas in order to get an optimal recoil management, muzzle rise control without any extra sound pressure at the shooter's position.
You get a total of 4 different caliber selections with the option to match with the 300 wm cartridge. This brake comes with a self timing system that saves you from adjusting your rifle everytime after firing.
Any Universal adapter will work with this Hellfire muzzle brake where it can integrate with suppressor mounts, and other Hellfire, Hellfire 2P and Linear Flash suppressors.
What I like about this product is that once you torque the collar to lock, it does not turn, maintaining solid zero even after a long round of firing.
You can torque the universal adapter onto your barrel with a ⅝" wrench that allows you to attach the muzzle brake quickly and easily. With the semi-self cleaning first two ports, maintaining the brake gets even easier.
Because of the performative features the Hellfire Muzzle Brake remains as the first choice of any shooters.
Will this brake work on handguns?
No, the Hellfire muzzle brake is not suitable for handguns. Any type of compensator will be a better choice for your handgun.
Can you use Lemishine or CLR to clean the brakes?
Using Lemishine or CLR type citric acid cleaner will discolor the black nitride base of the brake. Therefore, it will be better to use a carbon cleaner like Boretech C4 for your Hellfire.
Does this product work well with a 300 PRC?
Yes, you can use this muzzle brake on a Bergara .300 PRC rifle.
2. Area 419 – Sidewinder Magnum Muzzle Brake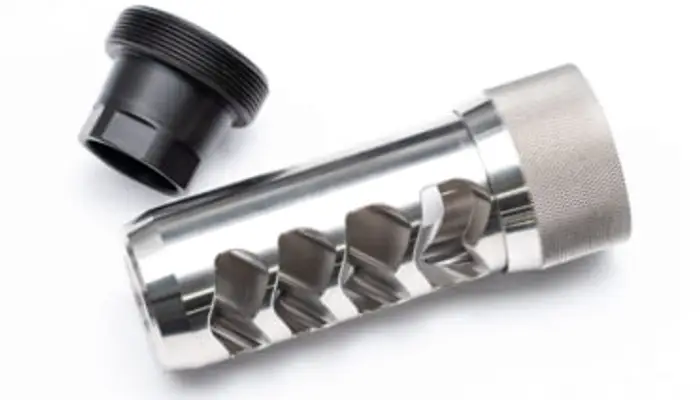 For my second product recommendation, I have added another Area 419 muzzle brake just to give you another option that has more of a partiality for the magnum cartridges.
Although you can definitely go for the Hellfire brake, this Sidewinder is more supportable to the 300 Winchester calibers.
Its unique design comes with rear facing ports that let the nut turn independently which enables the muzzle ports to stay directed to the point you need when putting the brake into position.
This ensures ultimate recoil reduction making it easy for you to control the velocity of Magnum cartridges including the 6.5mm, 7mm/30 cal, .338 cal and 375 cal.
This muzzle brake has more recoil abatement than the Hellfire one making sure you get more protection from the rifle kickback. Similar to the Hellfire, its proprietary port design controls the muzzle rise where you don't need to use the top port.
In case you have any confusion about the installation, you will find an indication of correct caliber engraved at the top and a horizontal line that identifies leveling.
Sidewinder Magnum Muzzle Brake is machined from 17-4PH stainless steel which can be confusing to most people since we don't really know the variation between different steels.
What you actually need to know is that this stainless steel makes the product strong enough to carry out its job without breaking down. Isn't that enough?
Does this product work well with a 300 PRC?
The QD collar of this product is 1.275 inch long and the brake itself is about 1.125 inch long.
What kind of adapter does the brake use?
The Sidewinder Magnum Muzzle Brake, similar to the Hellfire brake also uses the Universal adapter. You just need to make sure you are getting the right size for your firearm.
Will this muzzle brake fit the RPR .308 firearm?
Yes, you will need the .308 model of the Sidewinder Muzzle Brake in order to use it with the Ruger Precision .308 rifle.
3. Precision Armament HYPERTAP Muzzle Brake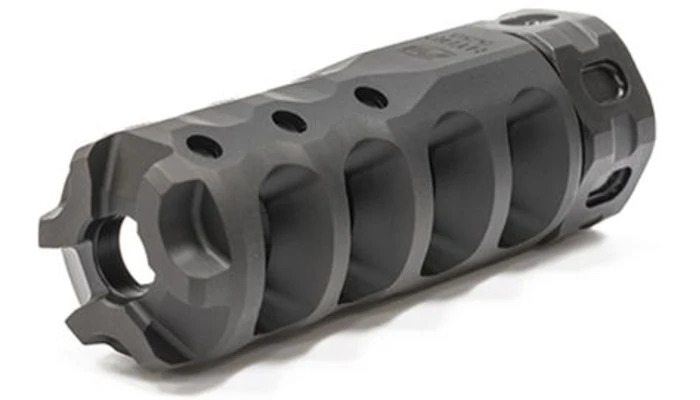 My next product for 300 Winchester Magnum has a unique proprietary design that goes beyond the competition of Hybrid Baffles and Convergent Divergent port geometry.
Yes, I know all that just went over your head.
Simply speaking it has the best in class efficiency you will find in the market. But I want to prove this claim.
The muzzle brake uses an advanced CD port geometry that allows the brake to have a highly efficient gas flow which is dynamic and perfect for the best recoil reduction system. Although I love the fact that I am getting a great output from the product, my concern is also about the aftermath.
This is where the next part of the deal comes in. The muzzle brake not only promises a highly efficient gas flow for best-in-class recoil reduction but also a minimal gas blowback.
This means I can use this brake without receiving the harsh muzzle flash in return. It's the second point that made me choose this HyperTap muzzle brake over others.
Now coming to the installation process, there is an integrated muzzle nut that lets you attach this in your rifle quickly and easily without the need of gunsmithing.
For your 300 Win Mag, you will need the 5/8x24mm threading that comes with safe 35 degree baffles for best performance and less flashback.
Do you need to drill out pilot holes on the HyperTap?
You can drill out more pilot holes but drilling more holes can lead to overcompensation that also can reduce the overall recoil reduction rating of the muzzle brake.
What is the difference between the Slim and Standard Body options?
The Slim Body Hypertap has an O.D. of 0.90" whereas the Standard one has a 1.09" O.D. Although it depends on personal preference, there is a negligible performance loss with the Slim Body Hypertap simply because there is less internal surface area where the brake can redirect the gas.
Can you put this brake on a barrel shorter than 14.5"?
Yes, you can but I would suggest not to, mainly because some shooters are unable to handle the gas and concussion produced from the recoil reduction process.
4. SureFire 3-Prong Flash Hider w/Suppressor Adapter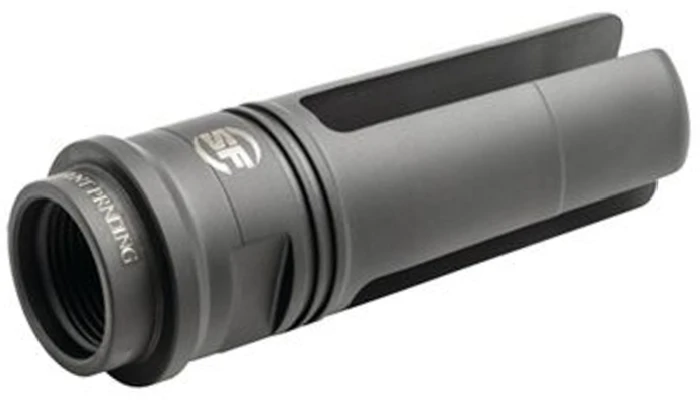 After going on and on about muzzle brakes I want to give you a "break" from all this talk and introduce to you something different.
What say, you ready for something more convenient and less harsh to your pocket? This time I want to recommend a flash hider for some shooters who want something less in the face but have the same result.
This SureFire 3-prong Flash Hider will do just that for you. It has a patent-pending design that rescues muzzle flash at a great level. To the shooters who have experience with strong cartridges like Magnum .300, this product has another meaning.
Other than controlling the muzzle flash, this hider features a rear labyrinth seal that minimizes any potential carbon buildup in the indexing system making it easy to maintain the product without worrying too much about cleaning often and facilitating extended firing.
When talking about the durability of the Flash Hider, its US mill-certified stainless steel protects the product from excessive heat and any kind of harsh environment promising you a long life.
In addition, the black Ionbond DLC coating labyrinth seals are great for diluting gas leak from suppressor lock ring.
Do these come with a crush washer along with rocksett?
Yes, you will find a Shim/Spacer kit and rocksett included in the package.
Does this product work with the Warden diffuser?
Yes, you can easily pair this SureFire flash hider with the SureFire Warden Blast Regulator.
Is this compatible with the CZ Scorpion EVO 3 9mm firearm?
No, unfortunately SureFire does not have a 3-prong Flash Hider version specifically for the 9mm firearms. Therefore, it is not compatible with the Scorpion EVO 3 9mm gun.
5. Ultradyne Apollo LR Compensator Muzzle Brake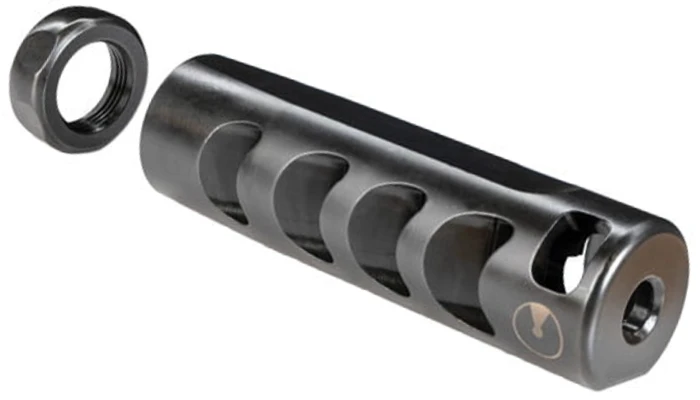 The next product in the muzzle brake list is the Ultradyne Apollo LR Compensator which is a sub-part of the muzzle brake family. This type of brake has a series of ports from different angles.
This Ultradyne product is unique because it utilizes its advanced imaging and precision instrumentation to create an ultimate recoil reduction system.
With this compensator muzzle brake you are not only getting an optimized muzzle rise that eliminates any possibility of disrupting your shooting, but also does not direct the gas towards the shooter or vent it into the sight path.
Shooters who know how annoying it is to get carbon residue around the scope, will understand how much this feature matters.
The muzzle brake is perfect for any standard long range calibers but also manages to control the magnum calibers with these long range rifles. This is perfect when you are targeting a long distance game.
Plus, the compensator allows you to see the bullet splash even with long range shooting which is so difficult with magnum cartridges.
The 416 stainless steel along with the ultra rugged SB Nitride, makes the muzzle brake absolutely capable of handling the strong calibration of the 300 WM. Coming to the mounting system, you get a shrouded Timing nut that makes the installation so much easier.
Will this fit AR15 chambered in 7.62×39?
Yes, the Apollo LR Compensator will fit a AR15 rifle with 7.62×39 chamber. But you have to make sure that the barrel has a 5/8×24 thread pitch.
What kind of timing nut will be good for heavy barrels?
You get a 0.875 inch timing nut for any standard barrel, but in case of the heavy barrels you will need a 1.0 inch timing nut. I would recommend the Ultradyne Muzzle Device Nut for the heavy barrels.
What is the OD for the LR 300 brake?
For the LR .300 Muzzle Brake the OD is 26mm/1.04 inches.
6. VG6 Precision Lambda PRS30 Muzzle Brake
Before we move towards the ending I want to introduce this VG6 Lambda Muzzle Brake as my next recommended product for the .300 Win Mag. With a simple two piece design the Lambda Muzzle brake and Jam Nut make an unstoppable pair that dissolves all your worries along with the magnum's recoil.
The included Jam nut is best for any tool-less easy installation. The muzzle brake has a chambered design that allows the shooter to remain on the scope while identifying their impact's downrange. This way you get to have the best outcome from any cartridge.
Its first chamber provides the firearm with an uninhibited flow of gas to the left and right side of the shooter which maximizes the output of your firearm. The remaining three chambers direct the gas backward in order to reduce the side concussion by acting as a buffer.
Although this will allow a smooth shooting experience this can result in blowback towards the shooter which is quite unpleasant.
The muzzle brake uses a 17-4PH stainless steel, machined from 100 percent CNC giving you the optimal performance. It also utilizes the CFD (Computational Fluid Dynamics) and CAE ( Computer AIded Engineering) for better structural connection with the firearm.
Is there a blast shield?
No, there is no blast shield added in this version of VG6 Lambda Muzzle brake.
Will this brake work on a 458 SOCOM barrel?
You can use this muzzle brake on a 458 SOCOM rifle. However, it will not be safe as you will need to bore out the muzzle brake.
Is this muzzle brake compatible with a 7.62×39 caliber?
Yes, caliber wise the brake will work on a 7.62×39. But you also need to check the thread pitch of the barrel. If the AR rifle has a 5/8×24 thread then the brake will fit. Since most AR-15 firearms do not have this thread pitch, I would recommend you to go for the Epsilon AK Muzzle Brake.
7. Seekins Precision AR ATC Muzzle Brake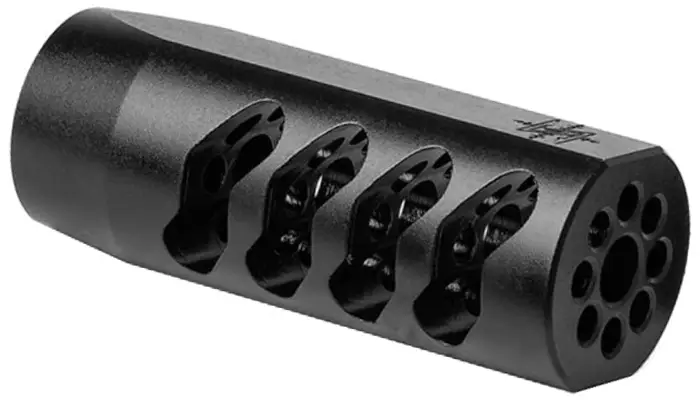 For the last product of the muzzle brake options for the Winchester 300 Magnum, I have chosen the Seekins Precision ATC Muzzle Brake for its simple design and budget friendly price tag. You will get all the benefits of having a good compensating muzzle brake in the minimalistic price range.
The port design of this muzzle brake helps the product to minimize the amount of recoil you feel for the Magnum cartridges and reduces muzzle rise at the same time. For this reason, the brake works more like a compensator.
What it actually does is that it redirects some of the gas flow towards the both sides of the brake and some on the rear side.
Although you get a smooth flow of the bullets, the blowback on the rear side can cause distress for some shooters.
Other than this, the muzzle brake ensures faster follow-up shots because of the rapid recoil control on its side, meaning you get to have quicker target transitions as well.
You will find an easy installation timing nut with the muzzle brake that will allow you to fit the brake into your firearm without any tools. Its 416 stainless steel with two surface finish options works as an evidence for its long lasting performance.
Does this muzzle brake help reduce the noise when firing the weapon?
No, the muzzle brake does not have any noise protection feature. Therefore, you need to have noise protection whenever you are using this muzzle brake.
What is the weight of this product?
The Seekins ATC muzzle brake weighs only 3.9 ounces which will hardly put any extra weight on your firearm.
Will this muzzle brake be compatible with a .300 Blackout Rifle?
Unfortunately no, it will not. This muzzle brake model comes with two thread pitch options- 1/2×28 which is perfect for .223 and 5.56 NATO calibers and 5/8×24 for the 30 cal cartridges.
Buying Guide For 300 Win Mag Muzzle Brake
In this section, I have added all the important questions that will help you understand more about the concept of muzzle brakes and its relationship with the cartridges, specifically the 300 wm ones. So then let's begin!
Who might need a muzzle brake?
Normally what a muzzle brake would do is, it will help you tone down the amount of recoiling your rifle and cartridge produce. Sometimes, having a vibration from calibration can lead to many problems, mainly being injured by the kickback from the recoil.
Now in any case if you are feeling that the recoiling is a little bit too much for your liking, you can simply add a muzzle brake that will let you control the recoil and save you from any further complications.
What kind of rifles are compatible for muzzle brakes?
You can actually add a muzzle brake to any type of rifle so there is no specific limitation there. However, since you need to screw the brake to the threaded barrel of your rifle, you have to be sure that your rifle has that kind of barrel in the first place.
In case you are using a rifle with a non-threaded barrel, you will need a gunsmith to screw the brake in.
What types of muzzle brakes are available in the market?
You will find many variations in muzzle brakes, but two of the most common ones are the radial and chambered brakes. The radial muzzle brakes have ports drilled around the entire body which make the brakes more effective.
However, this is also the reason that your rifle might pick up more bedris when you are in an open field.
On the other hand, the chambered brakes have a series of open ports along the 3, 6 and 12 o'clocks sides of the body. These force the muzzle down to prevent any sort of jumping. This type of muzzle brakes are also known as compensators.
However, you will find some minor differences between a compensator and a muzzle brake. That's why, for now we will call it a subcategory of the muzzle brakes.
What kind of brake will you need for 300 Win Mag?
Coming to the most important question of this article, the kind of muzzle brake you will need for your 300 win magnum. Of course you will find hundreds of options while searching in the market, but there are other brakes for different cartridges which will also work for it.
You can use the muzzle brakes that work for 7.62mm or .308 calibers to adjust the .300 Winchester Mag as well. As a result, you will be able to use one brake for multiple cartridges.
Do you need any additional accessories?
Last but not least, before using a muzzle brake for your rifle, you need to understand the negative side of using it. Attaching a muzzle brake on your rifle will produce more noise when you are shooting. Therefore, having proper hearing protection is very important in this situation.
Conclusion
In my opinion, having a muzzle brake is an important upgrade for your firearm, especially when you are using a rifle and cartridges that have solid kickbacks which can result in severe injuries.
That's why getting more knowledge about muzzle brakes and their usage will come handy in times like this.
Since the Winchester .300 Magnum is a versatile cartridge that has been in the market for quite some time, you will find many brakes compatible for this bullet. However, you can't just go for any product but the best one.
With that intention, I have recommended 7 top muzzle brakes for the .300 Win Mag cartridge. You will be able to find the perfect match for your rifle once you go over the reviews of these products.
Plus, in times of confusion you can just look at the buying guide to gather more knowledge about muzzle brakes which will help you to make a better choice.