The Sig Romeo 5 is one of the best modern-day red dot sights on the market. With a mounting system that supports most modern weapons and pin-point accuracy for tactical shooting, it's not that hard to recommend this optic.
While the Romeo 5 is a great optic, it still lacks in some corners for some folks. I'm talking about magnification. Just like most other red dots in the market, this one is fixed at 1x magnification.
Don't worry, you don't need to be stuck at that magnification. Rather, you can easily increase the magnification without changing the optic itself. If the title didn't give away already, I'm talking about magnifiers.
That's right, you are here to find the best magnifier for Sig Romeo 5, and I promise to deliver that. With that said, let's start.
1. Sig Sauer SOJ41001 Juliet4 Magnifier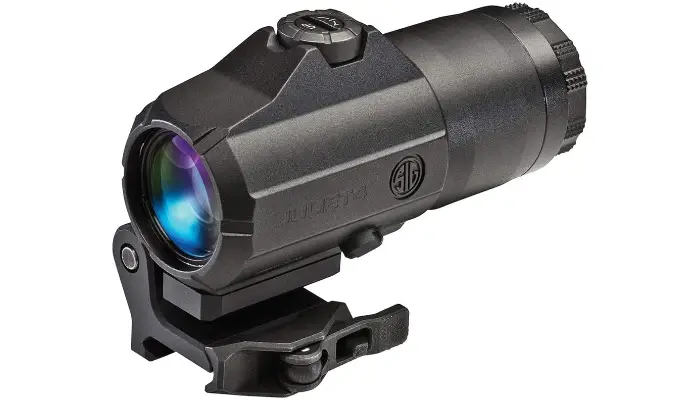 The Juliet magnifiers are made for the Romeo series. Match made in Sig Sauer's factory. This Juliet here is the 4x model from Sig Sauer. The 4x magnifier is extremely durable and lightweight as well. If you are worried about weight balance on your gun, you don't need to worry about that.
The Juliet 4x has a 24mm objective lens that gathers all the light necessary to show up a properly illuminated visual. With a quick release and flip to the side mounting system, the Juliet 4 is one of the best magnifiers for Romeo 5.
The weight of the entire thing is only 12.5 oz. With IPX8 rating, you are free to use this in the moisturized jungle or under light rain as well. While the magnifier won't work during the night, it will work fine during dusk.
Does it come in a different color as well?
Yes, it does. It comes in a flat dark earth color as well. This color is absolutely brilliant and suits a lot of camouflaged weapons.
Does Sig Sauer provide any warranty with the Juliet 4?
Yes, they do. Sig Sauer provides an unlimited lifetime warranty with the product. Sig is committed to providing a good service.
Where is Sig Sauer Juliet 4 made?
Sig Sauer doesn't provide any information regarding the origin of this magnifier. You can try reaching out to Sig for exact information.
2. Vortex Optics Micro Magnifier w/Quick-Release Mount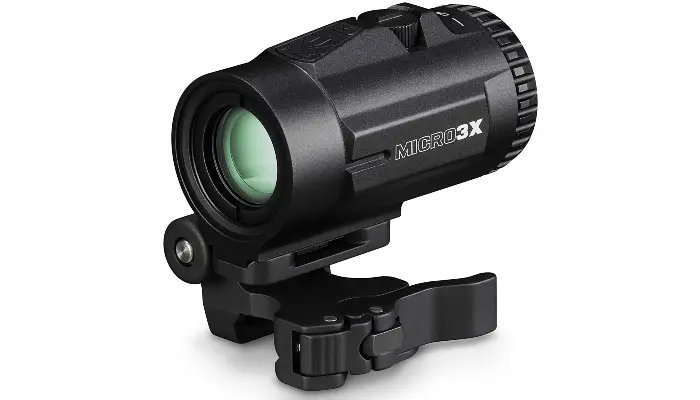 Vortex is one of the best scope manufacturers in the world. No way of denying their products and how well they perform. The Micro Magnifier is made for their red dot optics but people have found ways to use this with other red dots as well.
The micro Magnifier is equipped with a quick release mounting system with flip to the side mechanism. If you don't want to use the magnifier while shooting, you can just flip it on the side and use the red dot as it is.
With a 3x magnified fully multi-coated lens, this is one of the cleanest looking magnifiers on the market. The inside was purged with nitrogen to make it fog proof. It is also water and shockproof at the same time as well. There is no distortion at maximum magnification either.
Does it have any warranty?
Yes, it does. It has a lifetime warranty paired with the magnifier.
Is this good for hunting?
Yes, of course! It is excellent for hunting. It's made for both hunting and tactical shooting. You can do both and more.
Is the windage adjustable?
Yes, it is. Both windage and elevation of this sight is adjustable with a flat head screwdriver.
3. Aimpoint Professional 3XMag-1 Magnifier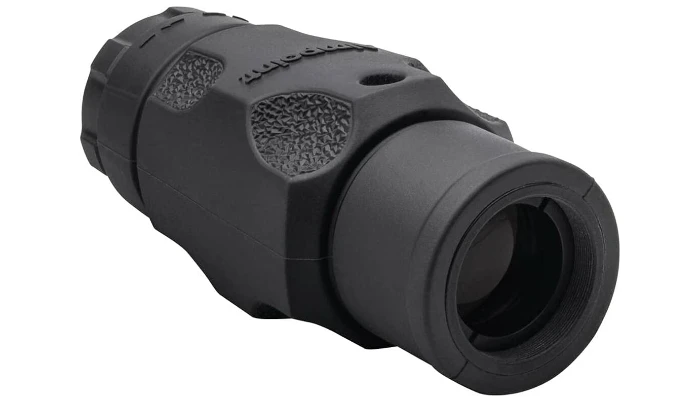 When it comes to red dot sight and magnifiers, Aimpoint is one of the best in the business. They make magnifiers for their sight as well as compatible with other sights as well. The 3X-Mag magnifier is a mountless magnifier that you can match with any of the red dot optics you may want.
That does include the Romeo 5. The Aimpoint 3X-Mag magnifier is made out of a hard anodized aluminum shell made through CNC machining. On top of that, the entire shell has a rubberized coating on top of it. The coating protects it from scratches and makes it look and feel soft to touch.
The use of rubber on top is not a new practice. It's quite an effective one as well. While it's not as powerful as the Juliet 4x, this is quite effective for all sorts of tactical shooting at 3x range. It can hunt quite nicely as well.
Can I adjust the magnifier?
Yes, you can. It has adjustable windage and elevation settings present on the optic.
Where is this made?
All Aimpoint sights and magnifiers are made in Sweden. They don't have factories in China or Korea.
Is the tube 30mm?
Yes, the tube of the magnifier is 30mm. It's the same size as most riflescopes on the market. Finding a mount for this won't be hard.
4. HOLOSUN – HM3X Flip to Side 3x Red Dot Magnifier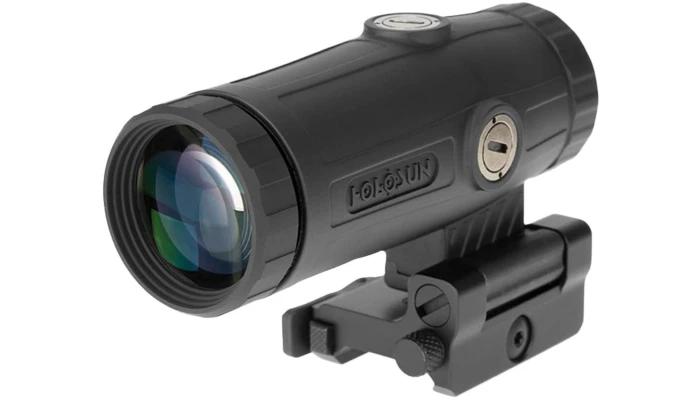 When it comes to budget red dot sights, not a lot of brands can compete with Holosun. They make tons of new stuff every year and they continue to upgrade those with new features as well.
The HM3x is a magnifier made for red dot optics. With a flip to the side mounting system, it gives you the complete free reign to use or not use the magnifier when you want or need it. The sight itself is made out of extremely durable aluminum with IP67 rating.
You can use it under the rain, in an area with moisture or under heavy sun even. It really doesn't matter what kind of weapon you pair this with, you can use this without thinking you might break it or move the zero. Even if you flip it on the side with zero set in, it will retain that zero when you reposition it.
Is Holosun American?
No, they aren't. Holosun is a China based manufacturer. They make their products in their factory and ship it all over the world. They also offer good customer service.
Is QD mount and spacer included in the package?
Yes, it is. You don't need to go somewhere else to get a spacer for your magnifier and red dot.
Can this be mounted to flip to either side?
Yes, you can do that. It will work fine regardless of the orientation. Just don't mount it in an opposite direction.
5. Bushnell Optics 3x Magnifier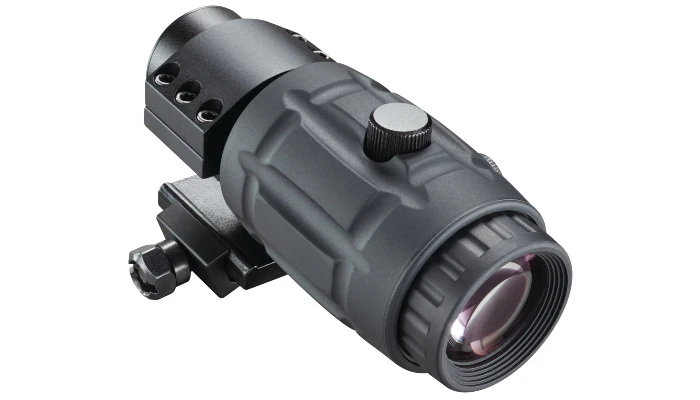 You probably heard of Bushnell optics by now. They are mostly known for making great budget rifle scopes for hunting. In case you didn't know, they also make magnifiers for red dot optics as well.
This one here is a 3x magnifier for red dot optics with flip to side and use the red dot only. But it doesn't come with a quick release mounting base unfortunately. Which is a bummer when you think about it. But it's a sacrifice I'm willing to make for the price it costs.
The magnifier is fog, shock, and waterproof as well. You can use this to hunt at any given time of the day. Not at night, because it lacks night vision capability. But for all sorts of day time tasks, this one is unbeatable at the price.
Will this work with Sig Romeo 5?
Yes, it will. There are a couple of complaints of height not matching, that's because you are not using the same height for both mounts. You will need to use the low profile mount to make them at the same height.
Will this work with Holosun 512C?
Yes, it will. They share similar heights. Zeroing out the magnifier and using it on the go shouldn't be an issue.
Does Bushnell offer any warranty with this?
Of course! They offer their no questions asked warranty for this as well.
How To Choose The Best Magnifier For Romeo 5?
Well, now that you are aware of some magnifiers, how do you choose the best among them? It's much easier than you might think.
You can make your decision based on two things. One, how much magnification you need and how much money you are willing to spend. You can see that the Aimpoint magnifier requires a separate mounting device while the other comes with mounts. So, if you are not willing to spend extra for a mount, then the others are the obvious choice.
While most of them are 3x the Juliet is a 4x magnifier. If you are after that extra 1x magnification, then Juliet is the obvious choice for you. See, that was quite straightforward and easy, wasn't it?
Conclusion
And that will be all for today folks. I hope you enjoyed the read and found it useful. There are quite a few magnifiers I mentioned here. But all of them serve a purpose at different prices. If you are feeling like spending less, then you should spend less. If you are feeling like getting the expensive one, then do that.
That's all for now. I hope you return for more guides like this later. Till then take care and don't forget to have fun.