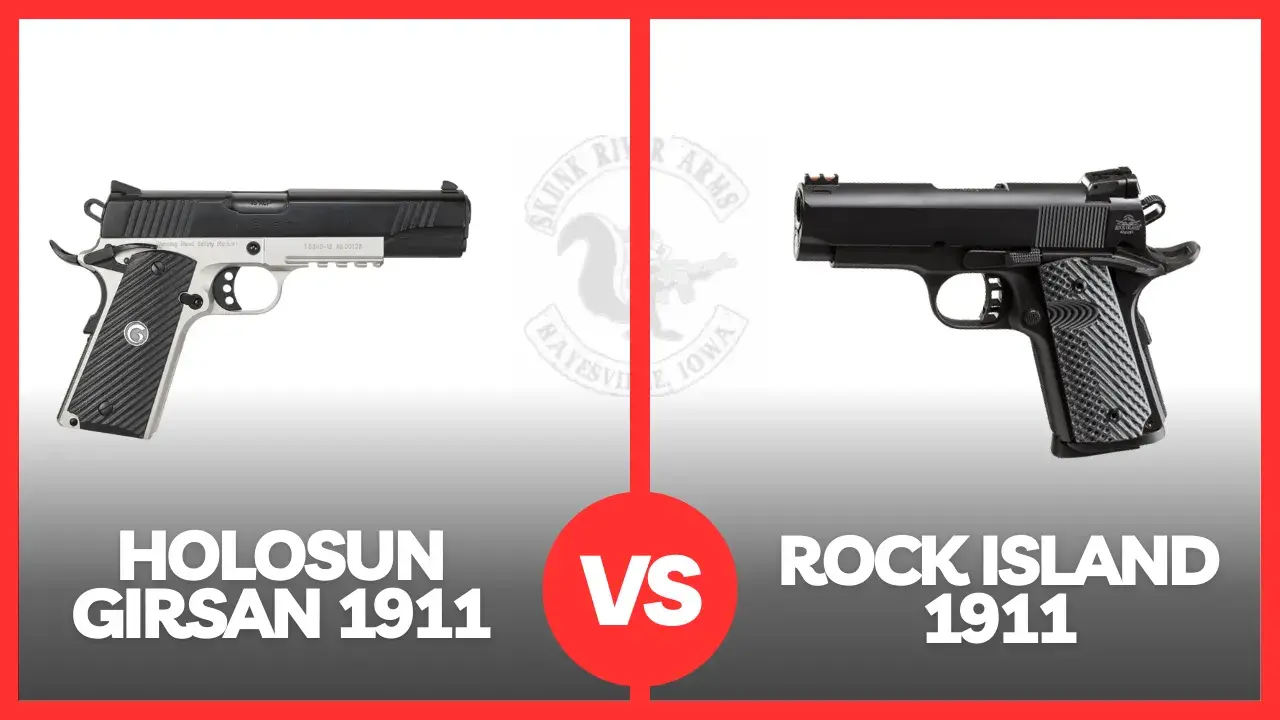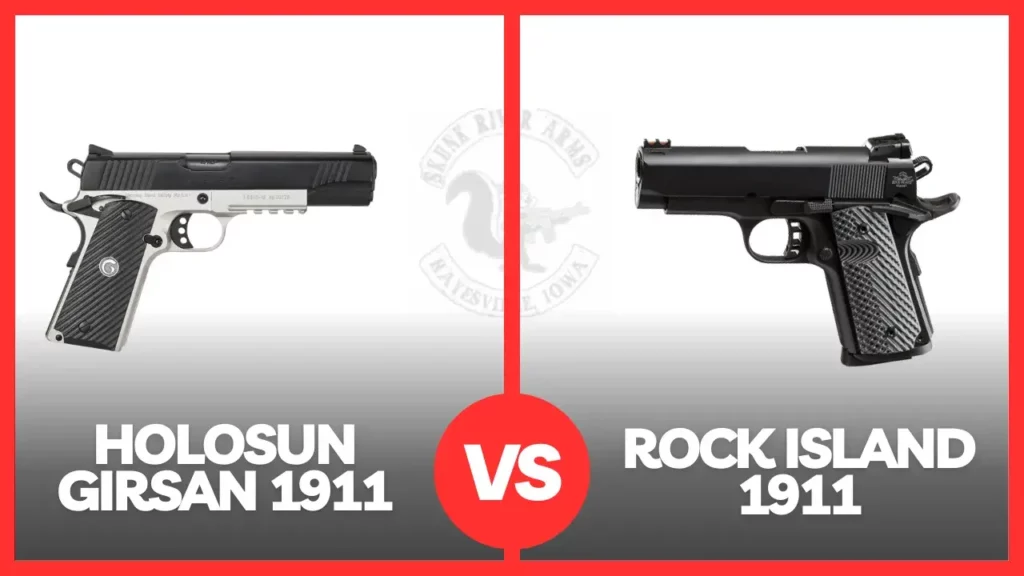 If you are in the market to buy the legendary 1911, you will get your feed bombarded with tons of different options from different manufacturers. Each claiming "ours is better", or a similar tagline.
Especially, in the budget range, the topic of choosing one between Girsan 191 Vs Rock Island 1911 gets quite heated!
Don't worry, I'm not here to fuel you to hate one brand over the other. Instead, I'm here to help you find the one that may be the best choice between the two. Let's see what they present on the table and go from there, shall we?
Girsan 1911
Girsan is a Turkish firearms manufacturer that expert in handguns and shotguns. The Turkish military uses a variant of the Girsan 1911. Due to it's price-tag, it easily became one of the most recommended self-defense weapons in the last decade.
Rock Island 1911
This Philippines-made weapon has found its way into the world relatively fast. Due to its incredible durability and availability of service in the USA, it's also one of the most recommended 1911 series weapons in the market right now.
Granted, it's not as cheap as the Girsan. But it does a lot of things right like the original to make sure you are getting the best possible experience.
Girsan 1911 Vs Rock Island 1911 – Key Differences
While the two guns share the same parental figure "1911", they are not identical guns per se. They do have their differences. From looks to performance, it might not be what you expected. Let's figure this out!
Design
The first thing you will notice the difference between the two is in the design. While the Girsan looks a little less tacky, the Rock Island design might sing to a lot of people. Sometimes, you just want your handgun to stand out.
The Girsan features a steel frame and the Rock Island features an aluminum frame. The weight difference here is noticeable as the steel-made one is slightly heavier. If you like sturdy weapons with a bit of heft on them, then go for Girsan.
Reliability
Due to its Turkish roots, the Girsan is held in high regard when it comes to the reliability of the gun. You can read a bunch of reviews and probably find some users in your circle as well. All of them will say the Girsan is a reliable variant of the 1911 with a forged steel frame.
Even if you were to drop it once or twice, nothing would happen to the gun at all. The finish on the steel looks mesmerizing as well.
As for the Rock Island variant, it is also highly reliable. Aluminum is by no means a "worse" material to make weapons out of. It also has a cerakote finish, which is a more reliable coating than blued or anodization.
Performance
The Girsan 1911 is a great choice for those looking for a reliable and affordable 1911. The Rock Island 1911 is a higher-end option made by a brand in the USA. It is made from high-quality materials and is offered in a variety of finishes.
In terms of performance, they are identical. They are both accurate and have an insane recoil control. The trigger pull on the Rock Island varies from 4 pounds to 6 pounds depending on the variant you are using. This is the reason why a lot of people don't upgrade their trigger on Rock Island 1911.
As for the Girsan variant, it comes with a 6.0 lbs trigger pull. It's not low by any means. But it's linear and the weight pull doesn't feel "forced" if that makes sense. It's a relatively smooth experience with no chance of a false trigger happening.
Accuracy
Most users consider the Rock Island 1911 to be a bit more accurate than any budget 1911. The Rock Island 1911 has a longer barrel that plays a role in the accuracy. It also has higher tolerances and a better trigger.
That doesn't mean the Girsan isn't accurate. It is also accurate with a slightly looser tolerance overall. But it's still a smooth experience.
The best part of owning a Girsan is that you don't need to tune it that much. It's one of the few budget 1911 that does everything right out of the box!
Accessories Support
A big part of handguns is the third-party accessories that make or break a gun for you. 1911 is extremely popular. It has a lot of after-market support for users to modify their weapon and make it seem like it belongs to them.
Both firearms have a wide range of aftermarket support. For the Girsan 1911, aftermarket parts and accessories can be found from a variety of sources, including Girsan themselves.
They offer a wide range of replacement parts, such as barrels, triggers, hammers, and more. Additionally, aftermarket parts from other manufacturers are also available.
The Rock Island 1911 also has a wide selection of aftermarket parts and accessories available.
Overall, both the Girsan 1911 and the Rock Island 1911 have a wide range of aftermarket support, so you can find the parts you need for either firearm.
Recoil
Girsan made this gun for people to get into the 1911 culture and find out whether they loved the weapon or not. That's why, they also made sure the gun has less recoil compared to the competition. Despite having a shorter barrel, the Girsan offers quite good recoil.
That doesn't mean Rock Island is not good. It's also great when it comes to controlling the recoil. But it does come with a bit of higher recoil. Not by a huge margin, but if you are sensitive about recoil, you can feel and notice the difference.
Customizing The Guns
Both of them offer a good number of customization that doesn't require you to dissect the weapon. To name a few customization, interchangeable grip panels, adjustable rear sight, extended slide release, and beavertail grip safety, come to mind.
As for the Rock Island 1911, it can be customized with a variety of grips, including wood, rubber, and polymer.
Girsan 1911 Vs Rock Island 1911 – Similarities
Both are semi-automatic pistols that are chambered in .45 ACP and have a single-action trigger. They have a magazine capacity of 8.
Both of them also share a similar type of manual safety. And that's about it. From the frame to barrel length, they are all different between the two.
Frequently Asked Questions
Which Model Of The 1911 Is More Reliable And Accurate?
Due to the higher classed finish and after-sales service, the Rock Island can be considered to be more reliable. But don't let the Girsan 1911 price fool you. It's not a toy. It's still a real gun with real accuracy and damage. Overall, they are both reliable and the choice depends on the budget you have.
Are both of these guns made in the USA?
No, they aren't. While Rock Island is a company based in the USA, their M1911 series is made in the Philippines by Armscor in Marikina, Philippines. As for the Girsan, they are Turkish through and through.
Closing Thoughts
As you can see, they are not worlds apart. All the differences between the two can be negligible if you consider the price difference. But if you are not worried about the money and want to get the highest end possible, then the Rock Island one is the better choice between the two.
But if you are on the market to get a budget 1911 that isn't clone or made in a tiny warehouse in China, then Girsan is a great choice to consider.
That's all for now, hopefully, you found out the difference between Girsan 1911 and Rock Island 1911. Will see you guys on the next one. Take care and have fun.