Since its launch from the 1960s the MP5 by Heckler and Koch, this amazing submachine gun has been one of the most widely used firearms by both civilians and military. People have liked it so much that there are more than 100 variants and clones of this submachine gun.
With the 9mmx19 chambered caliber, this gun gives out the energy you want to have every time you take up a gun. When talking about its variants, Heckler & Koch kept it separated for both civilians and law enforcement members so that you can always find that one version to fit your needs.
Its MP5A2 to A5 has been popular among the military members whereas the SP5 versions are made to daily usage by the civilians. Now whichever you have it really does not matter, because all the versions have their perks and you would want to fix them.
In case your question is how, then you have come to the right place. I have the perfect list of products that you will need to upgrade your MP5 or SP5 whichever you are using right now. That's why I would suggest you sit tight and go through the products I have recommended for your MP5 submachine. Then let's begin our journey.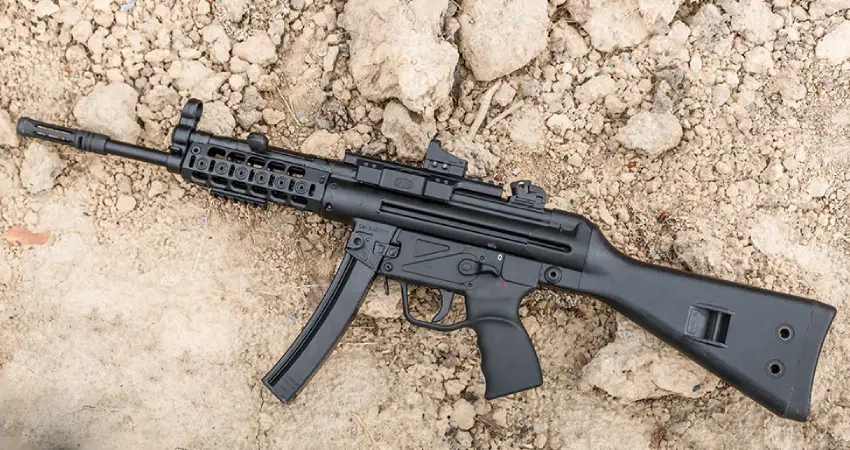 1. H&K MP5 Stock
Stocks are always a staple for any rifle and machine guns. For a submachine like MP5, it is something I find necessary mostly because of the support system and easy control you get to have over the firearm.
Now I have two great stock options for your gun and an optional adapter so that you have a total set for your MP5 weapon. Let's see what these stocks can do.
i) F5 MFG Modular Stock System with MP5 Adapter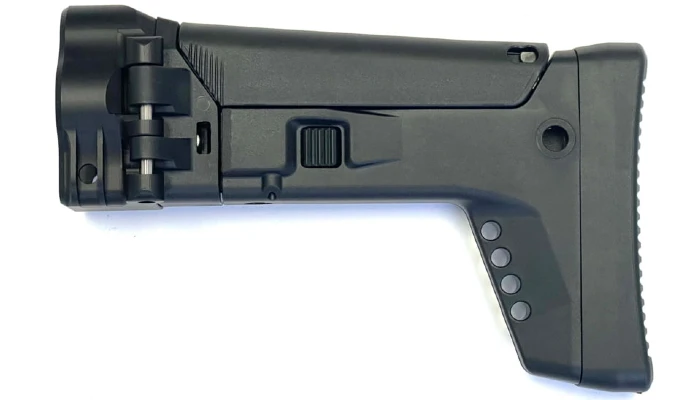 When it comes to recommending products I always try to give what's the best available in the market. This time I also have a product that comes with all the fascinating qualities you will want to grab as soon as possible.
This F5 MFG Modular Stock has all the necessary features we look for in a good quality stock. I mainly like the fact that it gives you the stability you will need while chasing your targets. At the same time, this stock comes with all the points that indicate utmost comfort for its users.
The 6061 Aluminum and Nylon 6/6 polymer construction keeps the stock sturdy with strong grip pulling out the "snap-out" scare. There is also an adjustable cheek well which works best for shooters who have a certain shooting style.
This is not all. The MFG stock has an integrated locking hinge and comes with seven adjustable length positions so that you never have to compromise while getting your targets. You also don't need to worry about purchasing a separate mount since the stock includes an adapter with it.
iI) German MP5 Factory A3 Stock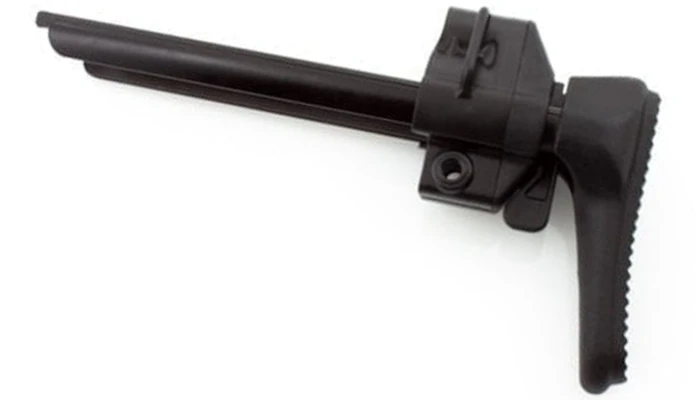 This German H&K Factory A3 stock is another great stock option that I always recommend to anyone who is looking for a solid aftermarket version of the original Navy style German H&K A3 stock. Since that is no longer available in the market, it is difficult to find something similar.
This is where this amazing product comes in. This is the perfect replacement of the original style that has a MP5 F style stock. This new stock adapts with all the clones and variants of the MP5 gun, including the SP5 and HK95 models.
The second generation navy style stock has a polymer blackplate and lever which gives it stability and durability. At the same time the polymer gives you solid grip and keeps the stock locked in place.
Since this stock does not come with an adapter, you can check out the A3 Tactical Rear Stock Adapter to mount it on your MP5 submachine.
2. MP5 Clone Handguard
Although you can keep the factory handguard from the MP5 model, it will be a better option to toss it aside and find a better quality clone handguard which will enhance the overall quality of the gun. These aftermarket handguards allow you to attach a light system and modernize your existing weapon game.
i) Midwest Industries MP5 Clones Mil-Spec Top Rail Handguard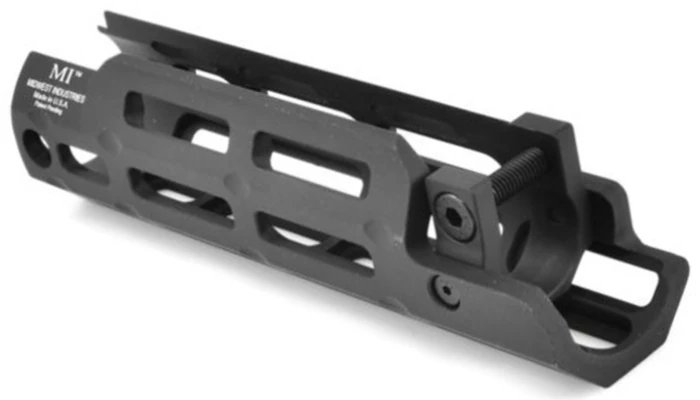 For a good quality handguard recommendation, my first product of choice is the Midwest Industries Top Rail Handguard. This rail handguard is M-LOK compatible and will attach to all the MP5 clones and variants.
The MIL-SPEC Top rail gives you a standard rail size to work with and add any external accessories on your MP5 and SP5 firearms. It has a MI-MP5M quality Black finish which reduces glare and gives a sleek outlook to the gun.
iI) Magpul Industries SL MP5 HandGuard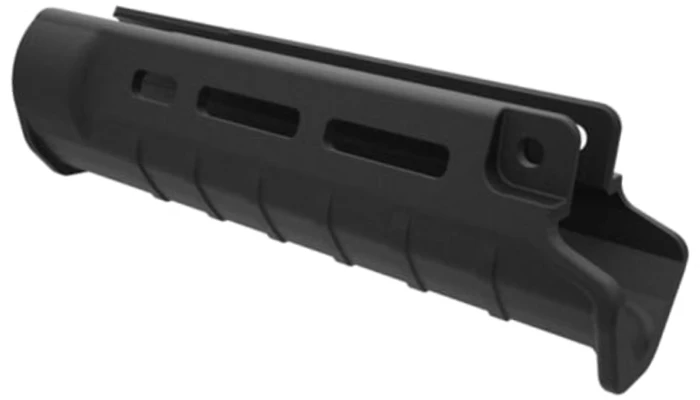 Another good product recommendation for MP5 handguard will be this Magpul SL Handguard. I chose this product because of the long committed quality of Magpul industries accessories. There is no doubt with the quality mark and durability extension with their products.
This SL handguard is especially for the HK95 and MP5 models but you can attach it to models like SP89 and MP5K or the clones with 5 inches barrels. The handguard is also M-LOK compatible and has a polymer housing construction to ensure both durability and comfort.
What I will also suggest is getting a handguard with a flashlight. That way you get to have all the rail space for your optics and magnifiers and have a flashlight at the front. This SureFire Handguard with 1000 Lumens Flashlight is the perfect example of killing two birds with one stone.
3. MP5 Trigger Upgrade
With the trigger you get from the original H&K gun you can navigate through your shooting excaventure in a good manner. But that does not mean you cannot explore the better options you can find in the aftermarket collections. Having to upgrade the trigger system of the MP5 and SP5 gun will work in your favor.
The following trigger products will help in upgrading your shooting quality and the control you have over the gun itself. That's why I will suggest giving it a try.
i) Franklin Armory BFSIII HK-C1 Trigger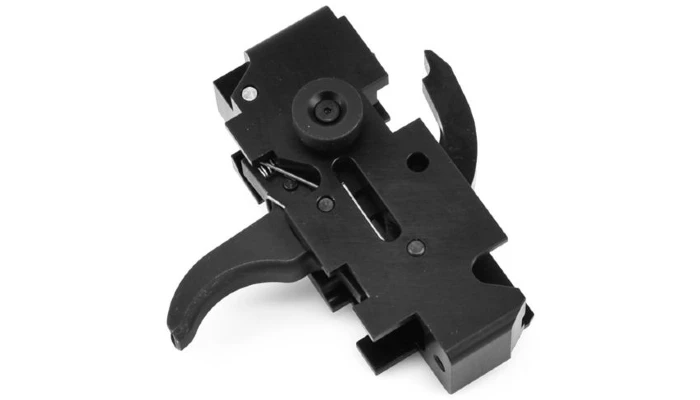 The Franklin Armory has taken the Binary Firing System to its next level with the BFSIII HK-C1 Trigger. Trust me when I say this is something you will want to experience with your rifles and submachines, I am lying.
This trigger offers 3 different firing positions with the minimal trigger pull of only 4.5 pounds. The first position keeps the trigger locked and safe as you cannot fire. The second position is for firing one round per pull and the third position adds an extra one round on release along with the previous one.
The trigger is perfect for both tactical and competitive situations and greatly reduces split time between each round. You can use it with most of the MP5 variants including the SP5K. It is also compatible with the HK 91/93 and other AR-15 platform rifles.
4. MP5 Weapon Flashlight
This part is actually necessary and optional at the same time. I will tell you why. Personally I like keeping a good quality flashlight with me, especially for any night adventure. This always comes in handy when my ficus is on creating better situational awareness.
High lumen capacity light will actually help you find your targets quicker during dark hours and also keep you safe from any sudden attack. Hence, I will encourage you to get one for yourself.
i) SureFire M600U Ultra Scout 1000 Lumens LED Weapon Light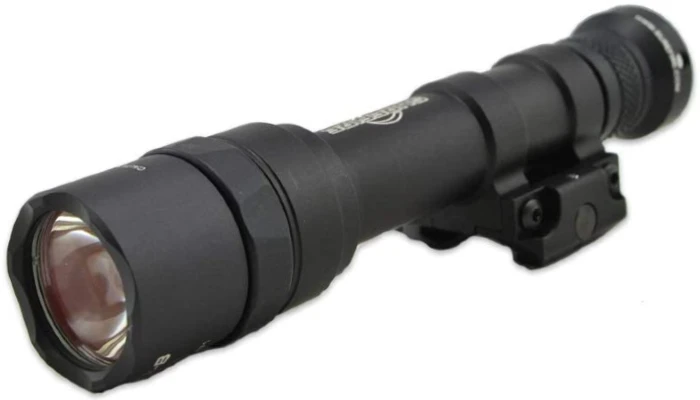 SureFire sure has been taking their rank higher each day because of their qualitiful product within a budget-friendly price tag. This product is nothing different. The 1000 lumens of bright LED can run upto 1.25 hours for constant usage.
The TIR lens is there in order to increase situational awareness. This actually works best for any home defense situation. To prove the durability of this flashlight SureFire has used a tempered window and O-ring sealed housing which remains waterproof during any environment.
Just to make it easier for you I will suggest adding a Tape Switch with the light. SureFire has a Switch Assembly and Tape Switches with a 7" remote switch function which will be a good choice in my opinion. You can attach the switch using the Cloud Defense SureFire Tape Switch Mount which has M-LOK compatibility.
Lastly I have this Arisaka Defense Flashlight Mount with Adjustable Keymod to mount this SureFire Flashlight on your MP5 firearm.
iI) STREAMLIGHT 88065 ProTac HL-X 1000 Lumen Flashlight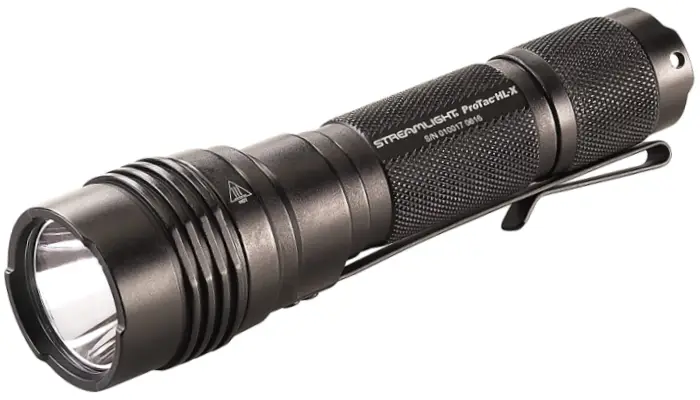 Another great recommendation will have to be the Streamlight Flashlights. This light also has an LED white flashlight with the output of 100 lumens. It comes with a tactical tail cap switch which controls both the momentary and steady on modes.
The light also offers three different user selectable programs so that you can change the modes according to your needs in that specific situation. It is also extremely durable as the light remains waterproof even under 2 meters water with its IP68 rated water resistance.
You can easily attach this Streamlight using the AIM Sports Modular Offset Mount as it has an M-LOK compatibility to mount directly on the MP5 submachine or any of its variants.
5. MP5 Optics
Another great additional accessory for your MP5 gun will be a great quality optical device. Now there are several types of optics you will find in the market. But I will suggest getting a red dot sight as it will help you in different lighting conditions without adding extra weight to your gun.
Although you get a Picatinny rail with the MP5 gun, I want to recommend this mounting rail which is especially made for the 9mm calibers. This Midwest Industries Picatinny Rail will give you more rail space for any additional attachments along with red dot sight.
i) Trijicon MRO HD 68 MOA Reticle with 2.0 MOA Dot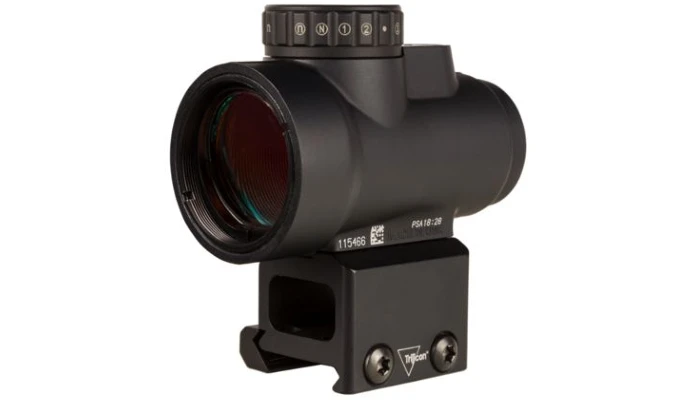 My first sight recommendation for your MP5 weapon is the Trijicon MRO HD Red Dot sight. This optical device will work perfectly when you are looking for both long range targeting and close quarter situational awareness.
The 68 MOA ring will help you detect any close range targets whereas with the 2 MOA dot reticle you can easily target from mid to long range and get precise point of aim. Using both the reticles will enhance your target acquisition possibility.
Not just that, this MRO HD version has a total of 16 brightness settings including 4 night vision compatible options. This is higher than the 8 brightness settings of the MRO version.
Plus, the capless design keeps it easy to control and switch between to reticle modes and navigate through the brightness options.
II) Aimpoint Micro T-2 Red Dot Reflex Sight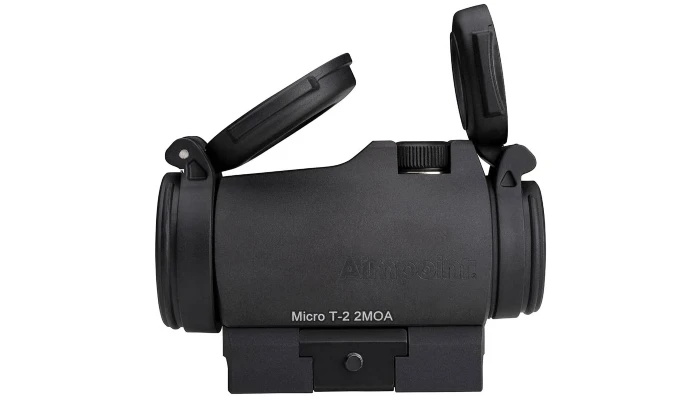 If you don't like the first one or you want something different then you can also check out the Aimpoint Micro T-2 Red Dot Sight. Its advanced lens quality promises better picture quality than any other usual reflex sight you will find in the market.
Although this sight does not come with a ring reticle, its 2 MOA dot reticle will work best for any long distance shooting. This dot reticle gives out a precise and accurate red dot that will reach further than you can ever expect.
The sight features 12 different brightness options also adding one super bright light option to work during the sunniest days. In addition, the flip caps lens covers for both front and rear lenses will keep them safe from any external harm.
Coming to the battery lifespan, you can use this red dot for almost 5 years with the CR2032 lithium battery. With the Aimpoint durability this sight does not lack in any department.
6. MP5 Sling
Sling is another necessary accessory that I will suggest for any rifle, PCC or submachine. This product makes your firearm portable and easier to deploy in action whenever you need it.
What makes a good quality sling mainly relies on the product quality and housing material of the sling. Getting a good quality nylon strap with easy adjustability and connecting points will make it easier for your work with that sling.
i) Blue Force Gear Vickers 221 2-to-1 Padded Sling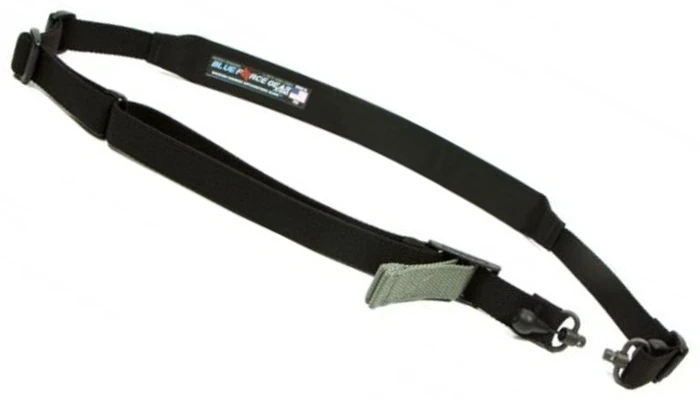 Where most of the shooters stay confused about whether to get 2 point or 1 point sling, this Blue Force Gear Vickers sling discards all of your dilemmas as you get 2-to-1 point sling system with this one. You can easily change your 2 point sling to 1 point during an emergency deployment.
The sling also has quick adjustment quality so that you are always ready to take over. You get a standard push button and the new Burnsed socket with this one to use it with or without the body armor.
You can attach this sling using two QD sling swivels to any of your MP5 clones. Its Dupont Zytel nylon keeps the sling sturdy and flexible without adding too much weight. Plus, you get a 2" inline pad which stays at the same place throughout the firing and gives you utmost comfort.
7. MP5 Magazine Upgrade
Whenever I am talking about rifles and submachines I always mention any feasible magazine upgrade for that particular weapon. Well magazine upgrades mean changing into a magazine with more rounds.
Of course you can also add accessories like magazine loaders or magazine releases but for this MP5 gun I think you will be just fine with an extended magazine.
i) HK MP5 9mm 30-Round Magazine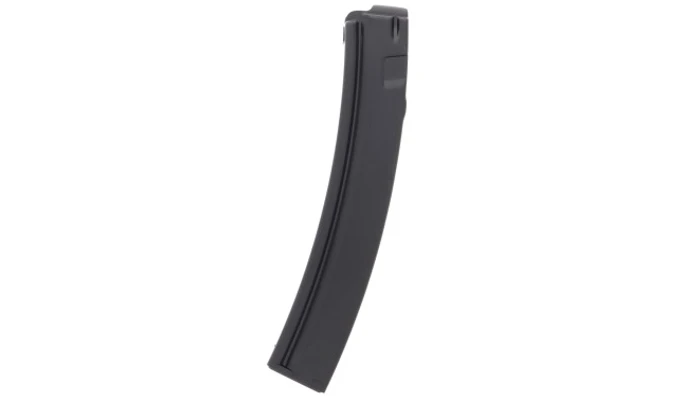 I always support keeping an extra magazine at hand because this will always come handy during critical times. And this time I will give the same suggestion. Get this 30-round 9mm magazine and be always ready to take on any situation that comes your way.
This HK MP5 compatible 9mm magazine is the same as the original one and has a blued corrosion resistant finish along with Anti-tilt polymer follower. It will give the working performance as your factory magazine.
8. MP5 Grip
Last but not least, upgrading your MP5 weapon grip is an optional but a necessary point. Adding a good quality grip that has better fitting will actually make your point of aim easier and better. Plus, there is the talk of comfort when you are using a firearm.
An upgraded grip will give similar attention to both stability and comfort of the shooter. Which is why I have suggested the following product for your MP5 gun.
i) Magpul Industries SL Grip Module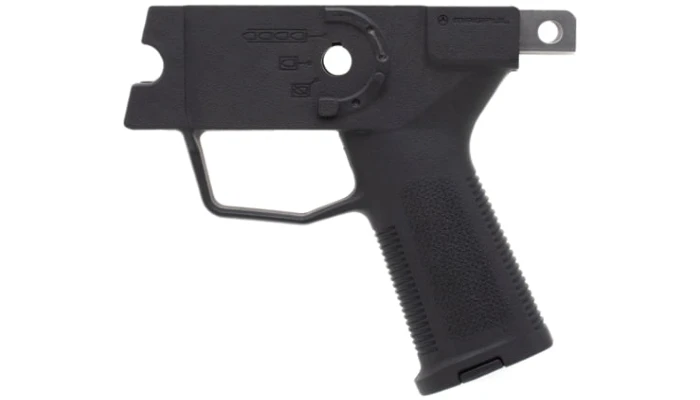 Although I don't have any complaints about the factory grips on the MP5 gun and its clone firearms, I still want to recommend a good quality grip for the fellow shooters who like to go an extra mile just to feel more comfort.
This Magpul Industries SL Grip will just do that for you. Gives you the comfort you are looking for with its injection-molded polymer construction. The grip has a non-slip TSP texture as well so you don't have to worry about sweaty hands anymore.
Besides, this Magpul product features an optimized grip angle in order to provide you with easier access to fire control components and ensure better stability. And what can I say about the housing quality of Magpul products. The corrosion resistant steel construction gives the grip a solid surface that can bump on anything and still work as smoothly as the first time.
Conclusion
In conclusion, adding an MP5 submachine gun in your collection is something you will do sooner or later. I am just going to say that whatever variant or clone you choose, make sure you know what the features are and which parts you want to upgrade in your MP5 and SP5 firearms.
While doing that if you face any confusion regarding the upgraded accessories, you don't have to worry anymore. I have all the products you can use to upgrade your MP5 gun and take it to the next level. And these are not just for the MP5 model, it's for all its variants and clones. You can now catch up with every single variant.