The Trijicon MRO has been one of the most recommended red dot sights for a while now. It's also the go-to red dot optics for any pistol carbine user. As the optic is shock, water, and fogproof, the optic is often used as a backup hunting tool and some even use it as canted sight.
While the MRO does have its own mounting system built-in, not everyone likes that or enjoys the default height. If you are someone that is in the market to find the best Trijicon MRO mount, you have come to the right place.
Without further ado, let's jump straight into it and find out what's the hype of this optic and what are some good mounts for MRO.
1. Scalarworks LEAP MRO Co-Witness Mount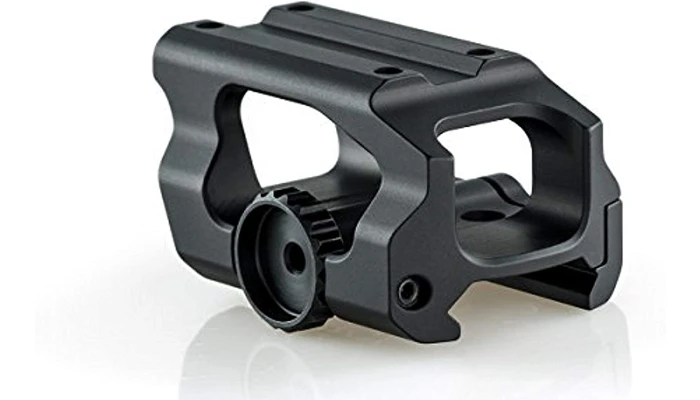 Scalarworks is a great mounting system manufacturer. The Leap MRO Co-Witness mount is a great way to mount your MRO to have a co-witness with the iron sight. Just like a regular mounting system, the Scalarworks mount also comes in multiple heights.
The mounting system is made out of 7075-T6 aluminum alloy. It has hard coated anodization. The clip system that tightens onto the rail is made out of durable steel alloy.
The alloy has a nitride finish to it as well. The mounting system is extremely durable and rugged. On top of that, it's also lightweight. Making it an appealing and a good option for the MRO to be used with rifles even.
Is it absolute co-witness?
Yes, it's an absolute co-witness. The height is 1.42"/36mm. If you want an absolute co-witness mount for Trijicon MRO, this is one of the best.
Where is this made?
Just like all of their other mounting accessories, the Leap MRO Co-Witness is also designed, machined, and assembled in the USA.
Will this work with the Trijicon MRO HD model?
Yes, it will. It works flawlessly with the MRO HD model as well. If you are an owner of the HD model and not the regular, you can go for this as well.
2. Trijicon MRO Levered Quick Release Full Co-Witness Mount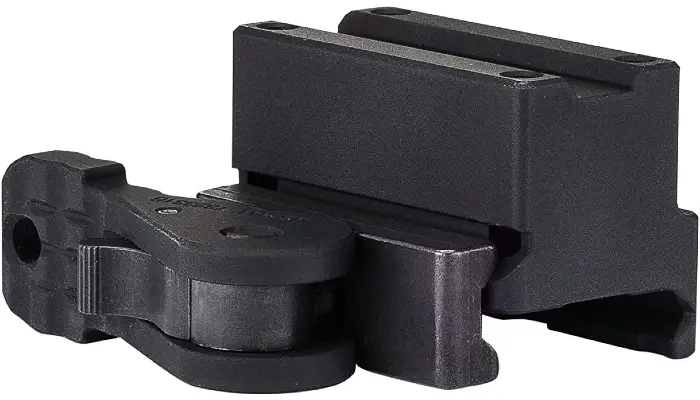 Co-witness mounts are the most preferred mounting system with red dot optics. That's why Trijicon themselves didn't shy away from making a co-witness mount with quick-release for the MRO.
Once you take the quick-release mount, there is no going back. Because the quick-detach mounting system is quite convenient for both safekeeping and changing optics on the fly to go from short-range to long-range.
The scope mount is made out of durable aluminum. It won't move around to mess around with your zero or magnification. It won't change the pre-dialed in adjustments either. You will need to dial in your own adjustments once you mount the optic with this co-witness mount.
Does Trijicon offer any warranty with their mounts?
Just like their optics, they offer a limited lifetime warranty with the mounting system of the built-in optics and other mounts that you purchase from them. But it's better to check with Trijicon first if they provide a warranty for all mounts or not.
Where is this made?
In the same factory as the MRO. It's designed, machined, and assembled in the USA. Trijicon has a good reputation for providing good after-sales service as well.
Does this come with mounting screws?
Yes, it does. You will not need a new set of screws to mount your optic on this and then mounting this on the rail.
3. Midwest Industries Trijicon MRO QD Mount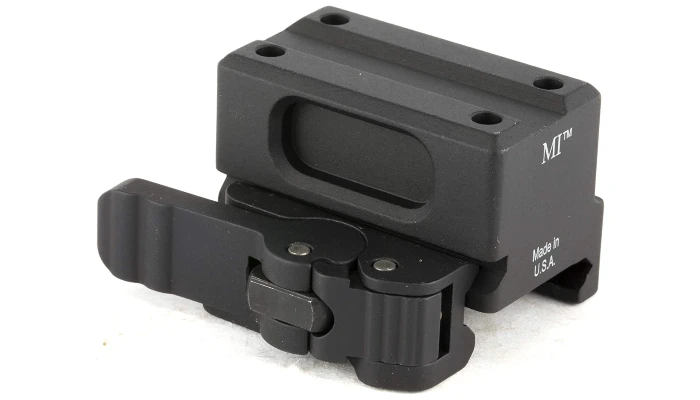 Midwest Industries MRO QD mount is another cloud pleaser. Coming at a lower price tag compared to others, Midwest Industries goal was to make sure to provide the best MRO mounting system on the budget. Did they deliver it? You better believe they did!
The QD mounting system is made out of 6061 aluminum. It's a durable material that is often used in scope and accessories making. The mounting system is designed to be mounted on a 1913 Picatinny style rail. It will not mount on the dovetail if you were wondering about that.
With a functioning screw-less QD system, it's quite easy to take it off the gun with a flick of your finger. That doesn't mean it doesn't stay in place locked. It definitely does. It holds zero and other adjustments that you may require while firing. Once you taken it off, you can safely store it and then bring it back to fire again with the same adjustments. Nothing will change.
Where is this made?
Just like all of their gun accessories, this MRO QD mount is also made in the USA factory of Midwest Industries. It's an inhouse design that they perfected to make it one of the best QD mounts for MRO.
Does it come with mounting screws?
It's a quick detachable mount. It doesn't require many screws to hold it together. But it does come with the mounting screws needed for you to mount the MRO to this. You should have some leftover mounting screws from your MRO. Can use them as well, if you want to.
Is this compatible with 11mm dovetail rail?
No, it's not. As I earlier stated, this was designed to fit Picatinny rails. Unfortunately, dovetail users are not taking the dove this time.
4. American Defense Mfg. ADM Def Trijicon Mro Low Mount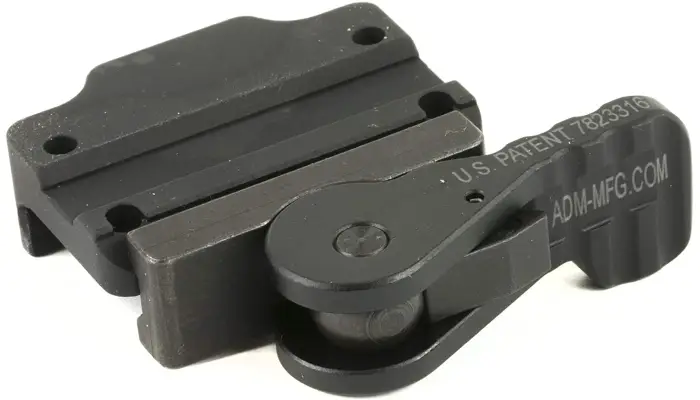 While the name is a bit too big to remember on top of tongue. But it's not the name that you are going to keep in mind while using this with your MRO. What you will keep in mind is the performance. A performance so good that people even bought multiple of these to keep as a backup.
The ADM Trijicon MRO mount is a low-profile mounting system. While low-profile mounting system is not the most-preferred one out there, it's still good for folks that don't care about co-witness or the iron sight visibility. The ADM mount is a quick-detach system mount.
You don't need many tools to put it together or take it out of the gun rail. The mount itself is made out of 6061 T6 aircraft-grade aluminum. It also has a hard anodized finish in T3 mil-spec anodization. Overall, it's one of the most durable mounting system for Trijicon MRO.
Will they include the screws needed for mounting?
Yes, it's a complete package. Besides the screws, you will also get a hex tool that you can use to install the scope on this mount.
Where is this made?
As the company's name suggests, it's indeed made in the USA. It's based in Wisconsin.
Will this work with the SRS?
No, it won't. The American Defense Manufacturing Trijicon MRO mount is not made for the Trijicon SRS. You will need to buy their Trijicon SRS mount.
5. Trijicon AC32068 MRO Full Co-Witness Picatinny-Style Mount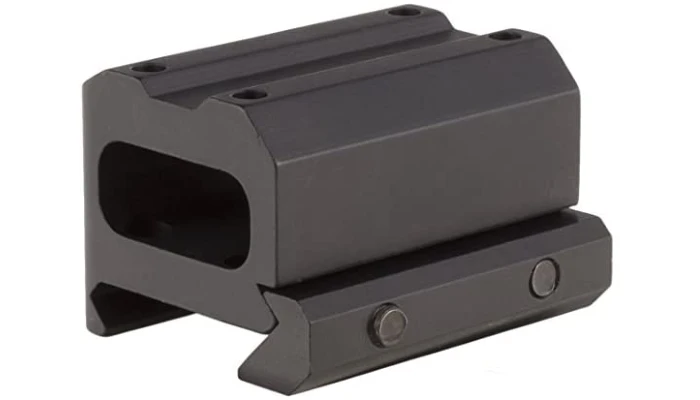 If you are looking for the cheapest Trijicon RMR mount, then this is the one you have been waiting for. Thanks to the price tag and being a co-witness, this mounting system is widely accepted among tactical shooters and hunters even.
It's made for both MRO and MRO Patrol. Constructed from tough and durable 7075-T6 aluminum. It's also considered as aircraft-grade aluminum. It has a mil-spec drop test rating as well. On top of that, hard-anodized coating makes it a wonderful scope for hunting and tactical shooting.
Installing this is quite easy as well. One thing to keep in mind, it's not a QD mount. Neither a dovetail mount. You will need to install this on a Picatinny rail. It's a sad day for dovetail owners, but it is what it is.
Should I buy this or the QD one from Trijicon?
Your question has your answer. Do you need the QD system? If you are someone who takes off their scope a lot from the rail, then you definitely need the QD mount. But if you are someone that believes in once and done, then you can go with this one. As it's cheaper.
Do I get screws to install this?
Yes, the package includes all the hex screws required to install the mount. You won't need to buy a separate pack of screws.
Is this good for airsoft gaming?
Yes, it's brilliant for all things airsoft. It's good for regular usage and hunting as well. As it's a co-witness mount, you will have tons of fun shooting through any gun you have in your mind.
How To Choose The Best Trijicon MRO Mount?
Now that you are aware of what the market has to offer and know the best among them, how do you finalize the decision? Which one is the ultimate contender and the best for you? Well, you can do that pretty easily.
First of all, do you need a co-witness? If you need a co-witness, then you have tons of options to choose from. It's not unheard of to pair the MRO, MRO patrol, and the HD MRO with a co-witness mount. If you are used to the co-witness ecosystem, then stick to it. No need to change platforms all of a sudden.
Are you okay with spending a bit more? Or are you tight on a specific budget? If you are tight on a specific budget, there is nothing wrong with that either.
But if you are willing to go all the way and grab the best thing you want, you certainly should do that. But if you are on a strict budget, there is nothing wrong with that either. There are quite a few good budget options like I mentioned above.
Conclusion
Trijicon red dot optics are excellent. They are super good at their task and often companies follow Trijicon's footprint to make their own sight. While Trijicon MRO does have a mounting system built-in which is fine and dandy. It's not the best when it comes to co-witness or use it at your desired height.
That's why, I tried to find the best Trijicon MRO mounts possible and showed it to you guys. I hope you guys found this guide helpful and know a bit more about the mounting systems and why they are good for your specific usage. Choose based on your needs and budget and you will be good to go.
With that said, that's all for now, I hope you return for more. I will be back with more soon enough. Till then, take care and have fun.