Bolt-action rifles always hit differently. Both in the target and in the heart. The Nagant is not a new kid in the block like airsoft rifles. Just like most other bolt-action rifles, the Nagant is quite accurate out of the box.
But it lacks on some fronts that can be improved. On top of that, some Mosin Nagant accessories are absolutely needed to make it compatible to compete. To bring out the best out of your gun, you will need to spend some time and money behind it.
Finding the Best Mosin Nagant upgrades isn't as easy as it sounds. After all, there are some compatibility issues with other rifles. So, here are some needed nagant upgrades that you should absolutely try out. Without further ado, let's jump straight into it.
Should You Upgrade Your Mosin Nagant?
Or should you buy a different gun altogether? You should upgrade your Nagant. Technically speaking, the stock upgrade does make your gun a different one. It makes the Nagant look modern and gives it a new flare and a touch of your own creativity.
The chamber of the Nagant is still viable today and it will continue to do so. The firing mechanism and once you change the trigger, the shooting experience will be bliss, to say the least.
Whether you are a hunter or just a gun guy who loves long-range weapons, you will need to upgrade your Nagant. These are some of the best Mosin Nagant upgrades you will ever come across. Just pick your poison and start already.
1. Mosin Nagant Stock Upgrade
The first thing most people do to an old-school bolt-action rifle is to change the stock to something modernized. It helps with the comfort as well as making the gun look a little modern. Here are some Mosin Nagant aftermarket stock upgrades for you guys.
i) ProMag Mosin Nagant Archangel Tactical Stock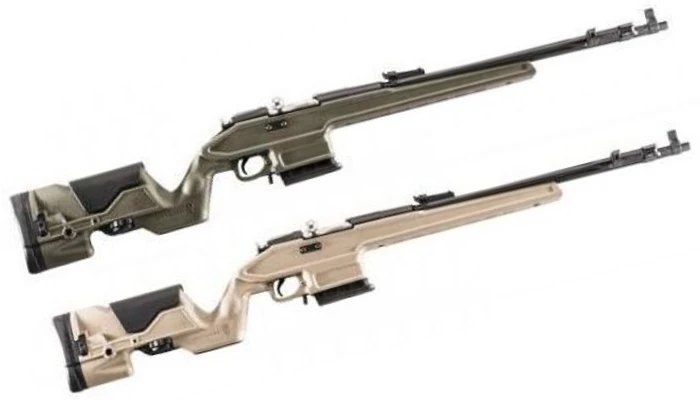 The first Tactical Mosin Nagant upgrade you are supposed to do is to get the Nagant Archangel stock. The Archangel stock is a complete body where your Nagant just falls in and makes it look and feel like a different gun.
The Archangel stock has an adjustable brace that is locked in with steel plates. Ensuring you a stable shooting experience at any distance. This makes it usable for female hunters as well.
The Archangel Mosin Nagant stock is available in 2 different colors. One is in OD green and the other one in Tan that looks straight out of the desert. Both of them are absolutely amazing. The stock is something every Mosin Nagant owner should have. Without this, your custom Mosin Nagant is incomplete.
2. Mosin Nagant Magazine Upgrade
Once you upgrade to the Archangel stock, your upgrade path will be smoother and you can attach more accessories than you could imagine. Another major Mosin Nagant upgrade is the magazine. Depending on the magazine, you can shoot more or shoot less. So, it's an upgrade that you definitely should keep on your shortlist.
i) ProMag Archangel 10-Round Polymer Magazine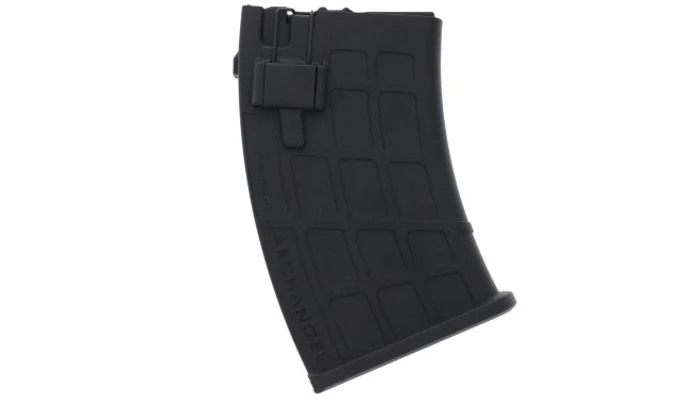 The ProMag Archangel magazine for Nagant Archangel stock comes in two different sizes. One is capable of holding 5 rounds and the other one is capable of firing 10 rounds.
Both of the magazines are made with polymer with a black color finish to it. The polymer is durable and lightweight. Some may demean it because of "plastic", but let's be real here. Most things are plastic nowadays.
The 10 bullets per magazine makes more sense to a lot of people. But if you want to practice your accuracy and improve, the 5 makes sense as well. Depending on what kind of shooting you practice, grab the version you need the most.
3. Mosin Nagant Trigger Upgrade
The next best thing you can do to your Nagant is to change the stock trigger. Trigger creep is a huge problem for a lot of folks. For them, a new trigger with lower creep makes a lot of sense. Here is the best Mosin Nagant Trigger upgrade for you guys.
i) Timney Triggers Mosin Nagant Trigger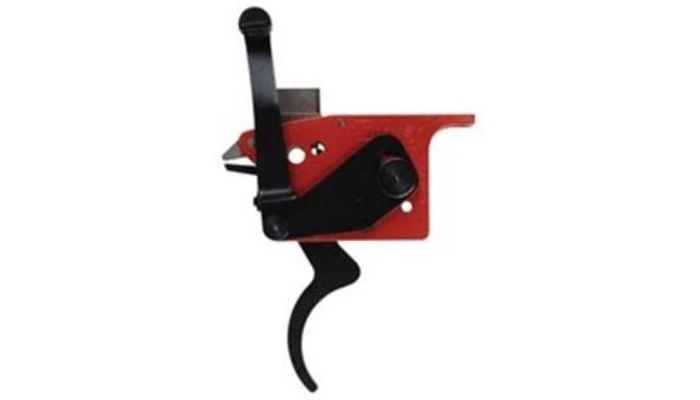 Triggers are expensive. Often, more expensive than the gun itself. But this trigger from Timney Triggers will cost you a lot less than other upgrades you may consider. But this trigger will make your Nagant a foe worthy of fear.
Whether it's competition or hunting, you will have a ton of fun just pulling the trigger. The trigger pull of this starts at 1.5 lbs and 4 lbs at the very top. Giving you proper feedback as you pull the trigger.
The tactile feedback with proper weight on the pull is what makes it such a good trigger. And it doesn't register false either. This is very important for safety measures. As the weight of the trigger is adjustable, even young hunters can have fun with this. As you can set your comfort level.
4. Mosin Nagant Mount Upgrade
Bolt-action rifles are reliable to hit longer-range targets. The accuracy of the gun is always better than most ARs out there. To take advantage of the accuracy and 100% hitting long-range shots, you should invest in an optic. But when it comes to installing optic on the Nagant, you will have a super hard time. You will need to buy a mount and rails first. Let's get to know them and then know our optics.
i) Leapers UTG Tactical Mosin Nagant Tri-Rail Mount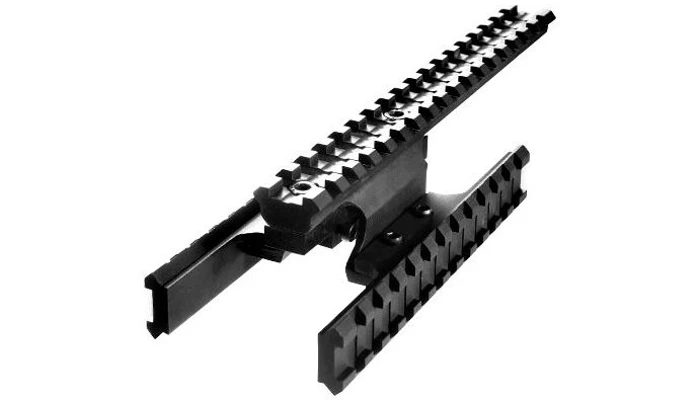 Just like almost every other bolt-action rifle, this one doesn't come with any kind of mounting system whatsoever. Leapers has the perfect solution for you guys. This tactical mounting system from Leaper allows you to mount accessories on the side of your gun as well.
That's right, it features a triple rail mounting system. The top rail is being used for rifle scopes and the side ones are for other picatinny accessories you could think of. That's a very neat way to utilize a huge portion of the gun. The rail is also made out of aluminum. A very durable and sturdy material that will last you for a long time.
ii) Vortex Sports Cantilever 30mm Scope Ring Mount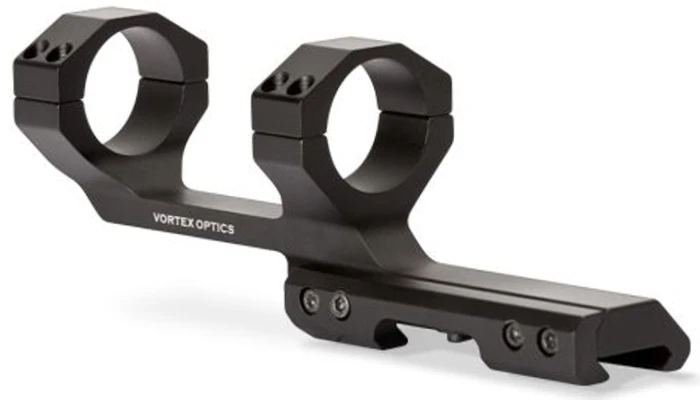 As you already know, rifle scopes usually don't come with any kind of mounting accessories. To mount a rifle scope on your Mosin Nagant, you will need to buy a pair of rings as well.
Vortex makes incredible rifle accessories. Their cantilever mounting ring is something you should look into. They are incredibly sturdy and can fit any 30mm tube scopes. The mounting system is made out of durable aircraft-grade aluminum. The same type of aluminum is present in Vortex Riflescopes.
5. Mosin Nagant Optic Upgrades
Now that you know about scope mounting systems and rings, let's talk about some scopes already. If you use a Picatinny rail on your Nagant, you can use almost any scopes you can think of. Picatinny is considered to be the universal mounting system.
i) Primary Arms SLX 4-14x44mm FFP Rifle Scope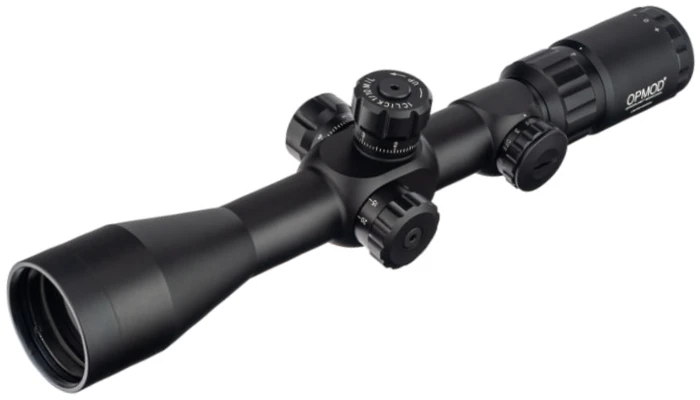 Primary Arms is not a new name in the industry. Their rifle scope and related accessories have been the talk of the mouth for a while now. This scope from Primary Arms is also a hot topic among Nagant owners.
This is a long-range riflescope suited for a gun like the Nagant. With a maximum magnification of 14x, you can stalk your target from a long way out and then take your shots with proper readings as well.
The scope features an ACSS HUD DMR .308 FFP reticle. FFP as in the first focal plane, the reticle will magnify as you zoom into the target. This is a great and a must have feature in long-range shooting.
The best part of this scope is, it's great for both hunting and tac-shooting. It has a solid water, fog, and shockproof construction. Low-light performance and sunlight gathering potential of the huge 44mm objective lens is quite good.
ii) Vortex Razor HD Gen II 4.5-27x56mm Rifle Scope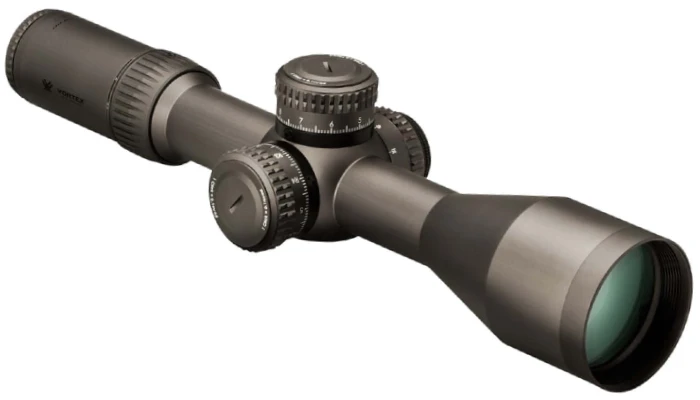 The Razor series has always been a crowd pleaser. But it does cost a ton of money as well. The Razor HD Gen II is probably one of the most expensive scopes you will come across, but it's something that is worth every single penny you are about to pay.
As the name suggests, this scope is capable of zooming up to 27x. That's a huge magnification to work with. Paired with 4 different types of reticles, you can choose the comfortable one to go with. Yes, it comes with MRAD reticles as well. If you are into Christmas tree reticles, well it's Christmas for you.
The scope is built like a tank. Vortex didn't skimp out on a single thing present on the scope. From adjustment knobs to the O-rings used to seal the lenses, this scope isn't a scope, it's a piece of art.
Some More Accessories You Can Consider
Sling
If you are a hunter, you absolutely need a sling. It will save your hands from the pain of carrying the weapon for miles. In fact, every Nagant owner should invest in a sling. It will save you lots of trouble. You can carry the gun more comfortably and easily.
And everyone knows the Blue Force Gear Vickers Combat Applications Padded Sling is one of the best slings in the market. This comes with a padded nylon webbing and a pair of nylon adjusters. It's durable, cheap, and long-lasting.
Bipod
For a sniper rifle, bipods are essential. Even if you have the confidence to use both of your hands and still be accurate, using a bipod will make you invincible. It will also make sure you are not missing your shots on the prey while hunting as well.
Leapers UTG Tactical OP Bipod is an excellent option for you. It's made out of aluminum. A very durable and lightweight bipod that you can easily fold and carry to anywhere on the battlefield.
Muzzle Brake
If the factory muzzle raise and recoil is too much for you, then you should invest in the DELTAC Slingshot Muzzle brake. It's a muzzle device that will thread into the end of your barrel and not interfere with the shots. Instead, it will make the recoil a bit lower and mitigate muzzle raise a lot.
Conclusion
I don't think I need to say more about the gun itself or the upgrades. As there are so many Mosin Nagant accessories available on the market, it's hard to justify all of them. And it's even harder to find the ones that you need.
If you are happy with the default body and stock, chances are you won't change it to Archangel. Even though Archangel will give you a lot of benefits.
Then again, I'm not here to force you anything. This is merely a guide to the treasure, you will need to accept the treasure yourself. With that said, that's all for now. I will make more guides in the near future. Till then, take care and stay safe.