Trijicon MRO is a wonderful optic that I have featured countless times before. It's a versatile red dot sight that supports a ton of guns without any modification. It's lightweight, durable, and has a very good long-lasting warranty. On top of that, it's not crazy expensive either.
You can see why people like this optic so much. But some of us are just not quite content with the default 1x magnification. And that's totally fine. After all, everyone doesn't need to be into scope or LPVO.
Liking a red dot sight is perfectly valid. What if you could enhance the magnification of your favorite red dot? Sounds cool, right? That's what you are here to find out today.
Without further ado, let's find out some of the best magnifiers for Trijicon MRO, and let's talk about why they are the ones you should get. Grab a mug of coffee, sit back, and enjoy the reading!
How To Choose The Best Magnifier For Trijicon MRO?
Things you should consider before buying a magnifier for your Trijicon Mro…
Durability
Durability is and always will be a big concern for any optical items. It can determine how long your precious purchase is going to last. That's why, never compromise in terms of housing quality and materials. It's worth paying more for better housing.
Weight
When you add a sight on top of your gun, you are increasing the weight of the gun. Then you proceed to add another magnifier on top of it, which increases the weight even further. Nobody wants to make their gun weigh like a tank. So, keep in mind to take a lightweight but durable magnifier. You will have a happy time shooting this way.
Mounting System
Another important factor that most folks often forget to mention. The mounting system needs to be compatible with your gun and it needs to be compatible with the Trijicon MRO as well. If the mount on the magnifier sits higher than Trijicon MRO, then you might need to buy risers and spacers.
Compatibility
Trijicon MRO is quite picky when it comes to magnifiers. While there are like hundreds of magnifiers out there, Trijicon only supports a few. The ones I have here are some of the best magnifiers on the market. And thankfully, they support MRO. You don't need to worry about that. Just keep in mind that the magnifier needs to be compatible with your gun's rail.
Warranty
In my opinion, it is as important as the build quality of the product. If your magnifier has a good warranty, that's like a second life for the magnifier. If anything accidentally happens to the magnifier, all isn't lost. That's why a good warranty matters a lot.
Budget
Last but not least, is the budget. For some, this is the most important part. I can totally relate to those folks. After all, you shouldn't spend more than what you desire. That's why, if you have a budget, the selection process becomes much easier.
Best Magnifier For Trijicon Mro [Editor's Picks]
1. Trijicon MAG-C-2600001 3X Magnifier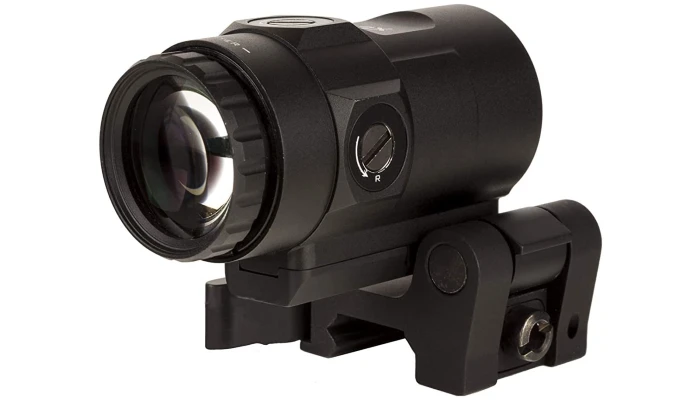 The optic of today's discussion is from Trijicon. It would be blatantly unfair to them if I were to not mention at least one magnifier from them.
Jokes aside, Trijicon MAG-C isn't here due to nepotism. It's here due to being one of the best red dot magnifiers on the market. This magnifier works with the MRO as well. Lucky us!
Much like the optic, this magnifier is also made out of durable and high-quality aluminum. It's light and strong. The exterior has an anodized finish to it that works as the protection layer of the magnifier. It protects it from scratches and accidental drops.
It also features a single piece tube design that we are used to. The inside of the tube is also purged with nitrogen to make it fogproof and immune to moisture leaks.
The lenses are sealed perfectly to make the magnifier waterproof. As this was made with rifles in mind, the magnifier can resist recoil quite easily.
The lenses are made out of glass and they have multiple layers of coating to them. The coating makes them more natural and helps gather more sunlight. All while ignoring the nasty glare coming directly from the light reflection.
It also comes with a mounting base. The unique thing about this base is, that you can just simply move the magnifiers on the side when you don't need it.
It gives you complete access to the raw red dot sight with zero obstruction. It looks cool and it performs equally cool as well.
How much eye relief does this magnifier offer?
While the MRO offers unlimited eye relief, the magnifier isn't as generous sadly. The maximum eye relief you can expect from this magnifier is 2.6 inches. It's fine enough for someone who uses glasses as well.
Is the mounting system quick detach?
Yes, it does feature a quick detach lever that you can use to quickly remove it from the gun and just use the sight as it is. Or you could just flip it on the side and do the same. Up to you.
Can I submerge this?
Of course, you can. I don't know why you would, but you can. The maximum submersion depth of this magnifier is 33 ft. Keep in mind, that they usually measure these in clean water.
2. Aimpoint 3x Magnifier w/TwistMount & Base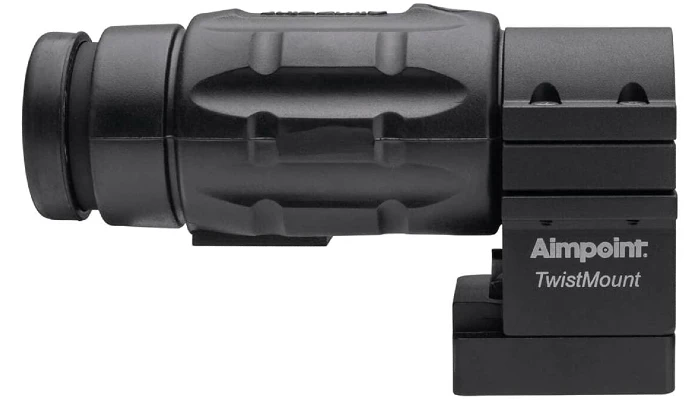 Aimpoint makes really good optics and related accessories. It just so happens that they make magnifiers as well. Who would have thought, right? Just kidding, everyone knows that.
Anyway, the one that I have for you guys features the TwistMount technology from Aimpoint. It made quite a buzz in the magnifier world.
The magnifier is completely constructed from aluminum. Inside and outside. The inside is also purged to make it fog and moisture proof.
As the lenses are completely sealed, water can't go inside the magnifier either. Outside matte black anodization makes it look much more premium than it is.
The weight of the magnifier alone is 200 grams only. That's not too high for most SMG and AR. The used lenses here are made out of glass and they are coated multiple times. The coating makes them brighter and better during the daytime. They are not night vision compatible.
So, no point in doing anything related to night anyway.
As there is no reticle involved here, the complete view is vivid and clear. Have to say, Aimpoint optics recreates some of the most natural looking images.
There is simply no chromatic aberration or any prism related issues whatsoever. It's all clear like the mounting system it comes with.
The TwistMount base is also made out of aluminum. And it features a Picatinny rail mounting system. You can easily mount this on the gun. You don't need a gunsmith for this procedure.
The best part is, that you simply can just take off the magnifier when you are not using the magnifier. You don't need to remove the entire mounting system. Just the magnifier itself comes off.
Can I submerge this?
Yes, you can. The submergible rating however is not that high. You can only submerge it up to 3 ft.
Does it offer unlimited eye relief?
No, it doesn't. It offers an eye relief of 60 to 65 mm. This might seem short on paper, but on field it's more than enough for everyday shooting.
Do I need to reset zero every time I take it off the gun?
No, you don't need to do that. It's very annoying to do and Aimpoint knows that. So, they made sure you don't need to go through this hassle every single time.
3. Vortex Micro 3X Magnifier w/Quick Release Mount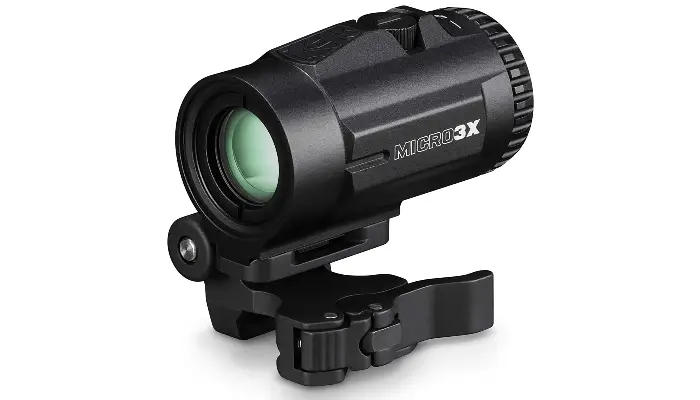 Vortex doesn't need any new introduction. They are one of the optic giants in the world after all. The Micro Magnifier from Vortex was designed to work with the smaller red dot sights like the MRO.
It doesn't cost too much and doesn't weigh a ton either. A perfectly balanced magnifier that will keep your heart and wallet content.
Don't let the 270 grams weight fool you, it's built like a tank. A tank that can work with most AR and shotguns and SMGs out there.
Almost anything you want to throw at, it will take that like a champ. The anodization looks and is premium. It gives the magnifier a lot of face value and texture as well.
The lens setup here is not made from plastic. Vortex is well-renowned for their lenses. They are not here to deceive you to the slightest. The lenses are fully multi-coated. You don't need to worry about the brightness or accuracy of the pictures you are going to see through it. They are and will always be 100% accurate with no over saturation involved.
As you can see in the title, the mounting system is mentioned in it. Companies tend to do that only when the mounting system is worthy of flaunting. And the quick release mounting system from Vortex is something that you can flaunt. You don't need a gunsmith with you to remove it on the field.
Can I flip it on the side?
You definitely can. You can easily flip this on the side when you are not using it and just use the red dot sight with no obstruction.
Does it come with the tools necessary to install it?
Yes, it comes with the screws and the Hex tool required to install this on the gun rail or remove it on the fly.
Does Vortex offer any warranty with their products?
Absolutely. They offer a lifetime warranty with their optics. This magnifier also comes with a lifetime warranty from Vortex.
4. HOLOSUN – HM3X Flip to Side 3x Red Dot Magnifier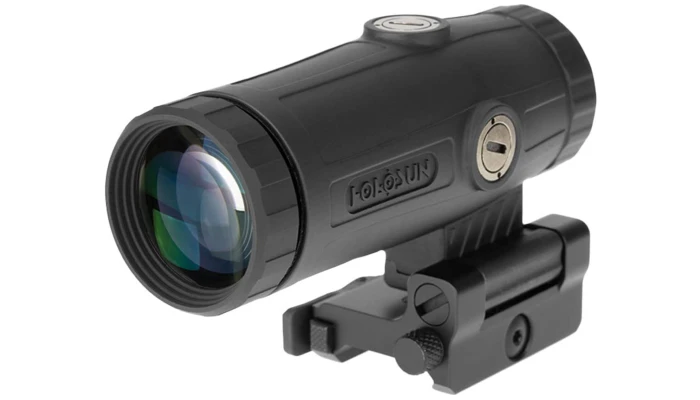 Yes, it's the same Holosun that makes sights like HS510 and many others. They make magnifiers for their red dots as well. The HM3x supports the Trijicon MRO and many other red dot sights on the market.
Yes, there is another variant called HM3XT but I'm not speaking of that. The regular HM3X is made out of extremely durable and rugged aluminum. CNC processing makes sure there are no imperfections present on the magnifier at all.
From the outside, this is water, fog, and shockproof. From the inside, it is also water, fog, and moisture proof.
The lenses on this magnifier are fully multi-coated. They are fantabulous. The target representation through different sets of lenses doesn't affect the magnifier at all. They are fully multi-coated. Light gathering capability of this magnifier is great. All of this without letting in too much light to produce glare or oversharp images.
Like all the other magnifiers so far, this one also features a quick detach mounting system with flip to side feature.
You can just take it out of the gun whenever you want or just flip it on the side and use it without any magnifier. Both works.
Does it come with required tools to install?
Yes, it comes with the necessary screws and T10 L key required to install this or remove this from the gun rail.
Is it submersible?
It is IP67 rated water resistant. But Holosun doesn't specify if it's submergible at all or not.
Does Holosun provide a warranty?
Yes, they offer a limited lifetime warranty with their products. You can find the entire terms and conditions of that inside the magnifier's package.
5. Vortex Optics VMX-3T 3X Red Dot Sight Magnifier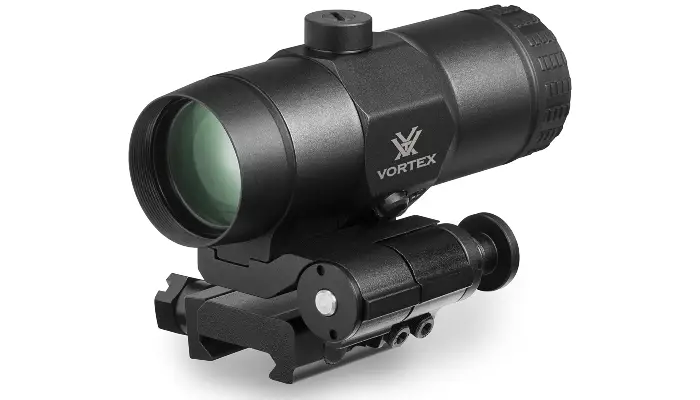 The last magnifier from the list is also from Vortex. Yes, this is the second magnifier from them on the list. This one is made for the folks who are concerned with their budget and aren't ready to commit to a higher-priced magnifier quite yet.
VMX-3T is a great outlet for folks to join in the fun and decide to go upwards.
VMX-3T is made out of aluminum. This 3x fixed magnifier has everything you could want in a magnifier for your red dot. It's built to last. The weight of VMX-3T is 340 grams with the mounting system.
The magnifier is water, fog, and shockproof. As the inside is purged with chemicals, moisture can't build up inside to create fog. Your magnifier is safe to use in all kinds of weather.
The lenses are extremely bright and vibrant. It's good to know that Vortex is not cheaping out on the most important part of the magnifier.
The prism has no color alteration issues either. All in all, it's a great piece of work. You will enjoy just casually scouting your target in the wild.
The mounting system on this unit is quite nice as well. It features a quick detach and flip to side mechanism. 2-in-1. The flip to side mechanism is excellent and quite convenient for folks who don't need the magnifier 24/7. Once you get a taste of it, there is no way to go back to any traditional magnifiers.
Is it hard to install?
No, it's not hard to install at all. It's quite easy to do so. There are guides on the process featured on Vortex's YouTube channel.
Are the lenses O-ring sealed?
Yes, they are sealed with O-rings to prevent water and moisture from going inside the optic.
Does it come with a warranty?
Yes, it comes with the standard lifetime warranty that Vortex offers with all of their optics and accessories.
Conclusion
And there you have it. It didn't take long, did it? Told you a mug of coffee was enough to finish the read. Hopefully, you found the best magnifier for Trijicon MRO like you were looking for. After all, they are hard to come by. You can see, that not a lot of magnifiers pair well with this one.
The one I mentioned thus far does and they offer incredible value for the money. Depending on which one ticks most of your boxes and your wallet, you will be equally happy with either of those. That's all for now, take care and come back soon. I will be preparing more enjoyable reads for you guys.