The PRS Production Class is a competition for shooters all over the country. Whether you are a hunter or a tactical shooter or your local range champion, this competition unites all of them in a battle to promote safer competitive shooting and grow the scene at the same time.
But there are some rules for precision shooting competition. That's why, a lot of long-range scopes don't even qualify to be on the list. The first thing to do before signing up for the competition is to set up a precision shooting kit.
Before you get started, you will need a rifle scope that compliments your kit and gives you an advantage in the competition at the same time. That's why, I will try to provide you with the best scope for PRS Production Class. Without further ado, let's jump straight into it and find out what's good for you.
Best Scope For PRS Production Class [Editor's Picks]
1. NIGHTFORCE NX8 2.5-20x50mm F1 Hunting Scope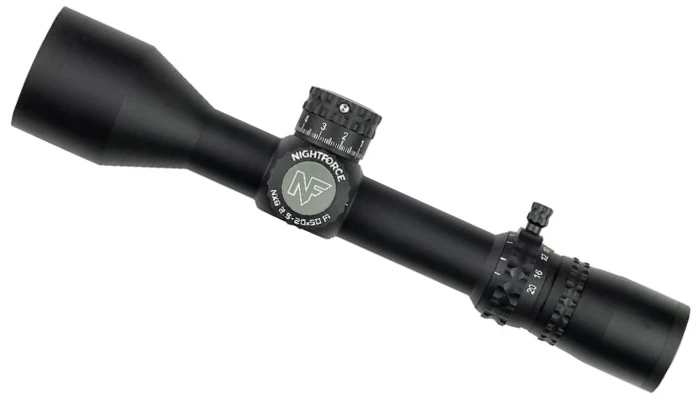 Nightforce scopes are a bridge to super high-end and flagship-range scopes. While they are not known to be cheap, they are definitely known to be accurate and deadly. The NX8 is a flagship tier scope from Nightforce.
With a base magnification of 2.5x and a maximum of 20x, this scope will fit right into your shooting needs. The objective lens of this scope is huge as well. With a 50mm fully multi-coated objective lens, it offers you a wide viewing angle without fatiguing your eye with distortion and color fading.
The scope is available in two reticles. You can either go for the F1 illuminated MOAR or F1 illuminated Mil-C reticle. The illumination is adjustable. At every brightness level, the illumination is clean and crisp. There is no slight hint of distortion present on the scope at any given magnification.
Speaking of magnification, the scope also has the reticles in FFP. So, the reticle will magnify alongside the magnification of your scope. Giving you the immersion and confidence to hit targets from far away. This is a good way to practice before you hit up the competition.
Or, you could use that advantage to participate in hunting competitions as well. The lenses of the scopes are also made out of ED glasses. In case you didn't know, low-dispersion glass aka ED glass is known for how good it can work in low-light conditions. That's why, this scope is a great hunting scope as well.
At this price, is the scope worth it?
If it wasn't, I wouldn't bother including it. Granted the price is stiff and it's hard to justify spending so much out of the blue. But you need to consider this as an investment. You can easily win competitions with the help of it and get back your money's worth that way.
Surely they include scope rings?
You would hope, but they don't. The thing is, not all of us use the same gun. The guns might have different rails and you might prefer a different mounting system. So, depending on that, you will need to purchase the rings yourself. For picatinny, I recommend the Nightforce X-Treme Duty Ultralite mounting rings. They are heavy duty aluminum rings that perform fantastic.
Why is it called a hunting scope?
Because it has flawless performance and excellent bullet drop reading. Both are needed for long-range hunting. And let's be real, besides the PRS Production Class, you would aim to part in some hunting competitions as well. This scope will come in clutch there as well.
2. Burris Xtreme Tactical XTR III Precision Rifle Scope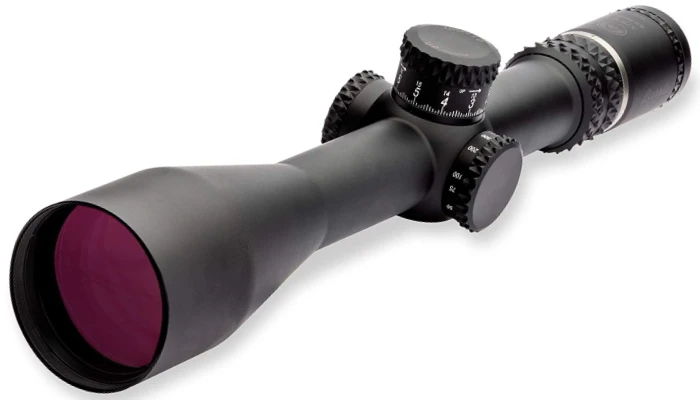 The next scope I want to recommend to you guys is from Burris. A great manufacturer that works closely with expert shooters and takes community feedback well. The Xtreme Tactical XTR III is from their PRS lineup. It's a precisely crafted not so small scope made to win you some shooting competitions.
Just like their hunting scope, the accuracy of this scope is super good. The XTR II is made out of high-quality aircraft-grade aluminum. It's a material that is widely used by scope manufacturers. For the durability and weight balance. The XTR III is also internally purged to remove all moisture. Making it immune to fogging. The lenses are sealed on the palace with O-rings as well.
With that, the scope is water, shock, and fogproof. Traits of a great scope. The lenses are without a doubt fully multi-coated. Multiple layers of coating ensure there are no glares in the lens and the internal components don't get affected by excessive sun exposure. While the scope is not scratch proof, the lenses are surprisingly decent against scratches.
But you still should use some lens caps when you are safely keeping the scope. They will protect the lens from scratches. The reticle of choice here is SCR MOA. With MAD knobs, the scope has zero stop adjustment guaranteed. Doesn't matter what gun you pair this with, the adjustments won't move accidentally.
Where is this optic made?
Just like all of the other Burris optics, this one is designed, machined, and assembled in the USA. They operate from Colorado.
Do I need to buy mounting rings for this?
Yes, you do. They don't include any mounting equipment with this. You should take a look at the Burris XTR Signature rings for this.
Will I get any warranty with Burris XTR III?
Of course! You are blessed with the Burris forever warranty. As long as you have the scope on you and the serial number intact, Burris will honor you by providing a warranty at any given time.
3. Athlon Optics Cronus BTR 4.5-29×56 Riflescope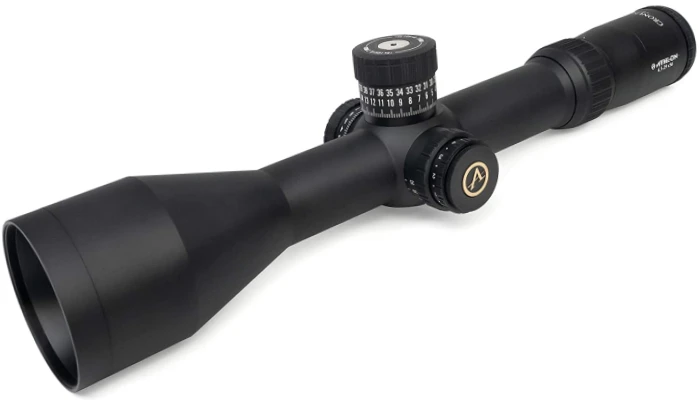 The Cronus BTR from Athlon is a precision that can also be used as a hunting riflescope. The Cronus BTR is made through a CNC machining process with high-end materials. Making it worth the high price tag you are about to pay.
The lenses of the scope are also fully multi-coated. They are anti-glare as well. The scope magnification or your viewing angle won't be affected by shooting directly under the sun. But that's not all, the scope is also known to perform exceptionally well during low-light conditions.
Why is that? Because it uses ED glasses. ED glasses are known to be one of the if not the best low-light solution in any rifle scope. They can make work with low sunlight and help the scope render lifelike images during the dusk as well.
The Cronus BTR is available in only one magnification but it's available in tons of different reticles. You can choose from APLR FFP IR MOA, APLR5 FFP IR MOA, APRS FFP IR MIL, and APRS1 FFP IR MIL. All of them are excellent and catered towards different shooters. You might have noticed one thing, all of them are in the FFP.
Why does Athlon use argon purging?
The same reason why others use nitrogen purging. Purging with nitrogen or argon eliminates all moisture left inside the tube from CNC processing. Even if you heat dry it or dry it naturally, some chemical moisture will be left inside. The purging eliminates the moisture and stops the scope from fogging internally.
Does Athlon offer any warranty?
Yes, they do. Athlon has a term called "Athlon lifetime warranty". The Cronus BTR does fall under that warranty system as well. Without any concern, you can mount this thing on your gun and keep shooting for a long time.
Is this a good scope for hunting?
It's not made for hunting as it's suited more for precision shooters with a precision zero stop system as well. But thanks to the accuracy and long-range performance, this is a good option to hunt in open fields. In the jungle, it will do fine as well. As low-light performance is impeccable.
4. Vortex Optics Razor HD 5-20×50 FFP Riflescope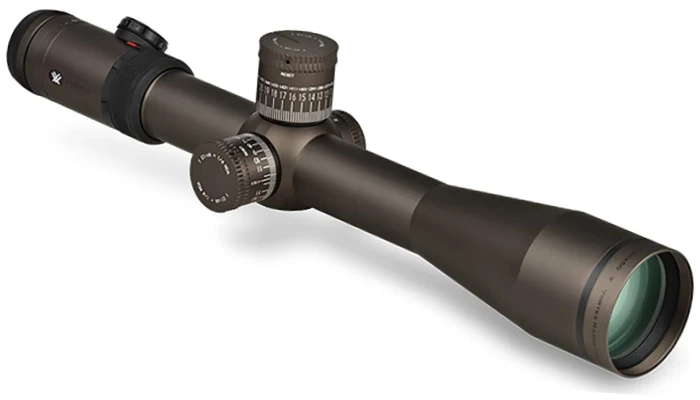 When it comes to precisely tuned rifle scopes, Vortex is one of the best brands in that department on the market. While they are known to make good scope for the budget, this one isn't one of their budget offerings. The Razor series has spotters and other equipment under the banner as well.
This one uses their high density (HD) ED glasses with premium XR coatings. Yes, the performance of this is better than most other scopes in the same price range. After all, just based on the lens performance alone, it's hard if not impossible to beat the value of this scope.
With flawless magnification and no distortion whatsoever, the Razor HD is suited for all sorts of competitive shooting. If you fancy long-range shooting then you should definitely get the Vortex Optics Riflescope Bubble Levels. The bubble level makes sure your scope is 100% vertical and gives you the edge in long-range shooting.
With an incredibly well built tube and purged internally, the scope is usable in any harsh condition you may witness. Whether it's the deep jungle or the desert, the Razor will not fail you at any given point.
Does Vortex make mounting rings?
They do. But they don't include them with this one. Instead, you will need to purchase their precision matched rings. They are the best match for this scope.
Only one reticle?
No, there are more. You can choose from either the EBR-2B in MOA or MRAD. depending on what tickles your fancy, you do you.
Is the reticle in FFP?
Yes, both of the reticles are in FFP. Another reason why this scope is so good at long-range shooting in general. Thus, making it an appealing choice to hunters. Maybe you should treat yourself to this in the holidays if you want to get more hunting done.
5. Athlon Optics Ares ETR UHD 4.5-30×56 FFP Riflescope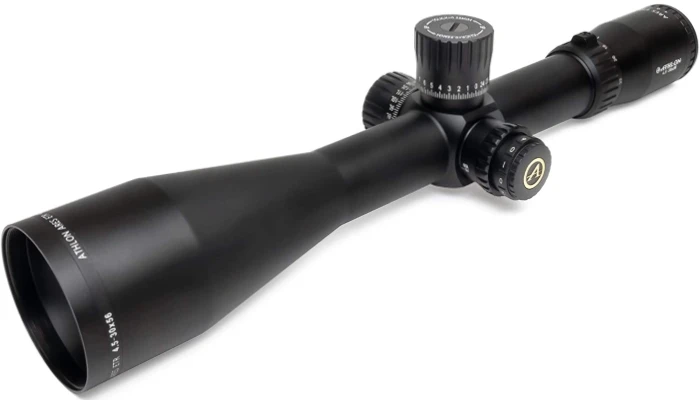 It's not surprising to see multiple Athlon optics in the list, after all the manufacturer is known for performance per dollar. That's not a made up term in case you are wondering. Jokes aside, the Ares ETR UHD is a long-range precision shooting rifle scope.
The scope is constructed from highly durable aluminum and it rocks some of the best turrets on the market. With a proper zero stop system and confirmed to stay put in accidents, the Ares is tempting to say the least. The scope is internally purged and the aircraft-grade aluminum is constructed from CNC machining. Internal purging removes all moisture from the machining and makes the scope fogproof.
To take things a step further, Athlon also made sure the scope is shock and waterproof. If you want to use it with a long-range weapon, you can do that with ease. No sweat. The lenses are constructed from UHD glasses and they are advanced fully multi-coated.
What Athlon means by advanced coating is, they take extra steps to make sure their lenses are oil, glitter, and glare free. While they are not sapphire coated to be anti-scratch, they can still hold well against accidental scratches.
The scope is not the lightest on the market but it's far from being the heaviest. Besides the moderate weight and good weight balance, the scope comes in tons of different reticles to choose from. While purchasing the scope, make sure to select the reticle that you want.
Are the reticles illuminated?
Yes, they are. The reticles are illuminated and you can adjust the illumination of them as well. You will find 6 adjustable levels on the scope to work with. They are incredibly bright and vibrant under any given light.
Is this a good scope for big-game hunting?
It is. It's great at long-range and the medium-range performance is exceptional as well. With great clarity and no distortion at all, the accuracy of this scope is nothing to take lightly of.
Do I need to buy mounting rings for it?
Of course. You won't get any mounting rings included with the scope. You will need to purchase them separately. Talking of purchasing separately, you can opt for the Vortex Precision matched mounting rings. They are some of the best mounting rings for the PRS Production Class.
6. Leupold VX-3HD 4.5-14x50mm Riflescope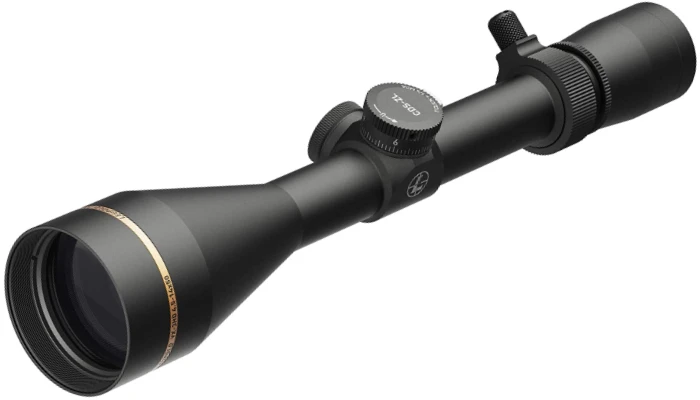 The Leupold VX series has always been known to be accurate, deadly, precise, and budget. Most importantly, budget. The price to performance ratio of this scope is quite literally unbeatable. Without cutting any corners on the durability, Leupold made the VX-3HD with high-quality aircraft grade aluminum.
The aluminum is processed through CNC machining and then anodized to have a semi-matte finish on the outside. The hard anodization protects the main cylinder from any accidental scratches. The lenses are made out of durable and fully multi-coated glass.
They are clean, accurate, vivid, good contrast, and most importantly, distortion free. Distortion at high magnification is a common thing. If you have used a budget long-range scope before, then you already know how bad they can be in some scopes. Thankfully, none of those issues persist here.
The VX-3HD also uses the famous Leupold Twilight Light Management System. It's a light management system that works in the same manner as ED glasses. It works with a small amount of sunlight and uses that to enhance inside the optic and still provide you great visuals in low lights. That's why a lot of people like this over ED glasses which often come with a hefty price tag.
Does Leupold include mounting accessories with this?
No, Leupold doesn't. You will need to buy a pair of Leupold PRW Weaver-Style Cross-Slot Scope Rings. They suit the scope quite well and they come in different heights as well.
Is Leupold made in China?
No, they are not. They are designed, machined, assembled, and serviced in the United States. Rest assured, you are getting the best possible product and service.
Is this scope good for hunting?
Yes, it is. While it's not made purely for hunting only. It can do hunting, tactical shooting, precise competition shooting, and more.
7. Vortex Optics Strike Eagle 5-25×56 FFP Riflescope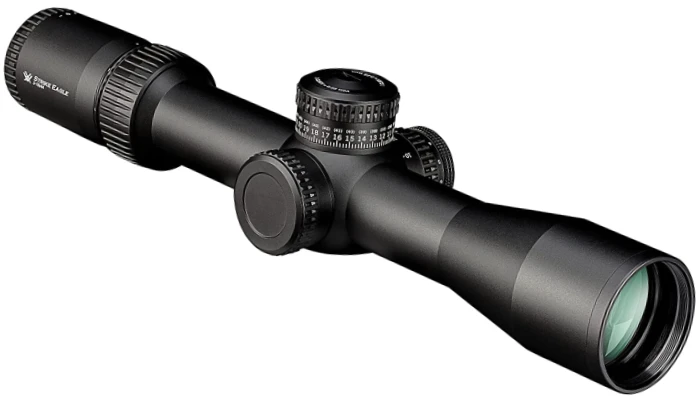 The Strike Eagle, what a signature name! This scope is one of the most famous rifle scopes in the entire USA. The SFP version of this scope is extremely cheap. This one here is also the most budget friendly option for Precision shooting. The Strike Eagle is a series of products from Vortex that are made for budget enthusiasts.
Yet, they pack a punch like they are some high-end scopes. The Strike Eagle FFP is made out of aircraft-grade aluminum. Just like its expensive counterpart Razor or Diamondback. But the scope doesn't feature the same HD glasses as the Razor. After all, they needed to cut corners somewhere to make it available in low-price.
The internals of this optic are purged with nitrogen. Making it immune to internal fogging and making it fogproof in the process. The exterior is O-ring sealed to make it waterproof and the scope is shockproof as well. It won't change the reading of adjustments due to using long-range calibers.
It stops zero and keeps the zero where you want it to be. On top of that the scope is available in tons of different reticles to choose from. And you can choose your scope magnification as well. If you opt for the lower magnified 1-8×24, then you will save some money. But whether you will enjoy 8x more or 25x more is your decision.
Which reticle is better?
You can't just straight up call a reticle better than the other without having some personal bias. Choose the reticle that you know of and are comfortable using as well.
Do I need to buy mounting rings?
Yes, you do. Despite having an incredible value proposition, Vortex didn't include mounting rings. It's mostly due to eliminating buyers' confusion. As their included ring might not fit your gun, vice-versa. However, you can purchase Vortex Precision matched mounting rings and make your PRS gun complete.
Is Vortex good in after-sales service?
Yes, they are. They have good customer service and they offer unlimited, unconditional lifetime warranty with their products. When the term includes unconditional, you really don't need to think twice before purchasing.
How To Choose The Best Scope For PRS Production Class?
Now that you know which ones are the best, how do you choose one among them? Well, it doesn't need to be as complicated as you are making it inside your head. The decision making is quite easy and will depend on you.
Sure, I can say this one is the best and you should definitely buy it, what if you don't need that much magnification? What if you don't want to spend that much? What if you want an exposed turret and my recommended one has closed in?
The thing is, no matter what, these are the best scopes for PRS. Doesn't matter if you have the least expensive option or the most expensive one. You will get a scope that is capable of winning your competition. More than one of them.
So, you need to ask yourself the question. What kind of scope do I want? What kind of range do I want? Am I interested in hunting at all? Will I take advantage of the humongous objective lens and unobstructed long-range view? And How much am I willing to spend for that? If you can answer these questions, you already know which one is the best PRS scope for you.
Conclusion
And there you have it. These are some of the best scopes for Production Class competitions and you will absolutely love all of them. You cannot go wrong with your choices here as all of them are incredible. Ultimately decide on which one ticks the most unchecked boxes for you and settle down with that one.
That's all for now, I will be back with more soon for you guys. I hope you end up winning some competitions meanwhile. Till then, take care and have a great rest of the day/night. Ciao.