M&P rifles are popular, to say the least. The Sport 2 is part of the M&P 15 lineup that is used in tac shooting and hunting games. Like every other Smith and Wesson rifle, this one is super good and totally usable at stock.
Just like all those other rifles, this one can be upgraded to make it an even better gun if you want to. Looking for some of the best Smith And Wesson M&P 15 Sport 2 upgrades? I got you covered on that front.
Not only that I'm going to suggest some upgrades for you guys, but I will also introduce you guys to some really cool M&P 15 Sport 2 accessories. Without further ado, let's get started.
1. M&P 15 Sport 2 Stock Upgrades
The first thing to do in the route of making an M&P Sport 2 custom is to change the buttstock of the rifle. The factory default stock is not that great. It certainly gets the job done. But you can get that job done better with more comfort. Let's find out some M&P 15 stocks.
i) Magpul Industries MOE Slim Line Carbine Stock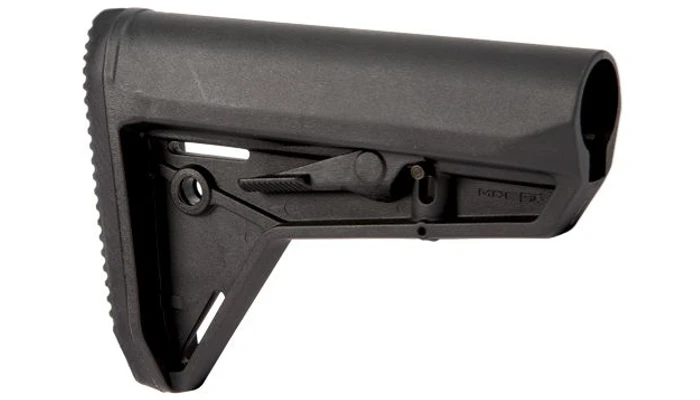 When it comes to all things rifle stocks, Magpul is the first thing that will come to everyone's mind. That gives you an idea about how good they are to have a community trust their product that much.
The MOE Slim Line carbine stock is made out of reinforced polymer. A hard and durable material that is also extremely light. Magpul also sells something called, Angled Rubber Buttpads, you get that free over here.
This rubber buttpad is extremely comfortable and grippy. Giving you a firmer grip around your shoulder and helping you aim a little bit better. If you are looking to build the best M&P 15 Sport 2, an upgrade like this is mandatory.
ii) Magpul Industries AR15 Mil-Spec CTR Rifle Stock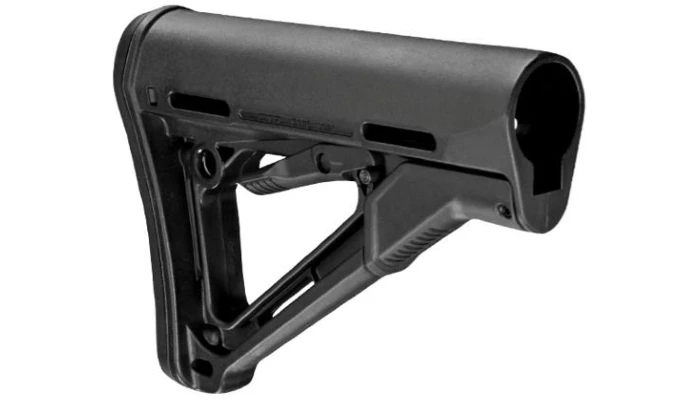 M&P 15 Sport 2 collapsible stocks are not hard to find nowadays. Both collapsible and foldable stocks have gotten quite popular among hunters. They are easy to conceal and make it easier to carry on a long journey.
The stock is made out of nylon polymer. It's harder than regular plastic and definitely more durable. The weight distribution on the stock is quite nice as well. It feels comfortable to use for longer sprays.
That means tac-shooters will have a very fun time with this stock in their shooting range sessions. This collapsible M&P 15 stock is available in different colors as well. If you are into other variants or want to mix and match with your gun color, you certainly can do that.
2. M&P 15 Sport 2 Muzzle Brake Upgrades
Tired of all the high muzzle rise from your gun and can't wait to reduce it? What you need is a muzzle brake installed on your Sport 2. Muzzle brakes will reduce the muzzle raise and reduce the recoil in the process as well. Making it a wonderful purchase for anyone who uses their gun to spray in dummy targets.
i) Surefire SOCOM Muzzle Brake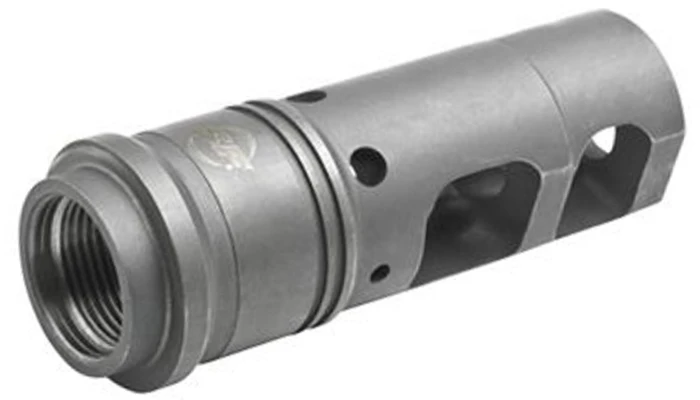 The Surefire SOCOM series of muzzle brakes are some of the most popular muzzle devices on the market. Their targeted customers are competitive shooters and regular hunters.
While this muzzle brake will reduce your gun's muzzle rise by a lot, it won't reduce the sound at all. In fact, your gun will sound louder than it did with the stock flash hider equipped.
The Surefire Muzzle brakes are available in different caliber models. All variants of the brake are similar in looking and performing. They are made from heat-treated steel with a stainless steel finish. The look looks really appealing. On top of that, it's corrosion free as well.
ii) Precision Armament M4-72 Severe-Duty Compensator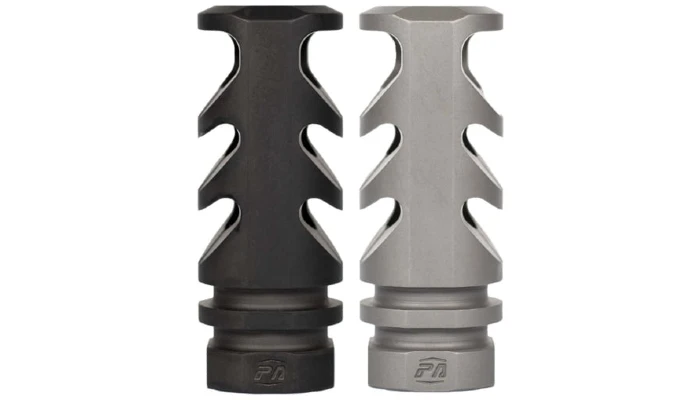 This recoil compensator from Precision Armament works similarly to a muzzle device as well. The main job of it is to compensate for the recoil and reduce the overall impact from the recoil.
If you target swap quite fast, the default installed flash hider on Sport 2 won't be able to help you much. But with the help of this muzzle device, you can compensate for anything from .243 Winchester up to .338 Lapua Magnum. Giving you a variety of caliber to work with.
The compensator is made out of heat-treated steel as well. It's a durable material that is not affected by the heat coming through the barrel. In terms of durability and longevity, this will outshine a lot of other muzzle devices on the market.
3. M&P 15 Sport 2 Foregrip Upgrade
The foregrip is an important part of the rifle that plays a huge role in balancing the gun. It will mitigate the recoil a lot and allow you to drag the gun down more easily to compensate for the recoil. That's why upgrading the foregrip of your M&P 15 Sport 2 should be a priority for you.
i) Bravo Company MFG BCMGUNFIGHTER Vertical Grip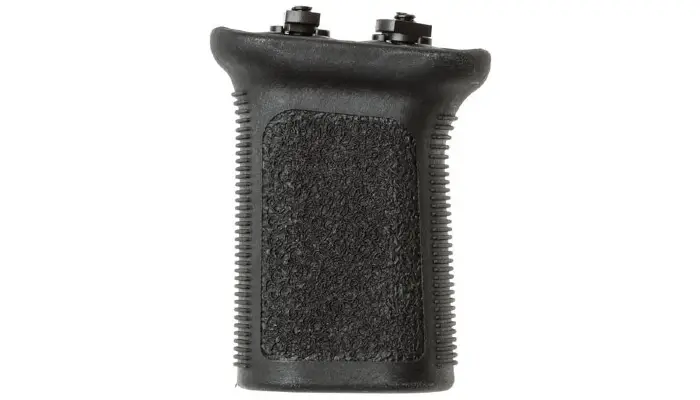 This M-Lok Grip from Bravo Company is something else. It allows you to hold the gun at a better angle with more comfort. This is a vertical foregrip. Kind of similar to what you see in lots of other AR.
The grip is made out of hardened polymer. The same type of polymer is often found in stocks of guns and bodies of pistols. It's a very durable material that can withstand heat quite nicely.
That doesn't mean you are free to throw it in the volcano or something. It can withstand the barrel emitted heat, that's for sure. As for recoil compensation, it's not as severe as a muzzle brake, but it gives a better grip to hold on to. Ultimately, helping you to reduce the recoil on your own. If that makes sense.
4. M&P 15 Sport 2 Handguard Upgrade
Just like the foregrip, the handguard is an important part of the rifle as well. It allows you to add more accessories underneath the barrel of your gun and helps you grip the gun better while you are at it. It's an upgrade that is definitely worth considering.
i) Midwest Industries Two Piece Drop-In M-LOK Handguard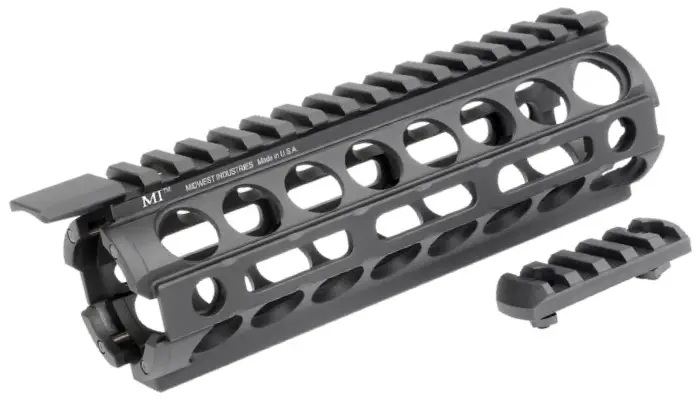 This Handgrip was made for the AR-15 and M16 gun series. Just like most AR 15 accessories, this one supports our M&P 15 Sport 2. The handguard is made out of 6061 aluminum.
A lightweight and extremely durable material often used in making rifle accessories. It is also water, shock, and corrosion proof at the same time. As the handguard comes with rail both on top and the bottom, you can add in something like the Inforce WML Gen 2 weapon light.
The light will help you with hunting during the night. On top of that, this handguard allows you to explore more M&P 15 accessories that you never had the chance to try before.
5. M&P 15 Sport 2 Optic Upgrades
Scopes are quite necessary for a rifle. As they offer a longer range than both shotgun and pistols, the accuracy can benefit from a scope. Without some sort of crosshair and magnification, it's hard to hit targets from far away. So, make sure to buy a good scope for your M&P 15 Sport 2.
i) HOLOSUN – HS510C Reflex Red Dot Sight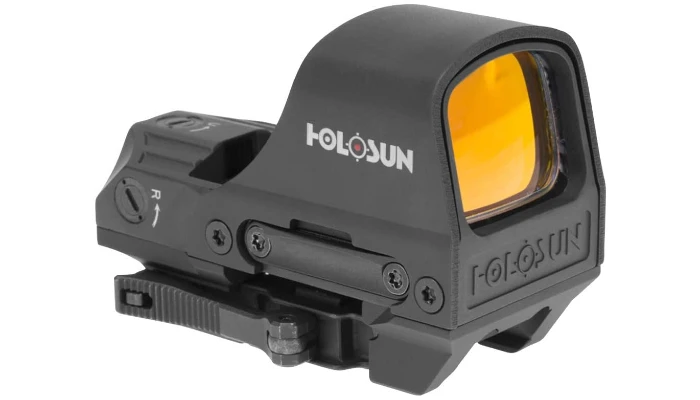 Holosun red dots are not a new name in the industry. Despite not being an American brand, they have left a mark among American hunters. Holosun sights are some of the best Chinese made sights in the market.
The sight is made out of aluminum and it's extremely lightweight as well. Despite making it lighter to make it usable with smaller weapons even, Holosun didn't skimp out on the material or the durability.
The lens on this is made out of glass. It's durable and quite vibrant. The reticle on the sight is illuminated as well. Illuminated reticle allows you to pair this with the light I mentioned above and shoot at night as well.
ii) Magpul MBUS Pro AR Adjustable Sight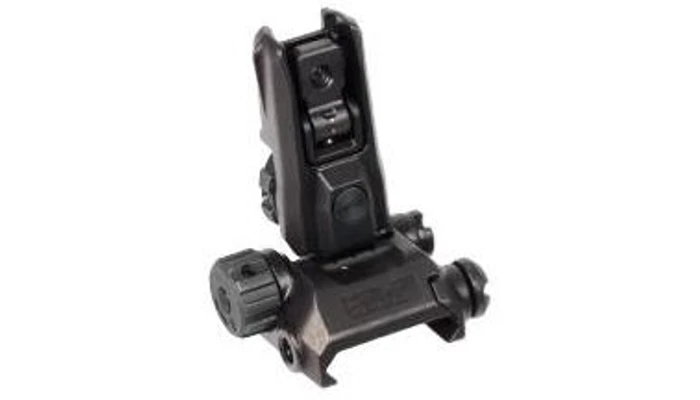 Magpul makes some wonderful flip-up sights for rifles. They are much better than the stock ironsight you found in any rifle thus far. What makes them even better is the ability to flip it down.
That means you can pair this with a rifle scope as well. If you use a flip to the side mounting system for your rifle scope, like this, then you can use both scope and this sight on your rifle at the same time.
This sight here is made out of steel. A very durable material that has been heat treated to make it even more durable. The material is corrosion proof and it's waterproof as well.
iii) Bushnell 1-8×24 AR Optics Riflescope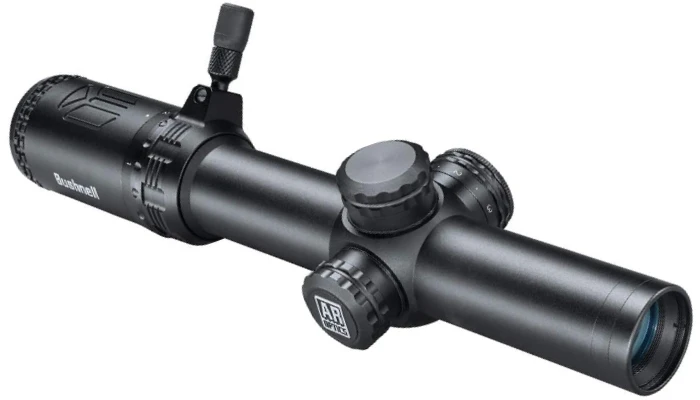 Bushnell makes wonderful riflescopes. As they make budget riflescopes, they are quite famous amongst hunters and newbie shooters. This is a mid-range riflescope with a pretty big objective lens.
The objective lens of this scope is 24mm. This gathers plenty of light for the scope to work with. Giving you an optimal viewing experience in any given range. There is no chromatic aberration present on the scope either.
The scope features a BDC reticle. That's pretty easy to get used to. The reticle is quite accurate and features a lot of adjustment knobs. On top of that Bushnell offers a total of 30 years warranty with this scope! How cool is that!
Do keep in mind, it doesn't come with any mounting options. For that you will need to purchase some Vortex Precision 30mm scope rings as well. They will allow you to install this scope on your Picatinny rail.
Should You Upgrade Your M&P 15 Sport 2?
The argument is still there, is it worth upgrading an M&P 15? After all, the stock performance is good enough for most folks. There are lots of other guns like the M&P 15 Sport 2 that don't require upgrading, but people do them anyway. The reason is simple, upgrading is fun and worth it.
The rewarding experience of having a custom M&P 15 Sport 2 is something that you will never find in the stock gun. You can call your custom gun something you perfected yourself.
Those rewards outweigh any doubt and confusion you might have in your mind. M&P 15 Sport 2 is a very rewarding gun. It offers a very good stock experience and even better upgraded performance. If the performance didn't improve, then I wouldn't bother recommending you guys with upgrades.
In short, they are worth it.
Conclusion
Smith And Wesson M&P 15 Sport 2 is a great gun. You will find tons of reviews about the gun. There are tons of user experiences available as well. While the stock gun is good, the upgrades are better.
To wrap it up, I hope you found the best M&P 15 Sport 2 upgrades you were looking for. I know there are a lot of options and they can easily overwhelm you. I cannot blame you if that's the case.
Take it slow at the start and slowly build up to the ultimate custom M&P 15 experience. That's something you will remember all of your life.
That's all for now, I will take my leave. I will see you guys with more upgrade guides in the future. Till then, take care and stay out of trouble.