The Weatherby Mark V is a popular, precise hunting weapon from Weatherby. While the gun has plenty of different models and some even include a scope out of the box, the regular variant doesn't include any scopes or mounting options.
If you already have a scope for Weatherby Mark V and are now confused about how to mount this on the gun, this guide will help you tremendously. While there are tons of scope mounts available for your desired scope already, not all of them support the Mark V.
Without further ado, let's find out the best scope mount for Weatherby Mark V and see what's the hype behind these mounts.
Best Weatherby Mark V Scope Mounts
1. Leupold BackCountry Two-Piece Scope Mount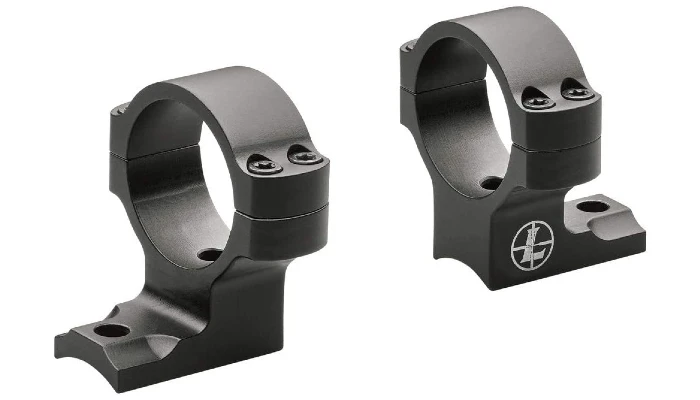 Leupold is a brand that is known to make some of the best hunting gear on the market. Whether it's their scopes or the mounts for the scope, they are all excellent. Thankfully, Leupold cared about the Weatherby users and they made a set of scope mounting rings that is specifically made for the Weatherby.
Instead of using stainless steel or powder coated steel, Leupold opted for 7075 T6 aircraft-grade aluminum. It's the same type of material Leupold also uses in their rifle scopes.
It's a very durable and lightweight material that won't get affected by the recoil of your Mark V. That's why it's one of the best Mark 5 scope mounts. Without a doubt, you can do hunting and all other shooting tasks with zero risk of failure for a long time.
Is Leupold an American Brand?
Yes, they are. There were a couple of fake rumors that they were Chinese. But that's not the truth. They design and manufacture their products in the US.
Will I get any warranty with scope rings?
Leupold offers return services for defective units. You can ask for a replacement or refund if you are unlucky enough to receive a defective unit. As for service, they got you covered for a lifetime.
Is this available in both 30mm and 1"?
Yes, it is. And you will get the option to select your desired height of the scope as well. So, make sure to read the description first before purchasing.
2. Evolution Gun Works HD Mark V Scope Mount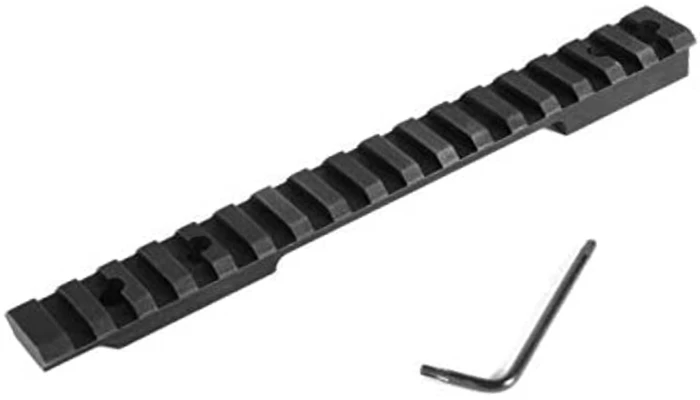 If you want to take things a step further and want to have the option to install any weaver/picatinny scope mount on your Mark V, then you definitely need this mounting rail from EGW.
The EGW scope mount is made out of high-quality durable aluminum. The same type of aluminum you find in rifle scopes as well. This mount is made to support one Picatinny equipment.
That includes scopes, rangefinders, red dot sights, and any other hunting equipment you may think of. The best part of this mounting rail is, that it gives you the opportunity to buy any Picatinny scope rings you may want. Want to buy the Vortex Precision Scope Rings? You can and you will be able to use those with your Mark V as well.
Where is this scope mount made?
Just like all the other EGW equipment, this one is also made in the USA. From research to building and QC control, all done in the USA.
What's the total length of this mounting rail?
The total length is 7.064". And it has a center spread of 4.485".
Do I need a gunsmith to install this on Weatherby Mark V?
No, you don't need anyone but yourself. The rail will come with the necessary tools to install it. On top of that, they will include the necessary Torx screws and Torx bits for the installation process.
3. Talley Accumark Magnum Mark V Scope Mount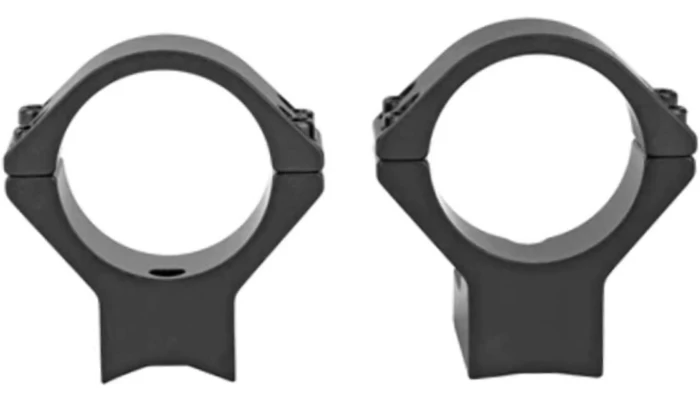 The Talley Accumark mounting rings for Mark V are available in different sizes as well. You can choose either the 30mm or 1" depending on your scope diameter. The mounting rings are made out of durable aluminum.
Talley used 7000 series aluminum to make it more durable and rigid compared to its steel counterparts. The rings come in a pair that doesn't require a gunsmith to install them. You can follow the simple guide provided by Talley and install it yourself.
Once installed, you can now continue to use magnum calibers with magnum supported scopes. Without a proper pair of magnum rings like this, you might run into unwanted issues. That includes breakage and failure before the claimed lifetime.
Where are the Talley mounting rings made?
The Talley rings are made in the USA. They provide after-sales service and warranty from the USA as well. Rest assured, Talley isn't some unknown manufacturer.
Will it fail within a couple of hundred shots?
No shot! It won't fail anytime soon. That's guaranteed. The rings will keep zero of your scope through thousands of rounds. And they might end up lasting you for 10k+ shots.
No 34mm option?
There definitely is! And you can choose from a plethora of sizes. Going from extra high extended all the way down to extra low.
4. Leupold BackCountry Cross-Slot Scope Base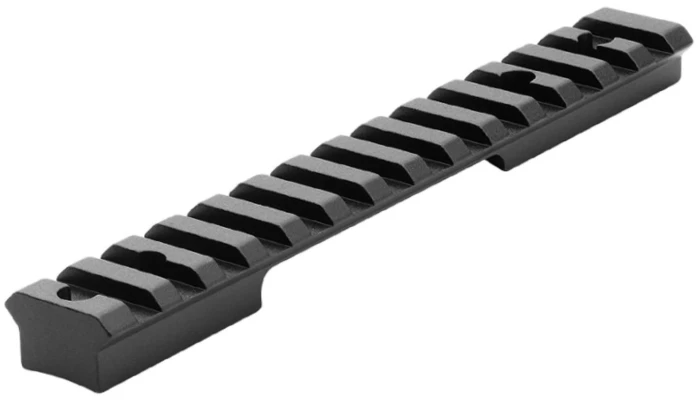 If you want a different option for gun rail for your Mark V, Leupold got just the thing you have been looking for. The BackCountry Cross-Slot scope base is made for Weatherby guns. It supports Mark 5 LT and Mark V Vanguard as well.
The rail is made out of 7075-T6 Aluminum. It's also known as aircraft-grade material. If you want to use high-end scope rings from Leupold with your scope/magnum caliber scopes, then this mounting rail will be a wonderful purchase for you. For example, you cannot install Leupold Backcountry Cross-Slot scope rings on your Mark V.
But if you install this Cross-Slot scope base on your gun, then you can install the rings on the rail as well. A great part of this base is, it's available with zero elevation or 20-MOA for long-range shooting. Depending on what kind of scope you plan to use with Mark V and what caliber, this scope base will be a lifesaver.
Do Leupold offer any warranty with their scope base?
They do offer a warranty with all of their products. You can claim a warranty if you didn't break any T&C.
Will this fit weaver style rings?
That's right, it will fit both Picatinny and Weaver style mounting rings. And you can run the famous Romeo 5 with Juliet 3x combo if you shoot short range.
Do I need the help of a gunsmith to install this?
No, you don't. You can install it yourself with minimal tools and screws. The Torx bit is widely available.
5. Warne M902/879M Weatherby Mark V Matte Two Piece Bases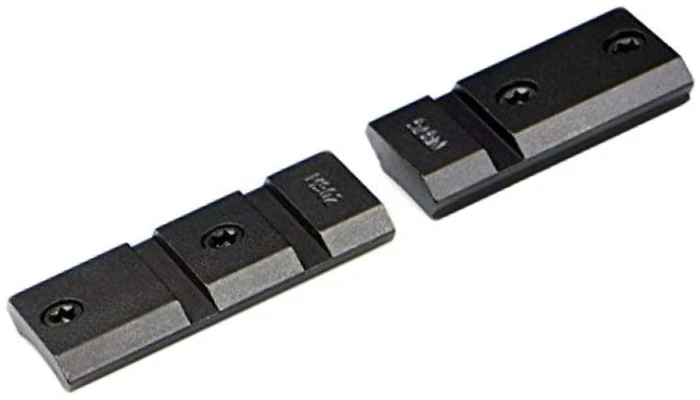 So, you don't need a fully-fledged rail for your Mark V? Rather, want something compact that will still allow you to mount single rail/dual rail objects? Then this is the perfect thing for you.
This low-profile design allows you to use the iron sight when you remove the optic from the rail. Just imagine running a flip-to-the-side combination with this. You will be ready for short-range and mid-range with the flip of a button.
The bases easily mount on the gun with the help of Torx-style T-15 socket cap screws. Make sure to not overtighten it. Otherwise you can end up breaking the screw. It's not made out of plastic if you were wondering. It's durable and it will handle most scopes you come across.
Who's this suited for?
It's suited for hunters who do both long-range and short-range shooting. If you use a quick detach scope ring with your scope, then you can remove the scope on the fly and use the iron sight when you don't need scope.
Does this offer good recoil control?
Absolutely! The Maxima bases offer a full width recoil control. Each of the bases is equipped with this feat. You don't need to worry a single bit about the recoil control.
Is Warne an American brand?
Yes, they are. They are an Oregon based manufacturer working to make hunting and shooting easier and more competitive.
How To Choose The Best Scope Mount For Weatherby Mark 5?
Now that you know all kinds of mounting bases and rings for the Mark 5, the bigger question still remains. What is the best among them? And how do I choose the best one? Well, the answer to that is slightly complicated.
All of the scope mounts I mentioned above are the best in their class. They are priced differently and they are manufactured slightly differently. All while keeping the integrity intact and making sure the mounts can withstand all calibers you fire through the Mark 5.
So, choosing the best will still depend on you. Why do I say that? Well, you need to decide what kind of mount you want and what are your expectations. Do you want something cheap and durable? Grab Warne. Want to go full out? Grab Leupold. After all, it's your money.
If you know how much you are willing to spend and what exactly you are looking for from the scope rings, then it's super easy to choose the best among them. Rest assured, all of them are extremely durable and do their job wonderfully.
Conclusion
So, there you have it. Some of the best scope mounts for Weatherby Mark V and how to choose the right one. Your needs are different from mine and your friend.
So, choosing one from the list will depend ultimately on what your needs are. Like I mentioned earlier, the faster you decide on what you need the faster you can grab one of the best mounts for Mark 5.
With that said, that's all for now. I will see you all on the next one. Will be back with more guides hopefully soon. Till then, take care and stay safe. Ciao.