In order to give a solid competition to all the existing hunting cartridges in the market, the Winchester Repeating Arms developed the ultimate hunting cartridge for the American states which are very particular about deer hunting regulations. And that is the .350 Legend. This cartridge is not a legend in names only, you can also see it in its performance.
This straight-walled hunting cartridge is perfectly capable of producing more quality shots without raising its recoil amount.
Because of the size and quality, the .350 Legend will fit any AR-15 magazines. We all know using a strong and competent caliber in an AR15 rifle can produce a strong reaction that can be difficult to handle for some shooters.
This is where the use of muzzle brakes comes in. Using a good muzzle brake for your Legend .350 will work great for those shooters who have a hard time controlling the recoil. This is what I am going to talk about today. I will be discussing what kind of muzzle brakes are best for the .350 Legend cartridge.
But first, let me talk about some important points about muzzle brakes and what type is more suitable for the Legend cartridge. And then we can move on to the reviews of the top 5 best muzzle brakes you will find in the market for your rifle so that you can find the "One" for you.
Buying Guide For 350 Legend Muzzle Brake
In this buying guide section, I will be addressing some frequently asked concerns about muzzle brakes and specifying what kind of brakes will work perfectly with the 350 legend caliber.
Why do you need a muzzle brake?
A muzzle brake is simply used to dampen the recoil of any cartridge. Considering the .350 Legend cartridge, some shooters may need a muzzle brake mostly because they cannot handle the amount of kickback from an AR-15 rifle.
But at the same time, a muzzle brake will control the direction of a cartridge making your shooting experience smoother than normal times.
How many kinds of muzzle brakes are there?
There are many types of muzzle brakes available in the market, but I will be talking about the two most popular ones. One is called a radial brake that has ports drilled all over its body which will make it more effective. But there is the problem of the brake taking up too much debris from the field.
The other one is called the chambered muzzle brakes which are also known as compensators. The difference with this type is in the angles the ports are placed. You will find ports in 3, 6, and 12 o'clock angles making it more efficient.
Which muzzle brake works with .350 legend cartridges?
Now coming to a more specific question, there are different muzzle brakes in the market that work for multiple cartridges. With the .350 legend, because of its .355" bullet diameter, you can easily use muzzle brakes compatible with AR-15 9mm calibers. These include the 9mm Luger or 9mm Parabellum calibers.
Another thing to keep in mind is the thread pitch. For any .350 legend or 9mm muzzle brake the thread pitch is mostly 1/2×28 which is also very common for any AR-15 rifle barrel. Hence, you need to take this into consideration before purchasing a brake.
Do you need any additional accessories?
There are not many additional accessories for the muzzle brakes. Just make sure that you have good sound protection as some muzzle brakes create more noise than in normal situations.
Reviews Of Top 5 350 Legend Muzzle Devices
Considering you have all the answers you need to choose a great muzzle brake for the 350 Legend, I will be moving to the reviews section now. Here you will find all the necessary features of each brake so that you can match them with your preference and choose the best one.
1. Odin Works Atlas 9mm 1/2-28 Compensator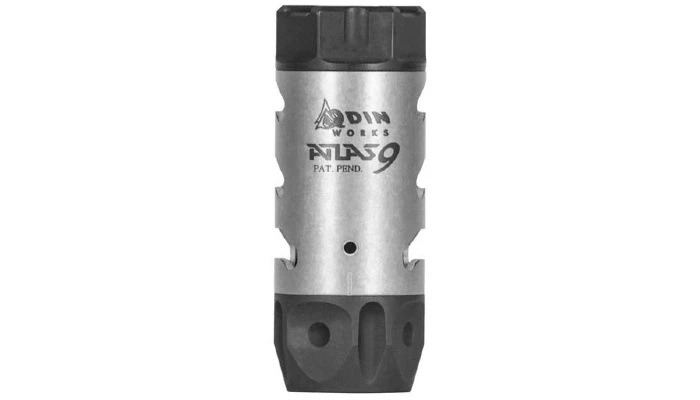 For the 350 legend muzzle brake, my first recommendation would be the Odin Works Atlas 9 muzzle brake for any 9mm AR-15 caliber. As I have mentioned before, the .350 Legend can fit in the muzzle brakes for 9mm calibers. Plus, AR-15 9mm rifles mostly have ½"-28 thread pitch and so this compensator also adjusts to that thread.
Now that we are clear about the mounting complications, I will move onto the more important part of this article- the actual features you will get from this muzzle device.
The 3 piece modular design basically has three sections- core, sleeve, and cap. The core and cap are machined from 416R stainless steel with black nitride coating. Whereas, the sleeve is made of titanium.
When it comes to the attaching part, you can use the titanium sleeve for timing and tuning the muzzle brake. There is no need to purchase separate shims or crush washers. Also, this titanium sleeve is adjustable which allows you to customize the gas port angle.
There are alternating ports in the body that have three rings cut into them which ensure that the gasses escape from the entire perimeter of the comp body.
In addition, you can tune the comp body whichever you like so that the gasses can escape through the chosen direction. That way you can adjust the direction of the gasses.
Will this muzzle brake screw onto a threaded Glock 17 barrel?
As far as I know, the Glock 17 rifle barrel has ½"x28 thread pitch which matches with the requirement of this muzzle brake. Therefore, you can attach this to your Glock rifle.
What is the weight of this brake?
The Odin muzzle brake only weighs about 3.9 ounces.
Is the muzzle brake compatible with the CMMG AR-15 Banshee 300 series pistol?
Again, since almost all the AR-15 rifles have ½"x28 threaded barrels, the Banshee 300 series is not different. At the same time, this rifle can be chambered in both 9mm caliber and .35 caliber. For this reason, you can use this muzzle brake in the Banshee 300 rifle with the .350 Legend cartridges.
2. VG6 Precision EPSILON 9mm Muzzle Brake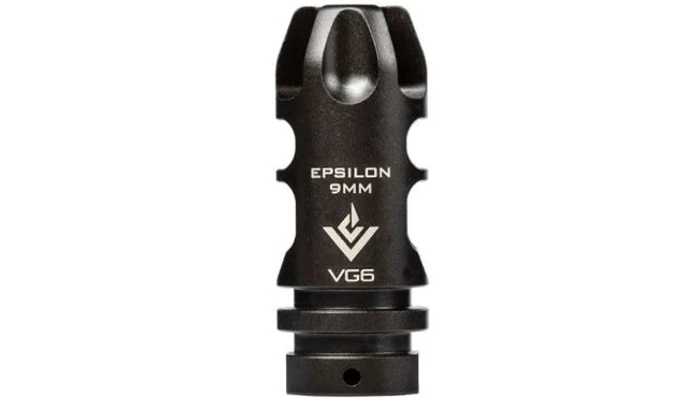 My next recommended product is the VG6 Epsilon 9mm Muzzle brake for the ½"x28 threaded pitch. This stainless steel constructed muzzle brake is a perfect combination of a muzzle brake, compensator, and flash hider. Where else will you get the benefits of three different products in one brake?
This Epsilon muzzle brake virtually eliminates any muzzle movement in a similar way as the Epsilon 9mm BBSS muzzle brake but in a more efficient way. It has many similar characteristics as the BBSS version, however, this has a better recoil management system for .350 legend calibers.
You get three extended flash hiding prongs that help the brake minimize the amount of muzzle flash. For this reason, you don't experience obstruction while viewing through any optics or sights.
At the same time, the porting design of this brake has been optimized to control the pressure of both 9mm and .350 calibers.
This 68RC stainless steel hardness is strong enough to take the toll from strong rifle calibers. While doing so, you get a muzzle brake that produces very soft, low-energy recoil, allowing you many follow-up shots that are quick and precise. Tell me honestly, can you get anything better than this?
Will this muzzle device work with 350 legend caliber?
The answer is very simple. Yes, it will work with any .350 rifle caliber. Although this muzzle brake is for 9mm Luger, as I have mentioned before the bullet diameter of 350 legend is almost the same as the 9mm caliber. This is why you can use brakes for 9mm with 350 legend as well.
Is this muzzle brake too heavy for heavy rifles?
The weight range of this device is 2.5 ounces which in my opinion is not too heavy to use in a heavy firearm.
Will this work on handguns?
Whether this product will work on a handgun or not will completely depend on you. If you are using a 9mm cartridge in your handgun then yes you can use this muzzle brake. But then you will need some gunsmithing to attach it with your handgun.
3. Next Level Armament 11/16×24 Muzzle Brake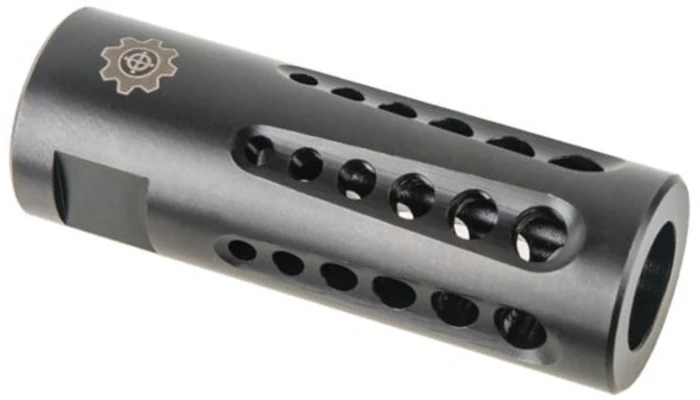 Now moving on towards a muzzle brake for a bit larger AR-15 rifles, I am reviewing the Next Level Armament .450 Bushmaster Muzzle Brake. As the name suggests, this brake is actually next level as you get to attach it to 11/16×24 threaded rifles.
This muzzle device is perfect for controlling heavy recoiling from .450 Bushmaster and .350 Legend cartridges in an AR platform.
With the 4140 stainless steel and nitride coating, its housing construction gives you a solid base for going forward with strong calibration from rifles like the Ruger American Bushmaster and lasts longer than any ordinary muzzle brakes. Whether you are hunting hogs or deer, you will need this brake to save your shoulder from the heavy impact.
The muzzle brake works to resist corrosion while reducing recoil and muzzle jump which will provide you with a smooth shooting transition for follow-up shots, vastly improving your accuracy.
As a result, the percentage of target acquisition is much higher with the Bushmaster muzzle brake.
Besides, installing this 2.5 inches long Next Level muzzle brake is easier than you can imagine. For the record, you are getting a relatively thinner crush washer than other traditional .308 and 5.58 NATO crush washers. This is because the 11/16×28 thread pitch is larger in diameter than the 5/4×24 one.
How can you install the muzzle brake on a firearm?
In order to install this muzzle brake you need to hand tighten the crush washer and then index using no more than ⅓ turn. Over tightening can lead to snapping the crush washer.
Does the muzzle brake work with other calibers than the .350 and .450?
This muzzle brake will accommodate all calibers that have a bullet diameter of 0.458" or less.
Will this device fit the Mossberg Patriot 7mm mag?
Since the bullet diameter of 7mm mag is 0.284", you can use the Bushmaster muzzle brake for your Mossberg Patriot rifle.
4. Ruger 90699 35 Cal Radial Ported Muzzle Brake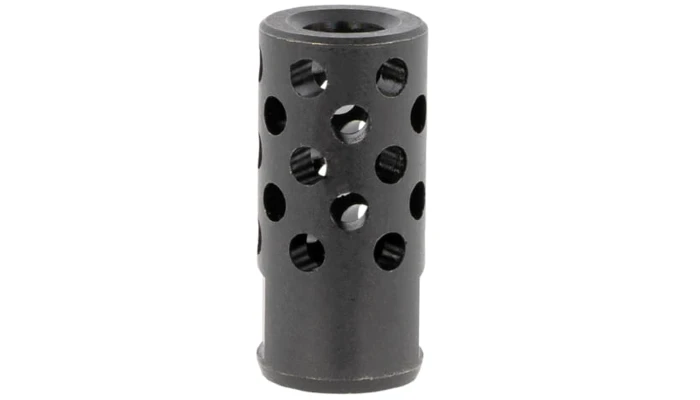 The next product I want to introduce for the .350 Legend caliber is the Ruger Radial Ported Muzzle Brake which is especially constructed for the .35 cal.
As the name suggests the brake has radial ports which are drilled all over its body. It reduces both the recoil and muzzle movement of your firearm.
Because of having ports all over the body of this muzzle brake it gets easier to pass the gasses through the entire body making it easier to reduce recoil and release the pressure from the gasses. That way you get a more efficient and smooth shooting performance.
This 4140 chrome molly steel constructed brake is strong and durable enough to take the pressure from legend .350 bullets. It fits any rifle that has 1/2×28 inch of thread pitch.
This includes some popular rifles such as the AR-556 MPR, Ruger American Rifle Ranch, and PC Carbine chambered in 9mm. This means you can use this brake for both 9mm and .35 cal.
Although I like all the features of this muzzle brake, the only thing that bothers me is the amount of muzzle flash you will get from this product.
Since this muzzle brake has open ports it gets easier for the product to pick up more debris, making it a bit more high maintenance than other brakes.
Do you need any additional tool to install this muzzle brake?
No, you will need an open end wrench or a crescent wrench to torque the brake to 15-20 ft-lbs. You don't need a crush washer for this product.
Will this brake fit rifles with 20" barrel?
You can use this muzzle brake with a 20" long barrel rifle. However, generally it is better to use a ⅝"x24 thread pitch for larger rifle calibers since for stronger threads.
What is the diameter of this muzzle brake?
The Ruger Radical Port Muzzle brake has an 8 inches diameter.
5. AR-Stoner A2 1/2″-28 Thread 9mm Steel Phosphate Flash Hider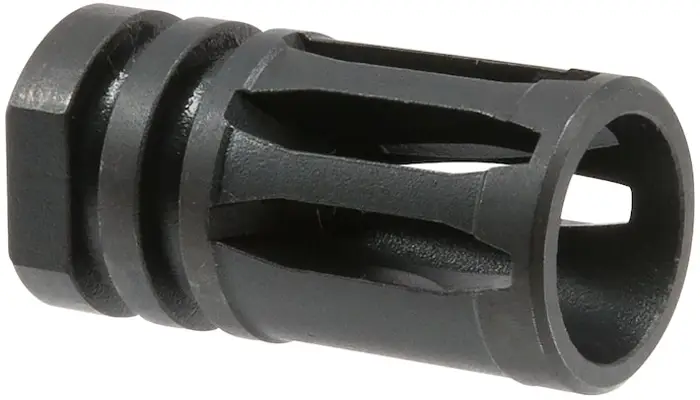 Our final product for the .350 Legend cartridge is the AR-Stoner Flash Hider. The reason for choosing this muzzle brake is actually its port design that enables the product to work as one of the most effective flash hiders in the market.
This is especially good for rifles chambered in 9mm and .35 cal as they produce more pressure and muzzle flash at the same time.
The main objective of this muzzle brake is to reduce muzzle flash as much as possible. Now this is possible because of the placement of the ports on this product.
There are two types of ports in this flash hider. The 3 and 9 o'clock ports are in the lower part of the body and 25 percent smaller than the other three upward facing ports.
As a result, the ports direct the gasses through the upward facing ports, managing the direction of muzzle flash on the way. But don't think this is the end.
Along with controlling the muzzle flash, this product provides 15 to 20 percent better compensation for the muzzle rise without compromising its flash suppression capabilities or creating more noise and concussion for the shooter.
For its housing construction, AR-Stoner has used high quality steel phosphate which is the best material to resist corrosion, giving you a durable and reliable flash hider that will service you for a really long time.
With the price point, I think this product is perfect for any newbie shooter who wants a good and durable product at a budget friendly price tag.
Do you need to purchase a separate crush washer for this muzzle brake?
Yes, you will need to purchase the crush washer separately for this product. I would recommend trying the AR-Stoner Crush Washer for ½" thread pitch.
Will this brake fit the Kel-Tec Sub 2000 Gen 2 firearm?
It will be compatible with the Kel-Tec 2000 series gun as it comes with a ½"-28 thread pitch and uses 9mm and .350 cartridges.
What is the diameter of this product?
The AR Stoner A2 Flash Hider has a 0.86 inches diameter which is very small compared to other muzzle brakes.
Conclusion
To be honest, the .350 Legend has been keeping its promise of giving you the best hunting experience since the day it was launched. And because of that, I think it is your responsibility as a passionate shooter to get your caliber the best muzzle brake.
With that being said, I have listed all the important concerns you may face while searching for that perfect muzzle brake for your firearm.
I would suggest going through them unless you want to compromise with the quality of your shooting. Then of course there are the options for top muzzle brakes that are specifically suitable for the .350 cartridge.
I can assure you that you will be able to find the legendary muzzle brake you are searching for the legendary .350 caliber. So don't waste another minute and get one for yourself!