Who hasn't heard of Savage Arms? The company that put out one of the most famous bolt-action rifles in the market. The 110 stock is just like all other bolt-action rifles. Lacks a lot of accessories and has awesome accuracy.
While the Savage 110 Tactical is kind of a custom Savage 110, it's still not enough to warrant an upgrade over the 110. What if you could upgrade your Savage 110 and turn it into a custom Savage 110 Tactical? Sounds awesome, right?
That's why I have some of the best upgrades for Savage 110 for you guys today. Hopefully, you will find them useful and show the 110 some love it deserves.
1. Savage 110 Stock Upgrade
The Savage 110 is available in plenty of different models. Starting from the 110 classic to the modern tactical version. On top of that, some come with upgraded stock support and accessory attachment rails. If you have the barebones Savage 110, you definitely should look forward to changing the stock first.
i) Hogue 11225 Savage 110 Stock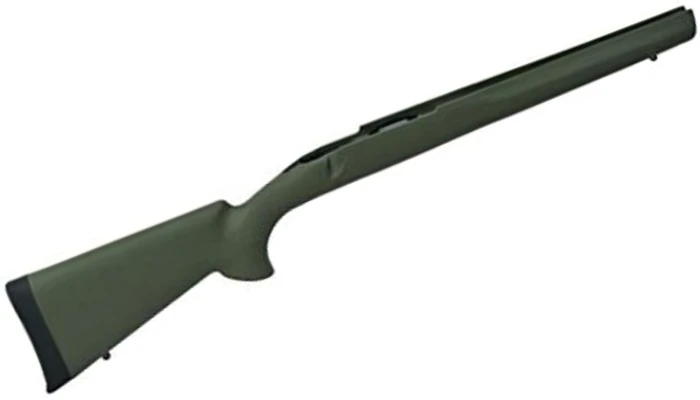 Hogue is a world-renowned brand in terms of all things gun accessories. Their grips are what they are most-known for. This synthetic stock from Hogue is made for Savage 110, 112 and 116.
The OD green color stock looks appealing to say the least. The stock is not made from wood or aluminum. It's made out of hard-plastic. The stock is suited for long-barrel bolt-action guns.
Just like other Hogue grips and stocks, this one feels extremely comfortable to use as well. Weight distribution is nice and firm. Overall, definitely the ebay stock for Savage 110 without a question.
ii) LimbSaver Classic Precision-Fit Recoil Pad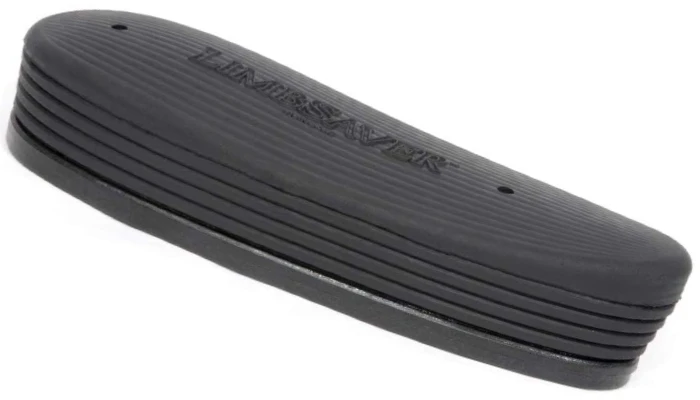 This recoil pad is compatible with the stock Classic Savage 110. It's more comfortable than a stock recoil pad. It's more soft as well. Using this will reduce your felt recoil up to 70%.
The non-slip surface of this helps you to use this while wearing mesh clothes or jackets as well. Installing this is super easy. You can easily install this on your gun without requiring the help of a gunsmith.
2. Savage 110 Rail Upgrade
Savage 110 calibers are known to be proficient in long-range shooting. But like many, Savage 110 doesn't come with a mounting rail on top of it as well. While Savage 110 Tactical accessories does include a rail on top of it, a scope even to some models, the classic one doesn't. To make it compatible with scope mounts, you will need a mounting rail on top of your gun.
i) Weaver Extended Multi Slot Savage 110 Base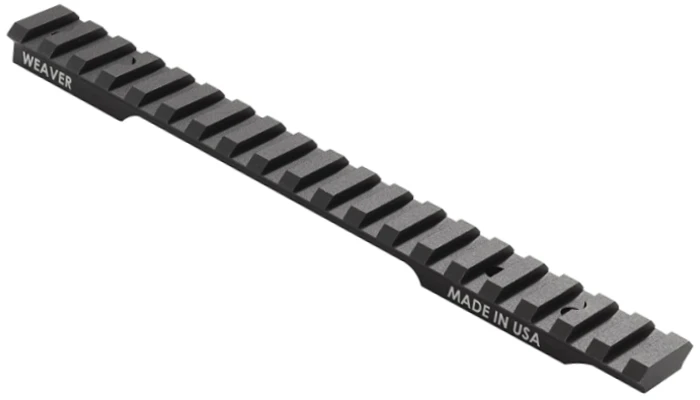 Weaver/picatinny rails are known to be universal rails that many mounting systems support. That's why, instead of dovetail, I will highly encourage you to go with weaver if you are planning to use a high-end riflescope.
The rail is made out of aluminum. 6061 T6 aluminum is an extremely durable material that is often used in scopes and other accessories. Weaver is an American brand, they are one of the OG rail makers that is still in business. In terms of durability, it's one of the most durable systems out there.
The rail system supports Savage 110 without any drilling or tapping. You can easily place it on top of your Savage and use the screws it comes with. Quite easy and straightforward installation process.
3. Savage 110 Scope Upgrade
The regular Savage 110 doesn't have any kind of scope installed on it. Now that you are done with the installation of the rail on your gun, it's about time you install a good scope to make the ultimate Savage 110.
i) Leupold VX-Freedom 4-12x50mm Rifle Scope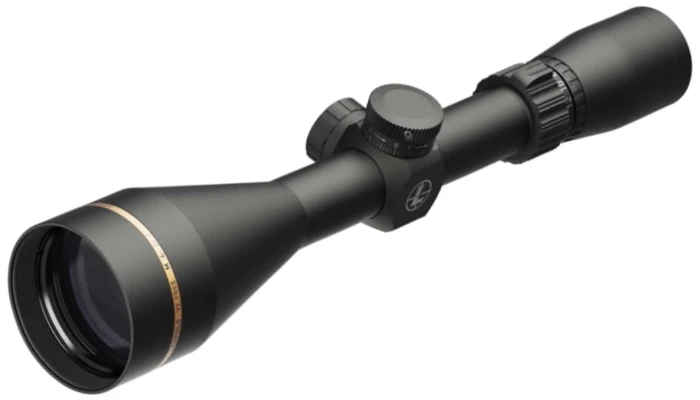 When it comes to long-range rifle scope within budget, very few brands come remotely close to Leupold. Leupold has experience in making scopes in all sorts of budgets. The VX-Freedom is a lineup of hunting rifle scope suitable for guns like the Savage 110.
The scope is made out of aircraft-grade aluminum. The glass lenses are sealed with O-ring sealing. Making the scope 100% waterproof. The inside is purged with chemicals as well. Making it fogproof in the process as well.
The reticle on this scope is on the second focal plane. Like all the other Leupold rifle scopes, this one features Leupold's twilight light management system. A technology that Leupold uses to make their scope perform better in low-light.
Once you get the taste of it, there is no going back. Keep in mind, the scope doesn't come with mount rings (unless mentioned otherwise). That's why you should get a pair of Leupold Backcountry Cross-slot scope rings as well.
ii) Burris Fullfield E1 4.5-14x42mm Hunting Scope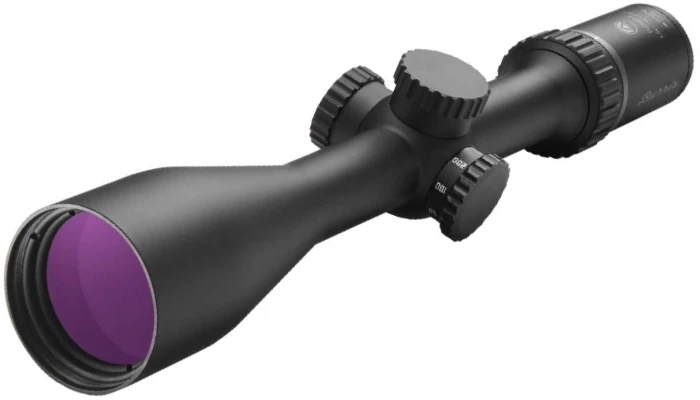 Burris Fullfield E1 hunting rifle scope is a budget oriented long-range riflescope from Burris. You cannot make a list of budget rifle scopes without mentioning a single Burris scopes. They are absurdly good for the money you are spending behind them.
The E1 Hunting scope is made out of aircraft-grade aluminum and features a SFP glass etched reticle in the glass. The inside of the scope is purged with chemicals as well. This process makes scope immune to internal fogging of any sorts.
On the exterior, it has an anodized finish to it. On top of that, the lenses are fully multi-coated as well.
You can use the same Leupold 1" rings with this scope as well. It has the same 1" maintube to it. For hunting, this riflescope is quite literally one of the best budget scopes.
4. Savage 110 Magazine Upgrade
The stock magazine of 110 is not that bad. But with the much necessary stock upgrade, you should invest in some good magazines as well.
i) Savage 55232 Axis 110 Magazine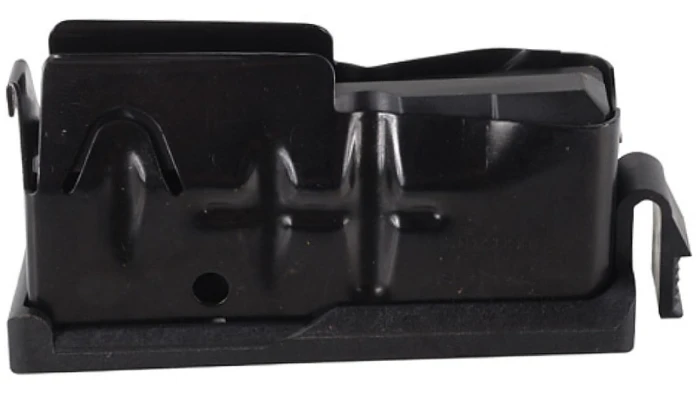 This magazine for Savage Arms is more durable than a traditional polymer magazine. The material here is blued steel. That's some amazing material to work with. As this is a lightweight and extremely durable material, often you will find it in firearm accessories.
This magazine is capable of holding 4 shots. That's more than enough for a successful stalk and hunt session. Then again, they are so affordable that you can easily buy two if not three of them to stock up.
5. Savage 110 Bipod Upgrade
As Savage 110 is a sniper-rifle, you will need a bipod to safely stalk your prey and then shoot with great control over the recoil. It will stabilize the gun a lot as well. So, make sure to grab one when you can.
i) CVLIFE 6-9 Inches Tactical Rifle Bipod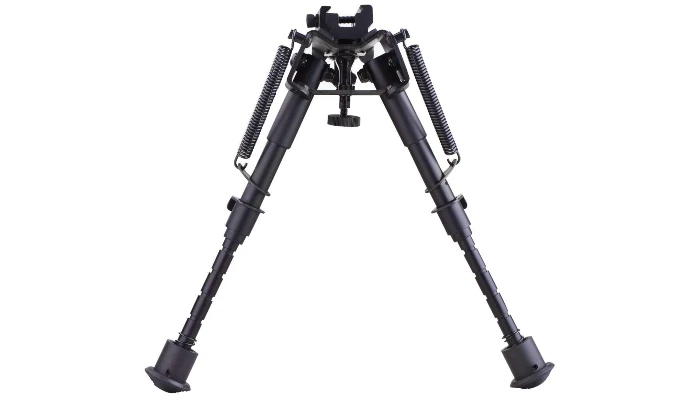 Cvlife accessories are quite famous among hunters and tac-shooters. This bipod is a great deal for all Savage Axis weapon owners. The sling is quite important for hunters as well. You are technically getting that for free here.
This spring-loaded bipod is made out of hardened steel and aluminum. It's extremely durable from the toe to the brim. The anodized finish makes it immune to moisture and rust related issues. You can use this in a damp jungle as well.
ii) Caldwell XLA Pivot Bipod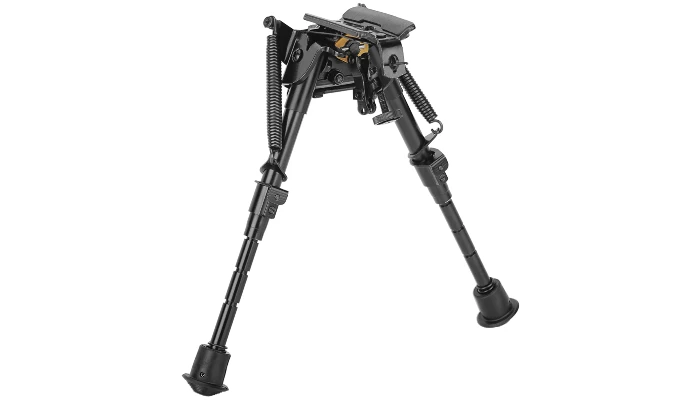 Caldwell XLA is a budget oriented bipod made for long-range rifles. The aluminum pole on this bipod is extremely durable and they are coated to be resistant against rust. This is something cheaper bipods struggle with.
The stabilization of this bipod is quite good. It won't wobble on uneven surfaces either. Doesn't matter what kind of terrain you are hunting at, this bipod will help you land successful shots all year long.
Should You Upgrade a Savage 110 or buy the Savage 110 Tactical Instead?
So, should you invest in your classic Savage 110 or buy the newer Tactical 110? After all, the Tactical comes with some pre-installed accessory that allows you to easily install scopes on top of it and change the magazine on the fly.
Upgrades for Savage 110 are worth it if you already have the gun on you. Instead of selling it to purchase the Tactical 110, you could take your time to find more about the gun, learn how to disassemble it and then reinstall it on a different stock all together.
Then again, many will prefer a convenient solution. For them, the Tactical can be the better option.
Conclusion
There you have it. Those are some of the best upgrades for Savage 110 you can find. All of those upgrades will improve the tactical and hunting performance of this gun. This will allow you to take your gun to the next level that we long for.
Sure, you could take the easy route down and leave with a Tactical 110 out of the front, but that doesn't allow you to have the experience and fun of modding your gun by your own hands. This is something I won't trade for convenience's sake.
That's all for now. I will be back with more upgrade guides for you guys soon enough. Till then, take care and stay safe.