Just like the Remington 870, the Mossberg is quite popular among all kinds of shooters. The usage of the Mossberg 500 is quite vast. From making its way to hunting to home defense and competition, Mossberg has shown quite versatility in its usage.
Just like the stock Remington 870, the 500 struggles in some aspects. Which you can easily improve. On top of that, it will make your 500 a custom Mossberg 500. How cool is that?
Unlike Mossberg 590 accessories, finding Mossberg 500 accessories readily available is quite a hard task. And if you are not doing the right upgrades, might as well use it in stock form.
For those who are eager to try out new things and trying to turn their Mossberg 500 into a Mossberg 500 Tactical, welcome. The topic is as you read already, finding the best Mossberg 500 upgrades possible. And also find out why they are good and why you should consider them. Without further ado, let's start.
1. Mossberg 500 Stock Upgrades
Like you do with Mossberg 590 upgrades, the first thing here to do is change the stock to something more comfortable. If this is your primary gun, comfort has the highest priority.
The Mossberg 500 platform is legendary for its compatibility with tons of accessories out there. So, finding the best Mossberg 500/590 stocks is easier than you think. Here are some of them.
i) Magpul SGA Ambidextrous Buttstock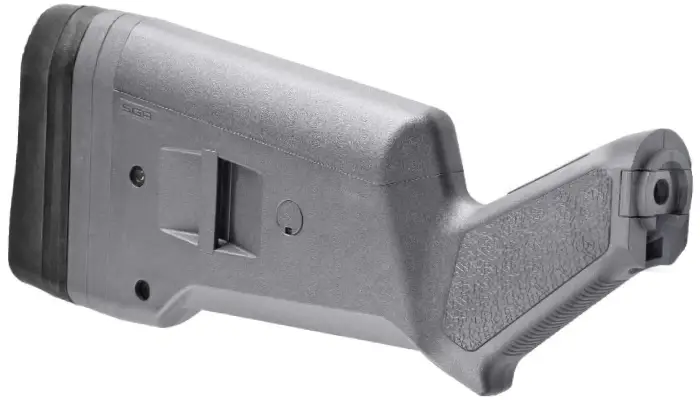 You probably heard of this same stock before. That's because SGA is available for Remington 870 as well. On top of that, Magpul is known to make killer shotgun accessories. They are also reliable for their M-Lok accessories as well.
The SGA is made out of polymer. It's reinforced polymer that is more durable than regular cheap plastic. The exterior texture grooving is quite nice to hold on to. It's an ambidextrous stock, which means both handed shooters can use this to their benefit.
As the spacer in the buttstock is adjustable, you can adjust the length of this entire butt. The stock also has an adapter loop for connecting slings. This is something not available in every stock. As some tend to make it an accessory, shave weight from the stock.
ii) Hogue Mossberg 500 Overrubber Shotgun Stock Kit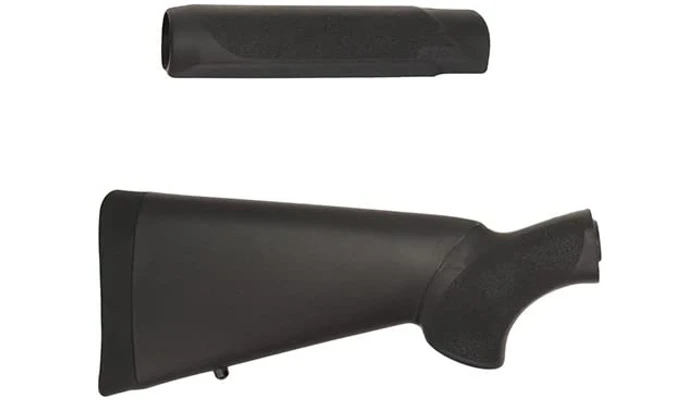 This stock from Hogue comes with a bonus. While you are getting a great Mossberg 500 stock, you will get a rubberized foregrip for the 500 as well. The forend of this gun needs some upgrading as well. I will discuss more on that later.
The stock is designed as an overmold. That means, there is an extra part of the stock that is molded like rubber to provide your chest the utmost comfort possible. This stock is great for hunting. As it's ready for CQB, it will perform quite well with any kinds of hunting you may have in mind.
The price-to-performance ratio of this stock is quite good as well. The foregrip is decent. Nothing to write home about. But you are getting a free product that you would have to buy otherwise. Just for that, I can see a lot of you guys buying this.
2. Mossberg 500 Grip Upgrades
The stock grip of 500 and 590 is so-so. It's not the most comfortable thing in the world. Certainly not as bad as some reviews make it out to be. It's totally usable.
That's the only praise I can give to the stock grip. So, you should look forward to upgrading to a Mossberg 500 pistol grip as soon as you can. That will provide you with a more comfortable shooting experience.
i) Hogue Tamer Shotgun Pistol Grip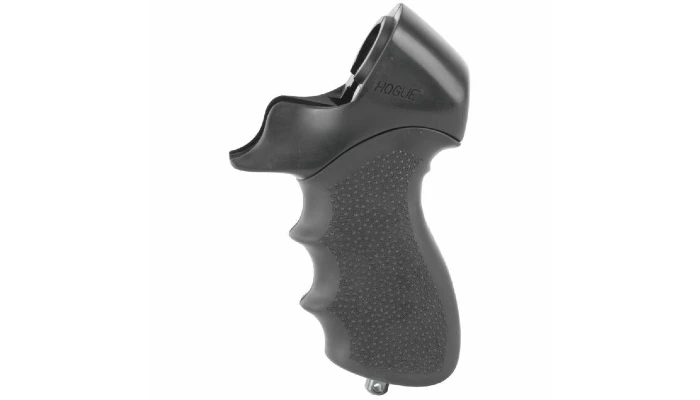 It's not unheard of to use a pistol grip on a shotgun. Pistol grips are usually more comfortable than shotgun grip. Hogue is quite proficient in grip making. They make AR pistol grips for other guns as well.
This shotgun pistol grip from Hogue is made out of fiberglass reinforced polymer. If you do not fancying a fiberglass handle, then you can get Hogue's rubber handle grip for Mossberg 500 as well.
Both variants are quite well crafted. But the polymer one is more durable. That's because the material used in this variant is denser. Both of the grip styles have some finger comfort grooves. Even though they look bad in pictures, they are quite comfortable to hold on to.
ii) AIM Sports Inc Mossberg 500 Shotgun Pistol Grip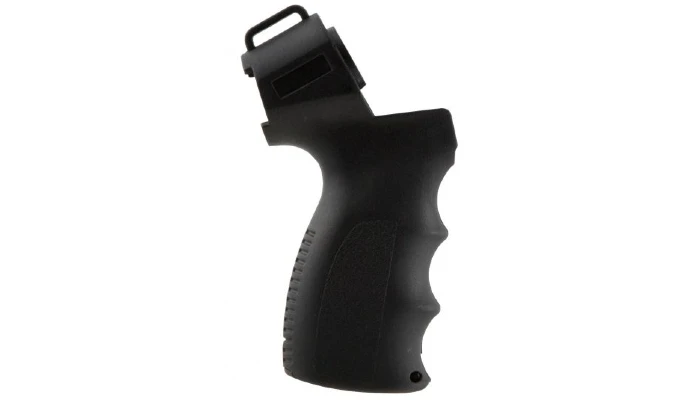 If someone tells you to differentiate between this and a Hogue grip, chances are you won't be able to tell the difference. Not because AIM Sports cloned the Hogue grip, but because of how similar the pattern is. They look nearly identical.
The AIM Sport grip is made out of polymer. A similar material is present in most modern polymer pistols. Rest assured, the grip is extremely durable. But when it comes to a grip, the texture and comfort are more important than the durability.
You can easily grip the handle thanks to the finger groove and thumb groove. Those two are extremely comfortable. The texture is well plasticity. It's not harsh or rough, but it's not soft like rubber either. Overall, it's a good experience.
A little bit of a bonus for you guys. If you guys want to rock an AR-15 pistol handle with a stock on the Mossberg 500, then you should get one of these stock adapters from Ergo Grip. They are compatible with pistol grip as well.
3. Mossberg 500 Foregrip Upgrades
The foregrip is an important part of any weapon. They will keep your shotgun steady and keep the muzzle from raising too much. Stability in a shotgun is very important. Here are some Mossberg 590 foregrip upgrades for you.
i) Magpul MOE M-LOK Mossberg Forend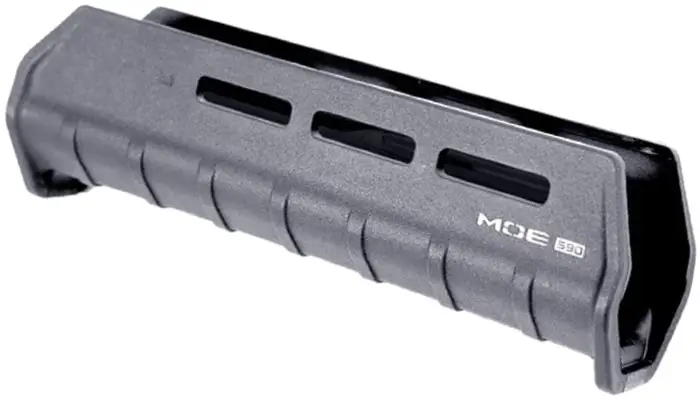 Another day, another Magpul. Jokes aside, Magpul is a maestro when it comes to M-Lok accessories. As Magpul is known to work closely with Mossberg before, they made sure to make the foregrip for 500 memorable.
This foregrip from Magpul is made out of polymer. A durable and lightweight material that won't put a dent in your gun barrel. It won't strain your hand either. A double beneficial deal for you.
Fun fact, it is also one of the best Mossberg 590A1 foregrip as well. That's the beauty of this 500 lineup. Almost 90% of the guns under this banner have interchangeable parts that you can reuse.
ii) Streamlight TL-Racker 1000 Lumen Forend Light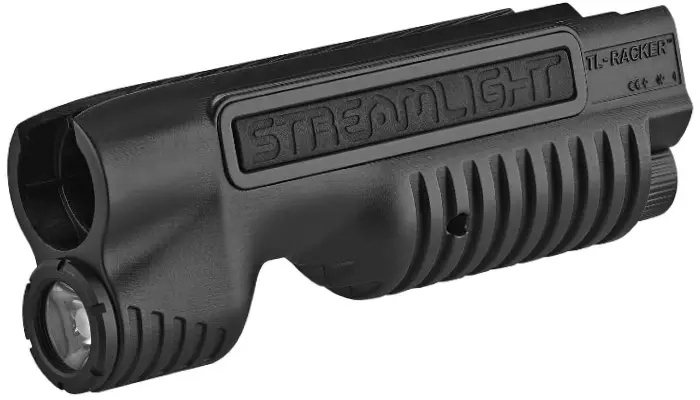 If you are using your Mossberg 500 as a home-defense weapon, then you definitely need this. This forend from Streamlight comes with a 1000 lumen LED light built inside it. The torch is super bright and lasts for a good amount of time as well.
The light can last up to 1.5 hours at maximum intensity. For hunting, you could use a lower intensity and hunt for a prolonged session. The forend itself is made out of polymer. It's quite durable and lightweight as well.
As it won't damage the barrel at all, it's an easy recommendation for anyone looking for a hybrid foregrip. 2-in-1 is always welcome to my budget-conscious mind. On top of that, if it's a good performing product, the value goes up immediately.
4. Mossberg 500 Sight Upgrades
Even the big shotgun can benefit from an optic. But don't bother with adding a 4×32 scope on a shotgun. Those things only work in the video games teenagers play these days.
As shotguns are considered as CQB experts, using a sight that will enhance your chances to hit shots in close quarters is a big in my book. Here are some of the best sights for Mossberg 500 you can buy right now.
i) XS Sights Big Dot Shotgun Sight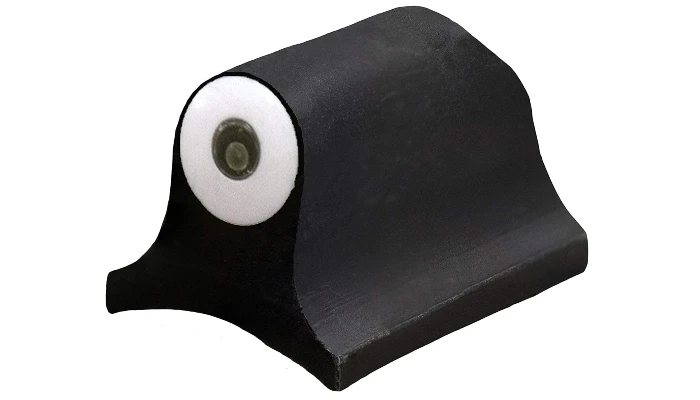 As the name suggests, the sight here is made for shotgun and it has a big tritium fiber stick in it. The tritium fiber stick is available in different colors to choose from. On top of that, there is an option to have a circle around the stick if you fancy that.
Installing this is quite easy as well. It comes in a one piece design that sits on top of the barrel. Near the front, it doesn't add much weight to sway the recoil force downwards. The body of the sight is made out of steel.
The steel is water and corrosion proof. As tritium doesn't use a battery to turn on, you don't need to worry about battery replacement anytime soon either. It's one of the best shotgun night sights you can buy right now.
ii) Holosun HS510C Reflex Red Dot Sight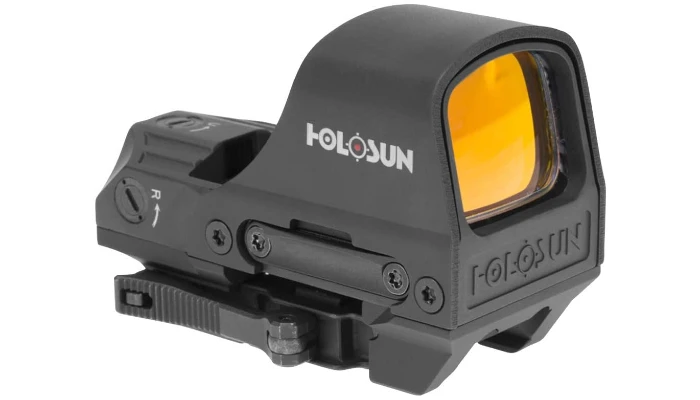 When it comes to red dot sight for Picatinny rail, Holosun HS510C is one of the most recommended optics out there. Built with longevity in mind, Holosun has become quite popular among USA hunters in the last few years.
The HS510C is made out of aircraft-grade aluminum. It is waterproof and shockproof. It features a 2 MOA illuminated red dot reticle as well. To turn on that reticle, Holosun includes the battery in the package. By replacing the battery, you can prolong the life of it quite a bit.
But to use the HS510C on your shotgun, you will need a Picatinny rail. Trinity sells a simple Mossberg 500/590 Picatinny rail adapter that doesn't require any gunsmith to install.
As long as your 500 is factory drilled, you can easily install this Trinity Picatinny rail adapter. By doing this, you can add all sorts of picatinny accessories you can think of.
5. Some more Mossberg 500/590 Upgrades You Can Consider
While these aren't major upgrades like the ones mentioned above. These are still upgrades worthy of Mossberg 590 Tactical. Why turn away the chance of taking your gun to the next level?
Stock Adapter
When you search for Mossberg 500 custom parts, you will see a ton of posts with AR stocks in their guns. While 500 and 590 have some good stock collection, it's still not nearly enough to compete with AR stocks.
To mitigate that issue, there are stock adapters available that can help you install AR stock in your Mossberg. With this stock, you can use a pistol brace on the Mossberg 500 as well.
Sling
If you carry your weapon a lot, a sling can be a lifesaving item for you. While owners of this gun who uses it solely for defense might not be interested in a sling, a hunter and a regular shooter will definitely want one. Get yourself Blue Force Gear Vickers Push Button Sling. They are known for quick adjustment on the fly and they are extremely comfortable.
Opsol Mini Clip
The idea behind this mini clip is to allow you to use Aguila mini shells. They are quite stubborn and don't want to stay put in the stock Mossberg 500. This can help you keep those in place. Instead of 5 standard shots, you can fire 9 of these mini shots.
Shotgun Safe
Something like the Hornady Rapid Safe should be part of any shotgun owner's collection. Shotgun safety is no joke. You don't want your shotgun to misfire by mistake from a drop or anything. It can cause severe injuries that no one wants to happen. Get one of these and mount your shotgun on the wall safely.
Do I Need to Upgrade The Mossberg 500/590?
This is a very good question. When there are options like the 500 Tactical and 590 Tactical, why take your time and upgrade the 500 instead of purchasing them?
The answer is simple, experience. You don't get to experience the pleasure and fun you find in upgrading a gun bit by bit. Readymade guns are available everywhere. But you won't be able to call that gun your own custom Mossberg 500.
On top of that, if you think about it, most 500 and 590 owners have owned this gun for a while now. Doesn't make sense to sell it and buy the Tactical variant, does it? Rather upgrade your current gun and make it outperform the tactical variant.
Conclusion
And with that, the journey is ending. While I have probably made you even more confused with more upgrade options than you could stomach, I do believe you have the guts to digest all this information.
I do hope you make the best Mossberg 500 upgrades possible and enjoy the custom shotgun that you built. Well, somewhat built. We take any credit possible, Ha-Ha! That's all for now. I will be back with more upgrades soon. Till then, take care and have a nice day.