Remington 870 manufactured by Remington Arms is a pump-action shotgun. It's been in service since 1950. Chances are, you have seen this gun in your father or grandfather's arsenal already.
Now it's your time to shine with this beast. What makes the 870 an excellent gun is the upgradability.
As there are so many folks who own this gun already, the upgrade suggestions are not the same. Some will say upgrade this, some will say upgrade that. So many mouths, so many opinions.
That's the thing, you can't even discard their opinion as they are as valid as mine. That's why I'm on the quest to find the best Remington 870 Upgrades. And I want to share those upgrades with you guys as well. That's what I'm here for. Without further ado, let's get right into it.
1. Remington 870 Forend Upgrades
The first thing that comes to mind when it comes to Remington 870 upgrades is to change the forend. The forend of the gun is not that bad. It's okay. And that's about it. That's why, you should consider upgrading it first, then move on from there.
i) Magpul – Remington 870 Moe M-Lok Forend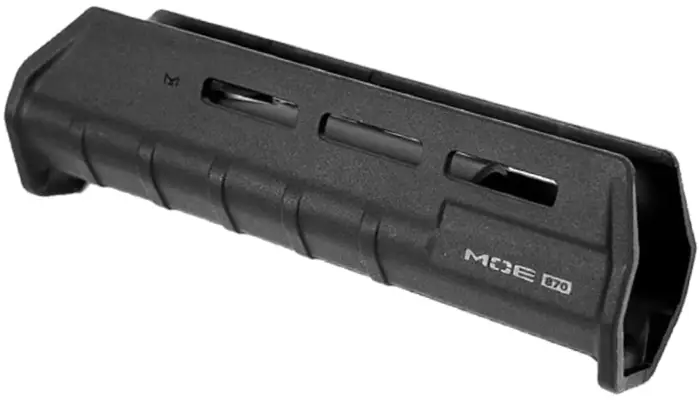 Magpul is a great accessories maker. Their Remington 870 accessories are some of the best the market has seen. Their MOE M-Lok forend is another great addition to their catalog.
This is one of the cheapest forends with M-Lok you will find for the 870. Just because it's cheap, don't let it fool you. It's built quite durably and will last you a long time. The material is reinforced polymer.
As it's made out of polymer it's quite easy to have it in many colors. Starting from black, you also get it in red and camouflage colors. There are no build quality differences among any of the colors. Performance and compatibility, top tier.
ii) SureFire DSF-870 Ultra-High Remington 870 LED WeaponLight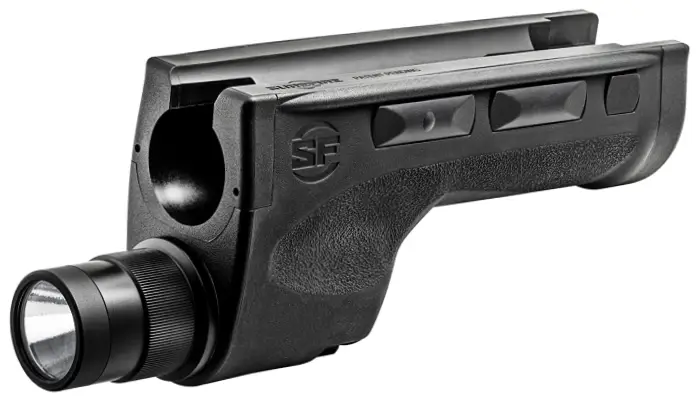 Two-in-one is always nice, isn't it? This forend comes with a built-in flashlight. A very nice and welcomed bonus for folks that do nighttime hunting a lot. Flashlights during the night come in super clutch.
Just like the Magpul, this one here is also made out of reinforced polymer. A material that has been used in handgun making for a long time now. Rest assured, it can withstand the recoil hit of the 870 with ease.
The LED can output 600 lumens and can cover up to 225 meters. At the lowest output, you will get 200 lumens and 3 hours of battery life. At 600 lumens, you will only get 1.5 hours of continuous use battery life. That's a bit low, but you will not use the 600 lumens constantly anyway.
2. Remington 870 Stock Upgrades
Changing the brace/stock of a gun is an everyday occurrence. While this is not a Remington 870 Tactical Kit, it serves a different purpose. The purpose of stabilizing the gun and handling the recoil better.
i) SB Tactical SBA3X Pistol Stabilizing Brace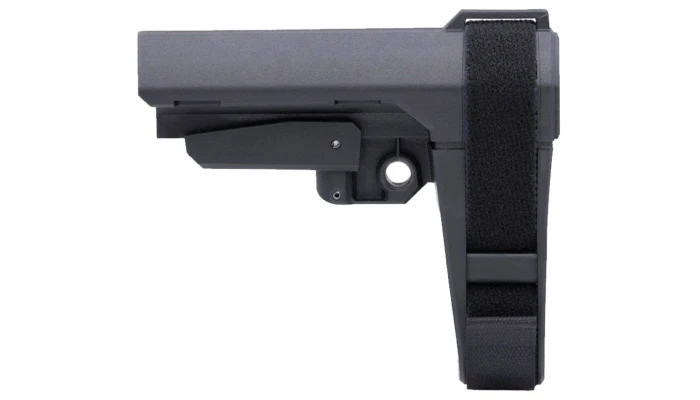 SBA3 is mainly made for pistols. But it can be used in AR pistols and rifles as well. It didn't take long for people to figure out you can use this on the 870 Tactical 14 as well. But at stock, it's not compatible with the 870 Tactical 14.
You will need an ergo adapter for Remington 870. Using that, you can easily install this brace on your Tactical 14. After that, you can enjoy close-quarter combat like a boss. It makes the gun a champion in CQB.
The brace has a nylon strap that holds onto your arm for one handed usage. SBA3X is one of the best pistol braces you can buy. Just by adding that on to the Remington 870 Tactical 14, you are improving the stability of the gun. Shooting will be more fun with better accuracy for you with this.
ii) Magpul SGA Remington 870 Fixed Stock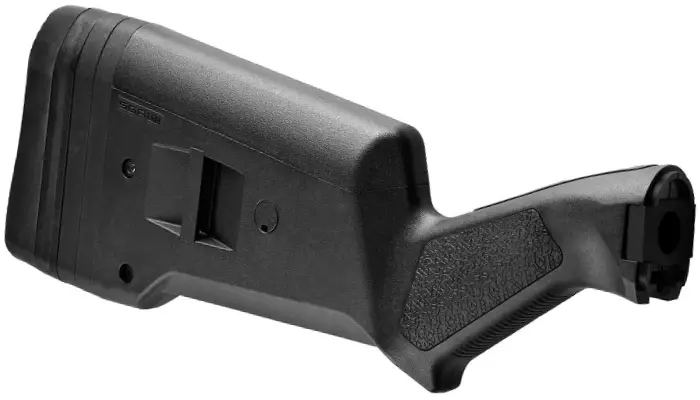 This one here isn't specifically recommended for the Tactical 14 or anything. Rather, you can use this stock with most Remington 870 variants. The buttstock is made by Magpul. A well-known brand among hunters and competitive shooters. Their accessories are simply put, amazing for the price you pay.
The buttstock is made out of reinforced hard polymer. Yes, the same type of material you see in pistol grips and the pistol itself. It's super durable and can easily withstand the recoil of a shotgun. That's why companies keep making great stocks out of this lightweight material.
A really cool thing I liked about this stock is the color variants. I know color doesn't mean anything when it comes to performance, but aesthetic is aesthetic. Keep in mind, that it fits the 12 gauge variant of the Remington 870. Don't buy this for other variants.
3. Remington 870 Side Saddle Upgrades
Shotguns are known to have low capacity. That's why you see people wearing shotgun belts to carry extra ammunition. Yes, the belt you see old school robbers use in movies. But that's not the most effective way either
That's why you should add a side saddle in your Remington and increase the bullet carrying capacity.
i) ProMag AA112 Archangel 7 Round Remington 870 Shell Holder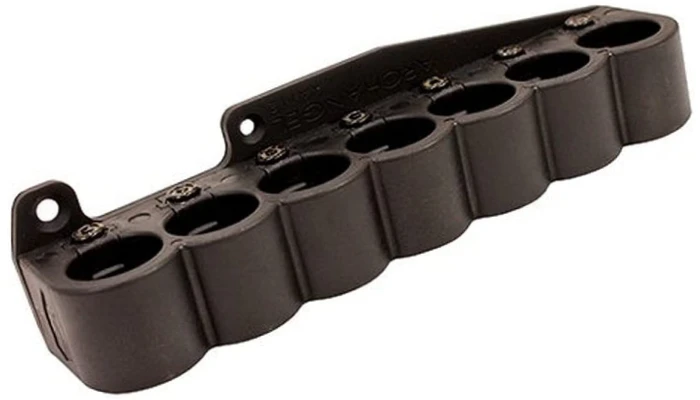 This simple looking side saddle is capable of carrying 7 extra shells for you. Taking out 7 bullets from the bag and then reloading will cost you a lot of time. In hindsight, it can make you lose the prey as well.
The saddle is made out of aluminum with CNC machining. With precise cut corners and top tier finishing, there is no room left for error. The matte black finish on this saddle goes well with the theme of the gun.
The saddle is only usable with a 12 gauge model of Remington 870. As the shell cutouts are for 12 gauges, you can't put in other gauges and expect the saddle to just take it for you.
4. Remington 870 Optics Upgrades
As you guys are aware, the 870 doesn't come with any kind of optics. You are stuck with the ironsight. And the ironsight will fail on you if you aim anywhere above CQB. To help you aim your target better, you will need the best Remington 870 sight possible. Here are some recommendations from my end.
i) XS Sight System Big Dot Tritium Shotgun Sight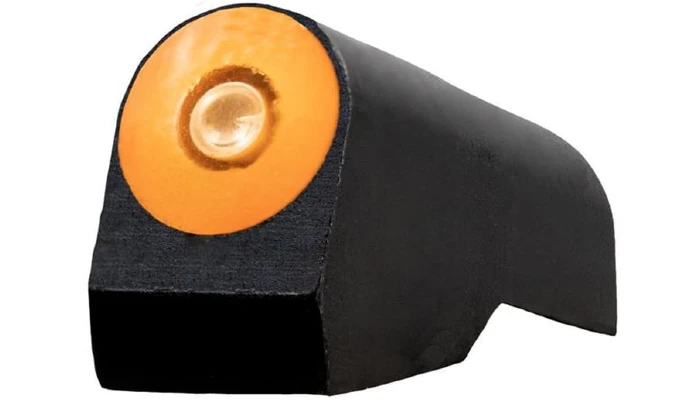 The XS Sight System night sight is powered by tritium. The same type of material you see in pistols. But this time, it's humongous. Let's be real, shotguns won't be able to utilize the small night sights of pistols. You can use something small if you want to, but the bigger dot helps you focus better in contrast to the gun.
The XS big dot sight is available in different colors. You can go for orange or yellow. Both are good performers during the day and the night. The installation process isn't tedious at all. It's quite simple.
Even newbies won't find this troublesome. The tritium is secured inside a housing made out of steel with a blued finish. Making it more durable than many other night sights that use rubber/synthetic material to protect the tritium. Add in the performance ratio as well, you got a banger sight.
ii) TruGlo Glo-Dot II Smooth Barrel Shotgun Sight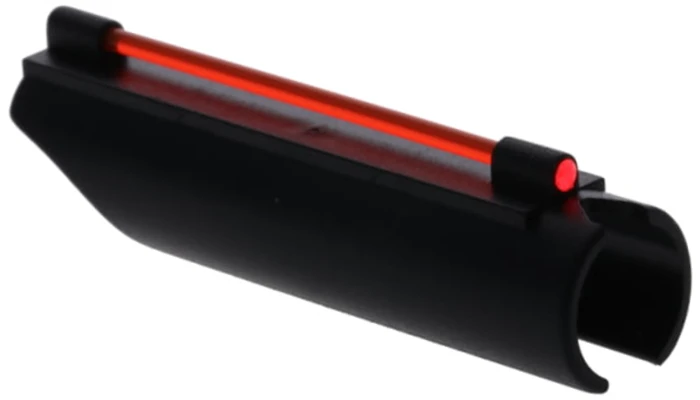 The next sight you should consider is from TruGlo. Another excellent brand and is well-known among the handgun community. Their sights are used by the law enforcers, self-defense, hunting, range shooting, etc.
As you can guess from the name and pictures, this sight sits right on top of your gun barrel and you don't need any special tool for that. Surprisingly, it clamps in so tight, that you won't even need to use any kind of tightener.
The front glow tritium stick is available in either green or red. As they are not powered by electricity, you don't need to worry about batteries at all. They power on their own and don't dim that often.
iii) HOLOSUN – HS510C Reflex Red Dot Sight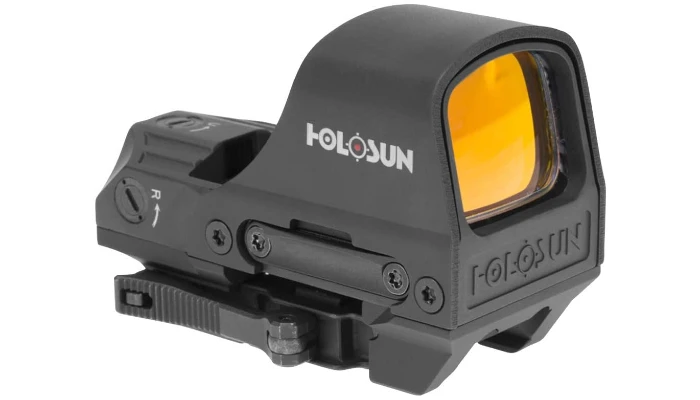 I know what you are thinking. The Remington 870 has no rails to install this sight on. Why am I recommending this then? Well, you could easily purchase the Sureshell side saddle with rail and attach it to your 870. All of a sudden, you have access to all weaver style rail accessories.
H510 is a durable red dot sight that is made for military grade usage. The durability on this is unmatched and quite literally one of the strongest red dot sights on the market. That's the entire reason why I'm even daring to pair this up with the 870. Shotguns are merciless, their recoil can tear apart poorly made sights.
That's not gonna happen with this one. It won't be bold of me to claim this as one of the best Remington 870 red dot sights you can purchase right now. Yes, I know Aimpoint sights are also good. But finding them in stock is a bit of an ask.
Some more upgrades that you should consider
There are quite a few upgrades that you can just live without. You don't need to. But they will make your life easier and make your Remington a custom Remington 870. So, if you ever sell the gun, it will fetch extra money for you.
Ammo Pouch
Shotgun ammos are heavy. They are quite bulky as well. So, carrying them is a hassle, to say the least. An ammo pouch like the 5.11 Tactical VTAC Shotgun ammo pouch bag will make your life a lot easier.
It's made out of nylon and the braiding on this is awesome and It's quite flawless to the brim and there aren't any weaving issues present on the bag. It's a great ammo pouch that will reduce the burden of carrying ammo in your work bag.
Sling
A sling is a necessary part of a gun in my opinion. Without a sling, carrying the gun is bothersome and will tire you out sooner. Something like Blue Force Gear Vickers Tactical Sling will do wonders for your hand.
It's a nylon made strap with nylon strap adjusters. While the adjusters are not as durable as metal ones, they are lighter and they are durable enough to withstand most of your torture.
Carrying Case
I feel like this item isn't well appreciated. We are used to carrying our gear and necessities in backpacks. Why not buy another bag that will keep the gun safe and secure 100% on the road? It's a worthy investment, no?
This Remington Tac-14 case from Peak Case is quite literally one of the best shotgun carrying cases on the market.
How To Choose The Best Upgrades For Remington 870?
As you can see, the upgrade opportunities are vast. There are tons of other things that you can upgrade. And there are things also available that don't make sense.
For example, with the side saddle with rail installed, you actually can use a rifle scope on it. But logically speaking, what's the point? Remington 870 won't become a sniper with a scope on top of it. That's why you should opt for upgrades that make sense and matter to you. For example,
Competition
Some hunting competitions do use shotguns as well. And multi-gun tournaments also use shotguns. Then you should focus on upgrading the parts that will give you an edge over your competitors.
Hunting
Things like a flashlight and a good night sight are important for hunters. After all, you don't want to miss out on opportunities to see your prey in the dark. If you are a hunter, you should focus on upgrading sights and related items first.
Budget
Something we tend to not pay enough attention to. It's not about being able to afford it or not. It's about spending wisely. Thus, creating a budget will help you to spend wisely on the upgrades that you deem necessary. After all, most of the decision making will depend on you. I'm just a mere messenger.
Conclusion
Remington 870 is a legendary gun to say the least. The gun deserves all the love and upgrades it sees even till this day. It's hard to find gems like this nowadays. That's why you often find yourself searching for where to buy a Remington 870.
If you want to nitpick and make a list of upgrading small things like screws and trigger springs, you can do that for ages. The list will go on endlessly. But the idea was to provide you guys with the best Remington 870 upgrades. And these are the best.
With that said, that's all for now. I will see you guys with more upgrade orders in the near future. Till then, take care.