The Tavor X95 is a bullpup assault rifle that was developed under the IWI (Israel Weapon Industries) USA, with more upgrades and enhancements than the original Tavor SAR rifle.
This rifle comes in 9mm, 5.56 NATO, and the unique .300 Blackout calibers that puts out 30 rounds of magazine chamber.
Every professional shooter and law enforcement member swears by this weapon. Since the rifle holds quite a noticeable reputation, it is no surprise that only the best optics will go on this bad boy.
The rifle is perfect to set any external device on it as its forearm has Picatinny rails at 3, 6, and 9 o'clock positions with removable rail covers.
The body construction of the rifle gives you the benefit of experimenting with it and mounting your favorite optics on it. But for that, you will first need to find that favorite optic. And I am going to help you with that.
First, let's make a list of the features you will need to have a clear knowledge about and discuss how these points will make a difference when used with the Tavor rifle.
Then, I will review the 7 top best Tavor optics available in the market with all the important features so that you can easily identify the one that suits your needs the most.
Buying Guide For Tavor X95 Optics
You will find different features in each and every optical sights for your Tavor X95 rifle. That's why it is important that you make a list of important things you want your Tavor optic to have. So, what are you waiting for? Let's see what those points are.
Optics Types
The first thing that you need to decide while searching for the best optic for X95 is the kind of sight you want to go with. There are many options in the market and each of them has their own unique features.
Some of the most common sights are scopes, red dot sights, holographic sights, night sights, and ghost ring sights. Choose the one that meets your expectations.
Mount/Footprint
The next thing you need to look for in the best sight for a Tavor X95 rifle is whether the footprint matches with the rail base of your rifle or not.
Since the Tavor X95 rifle comes with a Picatinny rail base, you need to get optics that mount on any Picatinny rail. Or else, you might need to purchase an extra adaptor to mount the sight.
Reticle
The reticle of the Tavor X95 scope is also an important point to take notice of. Most of the Tavor red dot sights or even holographic sights can come with two different kinds of reticles- ring and dot. The ring reticles are good for any close distance targeting.
On the other hand, the dot reticles are always measured in MOA and they can vary from 2 MOA to 6 MOA. These measurements are important for acquiring targets accurately. For big games, the 4 MOA reticles will work great for your Tavor rifle. And, the 2 MOA will give a more precise aiming point.
Lens Quality
It is also essential that you choose an optic with good lens quality. An anti-reflective, scratch resistant, multi-coated objective lens will give you better visibility of the targets.
That's why while choosing a Tavor X95 optic it is best to choose the one with good quality glass that transmits a good amount of light to give support in low light conditions.
Battery Life
You also need to check the battery quality and lifespan of the Tavor X95 sights. Since the red dot sights and holographic sights do not need too much power to function, the average battery life is more than other optical devices.
Besides, it will also depend on the brightness intensity of the sight. Most Tavor X95 red dot sights have 10,000 hours to 80,000 hours of runtime. Therefore, choosing a sight with good battery life will support you for a long period of time.
Design & Weight
There are two different styles for Tavor sights- open and tube/pipe style sights. The open sights have a large window box that provides you with better visibility of the target. But, they are prone to breakage.
Whereas, the tube style sights are more durable but they have limited window box. Hence, it is better to go for a tube style Tavor sight.
In addition, it should not weigh more than 11 ounces so that you can easily carry it with the rifle for long missions.
Durability
When it comes to the housing construction of the optics for the Tavor X95 rifle, you need to make sure the sight is durable and reliable enough to take recoil from both 5.56 NATO and .300 Blackout calibers. Besides, the sights need to be waterproof and fogproof in order to survive during harsh environments.
Reviews Of Top 7 Best Optics For Tavor X95
In this section, I have reviewed the top 7 products that will be perfect to mount on your Tavor X95 weapon. Go through these reviews and find the perfect one for your rifle.
1. EOTECH EXPS3 Holographic Weapon Sight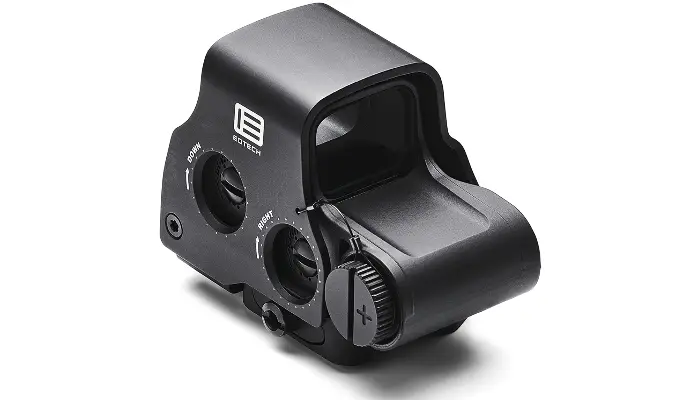 My first recommendation for Tavor scope is the Eotech EXPS3 holographic sight. This sight is one of the most popular sights in the market because of its durable housing materials and various reticle options that allow you to pursue any of your shooting adventures.
Let's first talk about the reticle options you are getting from this bad boy. This Tavor X95 Eotech sight comes with a total of 3 reticle options where you will get a constant 68 MOA ring and variable four 1 MOA dot reticles. Just to give you an overview on the reticle:
| Eotech EXPS3 Model | Reticle Options | Distance Coverage |
| --- | --- | --- |
| Eotech EXPS3-0 | 68 ring & (1) 1 MOA dot | 7 yds, 50-200 yds |
| Eotech EXPS3-2 | 68 ring & (2) 1 MOA dot | 7 yds, 50-200 yds, 500 yds |
| Eotech EXPS3-4 | 68 ring & (4) 1 MOA dot | 7 yds, 50-200 yds, 400 yds, 500 yds, 600 yds |
Aside from the reticle options, you are also getting 20 brightness settings. There are additional 10 brightness options for the night vision devices.
So, we can say that this device is night vision compatible. Not only that, you can use the Tavor Eotech sight with all Generation I-III night vision devices.
Coming to the battery quality and lifespan, the Eotech EXPS3 HWS uses a CR123 lithium battery that can provide you with 1000 of constant work hours at the nominal setting of 12 in room temperature. Considering that this is a holographic sight, the battery lifespan is compromising in my opinion.
In addition, the sight comes with quick detach levers that makes the mounting of this sight very easy. Plus, the sight mounts on any MIL-STD 1913 rail.
As a result, you can sport this Eotech on Tavor X95 assault rifle without any issue. Your Tavor with Eotech EXPS3 sight can be one of the best combinations despite the low battery life.
You are also getting the option of both-eyes-open shooting since the mount has the perfect height for a lower ⅓ co-witness. The mount raises the holographic sight 7mm above the base which can lower access to the Tavor X95 iron sights.
Although some shooters might prefer one-eye-open technique, having this facility is better for acquiring the targets faster.
In addition, the side operation buttons give better access to the shooters and do not get in the way of using any external devices such as the Eotech G33 3x Magnifier.
The best thing is that this sight does not expand with magnification meaning you will not end up with the tunnel effect. This will ensure better visibility and clarity of the targets.
Last but not least, the Eotech EXPS3 sight is known for its strong housing material that is constructed from high grade aluminum with an anodized finish.
Plus, the sight is submersible underwater up to 33 feet which makes it waterproof and resistant to other external harms. Other than the battery life limitation this Eotech sight is a very good option for your Tavor X95 if you have a good budget.
How easy is it to distinguish the two dots?
Without a good magnification, it is actually pretty difficult to distinguish the two dots. Although the four dots in the reticle look like a straight line, it is not the same case with the EXPS3-2 model. That's why it is best to use this sight with a 3x magnifier such as the G33 model.
Does the sight work for the 5.56 NATO Tavor X95 assault rifle?
Yes, the Eotech EXPS3 HWS is durable enough to take recoiling from the 5.56 NATO calibration. So you can safely use it with your Tavor X95 gun.
Does this model have the Shake Awake feature?
No, this Eotech model does not come with the Shake Awake feature. You need to turn the sight ON/OFF manually. But there is a time out option with this sight. When you use the "down" button to turn on the sight, it will have 4 hours of time out. In case you use the "up" button the timeout will be 8 hours.
2. Vortex Optics AMG UH-1 Gen II Holographic Sight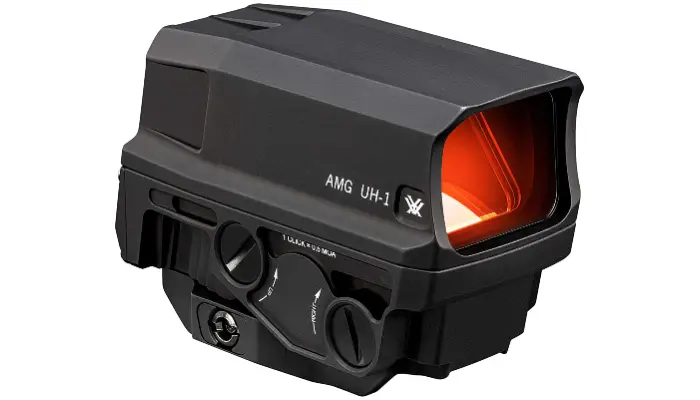 The next product from the list of the best IWI Tavor X95 scopes is the Vortex Optics AMG UH-1 Gen II holographic sight. This sight has been built for any close quarter mission in the military and law enforcement as it has a fast holographic display. And, with the new Generation II sight you are getting an improved sight picture because of the large viewing window.
The unique feature of this holographic sight is the EBR-CQB reticle that is designed to support you in any close quarter shot at 10 yds or less. The triangle reticle comes with a 65 MOA outer circle to cover the short ranges.
On the other hand, the 1 MOA dot reticle allows you to accurately aim at longer distance targets.
The innovative FHQ technology virtually eliminates any stray light emissions for stealth-shooting-signature in low light and prevents any eyepiece glare which is very common in other holographic sights. There are 15 brightness levels on the sight with 4 night vision compatible options. You just need to press the dedicated night vision button to return to the previous setting.
The holographic sight has an integrated quick release mount that makes it easy to attach and detach from the weapon. This sight will mount on both Weaver and Picatinny rail base so you can easily use this with the Tavor X95 rifle.
In addition, the mount comes with the perfect height to achieve lower ⅓ co-witness with Tavor iron sights.
In case you are wondering about the battery quality and work time of this Vortex sight, the UH-1 holographic sight uses CR123A lithium battery which has a continuous runtime of 1500 hours. It also offers easy battery replacement with a tool-less battery cover. Compared to other holographic sights this Vortex model has a limited battery lifespan which is a downside for it.
Finally, the sight has an ultra-hard, scratch resistant Armortek coating which is a common trait of any Vortex Optics product. This coating keeps the lens glass protected from any external impact.
Besides, the Vortex sights are known for its durability and it can survive the recoiling from 5.56 NATO and .300 Blackout calibers of Tavor X95 firearm. Plus, the whole sight is O-ring sealed which keeps any dirt, water, and oil away from the lens.
What is the water resistant rating of this product?
The product has a water resistant rate of IPX8 which means it can withstand continuous immersion in water.
How can you adjust the elevation and windage of this sight?
In order to control the elevation and windage adjustments you will need a coin or flat-head item to turn the disk for adjusting the point of aim. For both dials, clicking it one time will change the point of aim to approximately 0.5 MOA when you are zeroing the sight.
How can you remove the battery from the AMG sight?
You can easily remove the battery without the need of any tool. To remove the tool-less battery cap all you need to do is flip up the tab and turn the cap counterclockwise. When inserting the battery install it with the positive (+) end going into the unit first.
3. Aimpoint PRO Red Dot Reflex Sight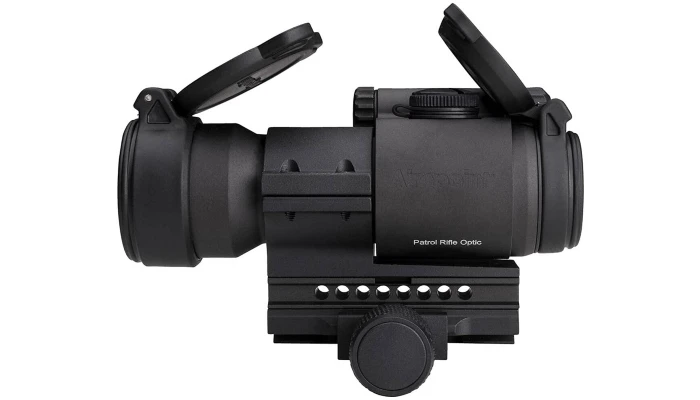 As the best red dot for the Tavor X95 rifle, the Aimpoint PRO red dot sight will surely come as one of the first choices of shooters. The Patrol Rifle Optics (PRO) gives a great deal with all the singular facilities that will help enhance your overall experience using the Tavor X95 assault rifle.
The red illumination of this sight has a peak wavelength of 655±15 nm that is bright enough to show even during daylight. The anti-reflective, fully multi-layered lens glass ensures higher light transmission for clear and crisp image quality.
But this works best in any low light setting as the red illumination allows you to see during the dark hours of the day.
You are getting a total of 10 brightness levels from which 6 brightness options are secured for daylight and 4 settings to use with any night vision device. Which means this sight is night vision compatible.
On top of that, it works with night sights of all generations which is an added benefit.
The Aimpoint PRO comes with a DL1/3N battery that has up to 30,000 hours of constant lifespan meaning you can use this sight up to 3 years without the need to change the battery. This battery life will also depend on the brightness level since the sight will provide you with this battery life when used at setting 7.
Similar to other optics this Aimpoint sight can mount on any MIL-STD 1913 rails. Therefore, you can easily attach the Aimpoint PRO to the Tavor X95 Picatinny rail.
In addition, the product includes a spacer that you can use for achieving absolute co-witness with X95 iron sights.
Besides, the Aimpoint products are well-known for their strong aluminum hard-anodized finish for the non-glare finish. Along with the durable housing, this sight is submersible underwater to 150 feet. As a result, you can use this sight in any harsh weather condition and it will not let you down.
Will this sight co-witness with the iron sights of Tavor SAR?
Yes, the Aimpoint PRO Red Dot sight comes with a standard height mount that works for every Tavor rifle model for co-witnessing with the iron sights. As a result, it will co-witness with the iron sights of both SAR and X95 models.
Is it necessary to remove the sight from the mount to replace the battery?
No, you do not need to remove the whole sight from the mount to replace the battery. Since the battery compartment of this sight is on the front side of the small tube you can just take off the cap and replace the battery with a new one. You don't need to remove the whole sight for it.
What is the difference between the Aimpoint PRO and Carbine Optic models?
The Aimpoint PRO sight has 30,000 hours of constant battery life whereas the Carbine one has about 10,000 hours.
However, the Carbine model is not night vision compatible like the PRO model. The PRO model also comes with a QD mount knobe and flip caps which you can't find with the Carbine sight.
4. Meprolight MEPRO M21 Reflex Red Dot Sight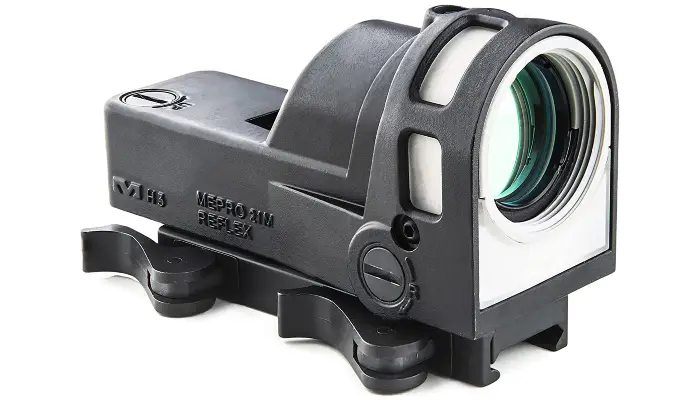 For the next Tavor optics option, I have the Meprolight M21 Red Dot optic in my list. The name of this Mepro M21 sight will definitely come up whenever you are searching for the best scope for Tavor rifles. The main reason for this confidence is the "no-battery" feature of this sight.
Usually, any holographic or red dot sight will come with a battery because of their illuminated reticles.
However, this Meprolight Tavor sight is unique in this regard as the sight does not need any external help to light up during low lighting. The fiber optic system in the sight makes up for the illumination during daylight. And for the nighttime, the tritium provides the light.
With a 30mm objective lens, the sight has a large field of view that ensures situational awareness for quick and easy target acquisitions.
In addition, the sight offers 5 different amber colored reticles- 4.3 MOA, 5.5 MOA, Triangle, Bullseye, and Open "X". These reticles will serve all of your shooting purposes.
This sight comes with a Picatinny adaptor so that you can easily position it on the Tavor X95 firearm. It works perfectly with the Mepro MX3-F Magnifier that can adjust to a close distance with the sight's optics without decreasing its field of view and compromising convenient switch operation.
Plus, this IWI Tavor red dot sight is suitable for any night vision goggles and scopes, generation III tubes, and other magnifying scopes. Its versatility is another great point to keep in mind in case you want to add other devices into the mix. The Tavor X95 with Mepro 21 will prove to be a good combination for professional shooters.
When it comes to the durability of this red dot optic, Meprolight is religiously used by the Israel Defense Forces, Militaries, and law enforcement agencies around the world. If this does not vouch for the strength of this sight then I don't know what will.
The fact that you can get all these great features and that too without the hassle of replacing the battery is self-promotion itself.
What is included in the box with the Meprolight M21 red dot sight?
You will find a Quick Release Picatinny adaptor in the package along with a black dust cover, lens cleaning cloth, dust brush, and a user manual.
How long does the tritium of the Meprolight last?
The Meprolight model comes with a tritium object that helps it to illuminate in low light settings. This object lasts for about 12 years but sometimes it can vary from 9 to 10 years depending on the usage.
Will this sight co-witness with the Tavor X95 rifle?
Yes, this Meprolight M21 Red Dot sight has a standard mounting height that helps the sight to co-witness with the Tavor X95 iron sights.
5. Vortex Optics Spitfire HD Gen II Red Dot Prism Scope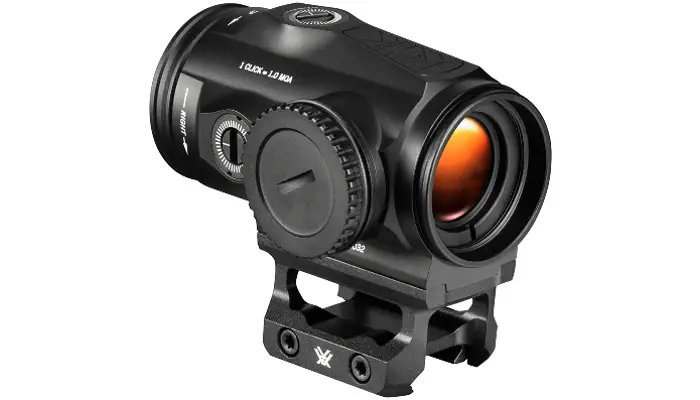 I have yet another Vortex Optics recommendation for your Tavor X95 weapon. This Spitfire Gen II Prism Scope comes in two magnifications- 3x and 5x to satisfy your need for both close and long distance targeting without the need of illumination. Its streamlined look and flush mount turret design helps to give a smaller, lighter, and faster optic.
Although this Tavor red dot sight has a similar fully multi-coated lens as the other sights, the major difference is its prism design and etched reticle which is perfect for shooters with astigmatism as it helps to reduce the image distortion problems. The multi coating also cuts down any chromatic aberration from contrasting light.
The prism scope features a BDC-4 reticle that is built for fast targeting and acquisition holdovers out to 650 yards. There is an 18.85 MOA open circle that works for any close quarter aiming along with 1 MOA center dot which will give you a precise point of aim for long distance targets.
Plus, you are getting 5 MPH wind increments with the BDC reticle.
You will get a total of 12 brightness settings where the lowest two options are night vision compatible. These two brightness levels are ultra-low to match with the low lighting condition. This prism sight can also be mounted at two heights- one with a lower ⅓ co-witness and another one with a "low" height mount.
You are getting 2.6" of eye relief for the 3x prism scope and 2.7 inches for the 5x model.
Besides, the scope comes with a CR2032 lithium battery that can continuously work for 250 hours at the highest setting and 3,000 hours at the lowest setting. For a prism scope, this battery lifespan is not bad.
Moreover, with the Nitrogen purging the sight is protected from water, shock, and fog. The features of this scope make quite a good deal for your IWI X95 Tavor.
Now, the last thing I want to talk about this sight is the reticle focus. Most people remain confused about the BDC reticle. So, I will explain this in a few steps to make it easier for you.
Once you mount the sight, point the sight at a blank white wall or towards the sky.
Then glance into the fast-focusing eyepiece through all the way in.
If you find that the reticle is not focused then rotate the eyepiece slightly counter-clockwise.
Check through the lens again and repeat it until the reticle is fully focused.
What kind of lens cover is included with the sight?
The Spitfire Sight comes with rubber caps that are attached to the battery cover.
Is the eye relief of this sight good enough for the 5.56 Tavor X95 rifles?
Generally, a prism sight has shorter eye relief than the traditional red dot reflex sights. This is because of its long body construction. For this reason, many shooters find it difficult to adjust with the prism sights.
However, with the 5.56 NATO Tavor X95 rifle, this short eye relief will not be an issue since the scope bite will be almost non-existent. Hence, you can use this prism scope on Tavor rifles without any difficulty.
What does the 1 MOA click value mean in the turret adjustments?
When it comes to the turret adjustments of this Spitfire prism scope, it has a 1 MOA click value. Usually, a 1 MOA click subtends 1.047 inches for each 100 yards of distance. Each click will move your point of impact approximately 1" at 100 yds and a ¼ inch at 25 yds. You just need to turn the elevation and windage dial in the correct direction to change the point.
6. HOLOSUN – HS510C Reflex Red Dot Sight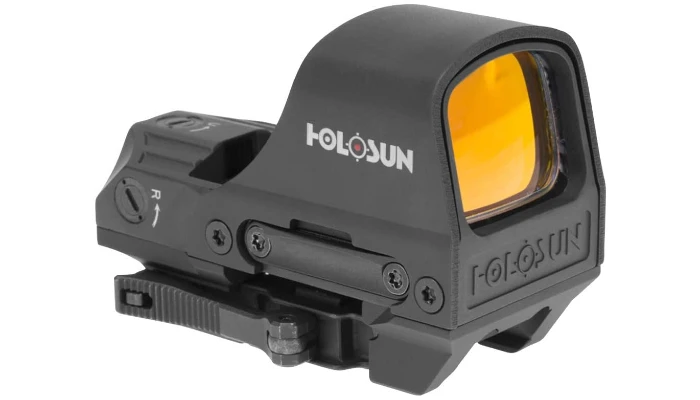 With the Holosun HS510C Red Dot sight, you are also getting a good deal as these sights have their personalized features that you will not find in other red dot sights.
But first, let's talk about the basic key features of the Holosun sight and then I will move to the more unique part of it.
The sight offers you 3 reticle options where you have the opportunity to use both the 65 MOA ring and 2 MOA dot or use either one of them. This way you can manage both close and long range targets and you can instantly change it whenever you need.
For the illumination part, you will get 10 daylight settings and 2 night vision compatible levels.
Another general function of this Tavor red dot sight is that it uses the CR2032 lithium battery which has a continuous work time of 50,000 hours when the brightness level is set at setting 6. There is also a convenient tray battery compartment that makes it easy to replace the battery.
Plus, it mounts on any Weaver or Picatinny rail base and hence you can easily attach it to the Tavor X95 rail.
After discussing all these basic features let's move on to the extra options you will get from this Holosun sight. It has a Shake Awake feature that detects any motion and turns on the sight instantly. This works best when you are on a rush or even in a critical situation where swiftness is a must.
From this open reflex sight, you will also get another unique feature called "Solar Failsafe". This function is a branding point of any Holosun product. What this option does is it keeps the sight working when your battery suddenly dies. To cope up with the sudden energy loss, the sight takes power from solar energy and keeps it afloat.
When it comes to the housing construction of this Holosun sight, it is made of high grade aluminum and tritium hood. This sight is strong enough to take 1000G vibration so you can use it on your Tavor .300 Blackout and 5.56 NATO X95 rifles without the fear of recoil.
Does the sight require a riser for mounting on a Tavor X95?
Yes, the Holosun sight will work the best on a Tavor X95 rifle when mounted with a 1.41" riser mount. This way you will get the perfect height for both-eyes-shooting.
What kind of magnifier will work with this Holosun model?
There are many options in the market that you can check out. I would recommend going for the Vortex VMX-3T Magnifier with this sight on a Tavor firearm.
Does the reticle get blurry when you focus on the target downrange?
No, the reticle of this model does not get blurry when focusing on the target down range because the sight is an LED emitter which is different from holographic sights.
7. Sig Sauer SOR52001 Romeo5 1x20mm Red Dot Sight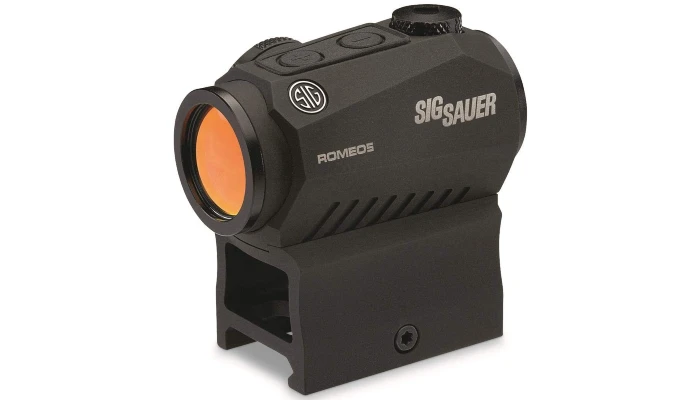 Last but not least, I will add the Sig Sauer Romeo5 red dot scope in the IWI X95 Tavor for the best optic sights. This is one of the most popular red dot sights you will find in the market. With the 1x magnification and 20mm objective lens, this red dot scope actually produces good quality images which makes it easy for you to sight your targets.
The Romeo 5 red dot sight features a 2 MOA red dot that reaches up to 500 yards and provides you with a precise and accurate aiming point for fast target acquisition.
With another model of the Romeo 5, you also get a 65 MOA ring that you can use when targeting in a close distance.
Other than this, the sight offers 10 brightness levels including the last 2 settings for night vision devices.
What I find fascinating about this sight is the spectra coat on its lens glass. These highly efficient, ultra-wide broadband and anti-reflective coatings reduce any surface reflection even when the lighting is very compromising. This facility helps in transmitting more light.
In the case of the battery quality, you will find two options for all the models of Romeo5 red dot sight. They either use the CR2032 or AAA batteries for different versions of the sight. There is also an AA battery version. It will actually depend on you which type you want to choose for your rifle. Regardless of the battery quality, it will give you around 40,000+ hours of runtime.
A unique feature of this Sig Sauer sight is the MOTAC (Motion Activated Illumination) technology. What it does is that it senses any motion and turns on depending on the action.
At the same time, the sight shuts down when it does not sense any movement. This function will provide you with optimum operational safety when you are in a critical situation and it will save more battery energy as well.
In addition, the sight has an integrated M1913 Picatinny interface that matches with the standard Picatinny mounting base for a wide range of weapons including the Tavor X95 rifle. The package comes with an extra low mount and a co-witness 1.41" riser. Adding this option will act as a benefit when you want to co-witness with the Tavor iron sights.
There is actually not much to say about the durability and reliability of this sight. Sig Sauer is known for its strong housing material that can withstand strong vibration from calibers like 5.56, .22LR, and .380. With the IPX7 water resistance level, this red dot sight will be a perfect match for your Tavor X95 assault rifle.
Is there a manual turn ON/OFF switch on this sight?
Yes, other than the MOTAC feature there is a power switch. You need to press it down for a few seconds to turn the sight on and you can turn it off the same way.
How many rail slots does the sight take?
The Sig Sauer Romeo5 red dot sight will take from 3 to 4 rail slots on the Picatinny rail base.
Will this sight pair with a 3x Magnifier?
Yes, any Romeo red dot sight pairs well with the Juliet magnifier. In the case of Romeo5, you can purchase the Juliet 3 Magnifier to pair up with it.
Other than these recommendations you will also find other options for the Tavor firearm. In case you are looking for the best ACOG for Tavor X95, I have a really good option. The Trijicon Acog 4×32 Scope will perform really well on Tavor firearms. You can check it out if you want a good Tavor X95 ACOG.
Conclusion
In conclusion, there are many options to find the best scope for Tavor X95 firearms. But that does not mean you can just choose any one from them and mount it on your rifle. With the glorious reputation the Tavor rifle holds, it only deserves the best. For this reason, I have listed out the top 7 best sights for your Tavor X95.
All these sights come with the best deals you will find in the market. If you go through the reviews of these products you will definitely be able to find the best optic for the IWI Tavor X95 rifle. Also, make sure you check out the buying guide to get a better understanding of the important features of these sights and which ones are perfect for your weapon.