After the launch of Kel Tec KSG shotguns, the era of pump-action shotguns went into a different dimension. This bullpup shotgun without a doubt takes you to a higher level of shooting adventure that will make you forget your grandpa's dusty old shotgun.
With the reliability and magazine capability you are getting from this shotgun, I would say why need anything else. Now since you are here and you must have gotten yourself one of these bad boys or you are at least thinking about getting one, I would suggest sticking around till the end.
Trust me, I have everything you need for your KSG shotgun. From sights to lights to magazine upgrades to slings, you will find every recommendation for your Kel Tec shotgun that will make this already dreamy gun even dreamer.
So, have patience my fellow shooters. Grab some coffee and go through all the recommended Kel Tec KSG upgrades because you won't regret one single bit.
I have broken down every single improvement for your KSG Kel Tec and reviewed each one of them so that you can make an informed decision. So what are we waiting for? Let's dive right into it!
1. Kel-Tec KSG Muzzle Brake/Recoil Management Upgrades
The first stop at our Bullpup Junction for the KSG accessories is the muzzle brakes and recoil pads. In short, I am going to say anything that is part of the recoil management system, because you will need that.
i) LimbSaver Airtech Slip-On Recoil Pad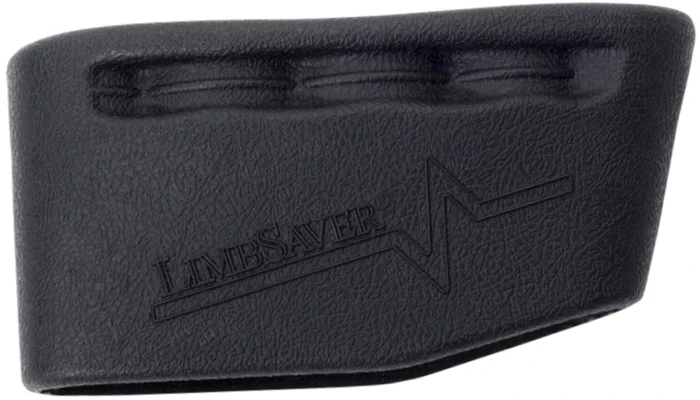 The first recommended upgrade I have for your KSG shotgun is the Limbsaver Slip-on Recoil Pad. As the name suggests, this pad will actually save your limb from the serious damage from the high recoil amount of a KSG Kel Tec gun. This recoil pad can reduce up to 70 percent of the felt recoil and you can easily install it over your firearm's existing stocks.
There is also an anti-muzzle jump technology that helps to significantly control the muzzle rise. It makes target re-acquisition faster and stays intact in your hand with the non-slip surface.
ii) Howitzer70 KS7 Muzzle Brake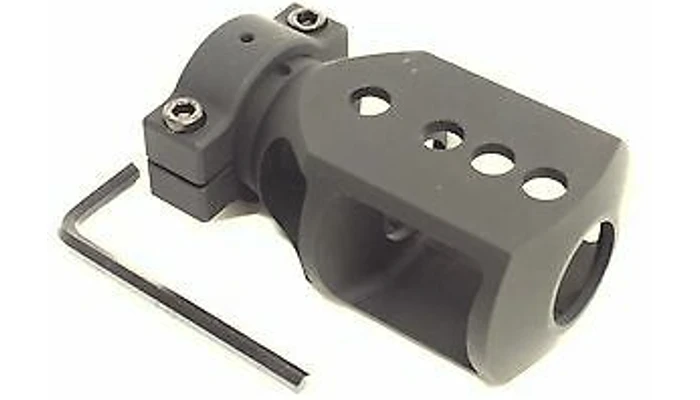 I have another recoil management product that can also reduce 70 percent of the recoil you feel from KSG shotgun calibers. But this time it's a muzzle brake.
This Howitzer KS7 muzzle brake will be a perfect option for you if you don't like recoil pads. The 2024-T3 aircraft billet aluminum muzzle brake does what it promises with the top vents and side angled ports that work together to reduce maximum recoil.
You get a shim timing alignment kit and a strap with this muzzle brake. The alignment kit will make the installation really easy for you. The strap is quite good and stays away from the muzzle to avoid any accidental shooting.
iii) Hi-Tech's Defender Muzzle Brake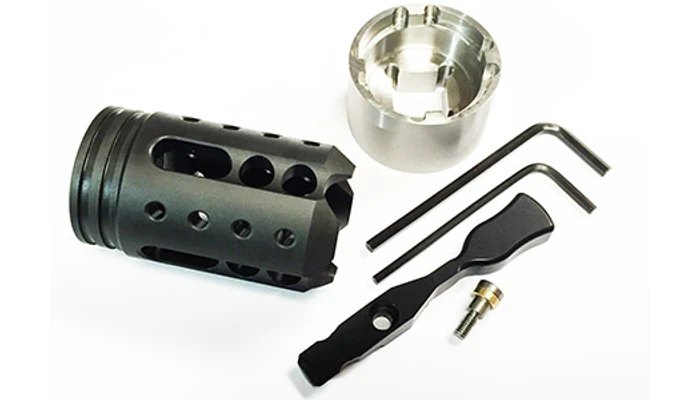 Next up I have a muzzle brake combo pack for you that comes with everything you will need to control the high velocity of your shotgun caliber.
Now, this lacks in the recoil reduction department than the other two options as you get 30 percent reduced recoil. But the Hi-Tech Defender Muzzle brake has made a name for itself in the durability department.
The black hard anodized on its Military spec MIL-A-8625 Type III Class 2 housing will show you the proof only with the list of clients it has.
Its vented ports are great for dissipating gasses hence reducing the felt recoil. Plus, This muzzle brake comes with a Barrel Nut tool that will very easily unlock your barrel nut and make installation a matter of seconds
2. Kel-Tec KSG Optic Upgrades
My next list of recommended Kel Tec KSG improvements are the best sights for your KSG gun available in the market. When you are coming to the field with your KSG gun you don't wanna go without your armor "tactical sights" right? That's why I have listed some great optics that will only enhance your shotgun's overall quality.
i) Sig Sauer SOR50000 Romeo5 1x20mm Red Dot Sight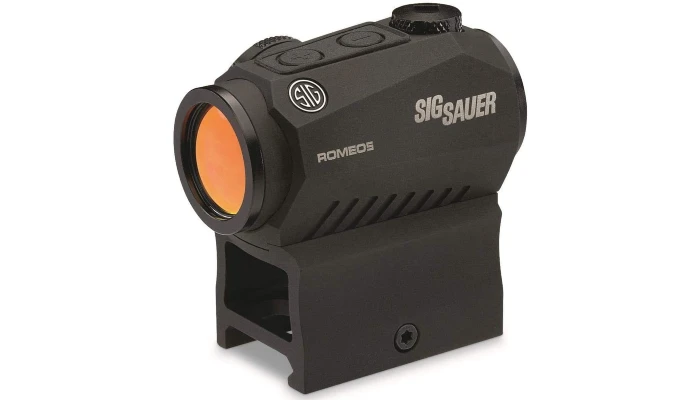 The KSG Kel Tec shotgun has a long Picatinny rail that will accommodate both a magnifier and a red dot sight. But let's stick to red dots for now. And for that, I have this stunning Sig Sauer Romeo 5 red dot sight with its 2 MOA dot reticle and 20mm objective lens.
This red dot works like magic when targeting long distance objects. With its 10 illumination settings where you will also find 2 night-vision compatible options, the sight will cover you at any time of the day. Also, you get 50,000+ hours with this product. So when it comes to play it comes prepared.
ii) EOTECH 512 Holographic Weapon Sight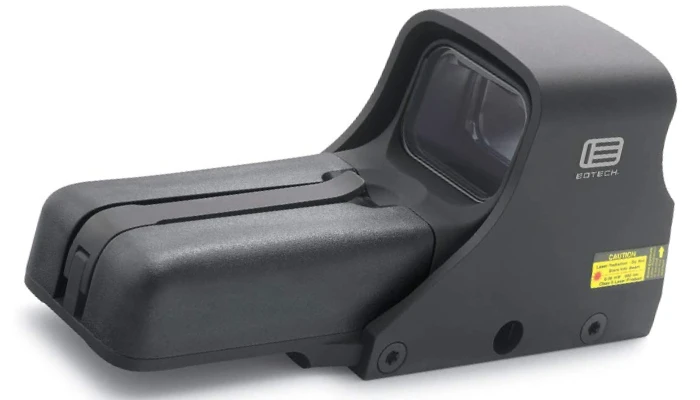 The next sight has two reticle options along with 20 brightness settings to match with any lighting condition. I wanted to add this holographic sight in my list because you get the "best of both worlds" with the 68 MOA ring and 1 MOA dot reticle options. The ring reticle is actually great for peripheral awareness as you get to stop your surrounding area.
On the other hand, its 1 MOA dot reticle will give you the precision and accuracy you will want for effortlessly taking long range targets. The sight is also water resistant and it automatically shuts down after 4/8 hours of non-use which means you can save a lot of your battery energy with this.
iii) Leupold DeltaPoint Pro Reflex Sight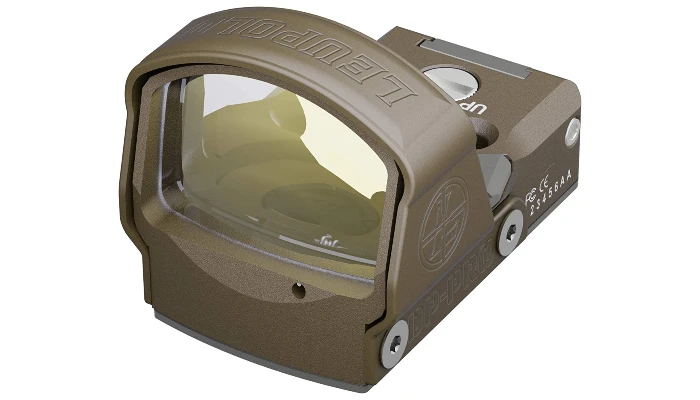 The last optical sight I have in need is the Leupold DeltaPoint Pro Red dot sight. This red dot comes with a 2.5 MOA red dot reticle which is kind of similar to the Sig Sauer Romeo sight. Works just as good as the first one. But this reflex sight has less brightness options than the Sig Sauer one. This Leupold red dot has 8 brightness settings but without any night-vision setting.
You get a "Motion Sensor Technology" which saves the battery power by only lighting up when it detects any movement. That's why, the CR2032 battery gives a solid 300 hours of continuous runtime with this optics. It is strong, durable, and long lasting. Why wouldn't everyone want it?
3. KSG Tactical Light Options
Alright, I just couldn't end by only giving you sight options for the KSG shotgun right? That's why I thought I can suggest some great weapon lights to go with your shotgun.
Of course, you can mount this light on your KSG Picatinny rail but I am also giving you another option in case you need another extended base for your KSG 12 accessories.
The Hi-Tech KSG Extended Picatinny Rail will be a great option for an upgrade. Now let's look at what these tactical lights can do for your shotgun.
i) SureFire X300U-A LED Weapon Light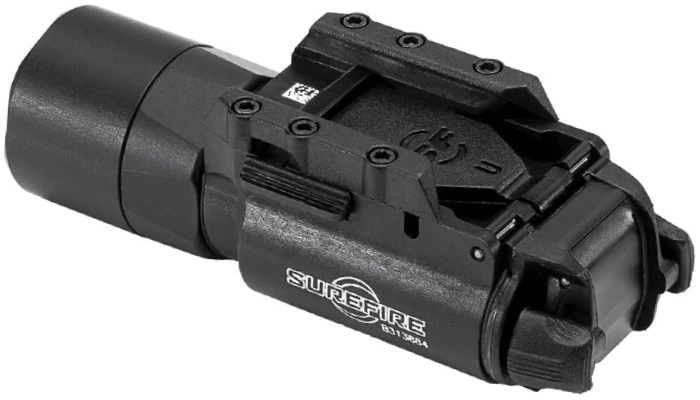 First off, I have the SureFire X300 Ultra High Tactical light that comes with solid 1000 lumens of LED-generated output giving you an intense light beam that will cover you even in the darkest hour. Its custom TIR lens works great for throwing a far-fetching light with a larger center spot beam.
You also get an integral ambidextrous switch for controlling both momentary and constant-on modes of the weapon light.
In case you are not happy with that there are also optional DG grip switches for pistols and a pressure activated XT07 tape switch for long guns like the KSG shotgun. This durable aluminum weapon light will be a perfect friend on those night trips with your KSG gun.
ii) Streamlight 69260 TLR-1 HL Weapon Mount Light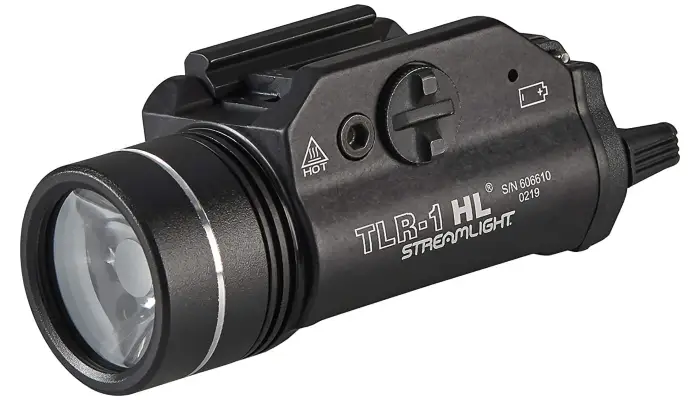 Next, I have the popular Streamlight TLR-1 HL Weapon Light for the Kel Tec KSG firearm. The extremely bright 1000 lumens of LED white light has a 20,000 candela peak beam intensity that has a 283 beam distance.
Its TIR optic lens produces a concentrated beam that offers you optimum peripheral illumination for better awareness of your surrounding areas.
You can go on with this bad boy for over 1.5 hours with constant use. And, there is a one-handed snap-on interface that keeps your hands away from the muzzle when you are attaching or detaching the light from your shotgun.
Besides, you get an ambidextrous momentary and constant-on switch to toggle between the two modes. What more do you need right?
4. KSG Sling Options
I have some great sling recommendations for your Kel Tec KSG shotgun and I am sure you will love them too. In case you are having a hard time finding mounting options for your KSG gun don't worry because I have two.
You can either go for the Magpul Mlok Sling Attachment or you can choose the QD Sling Swivel for the slings I have here. Both will work great with them.
i) Viking Tactics VTAC Original 2 Point Sling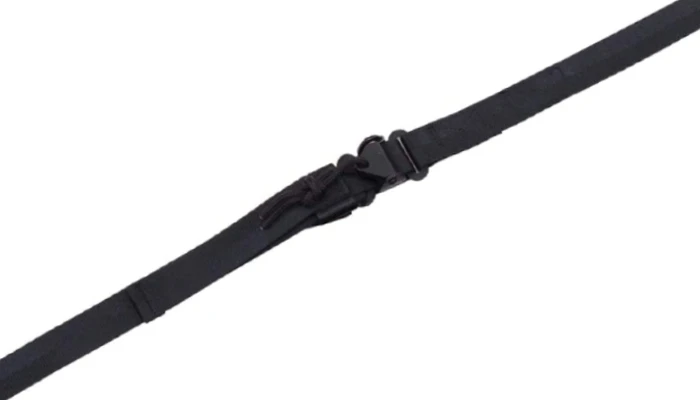 This 2-point sling design will go really well with your KSG shotgun, mainly because with the blowback from the gun adding up the overall weight of the firearm can become quite a challenge to carry around.
I personally think adding a sling into the mix can actually make things better. Now with this Viking sling, you are getting that benefit as this sling has a steel main buckle at one end and a double Acetyl end buckle on another point.
It is a non-padded sling so you guys who do not like the extra fluffiness on your shoulder can use this one. Also, you get multiple color options along with a blaze orange one for hunting. I think this has quite good features for a shotgun sling.
ii) Blue Force Gear Vickers 2-Point Padded Sling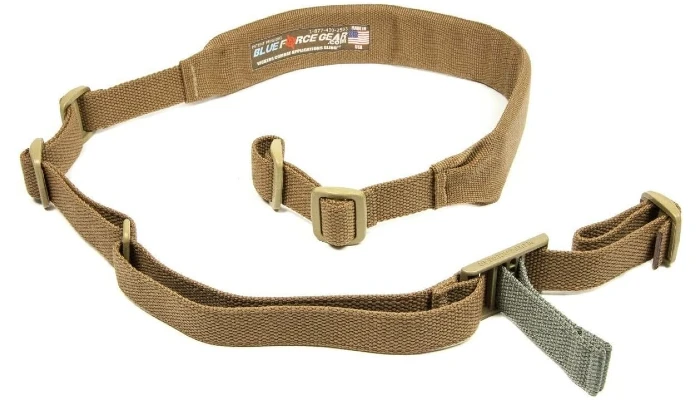 I have also added a padded sling option as well for my "extra-comfort" loving friends. This Blue Force Gear sling also has a 2-point design with a molded Acetal adjuster. The "No Quick Release" feature keeps the sling seated on your shoulder no matter whichever way you move.
The sling comes in a coyote brown color and attaches with TriGlide instead of Loop Lock. For a padded sling option, this product will work pretty well in different conditions and support your firearm all the way.
iii) Kel-Tec KSG Nylon Black Gun Type Sling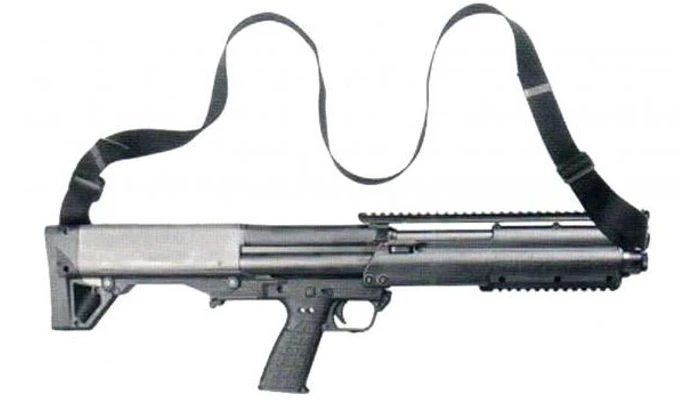 The last sling product I have actually does not need any introduction. Although I am a big fan of aftermarket accessory options, having a home deal is never bad. This is where this product comes in.
This Kel Tec KSG-803 Sling fits like a glove onto the Kel Tec gun. The sling comes with an adjustable black nylon strap so that you can change the size whenever you need to. It works perfectly for any rifle and shotguns. If you are into same brand products this will be a good option for you.
5. KSG Vertical Grip And Deflector Plate
Coming to the grip upgrades, the vertical grip and deflector plate will be a necessary upgrade for your KSG shotgun.
As some of the shooters with this shotgun have experienced the shotshell ejecting directly into their right arm which caused them to bleed, I would suggest something more sustainable and safer to go with the shotgun. Hence, the following two options will be great upgrades for the KSG firearm.
i) Primary Machine Kel Tec KSG Shell Deflector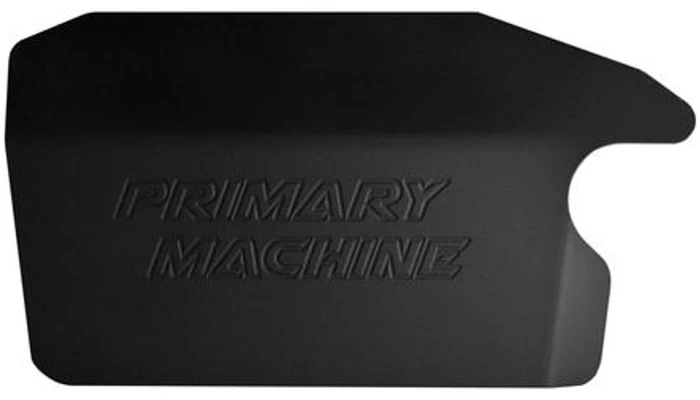 The first grip upgrade I have for your KSG firearm is the shell deflector plate by Primary Machine. This is an essential upgrade for your shotgun because of the ejecting shell problem with the gun.
Apparently while shooting with this shotgun, the shell keeps ejecting straight to its shooters. This is okay for the first few rounds. But after 20 rounds of firing you will find yourself seriously injured. This is why having a deflector plate is a necessary upgrade for this weapon.
This Primary Machine Deflector plate saves your wrist from the shell torture and with its Kel Tec factory bolts, you can easily install the product without the need of extra modification of the gun. And, the black anodized finish on the aluminum housing gives the plate a solid and strong look.
ii) Magpul RVG Rail Vertical Grip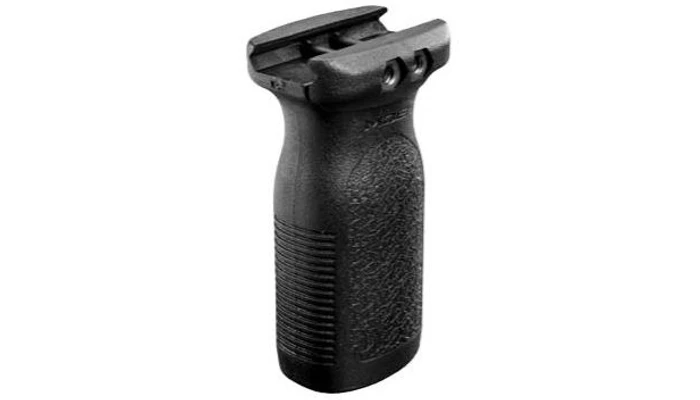 Next, I have the KSG Vertical Fore grip by Magpul which you can use even as a traditional vertical grip. It is lightweight and cost effective providing you with additional shooting control when you need it during a critical situation. This is perfect for use with 1913 Picatinny railed hand guards.
This vertical grip has a lightweight polymer grip which has been optimized in a way so that you can use the "thumb break method" shooting with the KSG shotgun. For a better and more comfortable grip this is the perfect upgrade for your firearm.
6. Kel Tec Magazine Selector
Last but not least I have a magazine selector for your Kel Tec gun which will make switching between magazines much easier when you are in a hurry.
The one that the KSG shotgun has is small and difficult to operate and you don't want to mess with it during a self defense situation. This is why having an extended version of the magazine selector switch will make it easier to control the situation.
i) Kel-Tec KSG "Extended" Tube Position Arm (Gen 2+)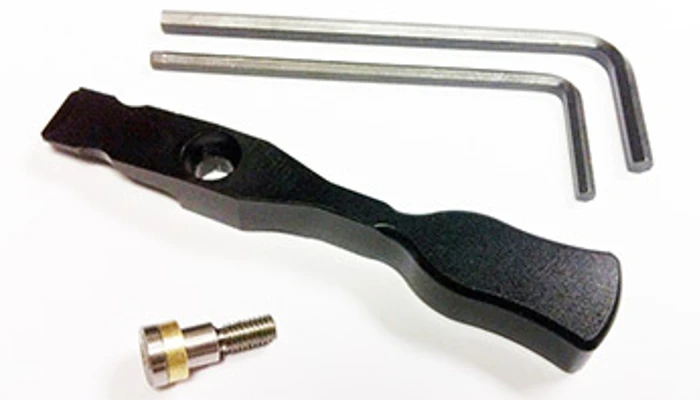 The extended tube position arm by Hi-Tech is the one you can count on for difficult times. Especially under high stress, this tube selector switch makes the changes faster than before. You can easily switch the magazine using your palm so you don't need to take your hand off the grip.
This product is CNC machined from a high quality Aircraft 2024-T3 Billet Aluminum which makes the switch durable and reliable enough to take it with you on every mission.
Conclusion
To sum up, the Kel Tec KSG shotgun is a unique and interesting weapon to own which will give you the taste of using a modern pump-action shotgun. Although I like the extended magazine and reliability of this gun, it asks for quite some upgrades to reach a higher level of performance.
All the optics and tactical lights are the upgrades I will always recommend because you will only enhance your shooting quality.
Other than these options, having a muzzle brake or any kind of recoil management is necessary as the firearm produces quite a amount of recoil.
For other accessories, I would highly recommend using the deflector plate if you want to save yourself from further injury.
The magazine selector is also a good option for switching the magazine faster. It can seem quite a lot but if you want to build a strong defense with your KSG I would suggest giving these upgrades a solid consideration. So which ones will you choose?