The Ruger Mini 30 is a crowd favorite beginner hunting rifle. An inexpensive short to the long-range rifle that can also work as a medium-range self-defense weapon. Despite it not being as popular as the Mini 14, the Mini 30 still gets more than enough love.
As you can tell already, the Mini 30 isn't something that comes with a scope. You will need to add your own flavor to this curry. In a world where there are thousands of long-range rifle scopes available for weapons, how do you choose the best scope for Ruger Mini 30 among them?
Well, it's a tough task. But an ask that will be answered nonetheless. Without further ado, let's get started and find out some killer scope combinations.
How To Choose The Best Scope For Ruger Mini 30?
It doesn't matter what controversial Ruger Mini 30 opinions you may have. But one thing you can't disagree with is it needs a good scope. Even for short range shooting, a scope will do a billion times better than ironsight.
So, how do you approach decision making? What sets these scopes apart? If they are all the best, is there any wrong choice? Correct, there are no wrong choices here. If you look closely, you will see they have their differences and it shows.
The differences are either the magnification, the price tag, the length, or the weight. What sets them apart the most is the magnification and the price tag. If you know how much magnification you want from a scope and how much money you are willing to drop for that magnification, you already know how easy it is to choose the best Mini 30 scope.
Best Scope For Ruger Mini 30 [Editor's Picks]
1. Trijicon TR24G AccuPoint 1-4X24mm Riflescope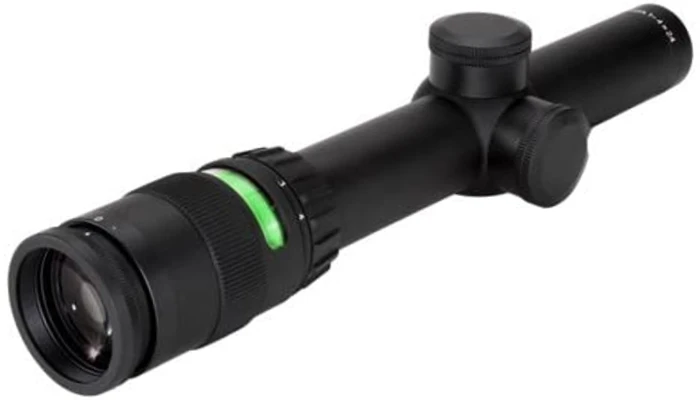 Trijicon is an American firearms accessories maker. They have been making tons of scopes and sights for military and civilian uses. The TR24G is one of their medium-range hunting offerings.
The scope is equipped with an adjustable 1 to 4x magnification chamber. And accompanying that magnification, is an AccuPoint reticle. If you are just starting out in this great adventure, this scope is one of the best choices for you.
The TR24G is also illuminated without any battery. It utilizes Fiber Optic technology that you often find in night sights. Yes, you can use this in low light and night as well. But you won't be able to see during the night. You can only see the reticle.
Paired up with the Ruger Mini 30, the combination is one eye candy. The fully multi-coated lenses are great to view. As the maximum magnification of this optic is only 4x, it's not suited or made for long-range shooting. You can, however, enjoy close and medium range shooting to your heart's content.
Does Trijicon offer any warranty?
They do. They offer a lifetime warranty with their products to the original owners. But they have lots of T&C. Make sure to take a look at them on their website.
Does the illuminated reticle have any glares?
No, the reticle has no glare at all. It's zero forward emission. Meaning, the reticle doesn't project any illumination. Even if you use it under bright sun, it won't absorb and reflect any glare from the objective lens.
Is the reticle in FFP?
No, it's not. The reticle is in FFP and it's constant at any magnification. Honestly, it doesn't make much sense to have FFP in 4x either.
2. Leupold VX-3i 4.5-14x40mm Riflescope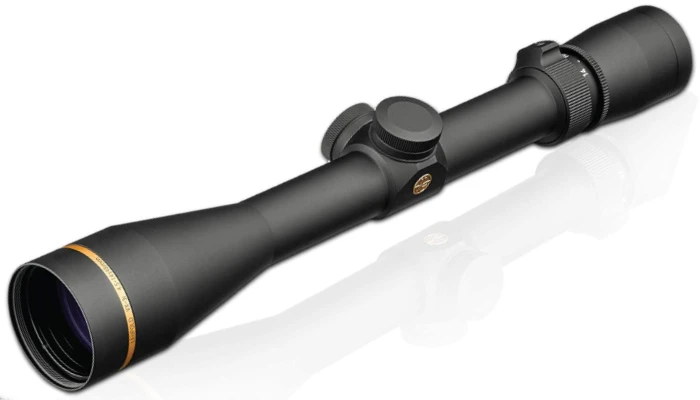 You cannot make a list of hunting scopes without recommending something from Leupold. After all, they are one of the best in the business. The one I recommend for the Ruger Mini 30 is from their VX lineup. It's the VX-3i.
It comes with a maximum 14x magnification and rocks a 40mm objective lens. The reticle here is a Duplex one. Good for hunting and plinking. Or any kind of shooting you may want to do with the combination.
The scope body is made out of high-quality aircraft-grade aluminum. It's durable, lightweight, rugged, and failproof. The inside of the scope is also purged with nitrogen to make it immune to fogging and remove all internal moisture in the process. On the outside, the scope tube has a hard anodized finish. That layer acts as a scratch resistant layer on the top.
The reticle of this scope is in SFP. While it could have benefited from an FFP reticle, the scope does fine on the second focal plane. For hunting, the experience is seamless and there is no distortion at any given magnification. Leupold did a wonderful job tuning the lenses on this optic.
Does Leupold VX-3i have a warranty?
Yes, it does. It comes with Leupold's lifetime warranty. That includes repair and replacement if need be.
Do I need to buy mounting rings separately for this scope?
Absolutely! The VX-3i doesn't come with any mounting rings. However, Leupold does make great rings. They also sell them separately. You will need a pair of Leupold Cross-Slot scope rings.
Does this have Leupold's light management system?
Yes, it features Leupold's signature twilight light management system. This light management system makes the scope perform better during low-light conditions.
3. Bushnell AR Optics 1-4×24 Riflescope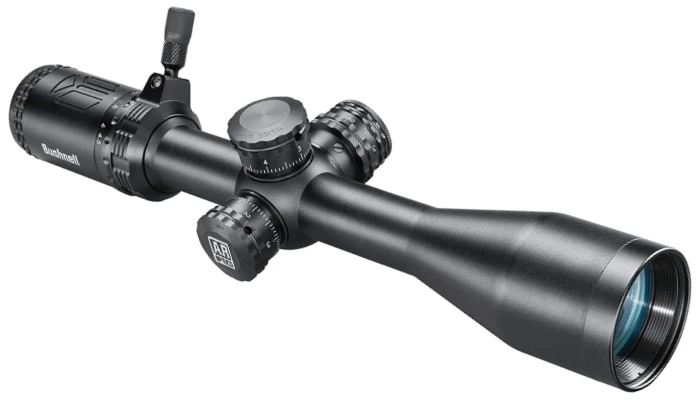 Bushnell AR optics are suited for AR rifles. But no one said you can't use them on Mini 30, now did they? Jokes aside, the AR optics from Bushnell are suited for folks that want the best within the budget.
You can buy one of these optics in many different configurations. Starting from 1-4x24mm to all the way up to 4.5-18x40mm. But if you are going to pair this with the Mini 30, then I highly recommend you to go the maximum route.
At 18x magnification, you will have a wide field of view to work with. Alongside that, there is no distortion. The tube of the scope is constructed from aluminum. It's durable, lightweight, and extremely rugged. The scope also features multi-coated lenses.
Besides offering plenty of different magnification, Bushnell also offers different reticles for you guys. You can also choose between illuminated, or non-illuminated reticles. The available reticles are the BDC reticle, BTR-1 Reticle, and Wildhold Reticle. All of them are great for hunting. It's your preference that will decide which one to go for.
Do I need a mounting ring for this?
Yes, you do. Bushnell doesn't include any mounting rings with this scope. You can get the Leupold Cross-Slot scope rings for this as well.
Does Bushnell offer any warranty with Bushnell AR optics?
Yes, Bushnell offers a lifetime warranty with their riflescopes. You can find more information regarding T&C and total length on their website.
Should I take the non-illuminated or illuminated reticle?
In my opinion, you should always go for the illuminated one. While the non-illuminated one is suited for daytime shooting mostly, the illuminated one offers you the opportunity to use it during low light and night as well. That's something worth investing in if you are a hunter.
4. TRUGLO Omnia 1-4×24 Tactical Rifle Scope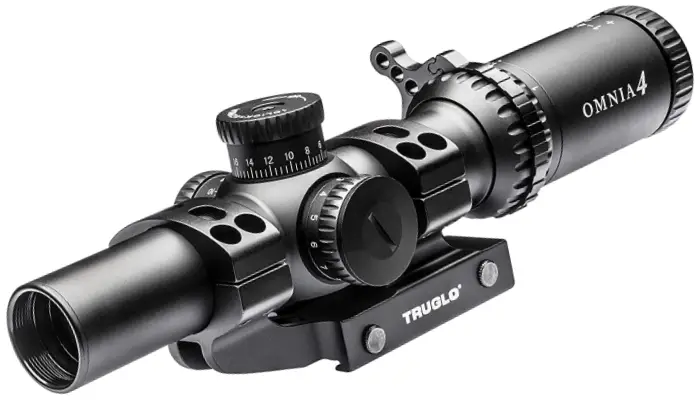 The next optic I recommend to you may come as a surprise to a few. Truglo is mostly known for their pistol sights. As a matter of fact, if you ask for night sights on the shop, chances are they will come up with a pair of Truglo sights. But Truglo does make scopes for shooters as well.
The Omnia Tactical is a riflescope from Truglo that runs on low power and is a complete system as well. Yes, I do mean it comes with a mounting system. The entire scope is made out of durable aluminum. Unlike some red dot optics, the mounting system here isn't fixed.
If you want to change it to something else, you can easily do it with a couple of tools. No need to visit your gunsmith friend. The scope is available in 3 different magnifications. From 1-4x to all the way up to 1-8x. All of them have one thing in common. They have the same multi-coated 24mm objective lens.
The scope features an illuminated A.P.T.R reticle. It stands for all purpose tactical reticle. Besides practicing and occasional plinking, you can do hunting with the help of this reticle as well. It's extremely accurate and the leaf-spring turrets control the click adjustments with pinpoint accuracy.
Which version should I get for the Ruger Mini 30?
Well, up to you. If you don't need more magnification, then you can go for 1-4x24mm and save some money. But if you don't mind spending a little bit more and getting more magnification, then 1-8x24mm is the sweetest deal.
Is this scope good for hunting?
Despite being named tactical and having a tactical reticle, it's actually super nice for hunting. Implying you don't do any massive long-range hunting, you will be fine with everything else that is legally allowed.
Does Truglo Omnia have a warranty?
Yes, it does. Truglo offers a lifetime Tru-Care warranty with the Omnia.
5. UTG 3-12X44 30mm Compact Scope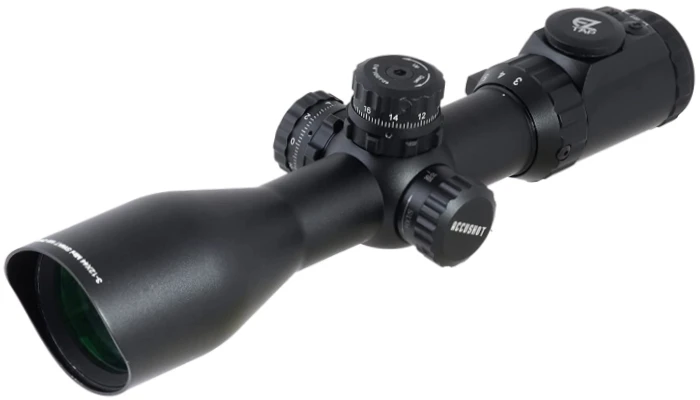 I wouldn't be surprised if you already have this scope on your cart. After all, it's one of the most purchased Mini 30 scopes. The fact that it's made by Leapers just makes it an even sweeter deal.
The UTG 3-12×44 is a long-range compact carry rifle scope that does wonderful in both daylight and low-light conditions. The main selling point of this scope is the 36-color Mil-Dot reticle system.
With the press of a simple button, you can easily change the recoil color. The main tube of this scope is 30mm thick. The inside of the tube is purged with nitrogen. Making it immune to internal moisture and fogging. On top of that, the scope is also water, rain, and shockproof.
It's an all-rounder scope. Despite having all of these beautiful features, it's one of the cheapest Mini 30 scopes on the market. Don't let the price-tag fool you. It can easily annihilate all other competition in the same price bracket.
Does the scope come with any mounting rings?
Yes, the scope has its own heavy duty mounting rings. You don't need to purchase them separately.
Does UTG provide any warranty at all?
Of course, they do! They offer a premium lifetime warranty with all of their scopes. This one is no exception. You can claim a warranty of this as long as you didn't breach their T&C.
Is this good for hunting?
It's great for hunting. The emerald coated lenses with integrated front sunshade allows you to stalk your prey for hours straight. And when the time comes, you can take the most accurate shot with your Mini 30.
6. Burris Fullfield II Hunting Scope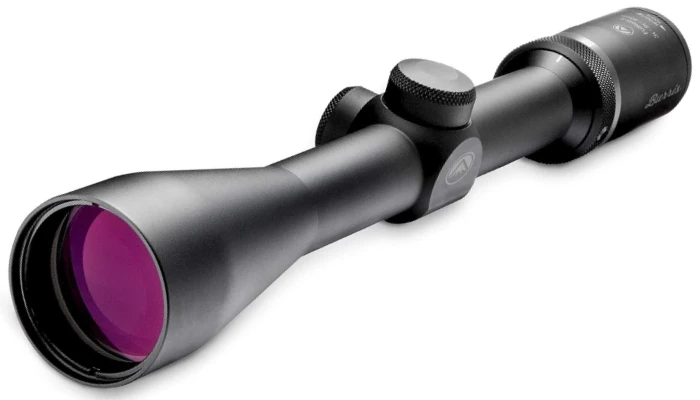 Who hasn't heard of Burris? One of the most famous hunting rifle scope makers in the entire country. From providing great service to working with known hunters to improve their products, Burris has been a crowd pleaser since they started.
The Fullfield II is one of my favorite budget hunting rifle scopes. While not costing a lot of money, the Fullfield II fulfills a lot of unchecked boxes. Bad pun aside, the Fullfield II is available in different configurations. You can choose the 3-9x40mm or the 4.5-14x42mm. If those two didn't entice you, then the 6.5-20x50mm will definitely entice you.
The Fullfield 2 is for sure a killer hunting scope. But besides hunting, it does plinking and range-practicing well. The scope is not made out of plastic. It's made out of alloy steel. A durable metal that can last the recoil of Mini 30 with ease.
Even at maximum magnification, the scope doesn't fall behind in performance. There is no motion blur or too much distortion visible on the scope either. While it's not the best for extremely long-range performance, it will do just fine with any type of hunting you may want to do with the Mini 30.
Does Burris give free scope rings with this one?
Unfortunately, not. You will need to buy a pair of either Zee rings from Burris in medium height or high height.
Will I get any warranty with this scope?
Oh for sure! If anything Burris loves doing the most, it has to be taking care of their customers like a king. Burris offers a forever warranty with the product. As long as you manage to take it to their service or contact them, there is a solid chance your scope will return like new.
Will it break if I use it with Mini 30?
No, it won't. It's extremely durable and rugged. On top of that, it's also shockproof. It will handle the recoil of the Mini 30 like a champ.
7. Vortex Optics Crossfire II 2-7x32mm Rifle Scope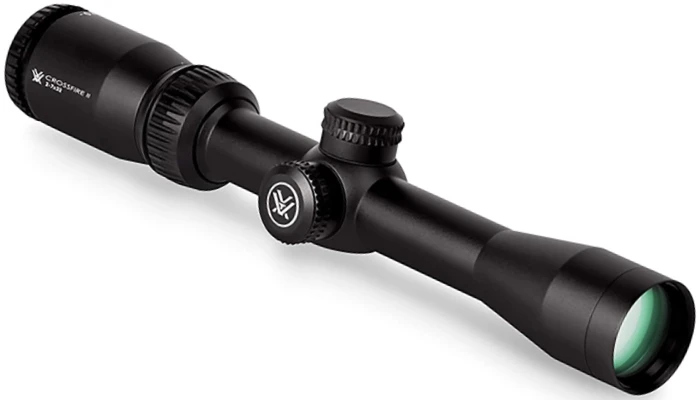 Last but not least the Crossfire II. If you were to look for the cheapest Mini 30 scope on the market, the Crossfire II would probably be on top of the list. The Crossfire II is an excellent hunting scope made for guns like the Mini 30.
Packed with a maximum of 7x magnification, it's not a range-monster or anything. But it can cover up a massive area. Where you can track your prey and take a shot without missing it. As the accuracy of the scope is dead-accurate, you won't miss shots like you used to with the stock sight.
The 32mm multi-coated objective lens is a treat to the eyes for sure. It gathers plenty of light without causing glare related issues. The reticle isn't affected by smearing or glare either. Thanks to that, you can use the reticle under bright sunlight as well.
While the scope is extremely durable, it's not heavy. The combination of this scope with the Ruger 30 is quite good. They work without any issues and they handle the recoil with ease. As you can use this to shoot at medium range, you can do many things besides hunting if you want.
Do I need to buy mounting rings separately?
Yes, you do. You won't get any in the box. You will need to buy a pair of Vortex Optics Hunter Riflescope Rings or Monstrum Precision Scope Rings for the scope to sit on your rifle.
Will I get any warranty with the optic?
Of course, you will. You will get a lifetime warranty from Vortex with the optic. Vortex isn't shy when it comes to maintaining good customer and seller relations.
Do I need a gunsmith to install this optic on my gun?
No, you don't need anyone. You will need the scope, a pair of rings like I mentioned above, and your gun. The rest is clear as day.
Conclusion
Well, that didn't take that long. While I can understand you might be confused from 7 options. But there are no wrong options among those. It will come down to what you prefer.
If you prefer a budget scope, then grab a budget one. You don't need to get the most expensive scope as your first. All of us had a humble start. Start slow and enjoy the long journey.
But if you want to go all out, you can do that as well. There is nothing wrong with that mindset either. With that said, that's all for now. I will be back with more for you guys soon enough. Till then, take care and have fun.