The Sig Sauer P365 is a popular concealed carry gun that is commonly used for self-defense or target shooting purposes. One of the most loved P365 series is the P365 XL guns. They are widely used because of their micro-compact concealability with full-size shootability. Compared to the P365 series, they make your shooting experience more comfortable and versatile.
However, if you want to explore the gun's full potential, you can replace some of the gun parts with aftermarket parts. It will allow you to use the gun in the possible best ways. Now the problem lies in finding the right and trustworthy aftermarket products. Since there are multiple options in the upgrade products, it is quite easy to get confused while looking for the right parts.
Hence, to reduce your workload, I have brought you the list of the products that you can use for your gun upgrade. Therefore, depending on your shooting needs, you upgrade your firearm in whatever ways you want. So, without any delay, let's see what upgrades are available for your Sig P365 XL!
1. Sig P365 Xl Trigger Upgrade
You can make your response much quicker in tactical situations by replacing the factory trigger. Well, there is nothing wrong with the factory trigger. But upgrading it with the given product can reduce overall trigger travel.
i) Sig Sauer P365 Trigger Kit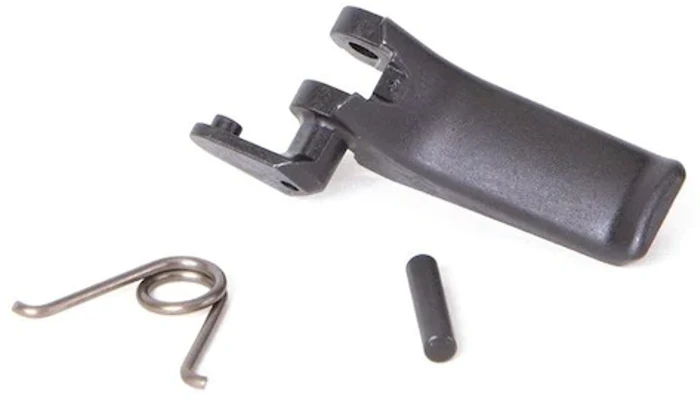 The trigger kit is a direct replacement of the factory trigger. It has a durable construction and moisture resistant finish. The trigger is really lightweight compared to the factory trigger.
Plus, it reduces the trigger travel, allowing you to quickly respond in tactical situations. Along with the trigger, this kit includes some necessary items that enable you to install the part smoothly.
It has a pre-travel stop with an optional OEM modified slide cap which works to reduce the pre-travel. Similarly, it comes with an overtravel stop to minimize overtravel, a reduced power striker safety spring for pull weight reduction, and lighter, smoother pretravel.
Additionally, it has Sear Control Springs for sear engagement adjustment. Even though the trigger is provided with all the necessary installation parts, it would be better if you seek an expert gunsmith's help for the installation process.
2. Sig P365 Xl Slides Upgrade
The P365 XL has a cut slide which makes it compatible with optics. However, if you want to upgrade the factory slide with the aftermarket slide, you can go with the following option.
i) ZEV Technologies ZEV365XL Octane Pistol Slide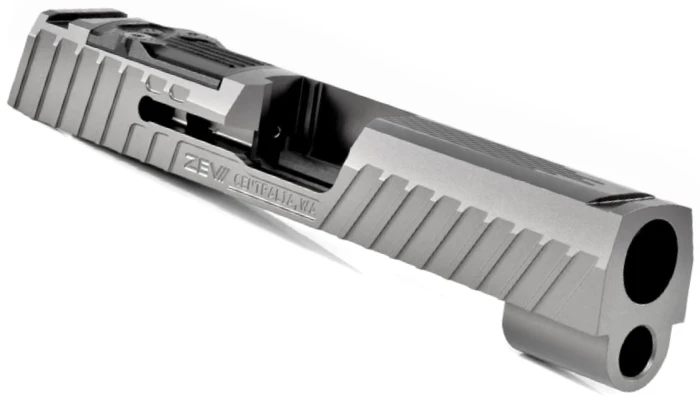 This is a stripped slide that features a ZEV optic cut to allow you to mount a red dot on the firearm. The best part of the slide is, that you won't need to remove the iron sights to install the optics. Because the slide allows you to keep the iron sight in its place and also mount your preferred red dots.
The slide has a strong construction. It is made of 17-4 Stainless Steel and has a Titanium finish.
As a result, you don't have to worry about its durability and sustainability to work in different situations. The slide will be perfectly compatible with the Shield RMSc, Sig Romeo Zero, and Holosun HS407K optics.
3. Sig P365 Xl Optic Upgrades
Optics add a new dimension in our shooting experience. It makes the target acquisition faster than ever. Plus, it helps us to make accurate shots in any given situation and lighting conditions. Therefore, you choose either of the given optics for your P365 XL.
i) Streamlight 69400 TLR-7 Sub 500-Lumen Pistol Light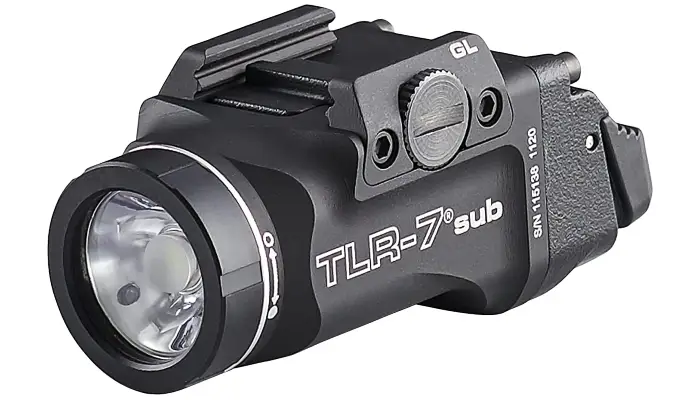 Lights allow you to have a clear visibility of the targets. Unlike other optics, they don't work to make aim on the targets, rather they help you to spot your target.
Now I recommend Streamlight TLR-7 because it features a 500 lumen output system. Thus, it will be able to deliver a powerful beam with extensive range and good peripheral coverage.
Besides, it has other user-friendly features, enabling it to have a smooth operation system. The light has a lightweight and compact construction, making sure that it doesn't take up much space or add extra weight to your firearm.
Moreover, to run the light, you will get Lithium batteries with the product. Plus, the company offers a 2-year limited warranty along with the optic.
ii) HOLOSUN HS507K-X2 Classic Multi Reticle Red Dot Sight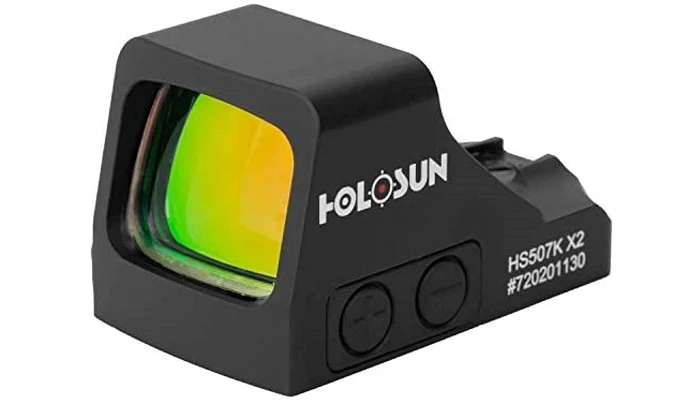 Whether you're under bright light condition or low light condition, red dots always have got your back. So, if you mostly use your firearm in daylight or low light, red dots will be a great choice for you. For your P365 XL, I believe HOLOSUN HS507K is a wholesome red dot that you can consider.
It is equipped with advanced technologies like Shake Awake and Multiple Reticle System. These systems enable you to shoot on the target in all shooting environments. Plus, it includes a super LED high capacity lithium battery which can power up the red dot up to 50,000 hours of its battery life.
Additionally, it has durable construction and multilayer lens coatings, allowing you to use the optic in bumpy and low light situations.
However, if you want you can also check out another red dot from HOLOSUN which is "HOLOSUN HS407K-X2 Classic Reflex Red Dot Only Sight". To mount this red dot you will need an adapter. So, you can choose the "OuterImpact Red Dot Adapter Mount for Sig Sauer P365" to install the red dot on your P365 XL.
Oh, wait! Before moving on to the next upgrade, I would suggest you purchase a holster when you've upgraded your firearm with optics. Holsters are important to keep your gun and optic intact from the outer harmful elements. So, choose the "CrossBreed SuperTuck Deluxe Holster" if you're looking for a good quality holster.
4. Sig P365 Xl Grips Upgrade
The factory grips are good and do their work for a really long time. However, after a certain period of time, it loses its grippiness. In that case, we all desperately look for a good alternative grip for the gun. Hence, I would like to suggest you a possible best grip that you can keep in your consideration.
i) Talon Grips Adhesive Pistol Grip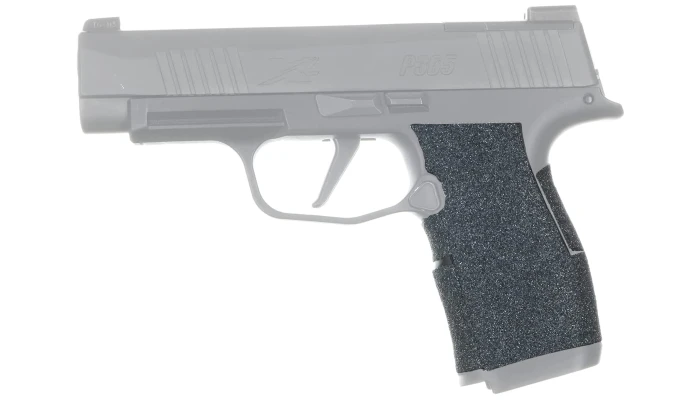 The grip is available with both rubber or granulate textures. So, you can choose either type of grip for your firearm. This grip is so popular that it is preferred by law enforcement officers, military personnel, competitive shooters, and also firearms enthusiasts. Given its quality, the NTOA has rated the grip 4.81 out of 5.
It helps to improve your performance with better traction and reduced recoil.
Hence, you will have a reliable and comfortable shooting with your gun after installing the grip. The grip lasts around 1 to 3 years, so you can use it without worrying about losing its grippiness.
5. Sig P365 Xl Barrel Upgrade
Even though the P365 XL comes with a threaded barrel, some shooters may want to try something better than the factory provided barrel. For those enthusiasts, I would suggest the following barrel to install on the Sig P365 XL.
i) True Precision INC – Sig Sauer P365 Xl X-Fluted Barrel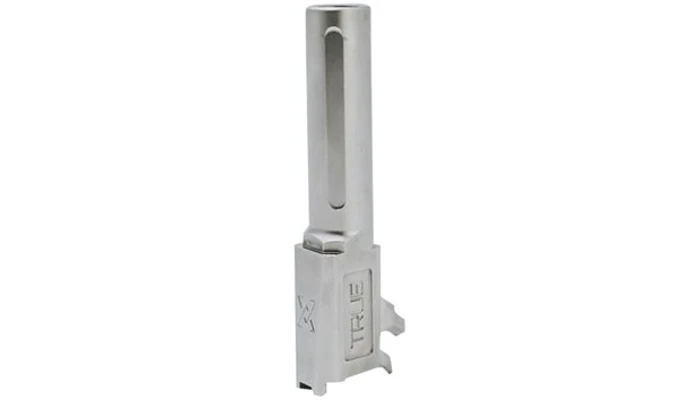 Since the barrel is designed with the 1/2-28 TPI thread pitches, you can easily consider this for your P365 XL. The barrel comes with a fully supported, SAAMI-spec chamber as well as added chamfers, radius cuts, and other high-quality touches.
Additionally, it has a very rugged construction.
The part is machined from stainless steel, making it strong enough to withstand rough environments and impacts. The good thing is, it is available with different types of finishes. So, you can buy the barrel with your preferred finish type.
6. Sig P365 Xl Muzzle Device Upgrades
In order to make accurate shots, muzzle devices come in very handy. Muzzle devices such as the compensators work great to reduce the muzzle rise and make the perfect shot on the target. Other devices like suppressors enable you to mitigate the shooting noise of the firearm.
i) Silencerco Osprey 45 Suppressor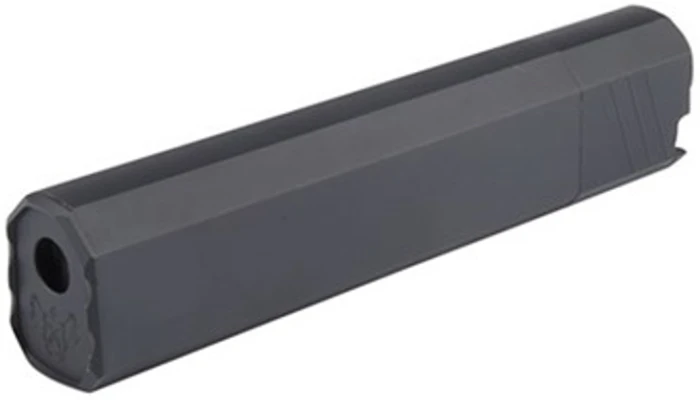 The suppressor works great to reduce the sound of the bullet shots. One of the main reasons for its wide use is its meticulous and user-friendly design. The Osprey .45 suppressor is known to be an eccentric silencer, meaning the bore of the part does not run down the middle of the tube.
As a result, most of the baffles and internal volume are beneath the centerline of the bore and out of the way of the gun's sights.
In fact, the suppressor has nearly 30% more internal volume than a traditional round tube silencer at the same length. So, the shooters get the ability to aim with little to no sight obstruction on the target.
ii) Herrington Arms Sig P365 & P365XL HC365 Compensator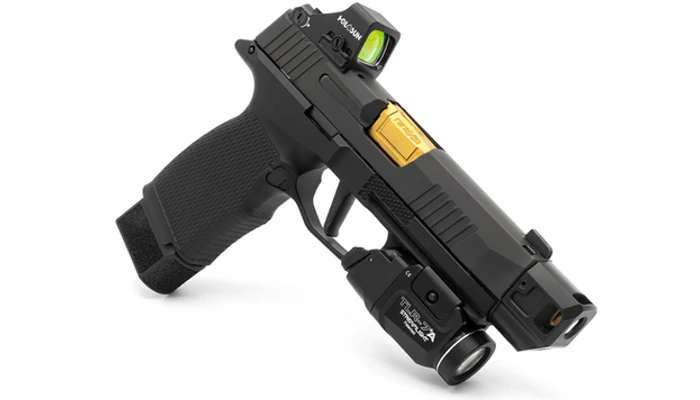 The device has been crafted to mitigate the vertical and horizontal recoil of your P365 XL. Hence, if you want to make follow-up shots on the target, the compensator works perfectly to reduce the muzzle climb.
Therefore, the device can be your essential tool when you're practicing your target shooting.
What you will also like about the device is that it has strong construction. The compensator is made out of high quality 6061 Aluminum.
Plus, it is coated with a black anodized finish. This gives both a chic look and protection against abrasion. Moreover, the device is easy to install and you won't need any gunsmith to mount it on your firearm.
7. Sig P365 Xl Magazine
Want to make rapid shots on the target? Upgrade your P365 magazine with a high capacity magazine. This will allow you to make rapid shots on the target without worrying about frequent reloading of the magazine. Below is one of the best high capacity magazines you can check for your gun.
i) Promag Sig P365 / P365XL 9mm 50-Round Drum Magazine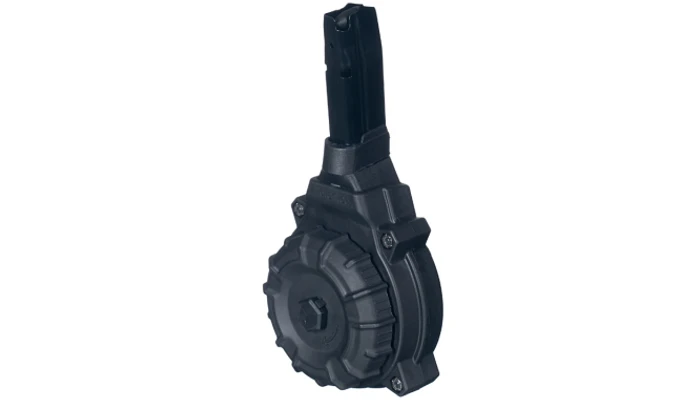 For your P365 XL 9mm gun, this magazine is the best option you have around the market. Because it features a long lasting construction that allows you to use the part for a long time. The body of the magazine is made of DuPont Zytel based polymer. Whereas the follower is injection molded and the magazine spring is formed from heat treated stainless steel wire.
Due to this construction, the magazine can perform its best when you shoot on the targets. Note that, apart from the 50 capacity, the magazine is also available with the 30 capacity. So, you can purchase the magazine at your desired capacity.
However, if you are looking for an extended magazine to use with your P365 XL, you can go with the "Sig Sauer P365 9mm 15-Round Magazine". Many shooters like to have an extended magazine in their guns because it allows the fingers to rest properly while aiming on the target.
Conclusion
To sum up, the upgrades are not something that you must consider for your gun. However, if you're a serious shooter who wants to explore more or wants to use the firearm to its fullest possibility, you can go for the upgrades. You can conduct your own research and find your preferable aftermarket parts.
Otherwise, you can cut short the research phase and go with the products that have been recommended in this article. One thing to remember, before you decide to make any upgrade in your gun, make sure it matches your shooting needs. This way your investment will not go to waste. Good luck!