When it comes to using a muzzle brake, the first thing you are supposed to look for is its thread pitch diameter. Why you ask? Well, very simple. You need to have a specific thread in your rifle to attach the muzzle brake to that thread.
Because of that reason finding the right size of thread is important if you want to purchase the correct muzzle brake for your specific firearm. You can find many thread pitches and their specific muzzle devices in the market.
Since it gets difficult to separate muzzle devices depending on their thread pitch, today I will be focusing on the brakes that specifically attach to a certain thread pitch and their rifles. The main character of this article is the 5/8×28 thread and the rifles that are compatible with them.
This thread pitch is one of the most popular threads for rifles that is used for most of the muzzle brakes. We will get into the product list later. First, I will talk about the important points about muzzle brakes that are specifically related to the 5/8×24 thread pitch. So let's begin!
Buying Guide For 5/8×24 Muzzle Device
Although most of the muzzle brakes have some general features, you need to look out for their compatible thread pitch as well. Since I am focusing on the 5/8×24 muzzle brakes today, let us see what points you should look out for while purchasing the muzzle brake.
What type of rifles will be compatible with the muzzle brake?
When you think about adding a muzzle brake to your rifle the first thing you need to check is whether you can attach the device to your firearm or not. That's when the thread diameter comes in.
Every rifle has a specific thread where you can attach the muzzle brake to your gun. For attaching a 5/8×24 muzzle brake you will need exactly the same threaded rifle.
What kind of ammunition is suitable for the 5/8×24 muzzle brakes?
There is actually no specific caliber for the ⅝-24 muzzle brake. But there is a connection with the type of rifle you can use with these muzzle brakes. Since some of the AR-15 rifles have ½-28 thread you cannot attach the ⅝-24 muzzle brakes to them.
So that leaves mainly in two calibers- 7.62 and .30 calibers. That means you can use these muzzle brakes with .300 win mag cartridges.
Is there any external factor you need to check?
If we talk about any external factor, the only thing that comes to my mind is the noise. The larger the rifle the greater the noise would be. That becomes louder with a muzzle brake. That is why I would suggest you to keep extra noise protection like earplugs, gloves, and eyewear while using the rifle along with a muzzle brake.
1. Precision Armament – AR-15 HyperTap Muzzle Brake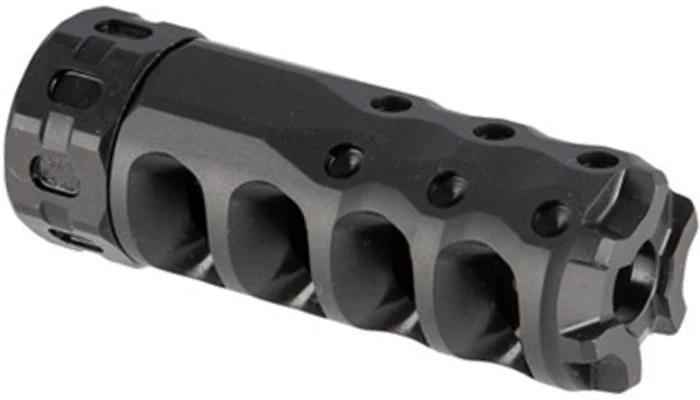 Along with being perfect for the 5/8×24 rifles, this AR-15 HyperTap muzzle brake works great for .308/7.62mm and .264/6.5mm calibers.
This muzzle brake is so versatile you can literally use it with most of the AR-15 rifle cartridges and it will still serve you with the best permanence.
You get a proprietary hybrid baffle design which is combined with an advanced convergent-divergent port geometry in order to yield an unprecedented recoil reduction. When it is used with a 6.5 Creedmoor caliber the muzzle brake provides you with over 78 percent of recoil reduction performance.
While the reduction process is on the bench the muzzle brake also maintains a modest 35-degree baffle angle and generous bore clearance which allows the brake to present you with a smooth shooting experience with every follow-up shot.
In addition, you get an integral universal timing nut that gives you the freedom to install the device without the need for any shims. You can just use an adjustable wrench to install and remove the muzzle brake.
Is this model the Slim Body or the Standard Body HyperTap brake?
This Precision Armament HyperTap for the 5/8×24 threaded rifles is the Slim Body model.
Does this muzzle brake work with barrels shorter than 14.5"?
When you are using this muzzle brake with .308 caliber the amount of recoil produced from an AR-15 rifle is quite large. Using it with a shorter barrel like 14.5" will create more blowback which can be too much to handle.
Can this muzzle brake work well with a 6.5 Grendel cartridge?
No, this model is specifically for .308 and 6.5mm calibers. You can use the Precision 6.5 Grendel Muzzle Brake 5/8×24 for the Grendel cartridge.
2. Area 419- Hellfire Match Muzzle Brake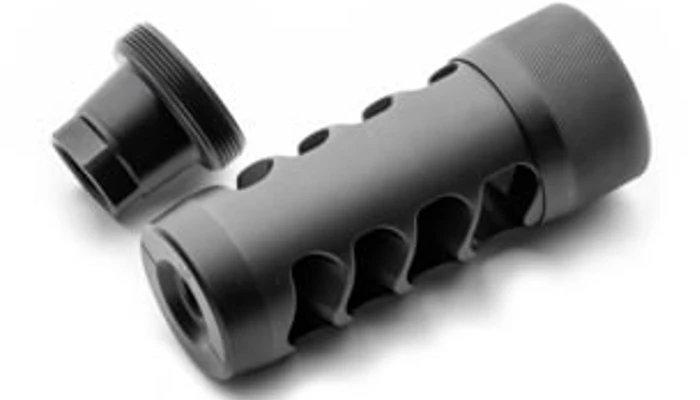 Since its release in 2016, Hellfire by Area 419 has been a permanent member of the popular muzzle brake circle. This is one of the reasons for me chose this brake as my second product for the 5/8×24 thread pitch.
The muzzle brake is perfect for calibers like .243/ 6mm, 6.5mm, and .30 cal and rifles that are compatible with ⅝-24 thread pitch. There is a four caliber selection option for this muzzle brake that will give you the freedom to choose it with most of the cartridges, making the muzzle brake versatile.
The 4 port design is redesigned with different ports and different lengths, angles, and heights. These ports optimize each one of them to provide you with an ideal function depending on the gas pressure and volume. As a result, you get an optimal recoil management.
The good thing about this brake is that it does not impart extra sound pressure at the shooter's position which is very common in other muzzle brakes.
There is also a self-timing system so that you need to adjust the position of the port every time after firing. And, the universal adapters make this ⅝-24 muzzle brake integrate with other devices such as Suppressor mounts, Hellfire 2P, and Linear Flash Suppressor.
Besides, once you torque the collar to lock it does not turn unless you do it yourself. This proves the stability of the muzzle brake.
What type of tool will you need for torquing the Universal Adapter onto your barrel?
The universal adapter that comes with the muzzle brake uses a ⅝" wrench to torque onto the barrel of your rifle.
What type of cleaner will be good for this muzzle brake?
Any type of carbon cleaner will clean the muzzle brake without discoloring the black nitride finish. I would recommend using the Bore Tech C4 Carbon Remover for this brake.
Is this muzzle brake suitable for handguns?
No, this muzzle brake will work well with any ⅝-24 threaded rifles. For handguns, compensators will be a better choice.
3. VG6 Precision Lambda PRS30 Muzzle Brake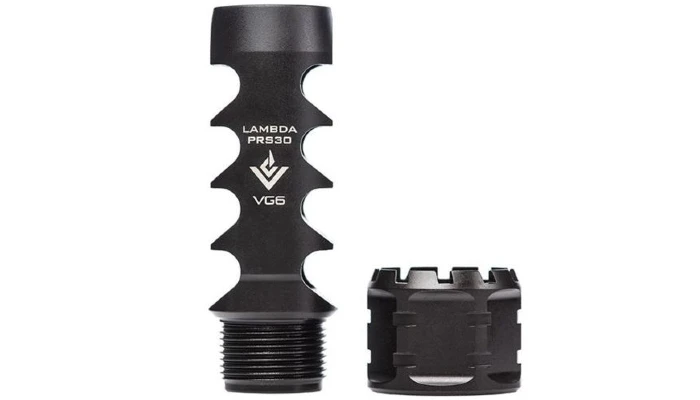 My third recommended product is the VG6 Lambda Muzzle Brake. This muzzle brake is perfect for any AR-15 rifle that has a ⅝" 24-thread pitch. This two piece design includes a jam nut along with the brake for easy toll-less installation in an AR-15 rifle.
The four chambered port design virtually eliminates recoil which will allow you to stay on the optics without losing your shot and identify the downrange of impacts. Its first chamber works in getting an uninhibited flow of gas to the left and right direction of the shooter.
The remaining three chambers direct the gas flow backward just like how a buffer would work and reduce any side concussion will give you a smooth shooting experience.
However, you also have to keep in mind that flowing the gas backward can result in a muzzle flash. You just need to be careful about that.
Since the Lambda muzzle brake utilizes the CFD (Computational Fluid Dynamics and CAE (Computer Aided Engineering) the chance of getting an accurate with less kickback becomes greater than other ordinary muzzle brakes.
Plus, the device is 100 percent CNC machined to prove its capability in producing an optimal performance.
Does the muzzle brake come with a blast shield?
No, unfortunately, the lambda muzzle brake does not have a blast shield. This is why you need to be extra careful about the backward gas flow.
Is the muzzle brake compatible with the SOCOM 458 barrel?
This muzzle brake is not compatible with the barrel of the 458 SOCOM gun. You would need to bore out the brake into the firearm.
Does the muzzle brake work for the 7.64×39 calibers?
Yes, this muzzle brake works well with a 7.62 caliber. However, you need to make sure you are using a rifle with a 5/8×24 threaded barrel.
4. Precision Armament M4-72 Severe-Duty Compensator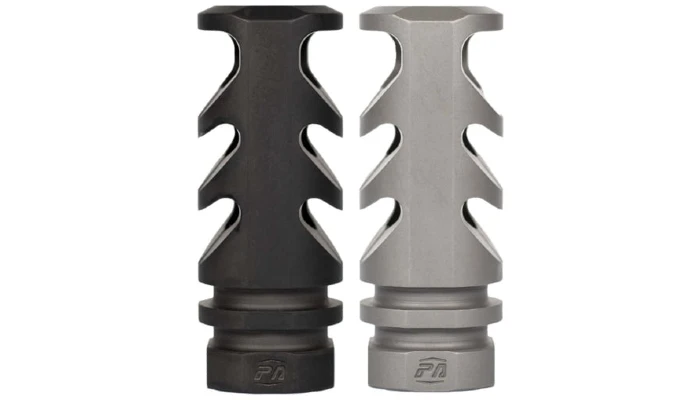 I have another Precision Armament device for your 5/8×24 muzzle brake list. This product is actually different in the sense that it is more of a compensator than a muzzle brake. I love the fact that this M4-72 compensator has five different options to comply with different calibers and thread pitches.
You get a 5/8×24 thread pitch that can support up to 30 calibers and a unique 414×1 LH thread that attaches to the AK-47 rifles with 7.62x39mm cartridges.
Basically, you can use this muzzle device with a wide range of rifles. And, depending on these calibers, loads, and cartridges it can reduce recoil by 75% and muzzle rise in between shots.
In addition, you get a reduction of dust signature which is important when you are firing from a prone position. This is possible because of the M4-72 brake's closed bottom and upward biased venting construction.
Along with the stainless steel constructed body, the compensator has an Ionbond high-temperature CrCN coating that allows the muzzle device to work in a highly heated environment when you are using it in a combat situation with your M16 or AR15 rifles.
Does this muzzle brake come with an accu washer?
No, this compensator does not include an accu washer in the package. You can purchase the Precision Armament Accu Washer for this model.
Will this brake fit a Smith & Wesson MP 10/308?
Yes, the 5/8×24 thread .308 model of this muzzle brake will fit the Smith & Wesson MP firearm.
Can the compensator be a good companion for the 450 Bushmaster?
No, you will need a different model for this kind of larger caliber.
5. Seekins Precision AR ATC Muzzle Brake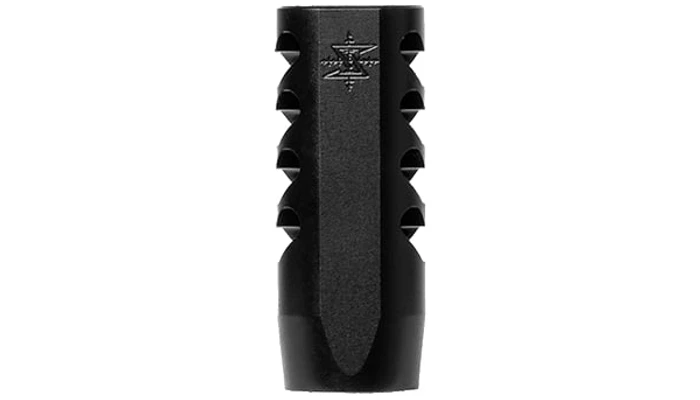 The Seekins Precision ATC Muzzle Brake is another great product for any ⅝-24 threaded rifle. This muzzle brake works for any AR platform rifle. The good thing about this muzzle brake is that it offers models for both 1/8×28 for 5.56mm cartridge and 5/8×24 threaded barrels for up to .30 cal.
The port is designed to facilitate the amount of recoil your rifle cartridge can produce. It minimizes the recoil level you feel while shooting and reduces muzzle rise at the same time.
The muzzle brake works toward giving you a faster shooting experience with rapid follow up shots. When you are targeting a game, getting smooth follow-up shots without the issue of muzzle flash is very crucial. That way this muzzle brake ensures quicker and solid target transitions for you.
This ATC muzzle brake comes with a timing nut that allows you to install the muzzle brake with your 5/8×24 threaded barrel without any need for gunsmithing. The 416 stainless steel housing construction ensures stability and durability.
Will you need any additional noise protection with this muzzle brake?
As any muzzle brake will increase the sound pressure of rifles while firing, you will also need proper noise protection with this brake.
How much does the muzzle brake weigh?
This Seekins ATC Muzzle Brake does not weigh more than 3.9 ounces, which will not add too much weight on your rifle.
Does this muzzle brake work for the .300 blackout rifle?
This version of Seekins Muzzle brake is specifically for the .223, 5.56, and .30 cal rifles. The .300 blackout cartridge will not be compatible with it.
6. SIG SAUER QD Taper-Lok 5/8×24 Muzzle Brake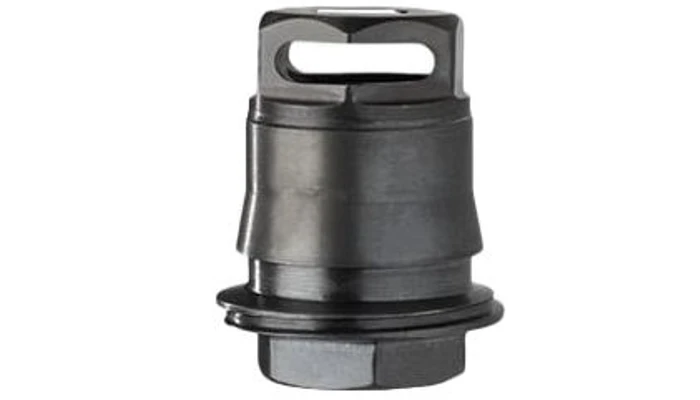 Next up we have the Sig Sauer Muzzle brake that comes with a QD Taper-Lok mount. This muzzle brake is actually very versatile and works really well with the ⅝-24 threaded barrels. Then let us see what other features the brake has.
The low profile muzzle brake makes it easier to use with firearms without getting in the way of firing. It self-centers the firearm and suppressor in order to reduce group dispersion. As a result, you get a better shooting experience with smoother releases.
In addition, the muzzle brake also reduces the point of impact shift so that you do not lose your target and waste time in adjusting it every single time.
This device does not need shims for installation as there is a semi-permanently attached sub-caliber mount to enable its true multi-caliber versatility.
The Sig Sauer Muzzle brake works best on the Sig Taper-lok shouldered barrels but you can use it on any firearm with 5/8×24 threaded barrels. This brake is also backwards compatible with the traditional 90 degree shouldered barrels.
Does the muzzle brake come with a crush washer?
Yes, the muzzle brake comes with a thin crush washer other than the sub-caliber mount.
How much does the suppressor weigh?
This Sig Sauer muzzle device weighs about 3.8 ounces.
Will this model fit the Sig 556xi barrel 5.56?
No, it will not. You will need an adapter with the correct threads to attach the muzzle brake to the Sig 556xi gun.
7. VG6 Precision Gamma 762 Muzzle Brake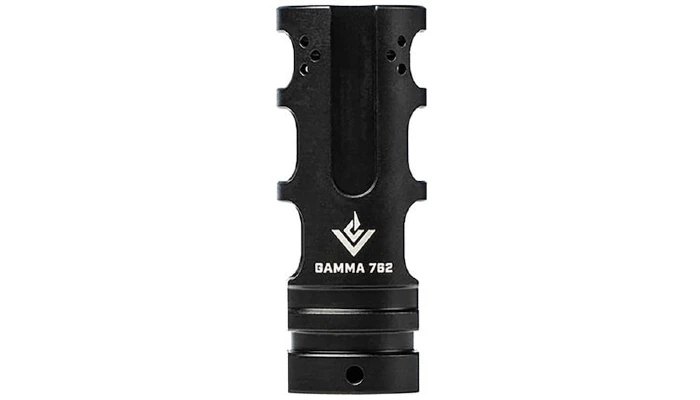 Last but not least I have this VG6 Precision Gamma 762 Muzzle brake for your 5/8×24 threaded rifles. I have chosen this muzzle brake because this is a great option to use with your 7.62mm calibers which basically have a high ratio of recoiling when it is used in an AR-15 rifle.
This is actually a hybrid between a muzzle brake and a compensator that will give you all the benefits of a strong muzzle brake but with a smoother transition between follow-up shots at the same time.
This unique combination actually inspires the shooter to have more confidence in his shooting technique as he gets to have more control over his shots.
In addition, I love the port design of this Gamma muzzle brake. The chamber geometry is perfect for low blowback as it gives a very soft feel in the shoulder even when you are firing a strong cartridge like 7.62mm.
The 68RC surface hardness along with stainless steel construction makes the muzzle brake durable. Similar to the Lambda muzzle brake this VG6 device also utilizes its CFD and CAE technology to get a better output from it.
Will this muzzle brake work for GLFA .223 Wylde Rifle?
No, this model is for the 5/8×24 threaded firearms. The .223 Wylde rifle will need a 1/2×28 version. I would recommend going for the VG6 Precision Gamma 5.56 Muzzle Brake for this rifle.
What is the weight of this product?
The VG6 Gamma muzzle brake weighs about 2.24 ounces.
Which calibers are suitable for this muzzle brake?
You can use this muzzle brake with all calibers that have a bullet diameter of 0.308 or less.
Conclusion
To sum up, when choosing a specific muzzle brake with ⅝-24 thread pitch, you also need to find compatible rifles to attach it with the gun. Other than this, you will find many options for 4/8×24 muzzle brakes.
Since it can be tiring to find the perfect match among so many options, I have listed the top 7 best muzzle brakes for 5/8×24 thread pitch.
Before that, I have answered all the important queries about the ⅝-24 muzzle brakes so that you can get all the information you need before purchasing the best muzzle brake for your rifle. Now it's your decision. Which one would you choose for your 5/8×24 thread pitch?