Although this Springfield Armory firearm goes by the name of "Saint", there is nothing saint about this AR-15 style rifle- trust me. With this AR-15 rifle, you get all the top-tier components you need to ensure durability and relentless performance. You get a firearm that is M-Lok compatible and is chambered in 5.56 NATO caliber.
But this does not end here. Springfield Armory offers you with two different models for their "Saint" series. With one model you get the Picatinny railed gas block and a low-profile flip-up front sight. For the other model, the gun has an A2 style front sight along with a pinned gas block.
From what I have mentioned before you get the idea about how upgraded this rifle already is. But do we stop here? No way! You see I don't see why we can't take this to the next level and give our "Saint" boy a good makeover and turn it into a real "Devil".
For that, what you have to do is just follow my instructions and go through the recommended product list I have here for you. By adding these Springfield Saint Victor upgrades to your gun you can achieve the ultimate champion of the AR-style series. So, let's see what I have for you today!
1. Springfield Saint Victor Trigger
The first thing that comes to my mind while thinking about upgrading my Springfield Saint is the trigger. Although Springfield claims to come with an upgraded trigger, the usability will always depend on the shooter's motive.
This is why I would suggest going for a universal trigger that will not only help you with the trigger pull but also with the long range accuracy.
i) Geissele Automatics LLC SSA-X Government Trigger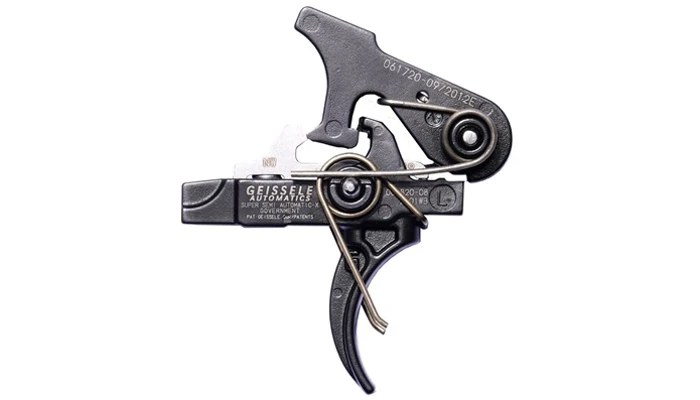 This two-stage trigger by Geissele is popular because of its nanocoated wide body and hammer which gives the trigger a solid look of durability and performativity. This also enhances the wear and corrosion resistance of the trigger so that it can offer you the longevity you are looking for.
Another great feature of this trigger is the M4 Bow. It allows the trigger to be light enough for accurate and precise shots, but forgiving enough for dynamic close-in work at the same time.
I would definitely recommend this trigger as a replacement of your Springfield factory trigger as you are getting the right amount of function to enhance your gun's overall quality.
2. Springfield Saint Victor Handguard
For better control and stability along with more rail space, the one thing you will need to add to your Saint PCC is a good quality handguard. The handguard will keep your firearm stable and give you more space to mount multiple accessories at once.
i) Midwest Industries G4M M-LOK Gen 4 Handguard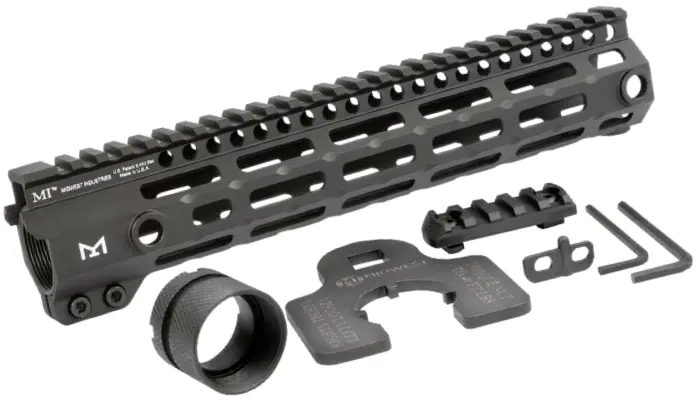 The Midwest Industries G4M Handguard is what everyone has been talking about lately. This lightweight handguard comes with an M-LOK compatible rail which is long enough to have seven sides of M-LOK slots.
At the same time, it is so slim, only just 1.5" diameter on the outside. This way you get to have a design with reduced bulk which also maintains the low-profile feel. The rock solid lock-up design utilizes MI's torque plate design.
After knowing all these features you know why this product is worth your money. I know mine was.
3. Springfield Saint Victor Foregrip
I wanted to suggest a foregrip as well, mainly because of competition preparation. During a competition, the most important thing is to have top level accuracy and precision. For that, you will need anything and everything that can enhance your shooting accuracy one way or another.
One way to do it is by adding a vertical grip to your Springfield Saint carbine pistol. That way you will be able to use the grip as a point of reference and have more control over your target point, further resulting in better shooting accuracy.
i) Magpul Industries M-LOK MVG Vertical Grip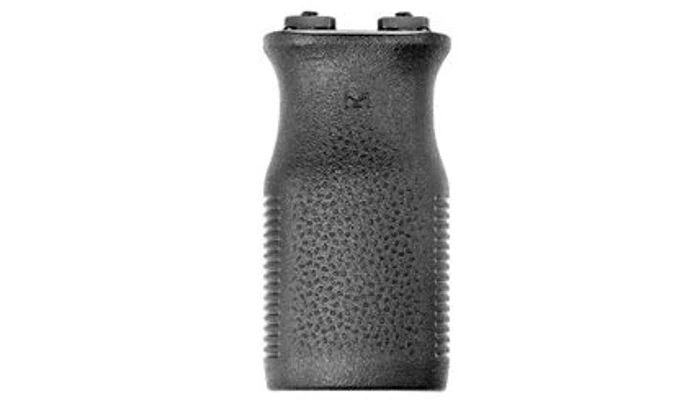 I prefer to have a good foregrip especially when I am using an Ar-15 platform gun. And for that, I chose the Magpul M-LOK Vertical Grip that keeps you protected from the heat and supports to improve consistency.
When you keep your hand on the vertical grip it gives you a strong holdover on your Springfield PCC. As a result, there is less bouncing around from the recoil. You also don't have to worry about mounting this product because of its easy M-LOK installation.
The plus point is that it has just the right size that keeps your hand out of the way for changing magazines.
4. Springfield Saint Victor Sling
Well, for veteran shooters, there is no need to explain the importance of having a sling attached to their firearm. Because they already know how easy it becomes to carry around and change the position of the gun through a gun. That's why I personally believe investing in a good sling will be quite profitable.
And since I am here to give you all the tips to make your shooter experience better than before, I have the perfect sling product for your Saint PCC.
i) Magpul MS4 Dual QD GEN 2 Multi-Mission Sling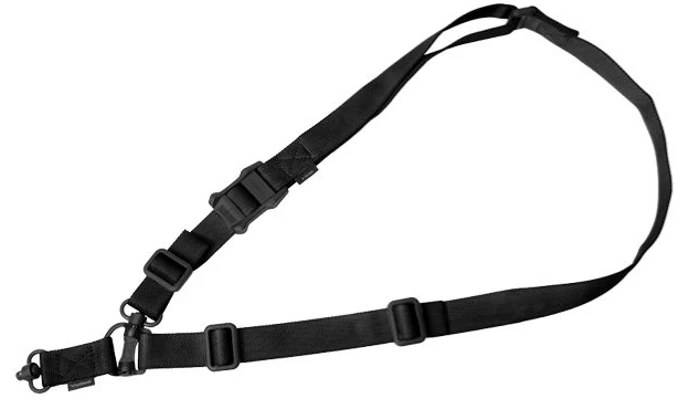 I think a good quality sling is something that has become an essential part of any competition ready firearm. And even if you are going for any competition, having a sling attached to your gun will always keep your weapon combat-ready.
Today I am talking about this Magpul Multi-Mission sling which is more like a multi-functional sling. The product sports two convertible points where you can switch between one-point and two-point configurations.
A heavy-duty nylon webbing and a cast steel push-button QD sling swivel make this Magpul sling just the right upgrade for your Springfield Saint carbine.
5. Springfield Saint Victor Optics
For increased capabilities in the targeting section, especially to cope with various lighting situations, it is essential to add a great optical sight to your Springfield Armory gun. In addition to the factory iron sights, any good scope or red dot sight will give you the freedom to target games during low light conditions.
Just to give you both the options, I have included two different types of optics- one is a solid scope and another one is a bit smaller red dot sight. Both will be excellent choices but you can go for one.
i) AT3 Tactical Red Tail LPVO 1-4×24 Rifle Scope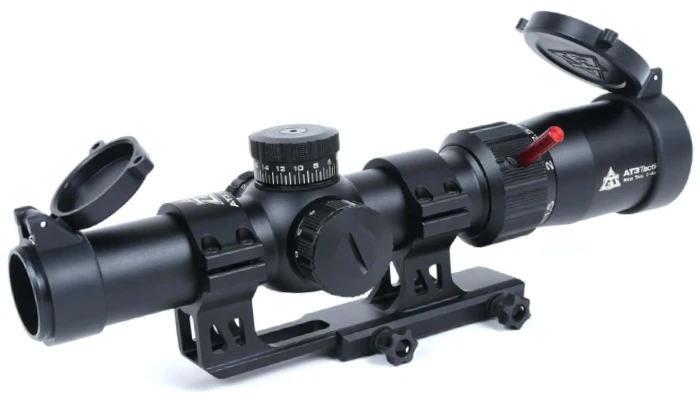 For the optics, I would suggest going for the AT3 Tactical rifle scope. This scope has all the features of a traditional red dot sight with a wide field of view, both eye-open shooting and better situational awareness. But comes in a type of scope so it still gives you the facility of having zooming quality.
The scope has a variable magnification of 1x to 4x zooming feature which is great when you are targeting something at mid-range distance. Plus, the objective lens comes in a multi-coated, scratch resistant 24mm glass that will give a crisp and clear picture quality.
Also, the scope features a BDC reticle that has holdovers for shots out to 600 yards with 5.56 cartridges. You know you are getting a great quality product when you can easily use it with your firearm caliber.
ii) AT3 Tactical RD-50 Micro Reflex Red Dot Sight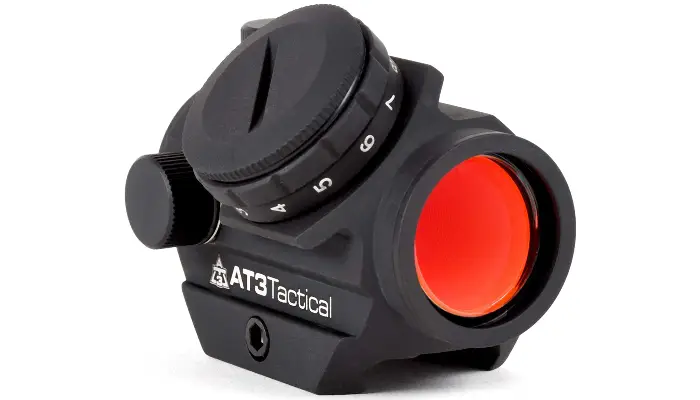 In case you are a traditional red dot sight guy and do not want something heavy or bulky like a rifle scope, I have another great option for you. You can get the AT3 Tactical Micro Reflex Red Dot sight which has a 2 MOA dot reticle, perfect for any long distance targeting.
You get to have both eyes open shooting experience because of the low profile design of this sight. Plus, there are 11 different brightness settings to cover every low light condition you will ever face while shooting outdoors.
Besides, the IPX67-rated water-resistant aluminum housing has shockproof circuitry that resists damages from recoil. The best thing about this red dot is its lifespan. You get a long 50,000 hours of continuous runtime for the lowest brightness setting with the CR2032 battery. What else do you need?
6. Springfield Saint Victor Flashlight
Just like the optical sights, having a flashlight is also important for getting better shooting accuracy with your Springfield Saint Victor gun. The flashlight will help you create situational awareness and works best in any home defense situations.
i) Streamlight ProTac Rail Mount HL-X Weapon Light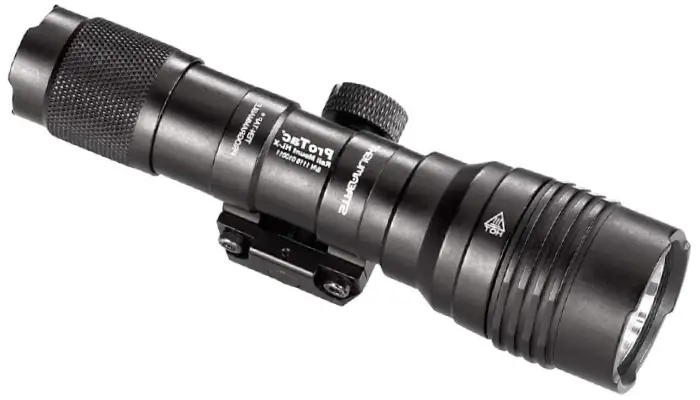 When recommending a good flashlight, the first product that comes to my mind is the Streamlight ProTac Weapon Light. I just can't help it. The blinding 1000 lumens LED flashlight is something I would always want to carry around with me.
The flashlight actually has a peak beam of 27,100 candelas which can reach up to 360 yards. Even after this performance the light still manages to keep the battery drainage at the lowest side so that you can use it for the longest time.
This dual fuel flashlight actually has two modes- one with a steady-on light and another one with a strobe feature. I think this is one of the most-wanted products you want to keep with your gun, especially for home defense.
7. Springfield Saint Victor Bipod
In case you are looking for something to stand your pistol carbine on the ground for stability I would suggest a good quality bipod.
Now this kind of accessory can change your whole shooting game without being obvious. Which is why most of the time we forget about them.
But a good alternative to a bench rest for your gun is a bipod as you can get the same result. Plus, it's foldable and so you can carry it with your gun anywhere.
i) Magpul 933 Bipod with 1913 Picatinny Rail Mount
I wanted to suggest you a "not-so-popular-but-comes-handy-when-needed" for your Springfield Saint gun. And a bipod is that product. Trust me you will want one after you actually know it can do to your shooting quality.
For a good quality bipod, I like the Magpul one over other brands. This one has a low profile design with spring-tensioned legs. You can easily stow them forward and snap them down to lock them into place with just one hand.
All the leg extensions have seven half-inch spaced locking detents to keep them tight in place. You can extend them 4 inches taking them from 6.3" to 10.3". To think you can get all these and carry it around by folding it just makes the product perfect for your PCC.
8. Springfield Saint Victor Magazine
Last but not least, I recommend keeping some additional ammo in hand and for that, you will need an extended magazine. You can either use the aftermarket magazine on its own or you can use it side by side with the existing factory magazine. This will allow you to have more follow-up shots and will also cover you during critical times.
i) Magpul – Ar-15 30rd Pmag Gen M2 Moe Magazine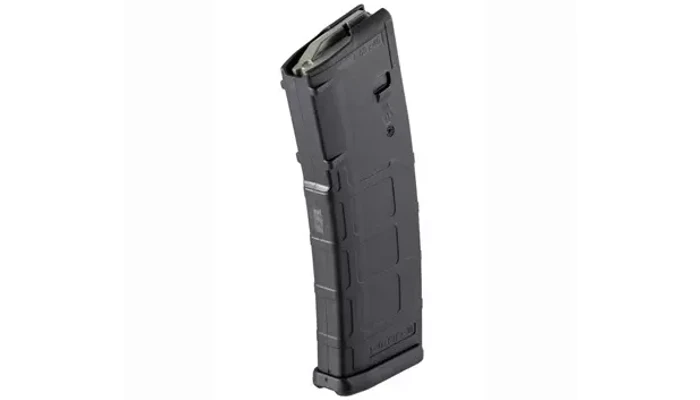 Since we are using a strong AR-15 style Pistol Caliber Carbine, I think it is necessary to carry around extra magazines for future coverage. And that's why I would recommend purchasing a 30-round magazine from Magpul.
This PMAG magazine comes in 223 Remington or 5.56 NATO caliber and also for the 300 AA Blackout cartridge. Having it as a replacement or using it side-by-side with your existing factory magazine will give you the freedom to chase after the target for a longer period of time.
This kind of magazine works best in a critical situation where every second is important and having an extra magazine will save you from wasting these precious moments.
Conclusion
To sum it up, the Springfield Armory Saint Pistol Caliber Carbine is an exceptional firearm to have in any shooter's collection. But it does not matter how good the weapon is, because there is always something you will need to modify.
The same case is with this Saint Victor PCC. If you are someone who is happy with the factory product then you got yourself a good deal by buying this firearm. But if you are like me and want to explore what changes you can make to turn this PCC into something better then you are at the right place.
Just follow my recommended product list and you will be able to turn your Springfield Armory "Saint" gun into the real "Devil" it was born to become.