While upgrading your Tippmann A5 won't make it taste like Wagyu beef, at least you can make it look appealing like Wagyu A5. Jokes aside, Tippmann A5 is everyone's go-to recommendation when it comes to paintball markers.
Just like a regular rifle, you can take this adorable marker apart and upgrade it to the brim. As this is one of the best scenario markers right now, you have more reasons to upgrade this.
Chances are your opponent team is also using the same marker. To get an edge over them and make the gun feel more up to your alley, you should change some Tippmann A5 accessories.
But finding out the best Tippmann A5 upgrades isn't as easy as it sounds on paper. That's where I come in. Without further ado, let's start.
1. Tippmann A5 stock Upgrades
While you could go ahead and purchase a Tippmann A5 sniper upgrade kit quite easily, that doesn't mean you cannot change or upgrade your A5's stock. Stock choices are mostly preference.
i) Rap4 Tippmann A5 Car Stock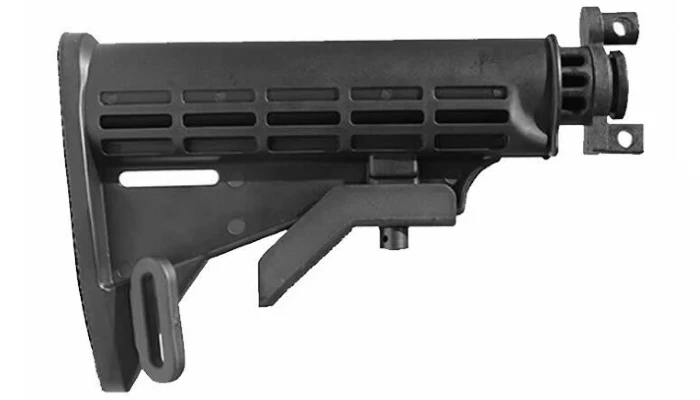 This Car Stock for your Tippmann is created by Rap4. Yes, the same Rap4 that has been selling us countless paintball accessories for 2 decades now. This stock here is quite lightweight and affordable.
As Tippmann doesn't have interchangeable stocks, it's hard to find specific models stock in the market all the time. This one here is made for A5 specifically. It is made out of highly-durable polymer. It's not as durable as aluminum, but it's quite durable and can easily last you a long time.
The Rap4 stock is adjustable. You will find 6 different adjustment levels with this stock. Depending on your height and how you hold the marker, you have a very wide variety of positions available for you. It also comes with a tab to allow you to install a sling if you want to.
2. Tippmann A5 Foregrip Upgrades
If the stock foregrip isn't doing anything for you, then you need to buy a new one to change it. Foregrip plays a big role in CQB and tapping from long-range. Without a proper foregrip, it's not possible to maintain good recoil.
i) Tippmann A5 MPSD Short Foregrip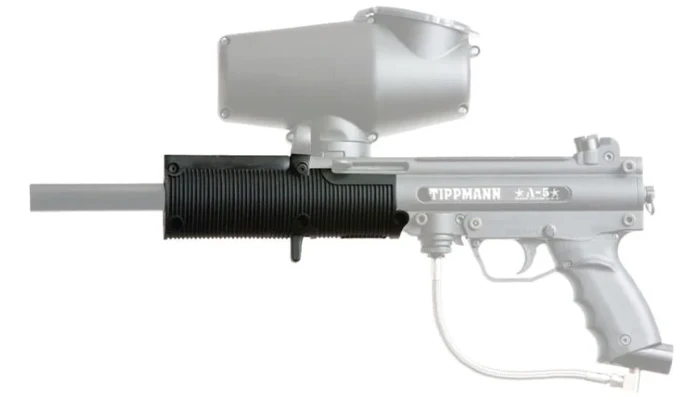 This foregrip for A5 was made by Kore Outdoors. Another famous manufacturer that has been working with the paintball industry for a while now. The MPSD was designed to be short and not scratch the barrel of your marker.
The overall length of this foregrip is 14 inches. It adds up to about 10 inches in your gun. The barrel protecting system on this foregrip is quite nice. The foregrip isn't made out of hardened steel. It won't last you as long as one either.
But the material used here isn't bad either. With proper treatment, Kore Outdoors made a good product for the A5.
3. Tippmann A5 Scope Upgrades
As you may know, A5 doesn't come with a standard scope mounting system. It doesn't come with any kind of scope either. But you can easily purchase a mounting system and then attach a scope to improve the CQB and long-range marking as well.
i) AIM Sports Inc 1-4x24G Tri-Illuminated FFP Rifle Scope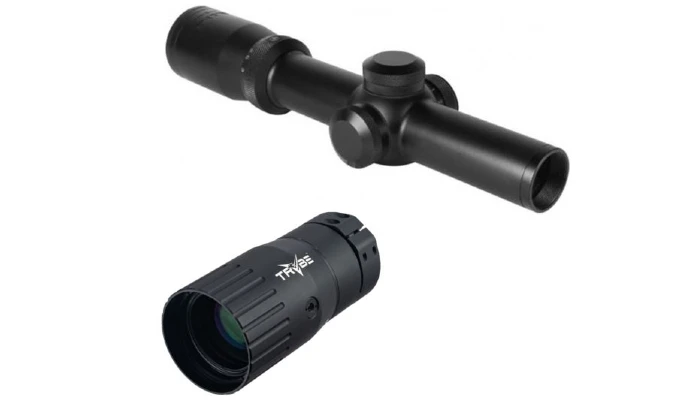 The first scope is from AIM Sports Inc. They are known for making quality scopes for airsoft guns and paintball markers. Their optics are often marketed towards newbies. As they are quite easy to use and easy to install.
The 1-4x24G is a medium-range riflescope with Tri-Illuminated reticle. The reticle looks awesome, to say the least. On top of that, it comes with a pair of weaver/picatinny mounting rings.
If you want to use this scope on your A5, you will need to install Tacamo weaver rail for A5. With that, you can add any weaver mounting rail accessories on your A5. This is something all A5 owners should purchase.
ii) M1surPlus Dovetail Mount Adapter + Reflex Sight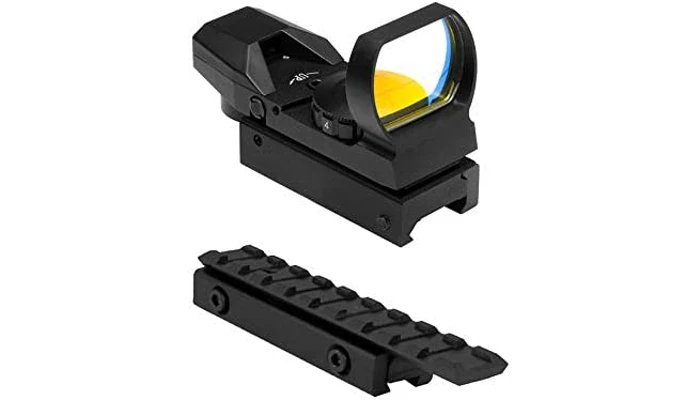 Don't want to use a riflescope? Rather want to improve your close quarter combat potential? Then you should go for a red dot optic. What's better than a reflex sight that comes with a mounting rail.
This combo is made by M1SURPLUS. It's a mouthful name for sure. But their products speak volumes of their capability. This rail here is a dovetail. That means you cannot use weaver accessories here sadly.
The optic and rail both are made out of aluminum. They are durable and lightweight. Together, they won't increase the weight of your gun. The performance of the reflex sight is quite good as well. A very good combination for CQB.
4. Tippmann A5 Barrel Upgrades
The next upgrade in your list should be the barrel. If you want to improve the long-range performance of your A5, a change in the barrel department is a thing you absolutely need to do.
i) J&J Paintball 14″ Ceramic Barrel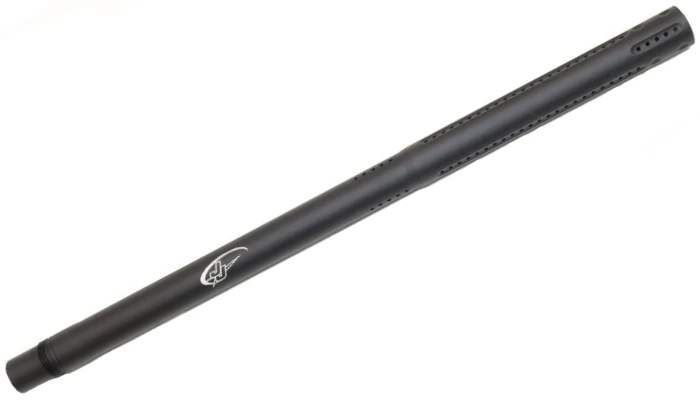 While J&J calls their 14" barrel "ceramic barrel", it's not actually made out of ceramic. Rather it's made out of 6061 T6 aluminum. An industry standard material that you will find in most high-end products.
But the barrel does feature ceramic coating and Teflon impregnation. Give it a smooth getaway for your paintballs to make it out of the gun. Basically, it won't wear down like a typical barrel and slow down your shooting speed or the bullet travel speed.
Despite being 14" long, the barrel is not that heavy at all. It's something J&J knows how they made it. Yes, the thickness is not 3 or 4". But it's still quite thick and durable. Definitely will survive a drop or two.
ii) Deadly Wind Paintball Fibur-X Main Barrel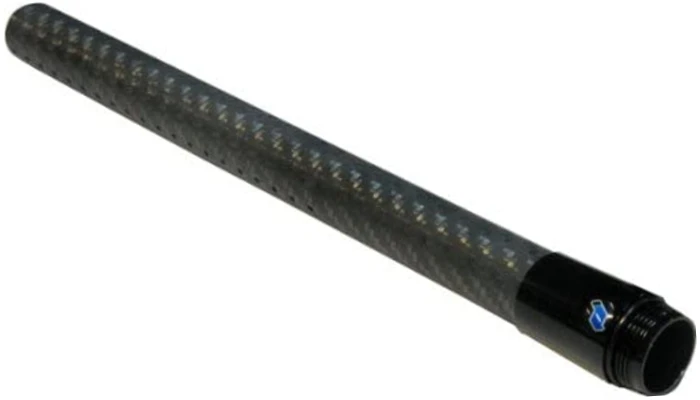 The Fibur-X from Deadlywind is a 14" Tippmann barrel converter. It supports A5, X7, Phenom, Crossover, and BT4. Unlike the previous ceramic coated barrel which was made out of 6061 T6 aluminum, this one here is made out of carbon fiber.
That's right, the same carbon fiber that makes the cost of every product go upwards. Carbon fiber is considered to be one of the most durable materials out there. Mostly being used in tools and vehicles, carbon fiber has made its way into gun making as well.
Carbon fiber in general is a very slippery material. That's why Deadlywind didn't bother to reinforce it with ceramic coating from the inside. The barrel is 14" but it's lighter than a 14" steel/aluminum barrel. If light is what you are looking for, then don't look elsewhere and get this.
5. Tippmann A5 HPA Upgrade
There is an ongoing debate in the community about CO2 and HPA. But the answer is quite simple. HPA hands down is the real winner. It will shoot better and more consistently than CO2. As CO2 pressure isn't as linear as HPA, it will create an uneven shooting pattern.
That's why, most will prefer the A5 with HPA and you should too. Instead of bothering to get a CO2 kit, get this kit. And use the above mentioned upgrades with the kit to make the ultimate A5 that you have been dreaming of.
How to Upgrade The Tippmann A5?
Unlike a traditional rifle, paintball markers aren't the easiest thing to upgrade in the world. Their tanks, incompatibility with most scope, and lack of good stocks, and triggers makes it nearly impossible to make it "perfect". But we can reach close to it nonetheless.
The A5 needs a stock to work properly. Starting from the stock, you should walk your way toward scopes and foregrips. They are both very necessary for a fun paintball experience.
But if you are just starting out, then get the HPA Kit, or the Sniper kit. And work your upgrade route from there.
Conclusion
Just because it's a paintball marker, doesn't mean you shouldn't spend some time and effort to make it better. Just like the Custom 98 and X7, the A5 deserves some major upgrades and changes overall to make it better.
That's the beauty of guns, isn't it? You are allowed to make modifications. You can modify it to make your own. To make you feel like the gun belongs to you. That sense of justification is enough to call for upgrades or changes.
I might have not been able to make it taste like Wagyu A5, but I certainly put up the value of it on that level. That's all for now, I will see you guys later.