Taurus is a brand that became popular for their handguns. The G2C was a fan-favorite due to how much you could upgrade it. You will even find guides that claim they did G2C upgrades and made it perform like G3C. That statement isn't entirely false. But that does add up to the cost of the G2C.
Now that you have the G3C, how about you take it to the next level? If you ask just like the G2C, it could use some upgrades too, right? You will be absolutely correct. The list of G3C upgrades isn't a small one. That's why it's my duty to help you find the best G3C upgrades.
Fair warning, it will take some time to digest the entire thing. So, sit around sip on a mug of coffee and enjoy the reading. Without further ado, let's start.
1. Taurus G3C Sight Upgrades
The first thing you will do to the gun is to add a sight. A night sight or a red dot to be specific. While the ironsight is working and doable at short range, it's not nearly enough for night-time shooting let alone accurately range-practicing. You really need to find the best sights for Taurus G3C to take your shooting to the next level. Here, they are.
i) TRUGLO Tritium Pro Handgun Night Sight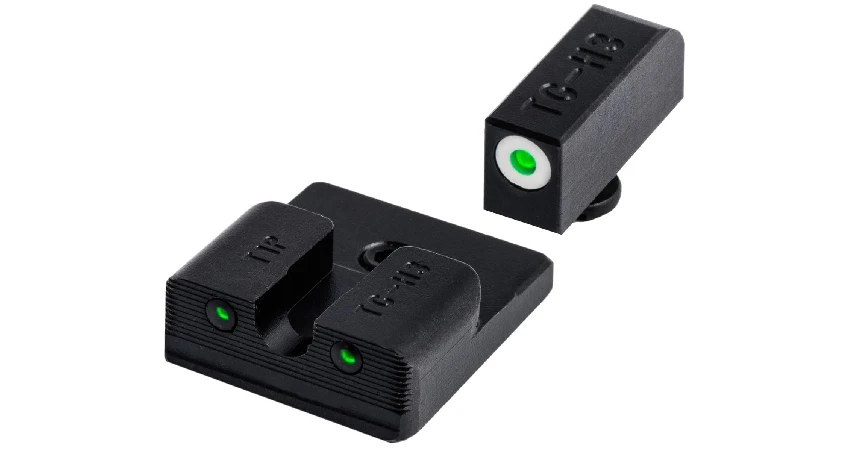 TruGlo is one of the biggest pistol night sight makers in the market. All over the world, you will find someone using their product in their lovely handgun. As all pistol rails aren't the same and they don't have a similar pattern to install a night sight, TruGlo makes sights for specific models.
This one here is made for Taurus handguns. That includes Slim/MIL pistols. The front sight of the kit comes with a green tritium fiber with a white outline around it. The rear sight has no outline but both of them are green as well. The tritium fibers are protected by a steel frame.
It's extremely durable and will last drops countless times. As these sights don't require any battery at all, you don't need to worry about recharging them or anything. The glow of tritium can get low over time. But that's not happening to you anytime soon. Need years for that to happen.
ii) Viridian E-Series Green Laser Sight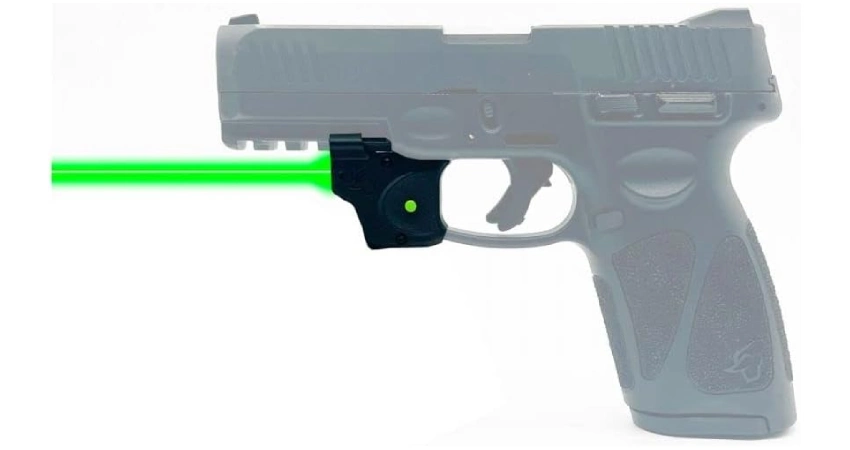 It wasn't long ago when Viridian said that they were releasing a new laser sight for G3C. It's a part of their home defense lineup. Viridian made two different sights for the G3C.
One with a green laser and the other with a red laser. The red laser has a downside of lower range covering in daylight. But the red laser excels with 6 hours of battery backup.
Compared to that, the Green version only offers 60 minutes of continuous use. The green laser is more power consuming. The same goes for any optics with a green reticle. The E-Series Green laser sight is capable of reaching up to 100 yards during the day and 2 miles at night.
The lower battery life is somewhat concerning. But the range and smaller build can benefit hunters a lot. 2 miles is no joke when it comes to hunting during the night. That's why, I think it's a worthy sacrifice.
2. Taurus G3C Holster Upgrades
The holster is an important part of a pistol. Most handguns won't come with any holsters. The problem with holsters is, they are not universal. You will need to find the specific model for a specific gun. Which makes it a bit hard to find the best among them. Here are some necessary holsters for your G3C.
i) UM Tactical Taurus G3 Iwb Holster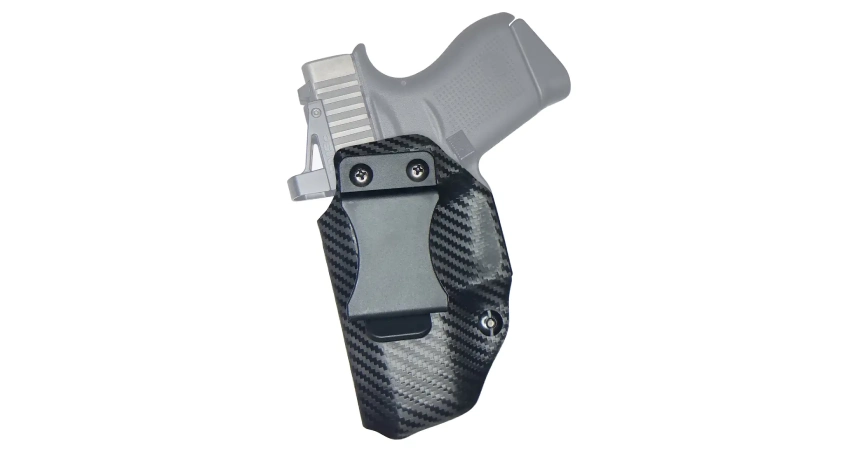 UM Tactical is a well-known brand in the accessories line. They made G3C accessories in the past and they are making them now as well. The IWB holster from UM is constructed from 4332 Boltaron.
A type of polymer that is known to be extremely durable. Even under the heating sun, the holster won't faze for a single second. The retention on this holster is adjustable. Adjusting it is simple.
It has two attachment screws that are hard to lose. The screws and overall the holster itself is really well-built. The same holster made with something like carbon fiber would have cost 3x of what it costs.
ii) Pole Craft Iwb Taurus G3C Holster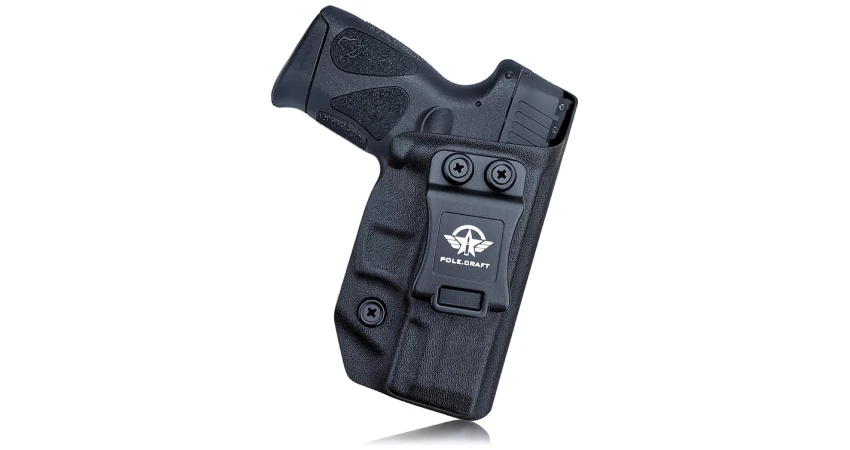 It was quite obvious that someone like Pole Craft would also make a holster for the G3C. Their holsters were quite popular among G2C owners. As the G2C and G3C are quite similar appearance wise, the G2C holsters fit the G3C as well.
This holster is made with a similar material as the UM Tactical one. While Pole Craft didn't specify it in their description, but from the pattern weaving, it looks nearly identical to the UM Tactical.
While concealing most of the gun inside the waistband, the Pole Craft IWB holster also offers you a fast and consistent drawstroke. You will get used to the stroke in no time. Overall, it's a great holster for the price.
3. Taurus G3C Magazine Upgrades
While a magazine upgrade isn't mandatory, it's something that you should consider doing. Extended magazines or magazines with extensions will play a vital role in your shooting performance.
i) Taurus G3C 9mm 12 Round Magazine w/Grip Extension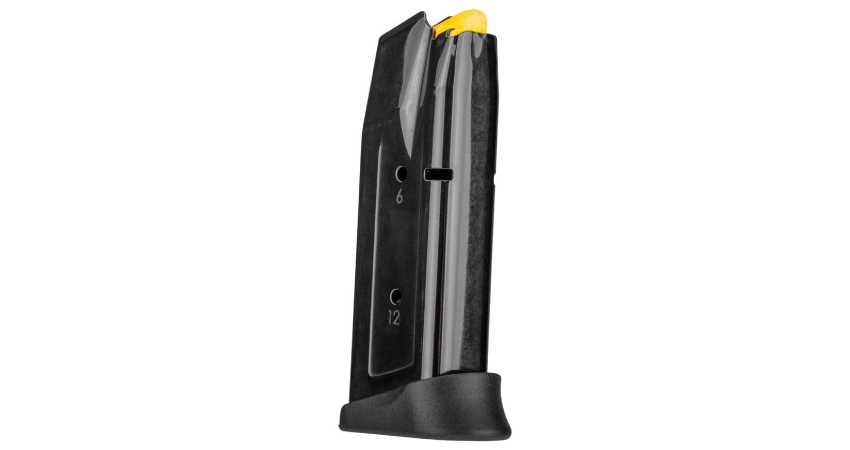 Just as I mentioned above, this is not a magazine extender. You won't get to fire 15 bullets instead of 12. It holds the same amount as your stock magazine. But it comes with a grip extension that a lot of people love.
There are good reasons for loving that though! It's arguably safer and more comfortable to use in the long run. It offers a bit more grip while unloading it from the gun and then safely keeping it tucked away.
The magazine is created from hardened steel. It's durable, lightweight, and corrosion proof. It will last you as long as the stock one if not longer. The extension isn't made out of steel, but rather polymer. It's soft and grippy. Fun texture to hold on to.
ii) Taurus G3C 9mm 15-Round Magazine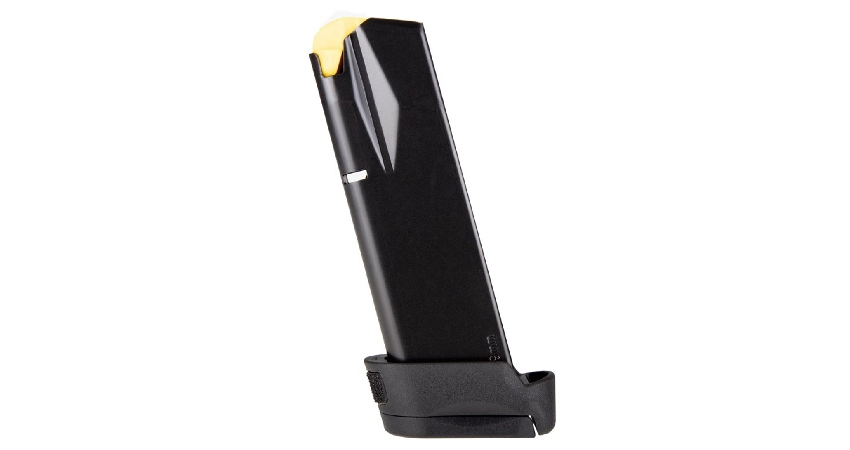 If you were looking for an extended G3C magazine, you have found it. This magazine can hold up to 15 9mm shots. Using this, you can fire in most states without breaking any kind of law.
The magazine is made out of steel and it features an extension grip as well. The magazine is quite lightweight considering how long it is. Heat treated steel is quite light and it's extremely durable. Something a hunter needs dearly.
The grip spacer/extension is made out of polymer. It's not as soft as a rubber extension, but it's almost there. I'm the type of person who likes polymer patterns over rubber. Even though rubber is more comfortable to hold onto.
If 15 isn't enough for you, then you should consider the Mec-Gar 9mm 18-round Magazine. While it's not specifically made for the G2C/G3C, it fits both. Or get the 17-round Taurus mag that was specifically made for the G3C.
4. Taurus G3C Grip Upgrades
The next thing you should consider is adding an optional grip to the gun. While changing the grip isn't possible, you still can enhance the grip by adding optional accessories. For example,
i) Hogue HandAll Beavertail Grip Sleeve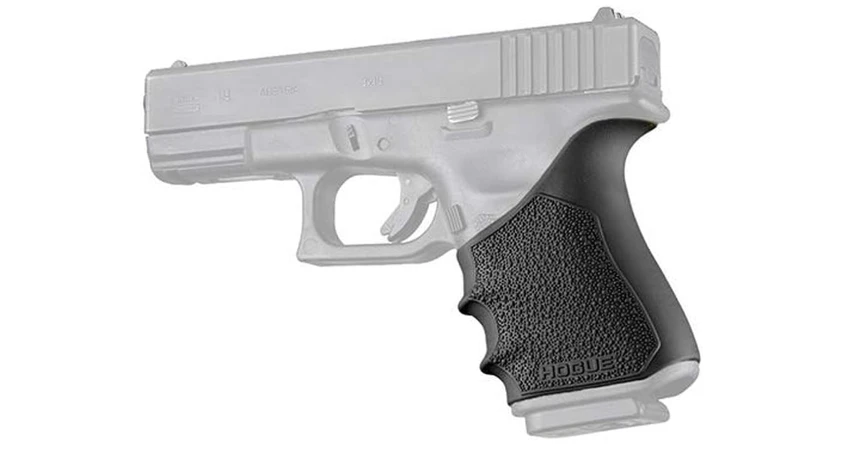 Hogue Beavertail is probably the most popular grips ever made. Whenever you search for a gun grip, you will find Hogue with Beavertail waiting for you. This is a slip-on grip from Hogue that fits the G3C and G2C.
Why slip on? Because you can't change the grips of G3C. Rather, you will need to become creative like this and use something else to make the grips more comfortable. Sounds like a hassle, but it's much easier than you can imagine.
This lightweight polymer grip sleeve is quite comfortable to grip. While it does increase the grip width by a little bit, it also increases the girth of the pistol. Making it easier to grab with both hands with or without gloves.
ii) Taurus G3C Gun Grip Enhancement Gun Parts Kit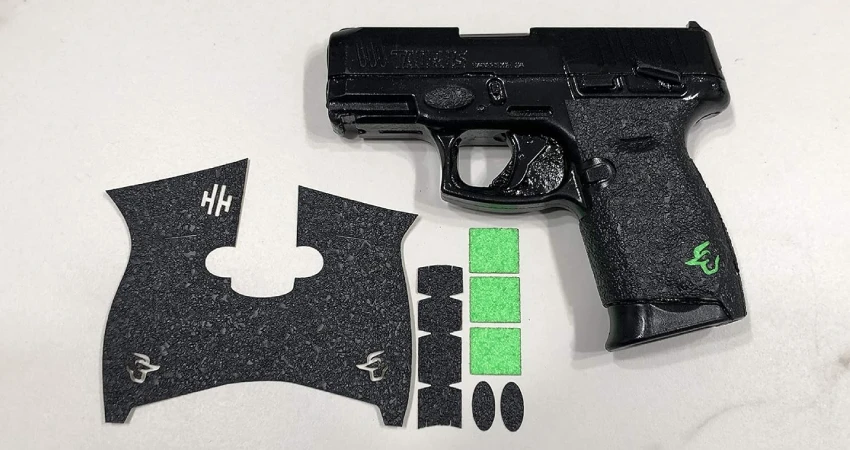 The next best thing to a sleeve is grip tapes. I'm sure you have heard of grip tapes before. They are used in baseball bats, tennis bats, and computer peripherals even. Their job is to make it easier for you to grip something and give texture to a relatively flat surface.
This grip kit comes with a tape that wraps around the handle. It covers both the sides and the back of the handle as well. As it misses out the front, you find some small grips that attach to the front of the handle.
After installing this grip on your G3C, the comfort will go from 0 to 100 real quick. Grips are something that has become essential to pistol owners. The flat grip with minor texture just doesn't cut it out anymore. For those, this kit is a blessing.
How To Upgrade The Taurus G3C?
While seeing all these fancy upgrades for your gun makes you excited, it also confuses you a lot. I can understand that. In my opinion, here is how you should handle the upgrade order.
Competition
Do you care about competition? A lot of competition utilizes pistol shooting as well. If the answer is yes, then you will benefit from a sight upgrade for the gun. I have included both laser and night sight for your help.
Are you a hunter?
If the answer is yes, then you will definitely want to upgrade to a sight that is capable of providing you vision during the night. On top of that, you would also want to buy an extended magazine for the gun. So, the prey doesn't run away if you miss a couple of shots.
Is the gun comfortable?
Are you finding the gun uncomfortable to grip for a long time? Is it a bit irritating and sometimes painful? Then you definitely need to upgrade the grips first thing.
Conclusion
Doesn't matter what order you use to upgrade this beautiful gun. As long as you decide to upgrade the G3C, you will be a happy bunny. Yes, there are quite a few upgrade paths and lots of options on those paths as well, that's why I gathered the best Taurus G3C upgrades for you.
As long as your pocket allows you and you are willing to spend on a gun that you love, I'm sure you will love every single bit of it.
And that's about it. That's all for today. Don't worry, I will be back with more upgrade guides for different guns soon. Stick around and find out. You might just find the next gun you want to upgrade to.