Changing the stock trigger for something better has always been a top priority for shooters. Even if the stock trigger is good, you might find an aftermarket trigger better due to the customizability and trigger pull.
CZ Scorpion Evo upgrades have always been the talk of the community. You will find people who enjoy the stock trigger of the Evo, but you will find more people who don't enjoy it. If you are on that boat and want to find the best CZ Scorpion Evo Trigger, you have stumbled into the right place!
I will try my best to hook you up with a trigger that won't jam and will serve you for a long time to come! Without further ado, let's jump right into it.
How To Choose The Best Trigger For CZ Scorpion Evo?
Now that you are aware of some of the best triggers for Scorpion, how do you find out which one is the best for you? After all, what works for others won't necessarily work for you.
Allow me to help you find one that will fit your needs and help you achieve your shooting goals.
Installation
If you don't have access to a gunsmithing shop in your area, then you might want to pick up a trigger that is easy to dismantle and reassemble. If you have no previous experience of handling a trigger, I still urge you to drive to the nearest gunsmith you could find.
But if you are in a pinch, then an easy-to-install trigger will help you more.
Trigger Pull Weight
One of the main reasons why people change the stock trigger is due to the creep weight. If you have a desired trigger pull weight in your mind, you definitely should go for that. For example, the stock trigger weight is extremely high if you want to fast-tap your weapon. But if you use something like the Timney, you can lower that down to 3 lbs! That's amazing!
Build Quality
While triggers can very well be molded from plastic, it's not a bad idea to invest in one that can last you a while. Depending on the material, it can catch rust. Your trigger will always be exposed to the outer world. While the mechanism is safe inside, the trigger is not tucked in anywhere.
So, make sure to take a trigger made out of durable material. We don't want humidity to affect the performance.
Type Of Trigger
If you read the entire thing, you know there are two types of triggers available for CZ Scorpion Evo. Binary and a regular trigger. Binary trigger will have 3 firing modes. Safe mode where the weapon is locked from firing. One shot mode, in this mode the gun will fire only when you pull the trigger.
Two-shot mode, in this mode, the gun will fire when you pull the trigger and it will fire again when you release the trigger. Many competitors find binary triggers to be more effective and controllable. If you want a binary trigger, then your options are limited. But if you want a standard trigger, then you can go for a lot of other options.
Budget
Last but not least, is the budget. If you don't want to spend a lot of money on changing the trigger system, you don't have to. You can very well use an affordable trigger and still reduce the pull weight by a lot.
But if your budget allows you to go all out and you want a binary system, then you should definitely consider them.
1. Franklin Armory BFSIII CZ-C1 Trigger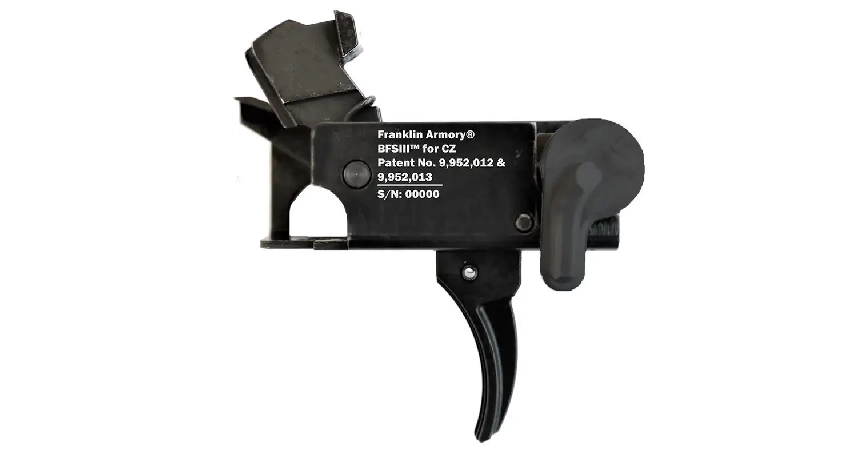 Are you looking for the best CZ Scorpion binary trigger? Franklin Armory got the right thing for you! This curved trigger from FA has a 3-position safety to ensure the best shooting experience. The benefit of a binary trigger over a traditional one is the firing mode.
When you pull a traditional trigger, it shoots once and is done. But with binary mode, the gun will fire another round when you release the trigger. So, two shots with one action. That's why, it's not legal in a lot of states. But if your state allows the use of binary trigger and you own a CZ Scorpion Evo, this trigger makes the most sense for you.
The pull weight of this trigger is around 4.5 lbs. That's a standard trigger creep and you will get used to it faster than you think. If you don't want to fire this trigger in binary mode, you can change it to position to fire only 1 shot at a time! If you are used to firing straight triggers, Franklin has a straight version of this called CZ-S1.
Pros
Binary trigger.
Extremely well made.
Curved trigger to help you pull better.
Works with gloves.
3 positions.
Safe to fire.
Cons
Quite expensive.
Not viable in every state.
2. Timney Triggers CZ Scorpion Drop-In Trigger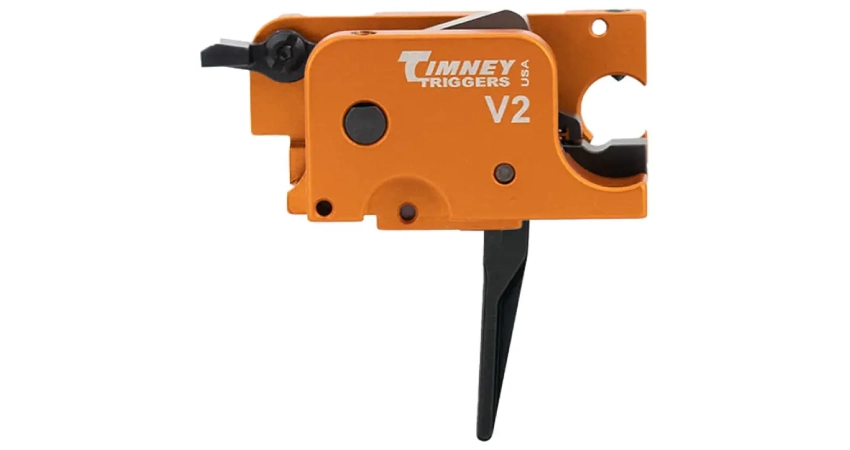 If you are looking for the easiest solution to the trigger upgrade, Timney is probably your first choice. Their triggers are incredibly well-made and they perform equally well. It doesn't matter whether you are a competitive shooter or just use the Evo for self-defense purposes, this trigger will benefit any type of shooter.
Unlike the binary trigger above, this one doesn't have 3 firing modes. You will only find safety and the regular shooting trigger. The pull weight of this is around 3-3.5 lbs and you can increase it to 5-5.5 lbs.
Thanks to this, you can either practice with a lighter pull or a heavier/standard pull. The lower configuration might take some time to get used to. But I can see why people enjoy that for rapid fire. Overall, an excellent choice for anyone looking to upgrade their CZ Scorpion Evo.
Pros
Easy to install.
Adjustable trigger pull weight.
Light and won't make your gun feel heavier.
Good after-sales service from Timney Triggers.
Available in curved or straight shape.
3. CZ Scorpion EVO3 THETA FORWARD Trigger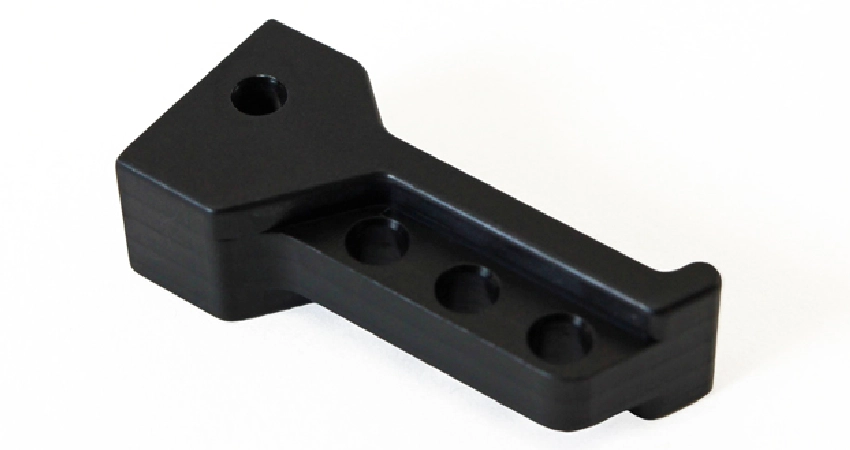 Want to reduce the trigger pull of your Scorpion and look cool while doing it? HBI's red color trigger is the perfect element for that! This trigger is capable of reducing your stock trigger weight by 12%!
The trigger is made out of 6000 series aluminum and it's compliant with 922R. You will not get into any legal debates while installing this trigger on your Scorpion Evo. The installation process is quite straightforward.
Thanks to the incredible durability of this trigger, it may well outlast the trigger system itself! Due to the anodized coating, it will not wear out or show any signs of stress in the color. HBI made sure to include a roll pin, you can just drop it in!
Pros
Easy installation.
Extremely affordable.
Incredible build quality.
Available in multiple colors.
922R Compliant.
Made in America.
Cons
Trigger pull is not adjustable.
Frequently Asked Questions
Is Upgrading The Trigger Of CZ Scorpion Necessary?
In my opinion, absolutely. The stock pull weight is too heavy even for an adult shooter. You can always say things like "Just man up", but 10 lbs of creep on a weapon like the Evo is not acceptable to many. That's why you will find people upgrading the trigger before they change anything else on the gun.
Which Is The Best Trigger For CZ Scorpion?
I have mentioned the ones that are good and I think are worth your money. If you want a Binary Trigger, then you need to go for the Franklin Armory trigger. But if you want a traditional, you can go for Timney, HBI, or Shooters Element.
Is Binary Trigger Better?
You will need to define "better". After all, a binary trigger is a lot more subjective than it is objective. Do you need that extra shot? Or you are perfectly fine with a single shot per tap? Depending on the answer, a binary trigger will be, or won't be, better.
Conclusion
I can understand why you might be conflicted about changing the trigger of your weapon. After all, it's not a small step. It will change your shooting experience forever. Either for the good or maybe bad, depending on how much you enjoyed or disliked the stock trigger.
Still, it's worth trying out new things. That's why, I hope you found the best CZ Scorpion Evo trigger in this guide. That's all for now. Hope to see you on the next one. Take care and have fun.