The Remington 700 is one of the most popular series of bolt-action rifles on the planet. First released in 1962, the rifle is still in service. As time went by, the gun had many upgrades and changes done to it.
Yet, you will see the modding community is not quite satisfied with the stock product. I can understand their point of view. If you can improve the performance of something, why shouldn't you?
That's the idea behind changing the chassis of your Remington 700. But the question remains, how do you find the best Remington 700 Chassis? Surely, it's not as simple as picking the prime cut of beef? Well, that's why you are here, aren't you? Let me help you figure out the best upgrade for your Remington 700. Let's start.
Why Do I Need To Upgrade The Chassis?
There can be several reasons behind your decision to upgrade the chassis. For some, it's competitive. For others, it may be for hunting. Depending on what you want to do with the 700 and what you are already doing, a chassis upgrade may improve your performance drastically.
Another reason is, that not a lot of people like the stock chassis of the Remington 700 due to it's harsh nature and not enough kickback support. But that's entirely subjective. While there are still some objective reasons behind the decision, mostly it will be subjective for a lot of shooters.
How To Choose The Best Chassis For Remington 700?
Now that you know what are some of the best stocks and chassis for the Remington 700 series, how do you choose one that is suitable for you? There are a couple of ways that you can follow to conclude, here are some of them.
Durability
If you plan to use the Remington 700 for a long time, you will need to consider how well-built the new chassis is. If the chassis is not well-built and isn't durable enough to handle the recoil of Remington 700, then it will not last you a long time.
Make sure to take a chassis that is made out of durable material and is known for lasting a long time as well.
Weight
If you are in the market to buy a new chassis, the weight is a very important part. If you are used to the weight of the stock chassis, you will find it hard to get used to the new weight of the chassis. That's why, it's often a good idea to go for a lightweight chassis. While the weight of the new ones won't be the same as your old ones, they will feel close.
Accessories
If you are into the M-Lok ecosystem and already own multiple accessories, then it's a good idea to go for a chassis that supports the M-Lok system. It is also a good idea to get housing that can host a lot of accessories. Especially the accessories that you want to use on your weapon.
Range
You already know this, Remington 700 is viable for long-range. However, the stock housing of the weapon prevents it from firing extremely long-range with accuracy. As you have seen above, the long-range chassis does cost a hefty amount of money.
If you know what kind of range you are shooting mostly or what range you plan to shoot at, then you can easily make your decision based on that.
Budget
Last but not least, is the budget. In my opinion, budget is one of the most important factors you need to consider. If you know how much you are willing to spend on the new housing, then you can easily make your decision. For your wallet's sake, make up a budget. Your life will be much easier!
1. Kinetic Research Group – Whiskey 3 Remington 700 Chassis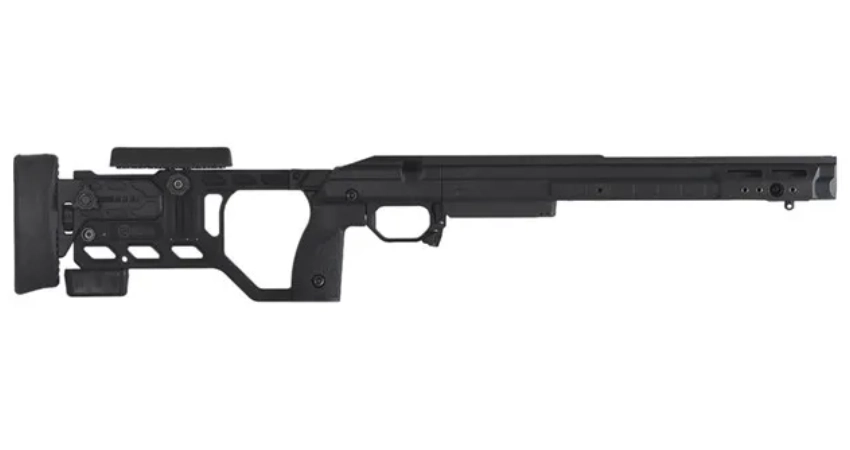 If you want a modern-looking chassis with tons of features for your Remington 700, this chassis from Kinetic Research Group can be the "modern masterpiece" for you. The chassis is made out of precise aluminum bedding and features tool-less adjustments.
The ergonomics of this chassis and the support of AICS Styles magazine are extremely appealing as well. Do keep in mind that you will not find any magazine included in the kit. Another great point of this kit is the modular grip panels. It allows you, the shooter, to tailor the fit of the stock to your hand.
Yes, it does mean you can use the same stock as a left-hand user if you wish to do so. Thanks to this, the chassis has gained a huge number of followers quite fast! The only thing that I can see some users not liking about this chassis is the tacky and modern look. If you are not into that, then it might not fit your classic collection.
Pros
Extremely Durable.
Comes in several colors.
You can buy in folding or fixed stock models.
Can tailor the fit according to the user's dominating hand.
Ergonomic and comfortable to use.
The locking mechanism is upgraded.
Tool-less adjustments.
Modular grip panel.
Cons
Quite heavy for some users.
The price is also quite high.
2. Magpul Hunter 700 Remington 700 Short Action Stock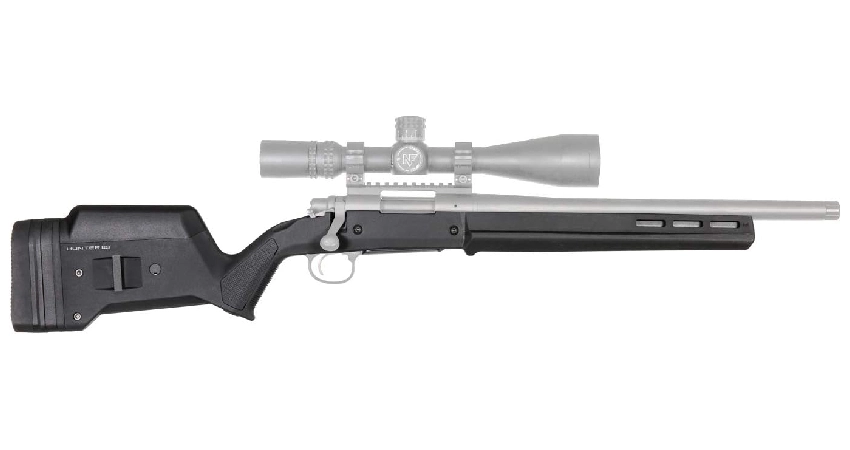 When it comes to affordable polymer-made stocks, not a lot of brands come close to Magpul. Their name in the accessory world is quite well-renowned as well. This stock from Magpul is suited for folks who want an upgraded synthetic stock with the ability to add M-Lok accessories.
Just like all the M-Lok accessories, this one is made out of synthetic polymer as well. This chassis is designed to fit Remington 700 Short actions. Whenever you search for the best upgrades for the Remington 700, this chassis will always be on top of that list. Yes, it's that good!
Mainly because it's one of the cheapest chassis you can buy for the gun. Cheapest doesn't mean it's the worst. Its durability and build quality can give a lot of other expensive chassis a run for their money. The Hunter 700 comes with an SGA stock grip. It's a hybrid of a traditional pistol grip.
Thanks to this, it's more ergonomic and comfortable to use as well. If you want to increase the range, you can use the spacers on the recoil pad. You can increase it from 13 to 15 inches. The cheek riser is also adjustable up to 3-quarter inches.
Pros
Affordable.
Durable and lightweight.
Supports Magpul's designed magazines.
Adjustable and ergonomic.
Will last you a long time.
M-Lok compatible.
Adjustable cheek pad.
Aluminum bed block.
3. Magpul Industries Pro 700 Rifle Chassis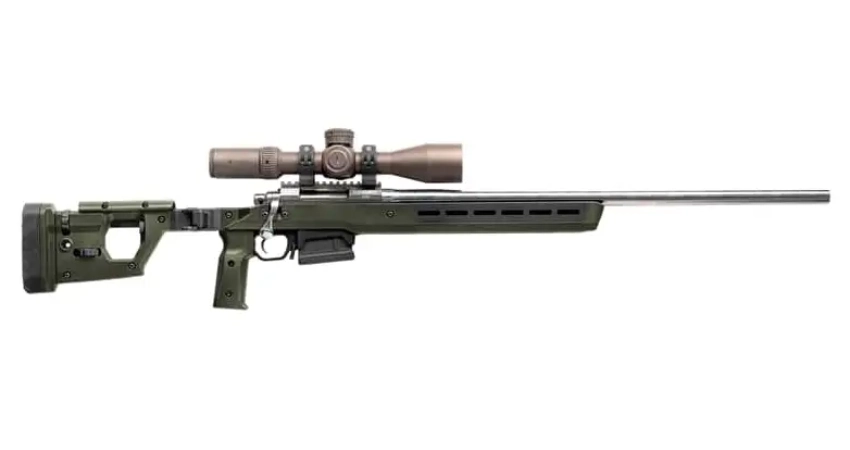 Let's say you don't want the Hunter 700. Magpul has another product for all tactical enthusiasts. The Remington Pro 700 SA Chassis from Magpul is a tactical chassis made for competition shooters.
Just like the Hunter 700, this one is made for Remington 700 rifles. While this is not as light as the Hunter, this one packs some features that the Hunter could only dream of. Instead of featuring a traditional bolt-action trigger cage and traditional grip pattern, the Magpul Remington Pro features a pistol grip.
The Pistol Grip helps you to grab the gun better and have a more stable shooting posture. In long-range shooting, this is essential. You will also see that the back of the chassis is foldable. If you want to store it in a small area, you can easily do that. It also supports magazines made by Magpul without any added accessories.
Thanks to the modular nature of this chassis, almost every part is removable. That also means it's quite adjustable. You can add a bit of height or remove it from the cheek pad area of this chassis. You can also adjust the depth of the recoil pad of the rifle.
Pros
Extremely durable.
Supports M-Lok accessories.
Suitable for tactile shooting.
Foldable stock.
Pistol grip.
Ergonomic.
Adjustable.
Cons
Quite expensive.
Not suitable for ambidextrous shooting.
4. Hogue Remington 700 BDL Overmolded Stock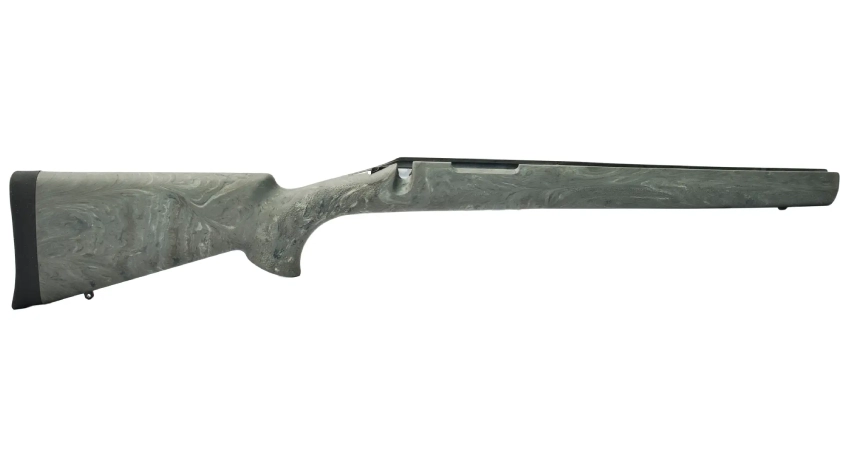 This Overmolded stock from Remington is one of the best Remington 700 stocks on the market! The entire chassis is made through Hogue's over-molded process. The skeleton of this chassis is made out of fiberglass.
The fiberglass is then over-molded with a rubber-like material. This adds more comfort and grip to the body. It also increases the weight of the stock but not by much. The skeleton provides excellent support to your rifle while the rubber makes you feel at ease.
The anti-slip feature is also a bonus for hunters who are always on the move. The only thing you will need to keep in mind is, it's a fixed stock. All the adjustments you saw above, none of them is happening here. This stock is made for folks who are not satisfied with the wooden stock of the gun or want something softer than synthetic stocks.
Pros
Affordable.
Extremely comfortable.
Lightweight and ergonomic.
Durable and will last you a long time.
Available for many different Remington 700 models.
5. Ridgeback Remington 700 Short Action Stock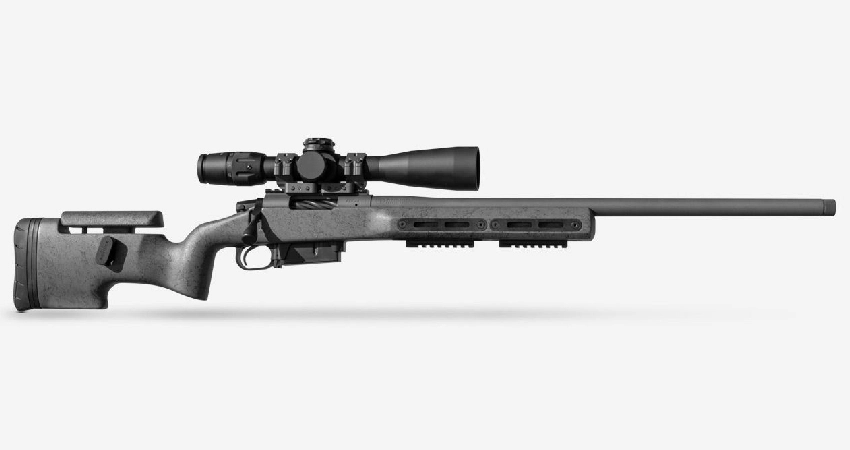 Want the most advanced chassis for your Remington 700 with multiple accessories support? Well, Grayboe has a couple of words of wisdom for you! The Ridgeback SA Stock from Grayboe is made to clench your tactical thirst!
The stock is made out of composite material. While it's not as advanced as those tacky-looking skeleton-style chassis you might have seen in some clickbait videos and articles, it's still quite advanced-looking. It includes some useful features like M-Lok accessory support. It also supports other accessories on top of the gun and underneath the gun.
The cheek pad of this chassis is completely adjustable. The rear end of the chassis features a recoil pad. Yes, it also supports spacers. Thanks to the spacers, you can increase the length of the pull up to 14 inches! This gives you a plethora of configurations to use depending on the height and weight of the shooter.
The pistol grip like an ergonomic grip allows you to claw into the weapon better. Thanks to that, it's an excellent pairing with gun benchrests (link the benchrest article). The chassis also features a very useful bubble level. If you are looking for the best long-range chassis for the Remington 700, this is the one to get.
Pros
Durable.
Pistol Grip.
Ergonomic.
Adjustable cheek pad.
Adjustable recoil pad.
Spacers and screws included.
Great for long-range shooting.
M-Lok system.
Frequently Asked Questions
Is It Necessary To Upgrade The Chassis Of Remington 700?
That depends on you. If you feel like it's necessary to change the chassis to improve the performance or you feel like the stock chassis is holding your aim back, then you definitely should spend some money to get a better chassis.
A better chassis will help you with long-range shots and also make sure the 700 supports you for a long time!
What Is The Best Tactical Stock For Remington 700?
As you can read above, I have included multiple tactical stock for the 700. While all of them are the best at what they do, there isn't a "single" winner among them. Some of them are quite expensive while others are more affordable. If you want more features and robust build quality and don't care about the money, then the KRG Whiskey 3 is easily one of the better ones!
Conclusion
The Remington 700 was nothing short of a love letter to the hunting community. The sheer energy and portability of this rifle make it an easy choice for hunters of all ages. With time, the gun kept getting changed and received steady upgrades.
While the Remington 700 stock performance is quite good for today's standard, it can be better. And that was the idea behind finding out the best Remington 700 Chassis. A chassis upgrade can help with almost everything related to the gun. From accuracy to durability, you name it.
Hopefully, this guide was able to help you locate that chassis for your Remintong. With that said, that's all for now. I hope you guys had fun reading it and found it informative. Will see you guys on the next one! Peace!