If you are a M&P 2.0 concealed carry fan, then you don't need any introduction to the M&P Shield guns. They have been popular ever since Smith and Wesson released the M&P gun series in the market. The guns are one of the most easy-going and professional grade guns available in the market to this date.
You will find different versions in the M&P Shield series. The M&P 2.0 is an upgraded version of this series. Even though Shield 2.0 is itself an upgrade, you can still go for different accessories and aftermarket parts to shape your gun into something new.
Now there are multiple options you have to upgrade your M&P 2.0. However, you won't need to replace all of them. Depending on your shooting needs, you can choose to upgrade the gun.
So, in this article, I will be providing you with the possible upgrades and accessories you can consider for your S&W M&P 2.0. Let's start!
1. M&P Shield 2.0 Trigger Upgrade
The factory made triggers come in a bit gritty. Even though they work perfectly fine, you might want to add extra fun or comfort while pulling the trigger.
Therefore, if you're looking for the best M&P 2.0 trigger upgrade, the following two options are for you:
i) Apex Tactical Specialties Action Enhancement Trigger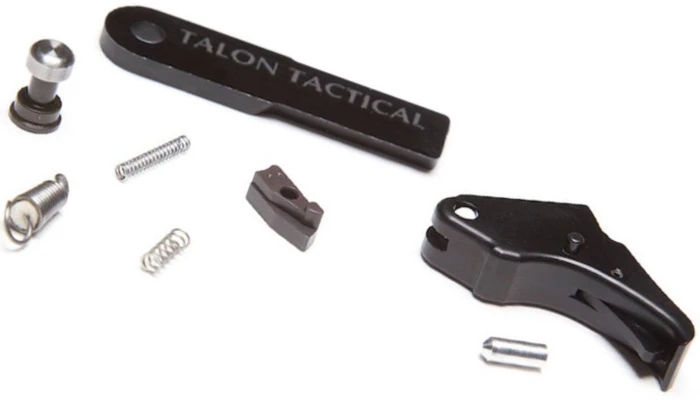 You can directly replace your factory trigger with this trigger kit. As it has a solid Aluminum body, you will find it quite sturdy. The trigger works to mitigate the pre-travel and over-travel by nearly 20%.
Besides, to maintain the factory safety values, it comes with a smooth face with a center mounted pivoting safety.
In addition, the trigger kit is designed to reduce trigger pull by around 2 lbs. One thing to note is, you may need a professional gunsmith to upgrade your trigger.
ii) Apex Tactical Specialties Curved Forward Set Trigger Kit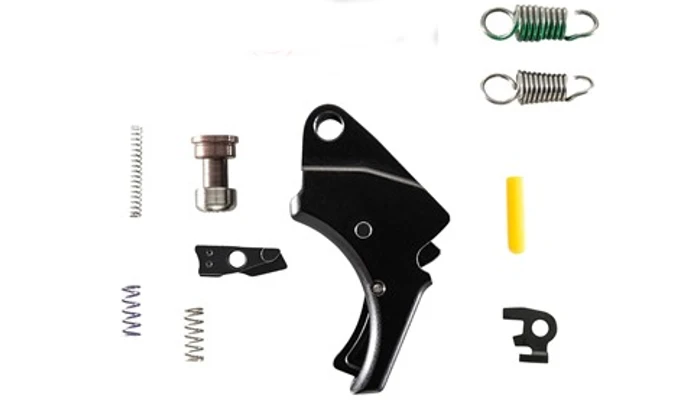 This Curved Forward Set Trigger Kit is another viable option for you to consider. It will make sure that you experience a consistent trigger pull.
Plus, it offers shorter overtravel and a shortened reset point. So, if you have smaller hands, the shorter trigger system will be a great help for you.
Additionally, it features center-mounted safety which preserves all the OEM safety elements found in the gun.
Moreover, the trigger is designed to lower pull weight to between 3 and 4 pounds. Even though it is not mandatory, the trigger installation process is recommended to complete by an expert.
2. M&P Shield Pistol Grip Upgrade
Since the M&P Shield 2.0 is a polymer gun, the factory grip may not always give you full control. Especially when your hands are wet or you have sweaty palms, it becomes quite difficult to have a positive grip on the gun.
Hence, you can replace this polymer grip with rubber grips. The best call you can make in this regard is:
i) Talon Smith & Wesson Handgun Grip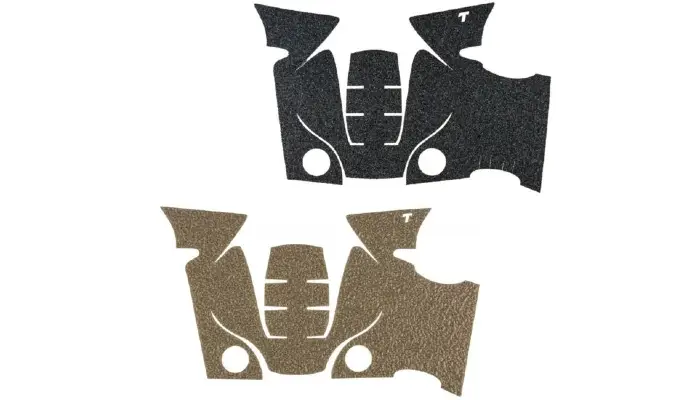 Whatever shooting conditions you're in, by upgrading your M&P 2.0 grip with the Talon Grips, you can have a more comfortable hold over your gun. Their special adhesive formula along with the rough textured frame, make sure you have a positive hold of your gun.
In fact, the installation and cleaning process is really easy. You can change the grip on your own without any help from the special tools. Additionally, you can clean the barrel with all cleaning solutions, except the aerosol based solvents like CLP.
However, if you want to properly rest your third finger, you can use grip extensions. The most available option you have in grip extensions is the "Pearce Grip Grip Extension Smith & Wesson M&P Shield 9mm/.40 Caliber".
3. Smith and Wesson M&P 2.0 Barrel Upgrade
Normally the barrel upgrades are considered for improved aiming accuracy. However, for concealed carry guns like M&P 2.0, a barrel upgrade is not essential. Because it doesn't create much difference in your shooting accuracy.
But if you're interested in adding accessories such as muzzle brakes or compensators, you can go for aftermarket threaded barrels.
i) TRYBE Defense S&W M&P Shield Match Grade Threaded Pistol Barrel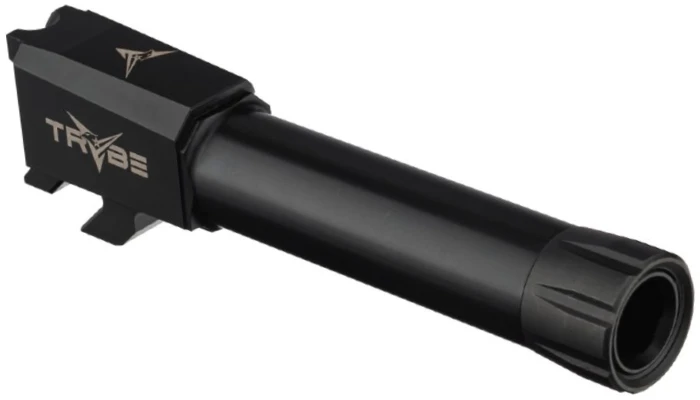 In today's market, the best option in the threaded barrels for the M&P Shield is these TRYBE Defense barrels. What makes them a perfect choice is their rugged construction.
The barrel has been engineered with stainless steel that has a Rockwell Hardness rating of 38-42 HRc. It means the barrel has strong durability and also corrosion resistance.
Moreover, it is provided with a thread protector, making sure that the barrel won't damage the threads of your gun.
4. M&P 2.0 Compensator/Muzzle Brake Upgrade
If you've decided to mount threaded barrels, you might want to use a compensator or muzzle brake with your gun. Since these muzzle devices work great for reducing muzzle rise and recoil effect, it will be a good decision to purchase for your firearm.
However, there are multiple options in the muzzle devices which can make you confused while selecting a device. Hence, I would like to introduce the best device you can purchase for your Shield 2.0.
i) Sam 04-06031-01 M&P Shield Pocket Compensator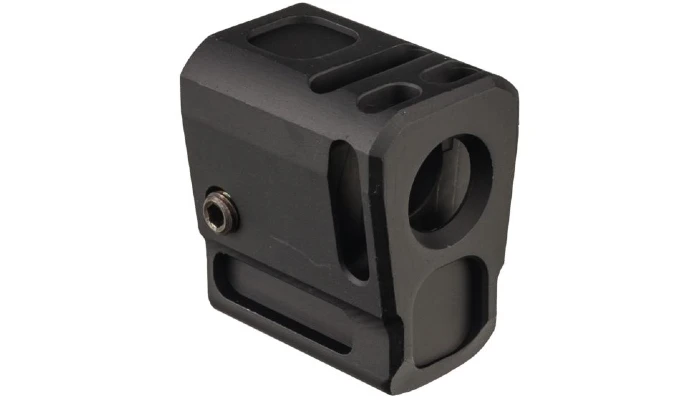 Rather than finding one muzzle brake or a compensator, I've brought you one device that features both functions of the muzzle brake and compensator.
So, it will work to reduce the recoil effect as well as to mitigate the muzzle rise. Moreover, the muzzle device is designed with a 1/2×28 thread pattern which will be perfect for the M&P 2.0 threaded barrels.
Additionally, it is made out of 7075 aircraft-grade billets, making it strong enough to survive different environmental conditions. Plus, it also has a Mil-Spec hard anodized coating, ensuring its longevity for rough situations.
However, if you are only looking for a compensator, I suggest you to go with the "Agency Arms 118 Dual Port Smith & Wesson M&P9 M2.0 Barrel Compensators".
5. S&W M&P Shield 2.0 Optic Upgrade
One of the best upgrades for M&P 2.0 is adding optics to the firearm. Especially if you mainly use your gun in low light conditions or dark environments, choosing optics like night sights and lights will be a wise decision. Below is the best night sight you can consider for Shield 2.0.
i) HiViz LiteWave H3 Tritium/Litepipe Pistol Night Sight Set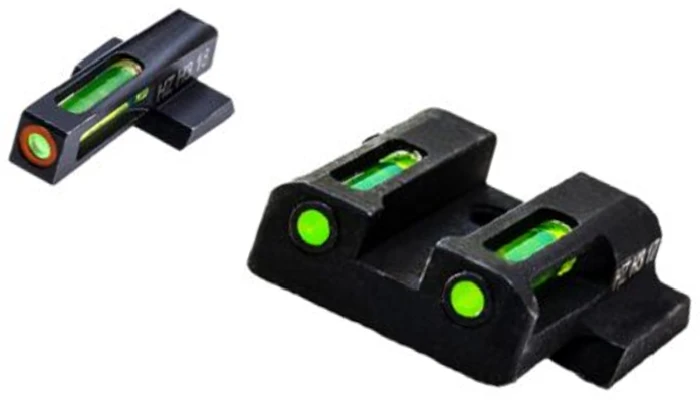 The sight is encapsulated with the ultra bright Tritium. This allows you not only to use the optic in low light and dark conditions but also use it in daylight as well. Thus, with one sight, you can aim for the target in all lighting conditions.
In addition, it comes with a rugged construction.
Since it has all steel construction, you can use the optic in different terrains. Plus, it is designed to have factory sight height, enabling you to use the standard holster to store your M&P 2.0.
However, to install the night sight on the gun, you will need professional help.
If you're looking for a night sight with more advanced features, you can consider the "TRUGLO TFX Pro Tritium and Fiber Optic Xtreme Handgun Sight" for your M&P 2.0.
In case you don't want to invest a good amount of money on the night sights, you can also check out the lights for the gun.
6. M&P 2.0 Magazine Upgrade
In case you are not satisfied with your current magazine capacity, you can upgrade your gun by replacing it with a larger capacity magazine. So, it's completely your call whether you want to upgrade your magazine or not. Check out the given magazine if you're interested!
i) Smith & Wesson M&P Shield M2.0 40 S&W Magazine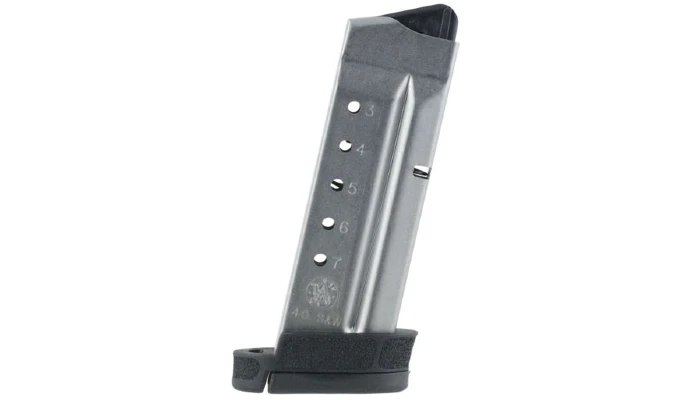 If you own a M&P Shield M2.0 40 S&W, this is the magazine you need. It is a 7 round magazine which I believe is the right choice for Shield M2.0 S&W.
The magazine is made of stainless steel. Plus, it has a polymer finger rest. The good thing is, that you can detach it quite easily.
Another optional upgrade you can do in your M&P Shield 9mm 7-round magazine is to add a magazine extension. This extra length will support your pinky finger to have a better grip.
However, you can also consider magazines like the "M&P M2.0 Compact Magazine 40 S&W" and the "M&P M2.0 Compact Magazine 9mm", if you have S&W of these models.
Conclusion
To sum up, by upgrading your firearm, you can increase the usability and effectiveness of your M&P 2.0 gun. Hence, you can consider upgrading your gun to understand its full potential. You will see various aftermarket companies are offering aftermarket parts for the M&P 2.0 series.
So, you have a lot of options in the upgrades and accessories to look into. According to your shooting needs, you are suggested to go for any upgrade. This way you will be able to make an economic decision for your firearm.