The PTR family is a modernized semi-automatic rifle made in America. The design of this rifle was based on the H&K G3 Battle Rifle. A fantastic rifle that deserves a round of applause for serving the community thus far.
It's time for the sibling PTR 91 to take its place. But you are not here to discuss the gun that you already own. You are here for something different. Something that every PTR 91 owner is looking for. That's right, a rifle scope. A scope that will support the PTR 91 and make the gun more competent in shooting.
In this article, you will find out about the best scope for PTR 91. You will also learn how to choose the scope and what makes the scope good. What are we waiting for? Let's get this party started.
How To Choose The Best Optic For Ptr 91?
Here are some notable things you should consider before choosing an optic for your firearm…
Durability
Durability has always been a concern when buying a new scope. After all, not every scope can handle every caliber out there. The ones that I included here are definitely compatible and can handle the PTR91. But you also should pay good attention to what material the scope chooses and how well it is built.
Lens Quality
The most important part of a scope for me is the lens. I know many of you will still give build quality more priority, but the lens needs to be solid. Otherwise, it's a no go for me. You too should pay good attention to what kind of lens the scope has and how they are coated. Good lens = good sight.
Warranty
In this internet craze world with so much regulation and conditions around a new purchase, we often overlook the importance of a good warranty. Keep in mind, that a warranty is like the second life of a product. It can come in a super clutch. Even 1 year warranty counts.
Budget
Last but not least the budget. When we tend to buy something new, we make sure to follow a budget and then choose products accordingly. In this article, you see there are optics from several budget ranges. Starting from low-budget to flagships. Just spend the amount you feel comfortable with.
Best Scope For PTR 91 [Editor's Picks]
1. Leupold VX-6HD 1-6x24mm Riflescope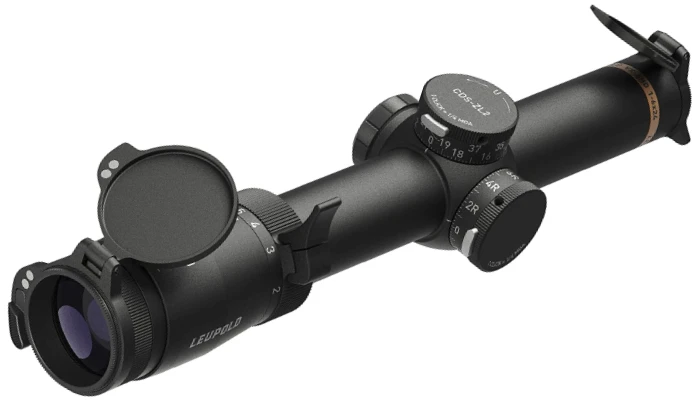 Now this is a rifle scope! A great one too! Leupold knows how to make good stuff and I love them for it. The VX series of scope from Leupold has always been around the flagship price range with premium performance. Making a middle ground of premium meets budget.
The scope is made out of high-quality and durable aluminum. The housing of the scope was made through CNC machining. There are no machining errors or sharp edges present in the scope whatsoever.
As this is a single cylinder design, it was quite easy for Leupold to make it fogproof. They made sure to purge the inside of the scope to make it immune to internal fogging and moisture buildup. The outside is also shock and waterproof.
The lenses are sealed with O-ring gaskets. Making them sit properly and not move accidentally or get pushed inside. The lenses here are fully multi-coated. It's a process that makes lenses better.
It increases the light gathering capability and improves natural color production. You end up with a gorgeous view of your target with lifelike images and fast focus.
The reticle of the scope is FireDot Duplex. It's an illuminated reticle. The center of the crosshair style reticle has a red dot in it. That red dot brightens up when you turn it on. This minimal reticle is perfect for mid to long-range shooting with the PTR 91.
Honestly, it's a great way to learn a new method of shooting. Even if you are a hunter, you will now end up shooting like a tact shooter and you will love it.
Does Leupold provide a warranty?
Of course, they do. They provide a lifetime warranty with their scopes and you can avail that any time. When I say lifetime, I do mean lifetime!
Does this scope come with mounting rings?
Unfortunately, no. It doesn't come with any kinds of mounting accessories. Leupold sells them separately so you should buy them. For example, "Leupold PRW Weaver-Style Cross-Slot Scope Rings". It's a great pair of inexpensive rings for your VX-6HD.
Does it come with a sunshade?
Yes! It does come with Alumina flip back lens covers. Simply put, they are amazing. They are extremely light and they protect the lens like a champ.
2. Zeiss Conquest V4 3-12×44 Z Plex Reticle Scope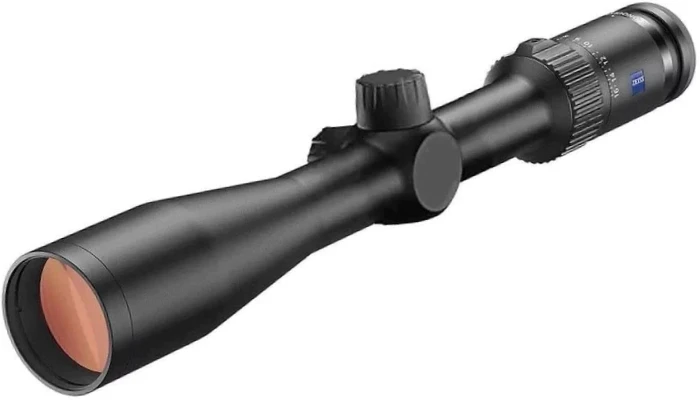 Whether you are a hunter or a regular civilian, you have heard of Zeiss before. This much I can guarantee. Zeiss is known for their lenses. Their lenses are used in cameras and smartphones as well. Their scope making adventure isn't far off from their mobile lens making.
The Conquest series has always been dear to hunters. After all, the Zeiss Conquest series is one of the best scopes lineup ever made.
The V4 is the less expensive brother from the family. When you first see the pricing, you might think Zeiss skimped out on something.
I assure you, none of those things happened here. The structure of the scope is just fabulous. From CNC machining with zero errors to a flawless anode job! Zeiss outdid themselves here. The V4 is available in many different magnifications. All of them share the same patented design housing that you see here.
The scope is water, fog, and shockproof. As the lenses are O-ring sealed, water or moisture has no chance of sneaking inside. Internal fogging is also not possible. The insides are purged chemically.
When it comes to optical performance, Zeiss has everyone beat in the game. They are the most natural looking lenses you will ever come across. It has the same hue and textured imaging as the much more expensive Conquest V6.
Honestly, I wouldn't mind the same pair of lenses used here in a spotter. I mean, the view from this is heavenly.
As you can tell, Zeiss mainly made this scope for hunters. They require better vision during low light and no glare related issues under direct sunlight. Hunters love the Conquest V4. It's dear to the community. A well-loved and respected for what it is. Together with the PTR 91, you are gonna have the time of your life! Good times are ahead with this synergy.
Does Zeiss provide a warranty?
Of course! They provide a limited lifetime warranty with transferable ownership. Zeiss got you covered for a good while.
Does this come with a mount?
No, it doesn't come with any kind of mounting system, unfortunately. You will need to buy a pair of 30mm mounting rings compatible with your gun rail.
Is it too heavy?
No, it's not heavy at all. In fact, it weighs less than 700 grams. The exact weight is 690 grams. That's way lighter than most mid-range scopes.
3. Trijicon ACOG 3X30 Dual Illuminated Scope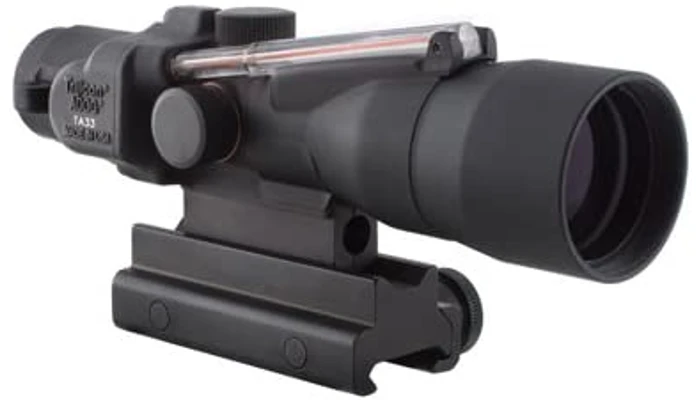 When it comes to tactical shooting, very few scopes come on par with ACOG. After all, they are made for military grade warfare and they work best with semi/automatic rifles.
The ACOG I am recommending to you guys today is the 3×30 variant. In my opinion, 3x is a perfect range for target shooting or range time with your PTR 91.
The ACOG is made out of aluminum completely. 7075 is one of the best billets of aluminum to make scopes out of. When Trijicon says they made it war ready, they mean it. It was tested in harsh conditions to withstand any kind of physical accidents that might happen to a scope on the scene. The ACOG is water, shock, and fogproof simultaneously.
The lenses are great. They do the job fantastically. Fully multi-coating is effective and you can feel it. In fact, you can see it. If you A&B a cheap scope and this, the differences are clearly noticeable. The 30mm objective lens is big enough to gather plenty of light. Low-light performance is impeccable as well.
The reticle here is illuminated. They use a tritium fiber to power up the reticle. This makes the ACOG battery free. Running out of batteries on a battlefield can be deadly, to combat that situation (no pun intended), Trijicon came up with this solution. And have to admit, one heck of a solution it is!
Does it come with a mount?
Yes, the ACOGs have a mounting system built into them. If that mounting system isn't compatible with your gun, then you will need a converter kit for it.
Does it come with lens caps?
No, it doesn't. But you can buy them separately tho. Here is one (Trijicon AC11030 ACOG Flip Cap Eyepiece) if you are interested in buying lens caps.
What kind of reticle does this have?
The reticle on the ACOG is called Chevron. And it has an amber color during the nighttime shooting.
4. EOTECH 512 Holographic Weapon Sight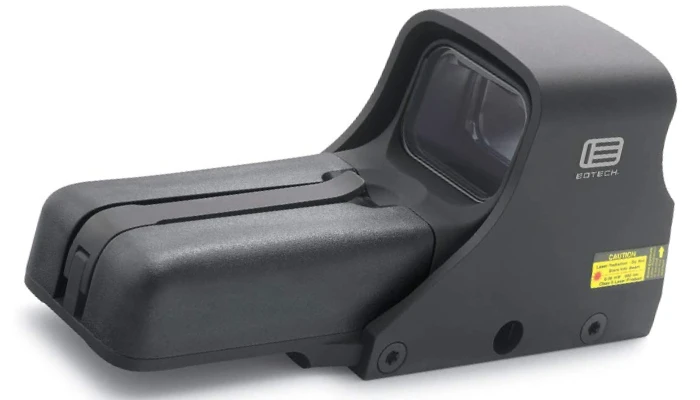 Semi-automatic rifles are great for short-range shooting and burst fire sports. For those kinds of shooting, you don't need a riflescope. Rather a small holographic sight will be more suitable. The Eotech 512 is the best holographic sight for PTR 91.
Eotech is one of the best if not the best holographic sight makers in the world. But keep in mind, they have tons of counterfeit. Luckily, the one I have here isn't one.
The sight is made out of aluminum completely. It's not heavy at all. Rather light for an all aluminum sight. The housing has a very nice anode finish to it. The finish makes it look extremely attractive under direct sunlight.
The optic is shock, water, and fogproof as well. You can use it in any weather and any given lighting situation. Yes, it will work in low-light and dark conditions as well. While it doesn't have night vision, it does have an illuminated reticle.
The lens used on this sight is fabulous. It's wonderful, to say the least. There is no chromatic aberration or color reproduction issue here. There is no oversaturation or yellow hue present on the optic either.
Overall, a fantastic optical experience. Locating a target is quite easy. The crosshair is perfect for fast shooting and tracking a target horizontally or vertically. You can easily spray-transfer without shifting your focus from the targets.
The reticle has a total of 20 adjustable daylight settings. That's a lot for a small optic like this. But hey! More the merrier. You can even submerge this up to 10 ft without destroying the illumination capability of the sight.
Does it come with a mounting system?
It actually fits on a 1" weaver or MIL-STD-1913 rail out of the box. You don't need to buy a mounting system if you own a gun with the mentioned rail.
What kind of battery does this use?
It uses AA alkaline batteries to power up the optic. You will get a pair of such batteries inside the package. Use them to power up the optic for up to 2200 hours of continuous use at 12 brightness settings and normal room temperature.
Can I use a lithium battery instead?
Yes, of course! You are not required to use alkaline and alkaline only. You can use a LiPo to have even better battery life.
5. Aimpoint Pro Red Dot Reflex Sight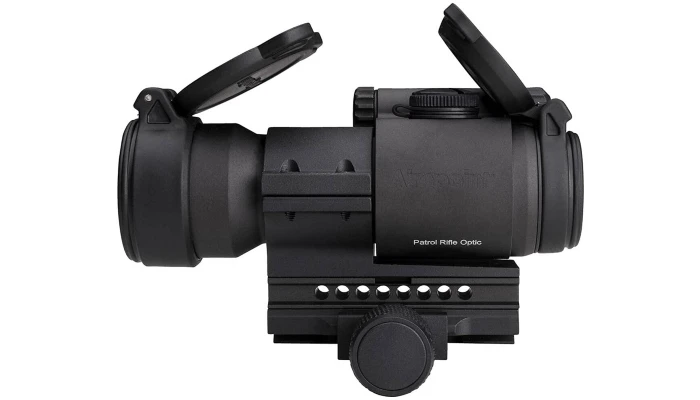 It wouldn't be fair of me to show a holographic sight and discard red dots aside. That's why, who other than Aimpoint Pro? At this point, I won't be surprised if some of you label me as a Pro shill.
Hey man look! I just like what I like, what can you do? Right? Jokes aside, the Aimpoint Pro is a fantastic red dot sight. Has been serving countless communities for decades now.
The optic is made out of aluminum. It's not too heavy. Durable and has a great anode finish. The finish makes it look rugged and good at the same time. The exterior is shock, water, and fogproof. The inside is also moisture and fogproof at the same time.
Whether you are planning to use this on a rainy day or snowy day, doesn't matter. You can always use this.
The lenses are really good. They are one of the best pairs you will find in any red dot sights on the market.
They are fully multi-coated. Dirt and oil marks do not stick easily on the lens. They also have a layer of anti-scratch-type coating to it.
But don't bank your money on protecting it from harsh accidents. Prevention is better than cure after all. As there are no chances of fogging from inside or outside, you will find a pleasant viewing experience throughout the year.
The reticle here is illuminated. You will need a battery to run it. Despite requiring a battery, the sight has a submergible rating to it. Even if you somehow manage to drop your gun on the lake with the scope on it, chances are the scope will remain functional after rescue.
Does Aimpoint offer any warranty?
Aimpoint offers two types of warranty. For homeowners and personal usage, you will get a 10 years limited warranty and 2 years for professional/competitive shooters.
What kind of battery does it require?
The Aimpoint Pro runs on a DL1/3N battery. You will find one inside the package after buying. With that battery, you can expect a runtime of 30k hours.
Does it require a mount?
The Pro comes with a built-in mounting system. If the mounting is not capable with your gun, then you will need to purchase an adapter to install this on your gun.
6. Vortex Optics Spitfire 1x DRT Reticle Prism Scope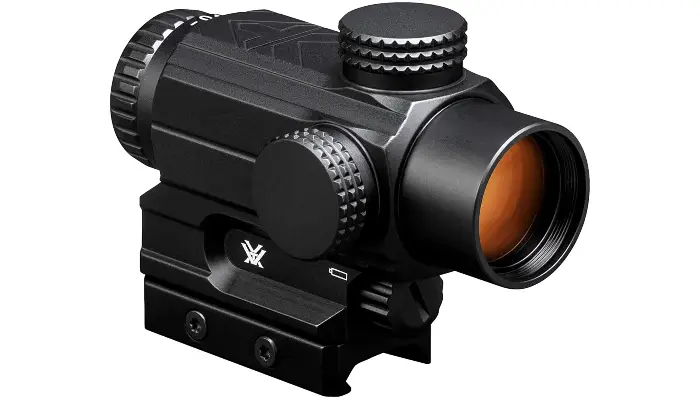 Chances are, you have already come across the Spitfire at least once. After all, Spitfire HD Gen 2 is known for being one of the few 3/5x red dot optics.
This one isn't the 3x variant if you were wondering. This is the 1x model that is even more popular than the siblings.
The optic is constructed through CNC machine processing. There are no machining errors or sharp corners present on the optic. All corners are rounded and anodization has it covered. The anode is extremely well-done and good looking.
Honestly, if I were to score this based on looks only, easily be a 9 out of 10. The red dot is also water, fog, and shockproof completely. If you want to use this on a different gun besides the PTR91, you can do so.
The lenses are simply amazing. Vortex never ceases to amaze with their quality lens making. They are fully multi-coated.
As the inside is purged, the lenses don't suffer from any kind of fogging. Yes, you can use this in a snowy area. The lens won't fail to perform in harsh weather.
The weight balance of this optic is fabulous. A pretty much centered balance with less than 320 grams in total. Yes, the 1x magnification might bother some. Sadly the Vortex magnifier isn't supported on prism scopes. You are stuck with the 1x if you were wondering about it.
Does it come with a mounting system?
Yes, it comes with a multi-height mounting system. You can increase or decrease the height according to your needs.
Does it support NVD?
You can use something like PVS 14 and rock it. But officially, it doesn't have an NVD certification.
Does it come with lens covers?
Yes, the package includes a pair of lens-protecting flip-up covers. They are made of plastic and they are quite durable.
7. TRUGLO TRU-Brite 30 Series 1-6X24mm Gun Scope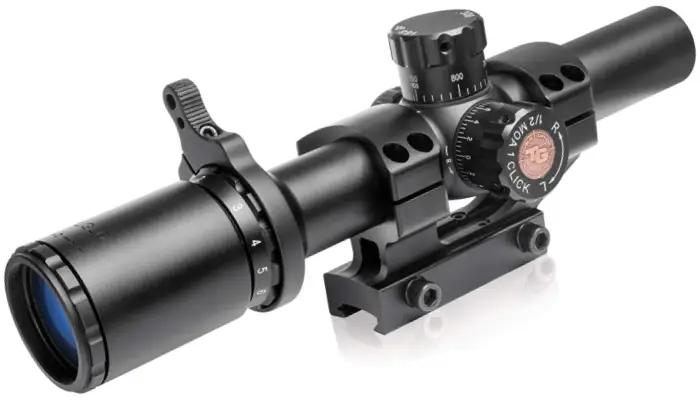 Truglo, also pronounced as true glow, is a sports and hunting gear manufacturer. They are mostly famous for their night sights that you use in pistols. But this one isn't like their bite sized night sights.
This is a fully-sized rifle scope compatible with PTR 91. As the name suggests, it is indeed a part of a series of scopes.
The TRU-Brite here is 1-6×24 size. The tube diameter of this scope is 30mm. That sounds like a typical scope, right? The scope is made out of aluminum completely. It's a single piece design like other premium scopes.
The aluminum has an anodized finish to it. That layer of anode protects the scope from scratches and keeps it looking shiny for a long time. The Tru-Brite is also water, fog, and shockproof. Something every rifle scope should have.
The lenses here are fully multi-coated. They are made out of high-quality glass as well. As the reticle is etched directly on the glass, it won't move around accidentally. Dust and oil buildup aren't common in the objective lens. It's quite easy to clean them. Just use a small microfiber cloth and you are good to go.
As the scope is waterproof and fogproof, you can use it in cold areas as well. It won't stop working there.
If you use 55 grain .223 or 168 grain .308, you don't need to calibrate this scope. It comes pre-calibrated from the factory for these two calibers. The adjustment knobs use a leaf spring structure. It's a very durable and proven method in scopes. It will work flawlessly for years to come.
Does it come with mounting rings?
Yes, the scope comes with 30mm weaver style mounting rings. The rings are also made out of aircraft grade aluminum.
Does Truglo offer a warranty?
Yes, they offer a limited lifetime warranty with their product. Keep in mind, that physical damages are often not part of the warranty.
Does it require a battery to operate?
Yes, it requires a CR2032 battery to operate. You will find one included with the scope. It will offer a long time of illumination before you change it.
Conclusion
Would you look at that? Looks like our time together has come to an end. But yours just started. With the number of scopes, I recommended you guys today, you have a lot to think about.
But if you follow what I suggested, I'm sure you will reach a conclusion soon enough. After all, not a lot of optics can claim to be the best scope for PTR 91. With that said, this is the end for now. Don't worry, I will be back with more soon enough. Till then, take care and stay blessed.