Yes, that pun was intentional. The Micro 9 from Kimber is an excellent pistol, to say the least. Finding the best Kimber Micro 9 accessories is not easy. The Kimber Micro 9 is not as popular or used as the 1911 for example.
But this is a very fun gun that has the potential to reach the top by getting some upgrades. I know a lot of folks are against upgrading their guns, but if some small or big upgrades can change the entire experience for the better, why not do it?
You are here to find the best Kimber Micro 9 Upgrades. I'm here to provide them for you. Let's talk about a gun that deserves some more love and more accessories. After all, this is a killer pistol. No pun intended there.
How To Choose The Right Upgrades For Micro 9?
Micro 9 is not as popular as other pistols. For example, a Glock or 1911. But it's still a great 9mm firing pistol. Sure, it has its own caveats, but you can fix those with simple upgrades. Like the ones I mentioned here.
Find the needs first
If you are a casual shooter, chances are you don't need to upgrade your gun severely. Rather, simple appearance changes and some minor accessories will brighten up your day and year. You need to find out what kind of changes you want in your gun. Depending on that, go from there.
Do you need a sight?
While for most the answer is yes, some prefer ironsight. Some even don't want to use a sight to avoid the struggle of installing. If you fall in the latter category, I urge you to change your perspective and get a sight.
If you are someone who shoots regularly, whether it's hunting related or range-practice, then you should absolutely invest in a sight.
Cost Planning
How much you can spend on a go will play a huge role as well. Not all of us are interested in spending thousands of dollars on some upgrades in one sitting. While your entire upgrade catalog might cost you more than a thousand dollars, it will be in the long run. Decide on how much you are willing to spend initially.
1. Kimber Micro 9 Grip Upgrades
Pistol grips are the most common things that people change. After all, our hands are built differently and I don't know what your grip style is and what texture you like.
That's why there are tons of grips available for all kinds of pistols to choose from. The Kimber Micro 9 has some grips to choose from as well. Here are some good grips for Micro 9.
i) Crimson Trace LG-409 Kimber Micro 9 Lasergrip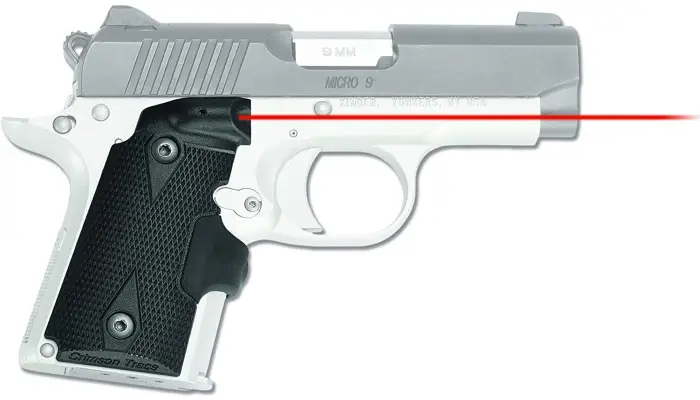 Companies showing their creativity like this is always a sight to see. Okay, I promise no more puns today. Anyway, the LG-409 is a 2-in-1 grip. It's a comfortable grip set with a laser sight built in.
That's right, on the right side of the grip, you will find a red or green laser. Depending on which color variant you choose from. With the included CR2032 battery, you can use the laser sight for 4 hours straight.
Another good thing about this is the adjustability. While it's sighted at 50 meters from the factory, they include tools to compensate for windage and elevation. The build quality of the grip is great.
And the front activation button for the laser sight is placed right where your index finger stays. Overall, it's one of the best Micro 9 grips without a doubt.
ii) Hogue Kimber Micro 9 Ambi Safety Rubber Grip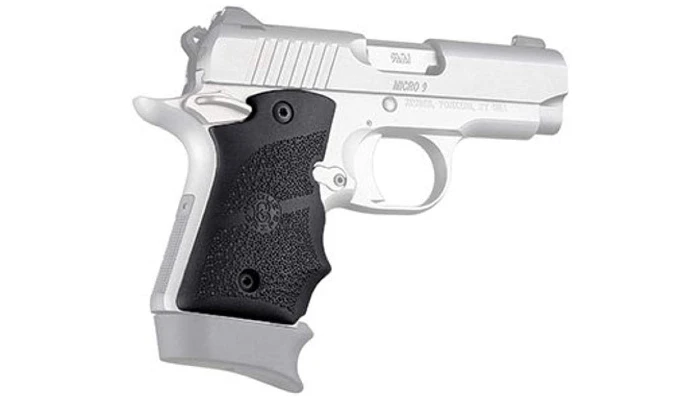 Hogue is another great pistol accessories maker. Their pistol grips are some of the most recommended ones. If you search for the best pistol grips, you will always be greeted with Hogue. Their Kimber Micro 9 Ambi grips are made with rubber.
Unlike some random rubber grips that you may find in some shady sites, this one here is known for their durability. Rubber isn't the most used material in terms of grip.
Because it tends to be less durable than polymer. But Hogue made sure to take their craftsmanship to the next level and make it super durable from the get-go.
Unlike the LG-409, you won't get a laser sight with this one. Let's be real, this costs less than half of what 409 costs. So, expecting this to have the same feature as that isn't quite alright.
The finger grooves on this are quite comfortable. Doesn't matter which hand you use to grip the Micro 9, it will feel excellent.
2. Kimber Micro 9 Magazine Speedloader Upgrades
Speed Loaders are a necessity for range shooters and law reinforcers. They will help you reload faster and snappier. The shorter reload time is something we all need. After all, we don't want to fall behind our fellow competitors.
i) RangeTray Kimber Micro 9 9mm Magazine Loader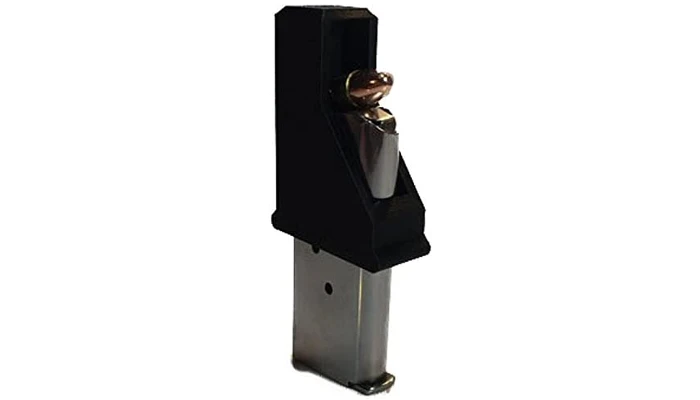 The RangeTray magazine loader is a 9mm magazine speedloader that works with the Kimber Micro 9. An excellent thing about the speedloader is the vast different colors it comes in. You can choose your favorite colors. Maybe go for two or more colors if you want to just mix and match.
RangeTray accessories are designed and manufactured in the USA. When it comes to customer service and warranty, RangeTray will be quite good for you. The magazine loader is made out of custom polymer. The polymer is durable and lightweight.
The design of this magazine loader is patented by RangeTray. You won't find a smooth and seamless magazine loader like this everywhere. Another good thing about this loader is the price. As it's not made out of metal, the price isn't that high.
ii) MakerShot Magazine 9mm Speed Loader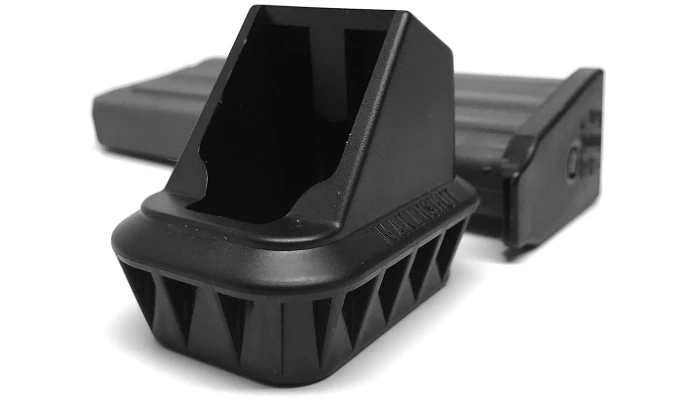 The MakerShot magazine speedloader is available for tons of different calibers and pistols. This one here is made for 9mm caliber and Micro 9 pistol. The speedloader is made out of polymer.
It's more durable than a 3D-printed speedloader that you might find in your local store or an online page. The loading time of the magazine will be way faster than before. Do keep in mind before purchasing, this is not a universal speedloader. MakerShot makes it custom for each caliber.
3. Kimber Micro 9 Magazine Upgrades
The stock magazine of the gun ain't bad. But that's like almost every pistol out there. But some of us could use extra bullets. That's why magazine upgrades are the first thing a lot of people upgrade.
i) Kimber Micro 9-8 Round SS 9mm Extended Magazine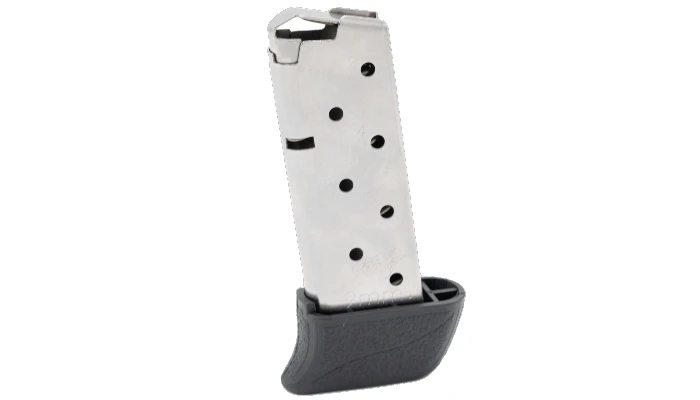 The first magazine upgrade that I recommend to you guys is also from Kimber. They are known to provide good service for their pistol. This magazine is an extended version of the stock magazine you find in the gun.
Instead of 7 bullets, it can hold one extra. While you might wonder, if 1 bullet isn't enough to make a big difference, for a lot of people it is a huge difference. 1 bullet can determine your victory in a time based competition. Or 1 bullet can determine if you can get your prey or not.
The magazine is made out of stainless steel. It won't catch rust at all. Even if you have the habit of using this under the rain, your bullets or the magazine will stay intact like it was on day 1.
ii) Kimber Micro 9 – 7 Round Magazine w/Hogue Grip Extender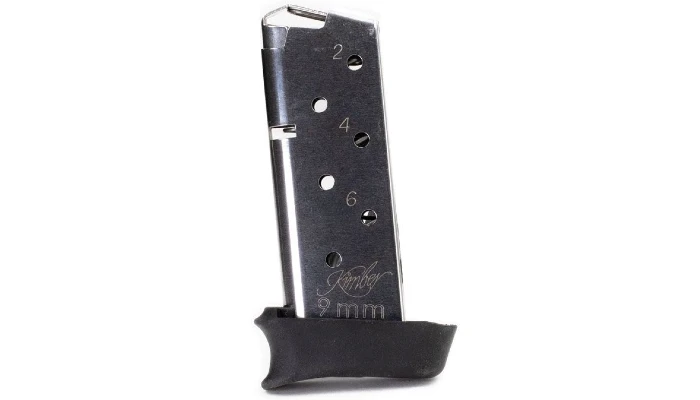 The second magazine is also from Kimber. But this one here is slightly different from both the stock magazine and the one I mentioned earlier. This one here has a grip extender that is made by Hogue.
Hogue is known for their great accessories. Grips are definitely their forte. If the stock magazine grip is hurting your wrists or just not feeling well with your setup, then this grip will give your setup a new look and feel.
The capacity of the magazine is 7 bullets only. That's the same as the stock configuration. But as I mentioned, this isn't meant to increase your bullet carrying number, but rather making it more comfortable to use.
4. Kimber Micro 9 Sight Upgrades
Pistol iron sights are usable and they are effective in CQB. But that ironsight won't come in the clutch at night nor in a practice range. After all, it won't give you the correct idea of depth between the distances. That's why upgrading the sight makes sense.
i) Trijicon RM06-C-700672 RMR Type 2 Adjustable LED Sight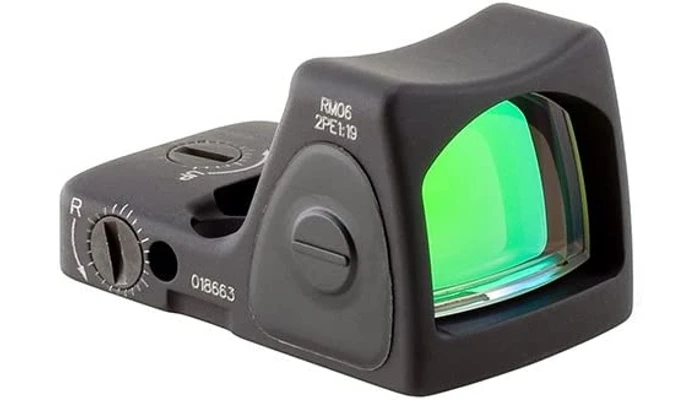 Trijicon red dot sights are incredible to use in small firearms. They are so durable, that you see them being used with rifles as well. One of their such sights is the RMR type 2. It's the second edition of the optic that is well-loved by the handgun community.
The Type 2 is an incredibly built lightweight red dot sight. The reticle of this sight is capable of glowing in the dark. You can adjust the brightness of the glow as well. It requires one battery to run and you will find that in the package.
But it doesn't fit on the Micro 9 directly. For that, we need to be a bit tricky and purchase the Trijicon RMRcc Dovetail Mount Plate for Kimber Micro 9. This will make our gun compatible with the RMR. That's a big win if I ever saw one. The performance and accuracy of your shooting will improve a lot by the moment you sight in.
ii) Kimber Micro 9 Night Sight Set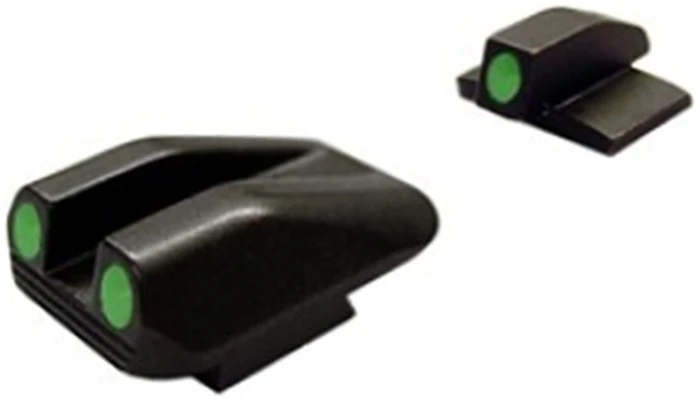 Night sights are incredibly small and compact. They are easy to conceal and they come in super handy during the night. That's the reason why most people prefer it for self-defense and as a secondary weapon in hunts.
The Night Set by Kimber is made out of durable steel protecting the tritium fiber sticks from harms. As these sights don't require any batteries, you can virtually use them forever.
This set features green glowing sticks and it is also compatible with .380 ACP. It comes in a pair of front and rear sights. You will need to install them both for compatibility and better shooting experience. You might need the help of a gunsmith to install these on your Micro 9.
5. Kimber Micro 9 Holster Upgrades
The holster is an important part of a pistol. Holsters aren't universal. They are custom molded for specific guns. Some of them support sights while some may not. Here are some best Micro 9 holsters you could purchase.
i) Kimber Ambi Minimalist AIWB Holster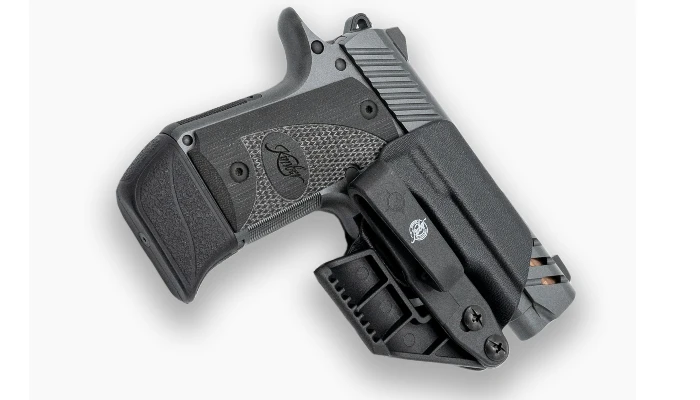 This holster is also made by Kimber themselves. It's a minimalist holster that supports the use of night sights as well. It won't interfere with sights or grips. Thus, making it an ideal choice for a custom Kimber Micro 9.
The holster is made out of Boltaron thermoplastic. A type of polymer that is extremely durable and often used by many gun manufacturers. It can easily last you for a couple of years if not more (depending on wear damage).
To aid you with a good lifetime, it is also under a lifetime warranty from Kimber. Like their guns and other accessories, this holster is also designed and manufactured in the USA. Rest assured, you are not getting a dupe product from somewhere in China.
If you want a similar holster but cheaper, yet made from good quality .08 Boltaron, then you might take a look at the MFT Minimalist Holster for Kimber Micro 9. Made by Mission First Tactical. A very well-made boltaron ambidextrous holster that is extremely affordable.
ii) Kimber Micro 9 Raptor Holster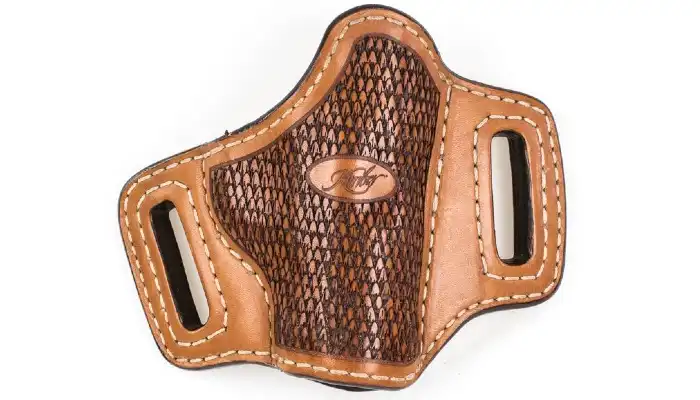 Perhaps thermoplastic/polymer isn't your thing. It's not giving you the whole holster vibe and look. Then you will need to look elsewhere. What's better than a genuine leather holster?
This Raptor holster is made out of veg-tanned cowhide leather. To protect your gun better, they made the lines out of leather as well. Micro 9 hasn't been safer than this before.
As the design is a bit forward, it conceals the gun better. From look to good performance, this is one of the best Micro 9 holsters you can buy. Sure, it's expensive, but it's a long-term investment and well worth it.
iii) Maxx Carry IWB Leather Kimber Micro 9 Gun Holster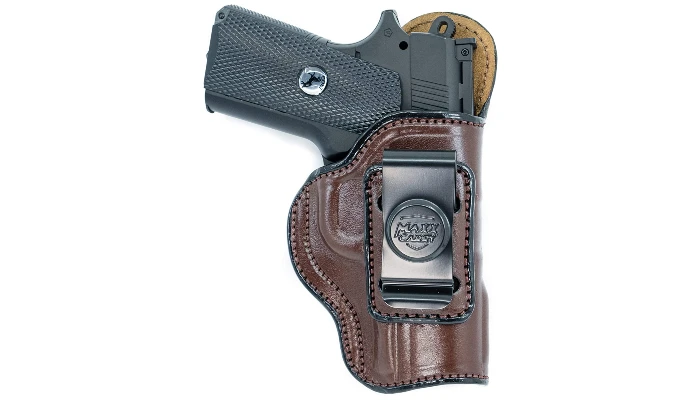 Boltaron or Kydex isn't your jam? Looking for a holster made out of leather instead? Maxx Carry has the thing you are looking for. This IWB holster from Maxx Carry is capable of carrying your Kimber Micro 9 with sights.
This leather holster comes in two different colors. One is black and the other one is brown. My personal bias goes towards the brown as it matches the hunting belt better. But the color of the product is your preference. Choose the one that goes with your setup or you like more.
The leather used here is premium cowhide leather. Unlike PU leather, this won't start losing the texture or start weathering away. Unfortunately, this one isn't ambidextrous. It's made for right hand draw. If you are a right handed shooter and looking for a great IWB leather holster for Micro 9, this is it.
Conclusion
Kimber Micro 9 is a controversial pistol. Some love it to death while others despise the existence of it. Kimber tried to listen to its customers and improve the gun. But still, the gun could use some necessary upgrades.
That's why, I tried to provide you with the best Kimber Micro 9 upgrades you could do. They are worth the money and the gun deserves some much needed love. That's all for now, I will see you soon with some more upgrade orders. Till then, take care and stay safe.