458 Socom is an AR-15 ammo that is used for long-range practice. They are also used for whitetail deer hunting. The 2000 velocity allows it to not expand by much and still remain lethal on impact.
As it's capable of shooting medium to long-range, you will benefit highly from a magnified rifle scope. 458 Socom has a bit of a kick to it as well. So, you wouldn't want to pair it with anything but the best scope for 458 Socom.
Finding the right scope, however, takes time. The time that most of you don't have. As you need to prepare for your hunt or the next competition. For your help, I rounded up some scopes that go well with the Socom and perform equally well. Without further ado, let's find them out.
How To Choose The Best Scope For 458 Socom?
Choosing the right scope for a caliber is relatively hard. It's not a simple walk in, get the scope, walk out, type of scenario. You need to think about the purchase and keep a couple of things in mind that will help you decide better.
Build Quality
Aluminum is the go-to choice for all things scope. It's a very reliable and lightweight material. Always try to take a scope that is made out of durable material. Thermoplastic can be durable as well. But that's not true for budget scopes. For budget scopes, try to stick with metal.
Weight
Lightweight scopes always get more priority over heavier ones. Lightweight scopes tend to have better weight balance and a center of gravity. And they are quite light with the scope rings as well. Try to keep the weight within a limit.
Lens Quality
Lenses of the scope need to be good. There is no "but" here. The lens needs to be good or off the list it goes. Without a good pair of lenses, your riflescope won't perform as well as it was intended. Make sure to purchase a scope that is praised well for the lens quality and they offer good vision clarity.
Budget
Last but not least is the budget. If you have a set budget in your mind, you already know what your options are. If you know how much you are willing to spend to begin with, you won't regret your decision after spending the amount on it.
Best Scope For 458 SOCOM [Editor's Picks]
1. Trijicon TR24R AccuPoint 1-4x24mm Riflescope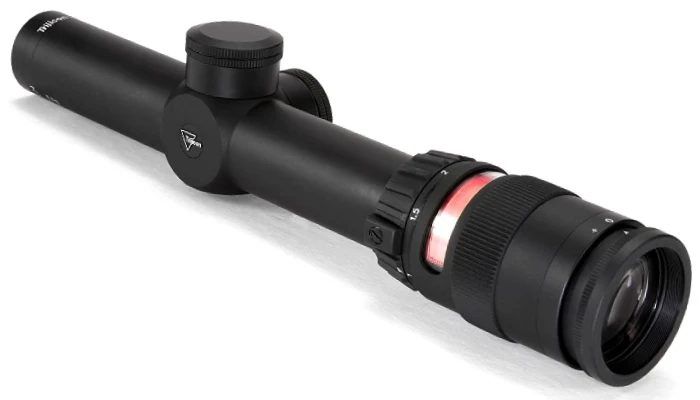 Trijicon ACOG are used in military services and other security enforcement services all over the world. Their red dot optics are also great. And their rifle scopes are often slept on.
The TR24R is one of those rifle scopes that requires more attention. It's a great medium range shooter that goes perfectly well with an AR-15. The scope has a 30mm main tube and the tube is made out of aluminum. The inside of the tube is purged with chemicals as well. That makes the scope fogproof in cold weather.
The lenses are fully multi-coated as well. They are bright, vibrant, and color accurate. They don't render false colors or change the contrast of the scenario either. It will feel like you are watching through magnified eyeglasses.
While the maximum magnification is only 4x, it's still plenty enough to utilize the 458 Socom in hunting. Even at 4x magnification, there is no distortion visible on the scope. Pretty solid pair of lenses on this one.
Does this come with any mounting rings?
No, it doesn't come with any mounting device. You will need to buy 30mm mounting rings to install this on your gun.
Is the reticle in SFP?
Yes, the reticle is in the second focal plane.
Is the reticle illuminated?
Yes, the triangle reticle is battery free illuminated. Using tritium fiber optic, they made it possible to use this scope in any given light.
2. Vortex Optics Viper HS 4-16x44mm SFP Riflescope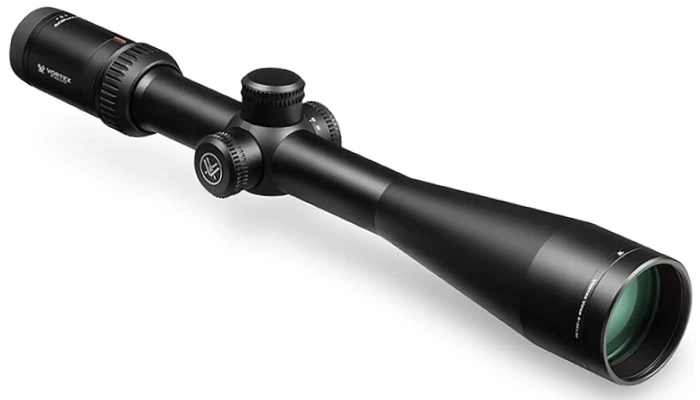 The Vortex Viper series has a lot more than just some riflescopes. Even in the riflescope section, they also have different variants under the same name. The Viper is available in 3 different configurations. Starting from 2.5x10x44, you can also purchase this in 4-16×44 and 4-16x50mm configurations.
The one configuration that I recommend for the Socom is definitely the 4-16x44mm. It's the perfect middle ground between the two. Offering you great stock midrange clarity with potentially long-range shooting thrown in. The scope is made out of high-quality aluminum.
The lenses are fully multi-coated as well. They are crystal clear and they offer accurate color representation. There is no contrast or distortion issue present on the scope either. That's why it's often paired with long-range weapons. You can see why it's recommended with Socom.
This is a really good 458 Socom scope. There is no way of denying it. From build quality to lens quality, everything is up to the mark. The scope has O-ring sealed lenses to make it waterproof and the inside is purged to make it fogproof as well. On top of that, it's shockproof as well. A great bargain if you ask me.
Does this come with any mounting rings?
No, it doesn't come with any. You will need to buy 30mm mounting rings to use this scope on any gun you want to put it on.
Is the inside nitrogen purged?
No, it's Argon purged. Vortex usually uses argon for the purging process to make scopes fogproof.
Is it good for hunting?
It's great for whitetail hunting. Which makes it an amazing combination with the 458 Socom.
3. Leupold VX-Freedom 2-7x33mm Riflescope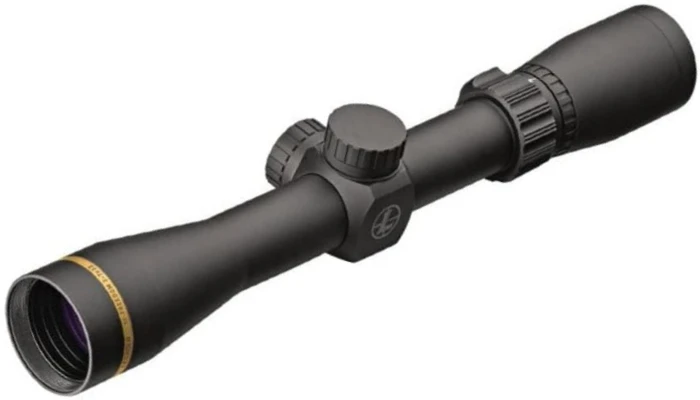 The Leupold VX series is a budget-oriented hunting riflescope packing the same punch as other Leupold riflescopes. The VX-Freedom is a medium-range offering from them. The scope is capable of magnifying up to 7x. That's a huge area to cover while hunting or just practicing for competitions.
The scope is made out of aircraft-grade aluminum as well. An extremely durable material that is often used in high-end riflescopes as well. The inside of the scope is purged with chemicals as well. Making it immune to internal fogging. To prevent water from going inside, the tube is sealed with an O-ring at every point.
The lenses are the main selling point of this scope. They are fully multi-coated. They are not ED glass yet they give ED glass scope good competition. That credit goes to Leupold's twilight light management system. It's a light gathering mechanism that gathers light and amplifies the input by a lot for the scope to work with.
That results in bright and clear pictures in low-light conditions. Leupold is the maestro when it comes to light managing systems. The VX-Freedom is definitely one of the best 458 Socom scopes out there.
Does this scope come with mounting rings?
No, it doesn't come with any kind of mounting accessories. You will need to purchase 1" mounting rings for this to work on any rifle.
Is the reticle illuminated?
No, the reticle is not illuminated. You don't need any batteries to operate nor the reticle has any tritium fiber.
Does Leupold offer any warranty?
Yes, they offer a lifetime warranty with their products. You can find the full terms and conditions applicable on their website.
4. Bushnell Optics 1-4x24mm Drop Zone Reticle Riflescope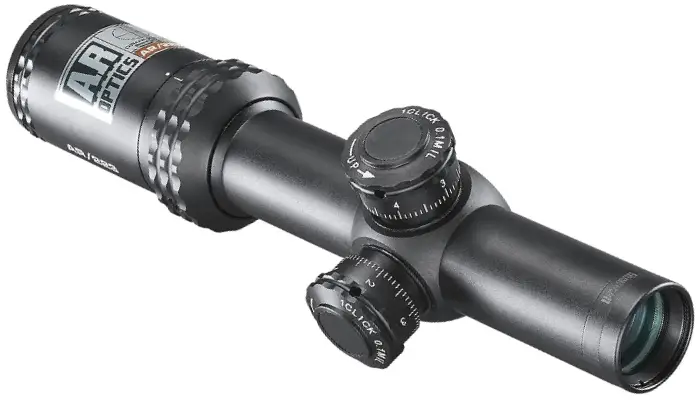 Bushnell is another great hunting riflescope manufacturer. Their scopes are usually quite affordable. They are super easy to use. That's why hunters love using their scopes.
The DZR is no exception in this scenario either. Made out of high-quality aluminum, it's a very durable riflescope. The internals of the scope are purged with nitrogen as well. That removes any kind of moisture that was there before. Making it impossible to fog from the inside. To prevent water from getting inside, it also is shock and waterproof.
The lenses are surprisingly good for being an affordable scope. They are fully multi-coated. Meaning the lenses have been coated with chemicals multiple times. Those chemicals remove glare from the lens and help them gather more sunlight.
By gathering sunlight, it can create stunning images. The color contrast is amazing as well. There is no distortion at any given magnification either. Overall, a great pairing with the 458 Socom.
Does it come with mounting accessories?
No, it doesn't come with any mounting accessories. You will need to purchase 30mm mounting rings. Vortex makes some great scope rings. They will stay still on the gun and keep your scope in place.
Are the turrets adjustable?
Yes, they are fully adjustable. They have enough tactile feedback to not mess up measurements.
Is this good for long-range?
It's a pretty solid option for up to 500 yards. Beyond that, you might have some trouble reading the accurate bullet drop.
5. Monstrum 2-7×32 AO Illuminated Rifle Scope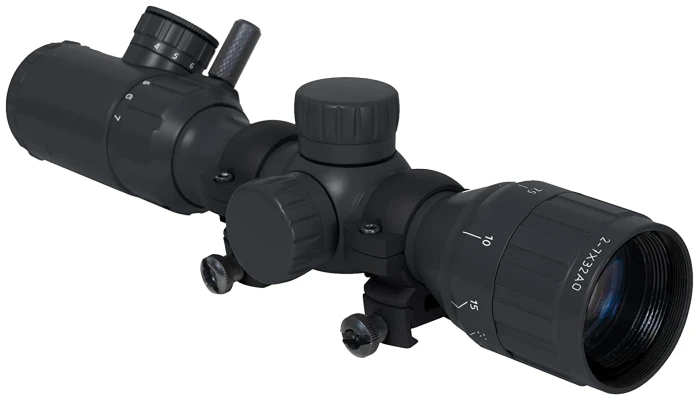 Last but not least a crowd favorite. The Monstrum AO riflescope is one of the most used AR scopes out there. The AO is an excellent medium-range rifle scope. This scope is available in two different colors. Flat dark earth or black. Both colors look gorgeous in my opinion.
The scope is aluminum. That's right, even though it's one of the cheapest 458 scopes in the market, it's not the worst by any means. 6061 aluminum is durable and lightweight as well. The inside of the tube is purged with nitrogen. Making it immune to any internal moisture.
The lenses are coated as well. Coating removes any glares from the lenses. Unfortunately, it's not scratch resistant. You still can land some scratches on the scope if you try enough. But that's forgivable. Thanks to how well it performs in range-shooting.
It's quite good for hunting as well. The reticle is illuminated with a rangefinder. The reticle is quite fast at range estimation and handover information. It's good, it's reliable, and it's fast enough. What more do you want from a reticle?
Does this come with a mounting system?
Yes, it does. That's right. The cheapest scope on the list comes with a pair of Picatinny mounting rings included in the package.
Is this suitable for long-range shooting?
No, it's not. It's suitable for 300+ yards. Beyond that, it's not accurate.
Is this good for airsoft rifles?
It can work with airsoft rifles. That's for sure. It's built better than stock airsoft scopes. It's not plastic either. Will go well.
Conclusion
And those are some of the best scopes for 458 Socom you could purchase right now. They are great individually and they perform astonishingly well once paired with the right gun that fires Socom.
Choosing the scope that will be the right for you will still depend on you. But I do hope that decision making became a bit easier after reading this.
With that said, that's all for now. I hope you enjoyed it and found it useful. Don't forget to tune in later for more informative posts. Till then, take care and stay healthy.