After naming the Walter PDP handgun as the "2021 Handgun of the Year", the popularity of this model has reached another height. With the growing popularity, there is no doubt that you will also want to add this gun to your permanent collection or maybe you already have!
The PDP handgun is versatile, dependable, and effective in both concealed carry and conventional service situations. In this pistol, you are getting an advanced trigger with shortened travel length and repeatable accuracy, a SuperTerrain design on the slide to raise the serrations above the surface, RDS Ergonomics, and a Performance Duty Texture grip.
After listing all these superb features I am sure you must be thinking whether there is any need for upgrades on this PDP gun. But let me tell you what I always say to my fellow shooters.
There is no limit to what you can make a weapon, meaning you can always change to either customize it to suit your personal needs or you can change different components to make it ready for competition.
Whichever it is you will always find something to replace on these weapons and this Walther model is nothing different. That's why I have a special list of products for your very own PDP handgun. Then let's not waste our time anymore and move straight to the upgrade list.
1. Walther PDP Trigger Upgrade
First I want to clear the air about Walther's triggers. The new PDP trigger is quite good as I have mentioned above. Of course, you can keep the factory trigger for any daily activity.
But your question should be "Is it upgraded enough to use in a competition?". For any handgun to be competition-ready, it needs a smooth trigger with a low trigger pull and better follow-up shots.
In order to achieve that you will need to keep a great quality trigger in hand and replace your old one with a new one. And I have the perfect product for your PDP firearm.
i) Overwatch Precision Kit Walther PDP TAC Trigger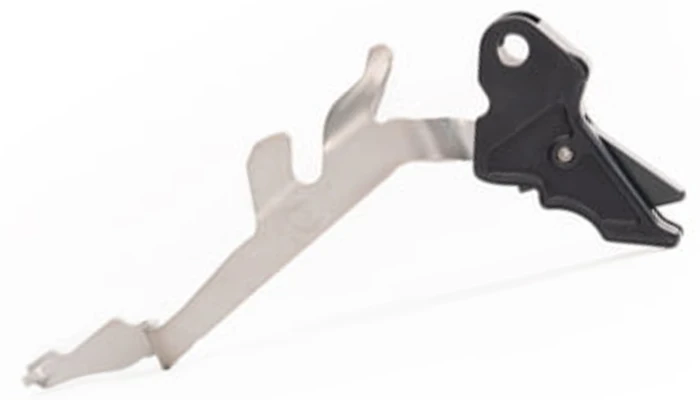 When you are changing your existing trigger then why not replace it with something that can offer you more? This is where this Overwatch Precision Trigger kit for Walther PDP comes in. This trigger comes with a CNC machined NP3'ed OEM bar that ensures safety, consistency, and quality.
There are two different trigger springs in red and green with trigger pulls of 3.8 and 4.4 pounds which work best for discerning shooters. Other than these you get a self correcting rearward press and short reset for an advanced feeling.
But what attracts me more is its 58% reduced pre-travel which then reduces the overall travel to less than 50%.
In my opinion, this trigger kit has some great features to consider as an upgrade for your PDP trigger. However, you can also opt for the PDP Apex Tactical Forward Set Trigger which is another favorite of mine.
2. Walther PDP Iron Sights
Another good replacement or upgrade for your Walther PDP will be the iron sights. The factory sights of the gun come with white dots which is okay for night missions, but you will have to face visibility issues during bright daylight.
That's why you need to replace the existing sights with something brighter and more visible even in the sunniest daylight.
i) AmeriGlo Trooper Walther PDP Sets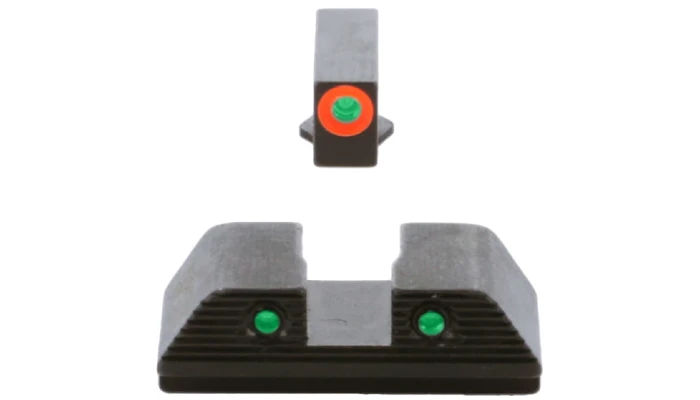 Since the PDP handgun comes with iron sights that have a white dot front sight and rear sights it becomes difficult to use it during daylight, especially when the sun becomes brighter. That's why I found it better to replace my PDP iron sights with these AmeriGlo Trooper sets.
These iron sights have a dot design which makes it easier for the shooters to spot the target quickly and take faster, accurate aims. The front sight features a ProGlo dot which lights up in the dark in order to give a better aiming point.
On the other hand, you are getting serrated square notch rear sights which come with green tritium dots. These are perfect for glowing in the dark as well and the green color keeps the dots visible even during the sunniest day.
3. Walther PDP Backstrap
Although the Walther PDP comes with an optional backstrap option, you can always opt for an aftermarket Walther PDP grip that has better quality features. The one I am going to suggest to you has the perfect texture and weight to keep the accurate balance for the gun and manage recoil.
Plus it will help you with stability and sturdiness so that you don't have to worry about both accuracy and comfort.
i) Walther PDP Backstrap – Brass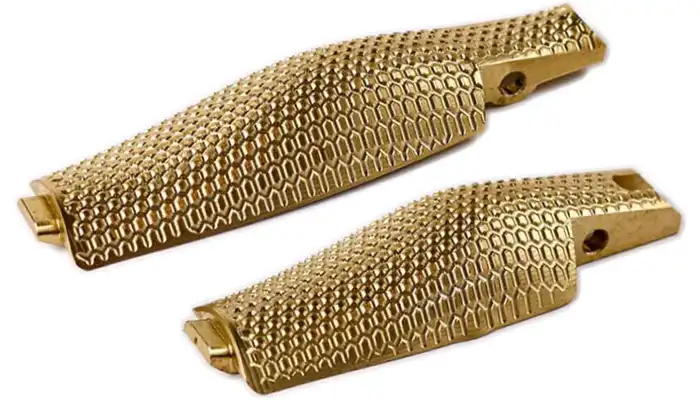 CNC machined from solid brass is what makes this Walther PDP Backstrap so desirable to every shooter. I personally like this product because of its comfort and stability.
Of course, you can always keep the original factory backstrap that comes with the gun, but just thinking about the upgraded quality after adding the brass backstrap makes me want to get the product even more.
Its grippy hexagonal texture is perfect for seating the PDP grip on your palm without slipping down. The brass adds weight to the gun, balancing out the overall weight of the handgun. This backstrap will not only add extra value to your gun but also perform to make your shooting better than before.
4. PDP Recoil Guide Rod
Having a good recoil management system is an essential part of PDP Upgrade. In order to find stability in your holding the gun and faster follow-up shots, it is important that you have a good recoil reduction device at hand.
Since Walther PDP is a 9mm caliber pistol, the recoil guide rod including a good quality recoil spring will be a perfect choice for reducing the felt recoil from 9mm cartridges.
i) DPM Recoil Rod Reducer System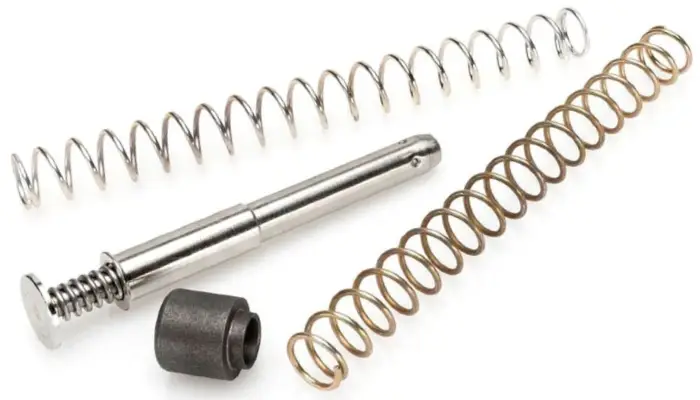 This Recoil management system is a direct replacement of the stock recoil rod that comes with your gun. You don't need to change any pistol configuration in order to install this product which makes it much easier to navigate through the recoil rod.
Its pistol slides and slide parts have a DPM design in them, allowing you to take faster and smoother follow-up shots while reducing the felt recoil. Not only that. This recoil rod also improves the overall build of the pistol and provides you with a consistent and stable weapon.
Besides, the rod reducer system eliminates any spring jam which then results in boosting your firing speed and precision.
5. Walter PDP Sights
Coming to the sights, Walther PDP optics are just as important as its iron sights. And when talking about optical devices the best way would be getting a good red dot sight with excellent lens quality.
One thing that is good about the Walther PDP gun is that it comes optics-ready, meaning you can choose any mounting plate according to the footprint of the red dot sight and directly attach it to the gun without going through any gunsmithing.
And you don't even have to worry about purchasing a separate PDP optic plate as Walther offers a free mounting plate for the gun. You just need to visit Walther's website and request an optic plate of your choice and they will send you. Now let's look at the best sights for your PDP gun available in the market.
i) Holosun HS507C-X2 Reflex Red Dot Sight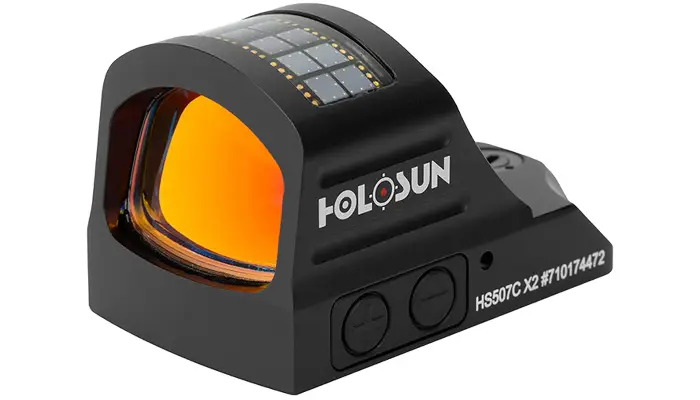 I recommend this Holosun HS507C-X2 red dot sight mainly because of its two reticle design. You are getting a 32 MOA circle reticle that helps you to re-center quickly and increase situational awareness. In addition to that, there is also a 2 MOA dot reticle that is perfect for any mid to long range targeting.
On top of this, the sight also has a long battery lifespan of 100,000 hours. Even if the battery dies suddenly you can still use the brightness settings due to the "Solar Failsafe" feature. There is also a lock mode that will stop any accidental brightness switch while you are using it for concealed carry.
The 6061 aluminum keeps the red dot strong and durable whereas the Shake Awake technology keeps it combat-ready all the time. Since the Holosun red dot has the RMR mounting standard you can use this Walther PDP RMR Optic Plate for directly installing it on your handgun.
ii) Leupold DeltaPoint Pro Reflex Sight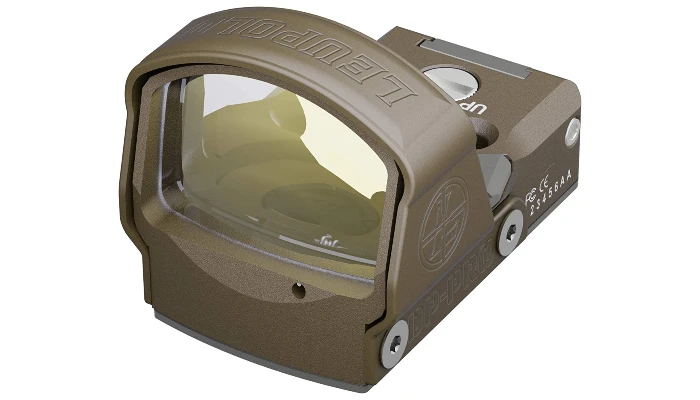 Another really great optical sight for your PDP pistol is the Leupold DeltaPoint Pro reflex sight. This will be perfect when you are upgrading your handgun for competition purposes as the sight has all the features to get you ready for winning the game.
Along with a large field of view, you are getting a 6 MOA dot reticle which is perfect for close to mid range shooting you will find in the competition. But if you want a bit more precise dot then you can definitely opt for the 3 MOA reticle version of this model.
This Leupold sight provides you with faster and more accurate target acquisition with the wide FOV and its protected lens hood keeps the lens safe from any external harm. This is not all.
It's easy battery compartment accessibility makes it easier to swap batteries without taking them down from the gun. That way you don't need to reset zero every time you replace the battery. The sight is also shockproof and remains intact during the harsh handling.
The DeltaPoint Pro sight has a Shield RMS footprint. Although you can always request a free PDP optic plate from the Walther website, you can also check out the Shield Sights SMS & RMS Optic Plate as an alternative option.
6. Walther PDP Flashlights
Just like the red dots, you can also add a flashlight or PDP laser into your gun. The flashlight would help increase situational awareness and the laser light will give you enough coverage while putting out a precise laser beam for accurate targeting. I would suggest the flashlight, especially for home defense and the laser for any law enforcement activity.
In case you want benefits from both devices, you can check out my first product for the Walther PDP laser light combo in the following section.
i) Streamlight 69430 TLR-8G 500-Lumen Pistol Light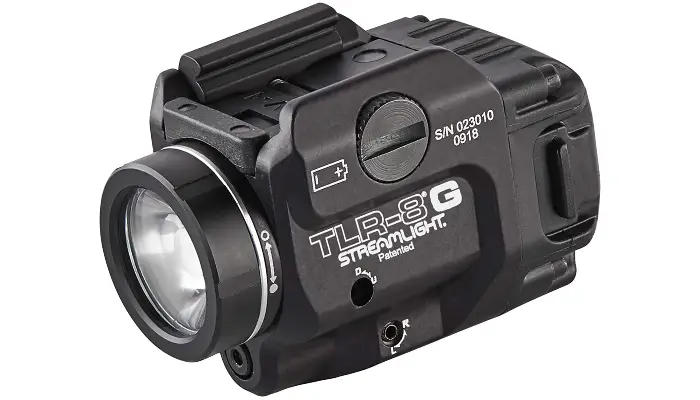 Streamlight has been in this business for as long as I can remember and I must say they have kept their proprietary quality intact throughout the years. This is why I always opt for their lights whenever I am looking for a great flashlight for my handgun.
This TLR-8G model is a good option for your Walther PDP firearm as this laser light combo offers a 2-in-1 feature providing you with a 500 lumen white LED along with a bright green laser.
Its custom optic lens produces a concentrated beam in the center and gives out optimum peripheral illumination at the same time in order to increase situational awareness. This is precisely what you need for home defense or detecting any nearby target.
With the ambidextrous switching system, you can power up the laser light single-handedly. The safe off feature on the bezel keeps your hand away from the muzzle while switching up the light.
This Streamlight laser light combo is quite good in offering great features. In case you want a different color laser than the green one here, Streamlight also has a red laser option for this model.
ii) SureFire X300 Ultra X300U-B 1000 Lumen LED Weapon Light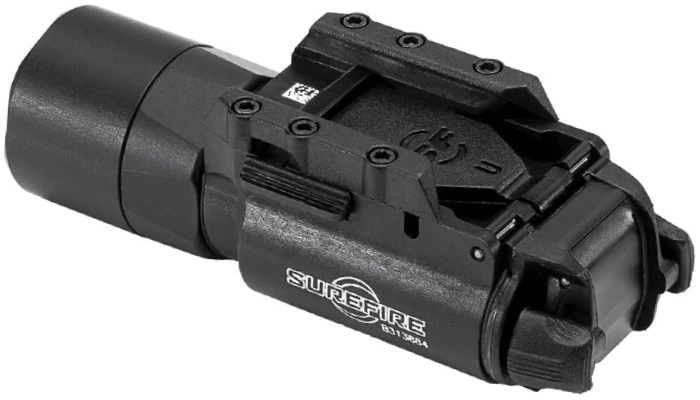 Another great brand producing top quality weapon lights with a budget friendly price tag is the SureFire flashlights. I have recommended this light as your second option because it has a brighter light capacity than the TLR-8G.
The 1000 lumen white LED light has a bright, dense beam at the center which then moderately spreads near the end, giving you an ambient light quality which is clear enough to detect any object.
Again the custom TIR optic lens will help you with the center beam and provide you with optimum peripheral lighting. Plus, the integrated ambidextrous switching allows you to toggle between the two modes- momentary and steady-on.
This SureFire tactical light attaches to both Universal and Picatinny rail bases so you can easily mount this on a wide range of handguns, including the Walther PDP gun.
7. Walther PDP Magazine Upgrade
Finally, I will recommend some magazine upgrades for your PDP pistol, including an extended magazine which will come in handy during any critical situation, base pads for magazine extension, and a magazine release.
These aftermarket accessories are perfectly essential for upgrading your existing magazine quality and provide you with a better environment for shooting.
i) Walther PDP Full-Size 18-Round 9mm Extended Magazine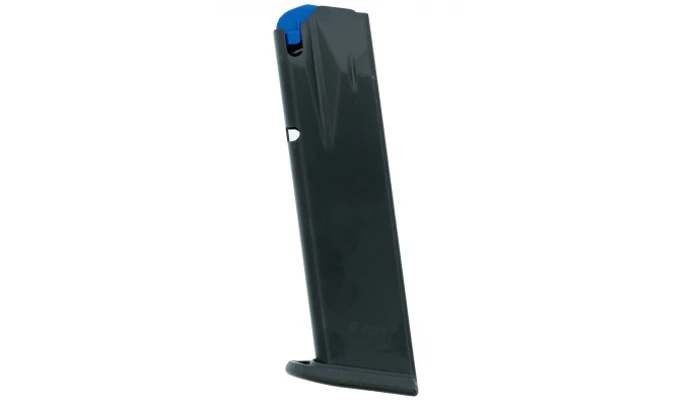 Coming to the extended magazine, since the Walther PDP offers both 15-round and 18-round magazines, I would suggest purchasing an additional extended 18-round magazine like this one. That way you will always be ready in critical situations, eliminating the possibility of running out of ammo.
This extended magazine supports the 9mm caliber of PDP pistol and has the features of the factory magazine. Its removable polymer floor and numbered witness holes promise to deliver the best shooting experience.
ii) Walther PDP F-Series Compact Magazine Base Pads Brass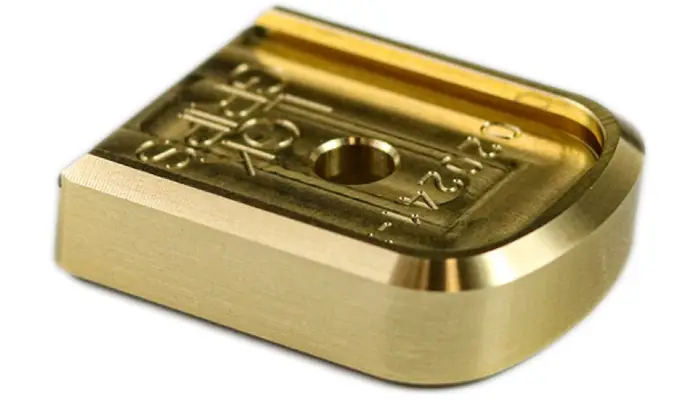 Since you are getting an extended magazine, adding a good quality magazine base pad in the list will be a good choice. These PDP F-series Magazine base pads are CNC machined and have strong brass construction.
Adding these pads to your handgun will increase the magazine drop speed, and reloads allowing you to save your precious time during competition. This also helps to reduce a significant amount of felt recoil, adding another benefit to its name.
iii) Walther Q-Series Replacement Button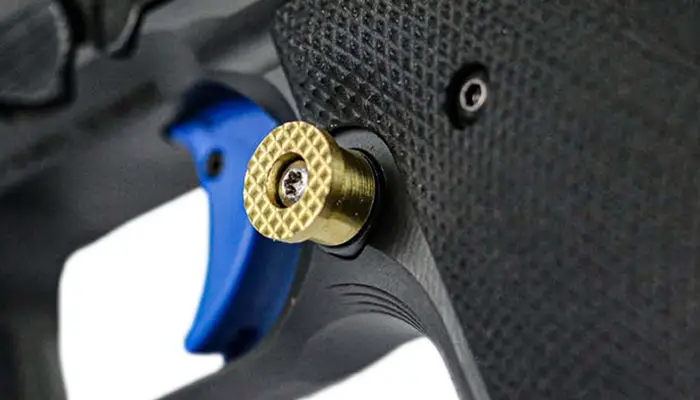 One last thing I would like to recommend for your PDP magazine upgrade is the extended magazine release replacement button. This CNC brass constructed button has a crisp chechering texture for adding traction to the weapon.
One thing you need to make sure of is that you already have a release button as this one works over the existing magazine release button. This does not install on the stock magazine release and you will need a T8 screw to install it.
Conclusion
To wrap it up, the Walther PDP handgun has earned quite a name for itself after winning the awards last year. This means you are getting something that is worth your money. However, that does not mean there is no scope for changes and customization for this pistol.
From where I see it, you can most definitely venture into the realm of aftermarket upgrades available for your PDP firearm and choose the ones you prefer. And I am here to help you with that. Just go through the recommended products for the gun and select the ones that will turn this award winning gun into your personal favorite.