The Remington shotguns are some of the most popular weapons among both hunters and small-game competitors. When it comes to CQB, a shotgun is a mandatory weapon. While the Tac 14 is a great gun like the 870. It's not the best stock weapon.
To make it more appealing and make it feel more comfortable, you will need to go the custom route. After all, a custom Tac 14 is superior to a stock Tac 14. But to reach that end goal, you will need to make some necessary changes.
The changes will come in the form of upgrades. That's right, it's about time you find out about the best Remington Tac 14 upgrades and apply them to your weapon. You don't have to go anywhere else for that. Let's start.
How To Choose The Right Upgrades For Tac 14?
The right upgrade order depends on your needs. Honestly, there is no right order to upgrade the Tac 14 either. Go with the flow and upgrade the main required items first.
For example, the pump with LED is a must for all homeowners for self-defense. It's a must for hunters as well.
But you could live without a sight or a rail on top of it. But if you are fancying your chances and want to just go all out, then upgrade the rail and then choose an optic as well. Will help you during all kinds of shooting.
There is no point of making unnecessary upgrades tho. For example, don't bother with a sniper scope.
1. Remington Tac 14 Brace Upgrades
The first thing you will notice on the Tac 14 is the lack of a brace. While it looks like it's usable with one hand, that's the biggest scam you can fall for. It still is a two handed weapon. So, why not make it more comfortable for both of your hands and your shoulder?
i) Gear Head Tailhook Mod 2 Pistol Stabilizing Brace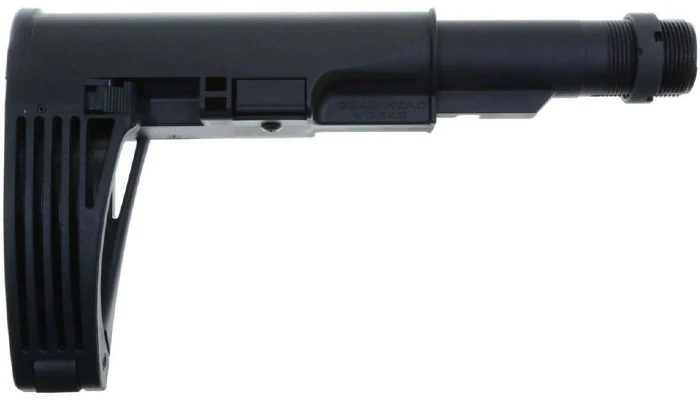 The Tailhook Mod 2 is one of the most used pistol braces. But while trying to install this, you will notice your Tac 14 has a bird's head grip. But it doesn't have the necessary AR buffer tube needed to install the Tailhook Mod 2. This is where the Ergo 870 Stock adapter came to the rescue. It's a must have for every custom Tac 14 owner.
As for the brace itself, it's made out of rigid polymer. The same type of polymer you often find in handguns. It's durable and lightweight. While I can understand you would still want an aluminum brace, this is not less than any aluminum braces either.
The brace has 5 adjustable positions that you can use to your benefit. From 7.375″ min – 10″, you can maximize your comfort with the right amount of height of the stock. This is greatly beneficial for short hunters.
ii) SB Tactical TAC14-SBM4 Stabilizing Brace Kit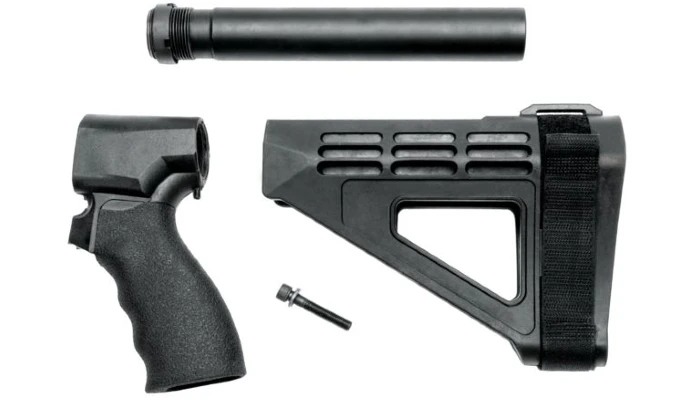 SB Tactical braces are world renowned. Their pistol braces are highly recommended as well as their AR 15 accessories. This one here the SBM4 is a complete stabilizing kit made specifically for the Tac 14 shotgun.
The grip includes SBM4 Pistol Stabilizing Brace, STDT-C pistol receiver extension, ERGO flat top super-grip, ERGO Remington 870 adapter, Castle nut, and adjustable nylon strap
In short, it's everything you need for your Tac 14 to make it a stable gun. On top of that, make it feel extremely comfortable. That many accessories for a gun like this in one kit aren't readily available everywhere. The SBM4 brace kit is a wonderful way of giving newbies a fun shotgun experience.
2. Remington Tac 14 Grip Upgrades
Once you decide to ditch the stock handle for a brace, you just have to purchase a pistol grip at the same time as well. Otherwise, you won't be able to use your gun at all. Here are some of the best Tac 14 pistol grips you can buy.
i) Ergo 2 AR15/AR10 Ambidextrous SureGrip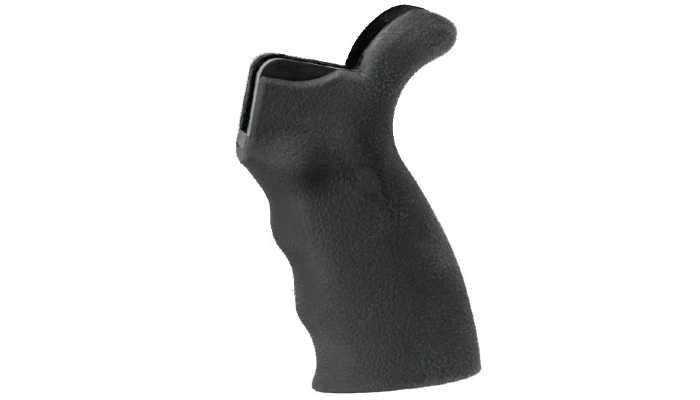 If you are not going for the SBM4 kit, then you are now stuck with the Tailhook Mod 2 without any pistol grip. That's a bummer, right? Don't worry, for those Ergo is here to save the day, again. The Ergo Suregrip is an AR15 style pistol grip that has a cutout to fit any braces with the Ergo 870 adapter.
The grip is made out of polymer completely. There is no rubber or rubberized texture involved at all. There are fingerrest groves in front of the grip. Those can feel a bit tacky and not comfortable for large hands.
But once you get used to it, they are one of the most comfortable grips you will ever come across. The best part is, that gloves won't interfere with the grip at all. So, you can use this in the winter with ease.
3. Remington Tac 14 Pump Upgrades
As the shotgun requires a pump to work with, you can easily change it to a better one with more features. Changing the pump can improve your overall experience with the gun. Let's not forget the accessories you can add due to a different pump is quite nice to have.
i) Streamlight TL-Racker 1000 Lumen Forend Light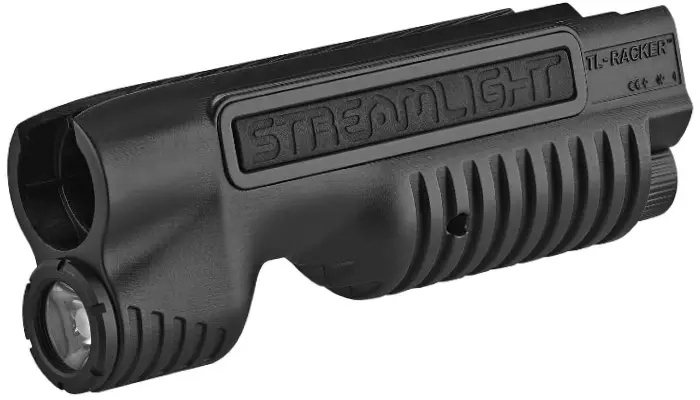 If you are building your custom Tac 14 for home self defense, then you absolutely need this pump. As the name suggests, this pump comes with a 1000 lumen LED at the front of this forend.
That LED comes in a super clutch to protect yourself during the night from thieves or burglars. And the light will come in super handy when you are hunting for small animals during the night.
This battery powered illuminated pump is made out of nylon. Nylon is as durable as polymer if not a bit more. Rest assured, it went through several tests before getting released on the market. The 870 Tac 14 won't be able to destroy it anytime soon.
ii) Magpul MOE M-LOK Remington 870 Forend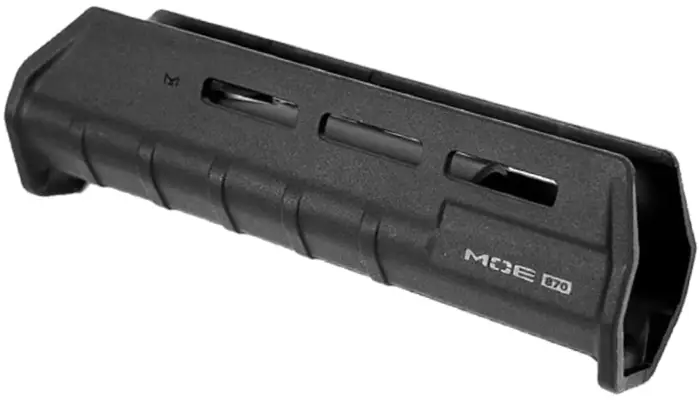 When it comes to M-Lok accessories, no one does it better than Magpul. Magpul is also the stock pump maker for the Remington 870 guns. This is a replacement pump with a bit more support than the stock pump.
It supports almost all 870 models you can think of. As long as it's 12ga, it will support the gun. There are exceptions, of course. The benefit of this forend is, you can add in more M-Lok accessories.
The pump is made out of polymer. Reinforced polymer is a good material for making accessories like this. There are tons of other Tac 14 accessories that use this same exact material. Rest assured, drops won't be able to damage it. As it's not metal, there is no concern about catching rust either.
4. Remington Tac 14 Sight Upgrades
Despite being a shotgun, the Tac 14 could get a slight boost from optic upgrades as well. While installing a rifle scope on this is pointless, installing a night sight or a red dot sight makes total sense. Here are some of the best Remington 870 Tac 14 sights for you.
i) Crimson Trace LS-870 Red Laser Sight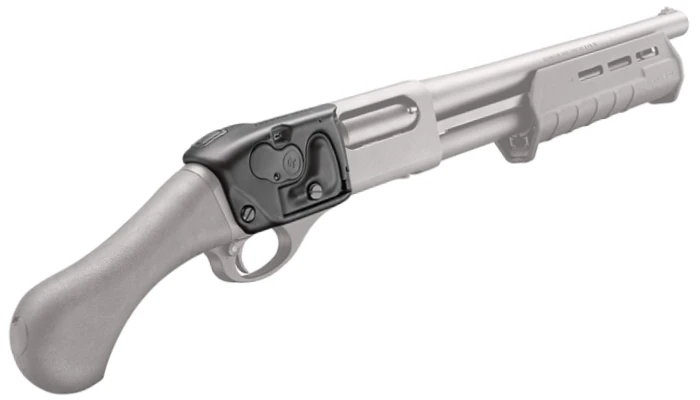 This laser sight is available for tons of other guns as well. This specific model is only available for 870 and Tac 14. It's not supported in Tac 13 unfortunately. The sight is made out of polymer.
A type of hard plastic often used to make handles of rifles and the stock. Durability is quite good and it protects the battery of the laser quite well. The laser sight uses a 5mW peak, 620-670nm, Class 3R visible red laser. It's the highest rated laser sight legally allowed.
It won't interfere with your side saddle or a top rail if you are planning to add that. Just as you guessed, you could pair up a mounting rail with it and use a different sight on the top and use this during the night.
ii) Trinity Remington 870 12GA Red Dot Sight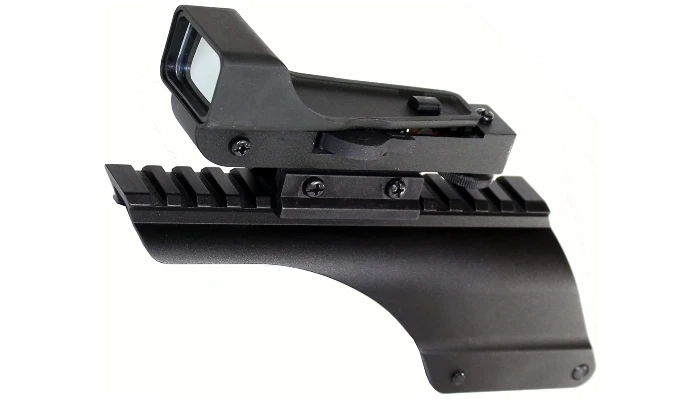 What if laser sight isn't your mojo and you want the traditional red dot sight for your weapon? Then you will need to find something like this. This setup from Trinity comes with a mounting rail and a red dot sight as a bonus.
If you don't like the red dot sight it comes with, just change it to something like the Holosun HS510C. But the stock red dot isn't half bad. Even though, I'm 99% sure you are going to get this deal for the rail only.
Can't blame you. The rail is undeniably the best part of this deal. It's made out of aluminum and it takes in literally any picatinny accessory you want to throw at it. Without requiring the help of a gunsmith, this is the go-to sight and rail combination in my opinion.
5. Some More Tac 14 Upgrades That You Can Consider
Take a look at these, shall we?
Sling
Slings are a needed product if you are going to apply all the upgrades mentioned here. Because all accessories together will put up some weight in the gun. Sling will make it easier and more comfortable. A sling like S2Delta is highly recommended. It's comfortable and it's made in the USA.
Shell Holder
Shell holders are quite underrated. But they often create their own problems. That's why this optional upgrade isn't a must do. But you can consider this if you are not using a custom mounting rail already on your gun. The ProMag AA112 is capable of holding up to 7 shots.
Conclusion
There you go. The smaller brother of the 870 family got its well deserved recognition. It's a gun that is close to many people for obvious reasons. Some got it as a gift from their ancestors while some bought it as their first weapon.
Doesn't matter why you bought it, you should try to get the best Remington Tac 14 upgrades for your sake and the gun's sake.
The experience is everything. And for that, money isn't something we tend to care about. After all, hobbies are above money. That's all for now, I hope you are doing okay. I will see you on the next one soon.