Rossi RS22 is an extremely affordable semi-automatic rimfire rifle. The RS22 is known for being beginner friendly and still having great accuracy like most other rimfire rifles. While the rifle is quite accurate and a good learning weapon, it doesn't come with a rifle scope that will help you unleash the beast within.
The included fiber optics are good enough for the learning stage, but they are nowhere near enough in the long run. How about you change that? What if you install a rifle scope on the RS22 and use it like a real sniper rifle?
That's right, you can install a scope on this weapon without going to your local gunsmith. Yes, yes, I will tell you how to put a scope on a Rossi RS22 and more. Without further ado, let's find out the best scope for Rossi RS22.
How To Select a Scope For Rossi Rs22?
Well, you now have a plethora of options available to choose from. While they can be a bit overwhelming, you can make the decision easier if you keep a couple of things in mind. Here they are.
Mounting System
As you guys know already, the Rossi RS22 doesn't come with a standard scope mounting system. While it can accept dovetail rings and scopes, it won't accept weaver mounting rings. That's why, you will need to invest in a Monstrum Tactical Low Profile Dovetail to Picatinny/Weaver .22 Airgun Rail Adapter. That's a mouthful name. But it's a product that will make your RS22 compatible with most scopes out there.
Build Quality
Now that you know what kind of mounting system you will use, you now have to decide about how durable of a scope you want. While the cheaper ones are made out of aluminum, they are still not as well-crafted as a high-end scope. Craftsmanship matters. Regardless, you need to choose a scope that is durable and will last you a long time.
Lens Quality
While some may say the quality is the same in low and mid-range scopes, that's simply not the truth. The amount of coating done to the lenses and what kind of coating they are makes a huge difference in the process. That's why I always go for a scope that has a good pair of lenses that are coated and tuned to perfection for hunting or tactical shooting.
Budget
Last but not least, is the budget. The budget implies how much you are willing to spend on something. If you are going to spend a lot of money, you certainly can do that. But if you decide that "I will only spend this much" then you can easily choose between the options. As you will have less options in your given budget, it's easier to choose the right one for you.
Also, make sure to take the scope that feels like it will do better for you. Some prefer higher magnification while some prefer low magnification. It's user preference.
Best Scope For Rossi RS22 [Editor's Picks]
1. Leupold VX-Freedom 3-9x40mm Riflescope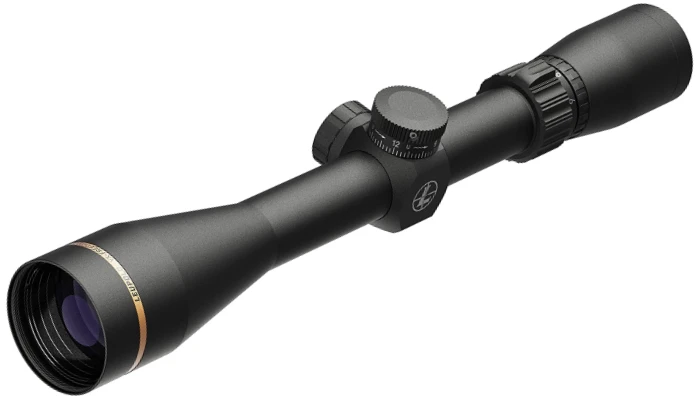 Leupold VX series is one of the best beginner friendly medium to long-range rifle scopes on the market. From being affordable to being a great performer, the VX-Freedom is the perfect bridge between a high-end and budget scope.
The VX-Freedom I recommend you to come with a humongous 40mm objective lens and it's capable of magnifying up to 9x of optical zoom. Thankfully, the fully multi-coated lenses are superb to look at and there is no distortion present on the optic.
The exterior of the optic is made out of high-quality aluminum. It's a lightweight material that has been CNC machined to perfection. The inside is purged with chemicals to remove all moisture. Making it fogproof on the process as well.
Leupold uses something called the twilight light management system. It's a light gathering technology that improves the low-light performance of a scope by a lot. While it's not ED glasses, it performs nearly identically to them. If you are picking this combo up for hunting, you will have a great time.
Does this scope come with a mounting system?
No, it doesn't. You will need to buy mounting rings for it separately. I highly recommend the Vortex 1" Pro series mounting rings. This is a great pair of rings fitted for the VX-Freedom.
Is this scope suitable for hunting?
Yes, this was made for hunters.
Does Leupold offer any warranty?
Yes, they offer a lifetime warranty with their product. They will replace or repair the scope for you without any questions asked.
2. Bushnell Trophy Rifle Scope with Multi-X Reticle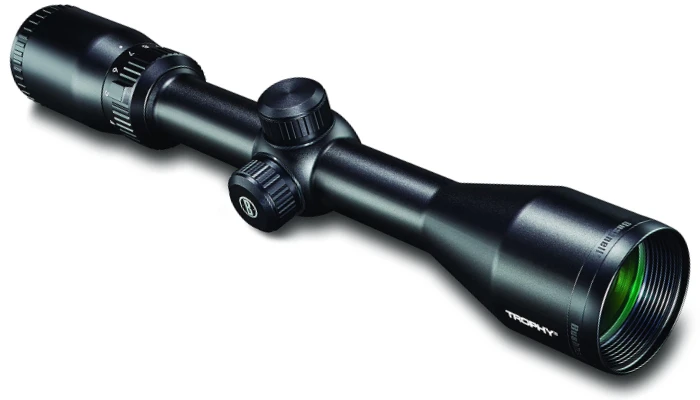 Bushnell Trophy is one of the best budget hunting rifle scopes on the market. The price you pay for this amazing product is quite unreal. The Trophy is a medium-range riflescope with good accuracy for hunting.
The maximum magnification of this optic is 9x. That's similar to the VX-Freedom I mentioned above. There is no chromatic aberration present on the optic either. As the lenses are coated, there is no glare from the direct sunlight. You can see the reticle in any given day light situation.
The scope is made out of aluminum. It's durable and lightweight. For sure it will last you a long time to come. As this was made for hunting mostly, the scope is well prepared to be weatherproof. It's shockproof, water resistant, and fogproof as well.
Internal purging is quite necessary to make it immune to moisture leaks and eliminate any internal moisture leaks. Even at maximum magnification, the scope performs remarkably well. A good choice for the RS22.
Does this scope come with a mounting system?
No, it doesn't come with any mounting gears. You will need to purchase something like the Vortex 1" Pro series mounting rings or Vortex Hunter riflescope rings.
Is the reticle illuminated?
No, it's not illuminated at all.
Does Bushnell offer a warranty?
Yes, they offer a lifetime warranty. Just like Leupold, they also offer no question asked warranty.
3. Barska AC10380 Plinker-22 Scope 3-9×32 Scope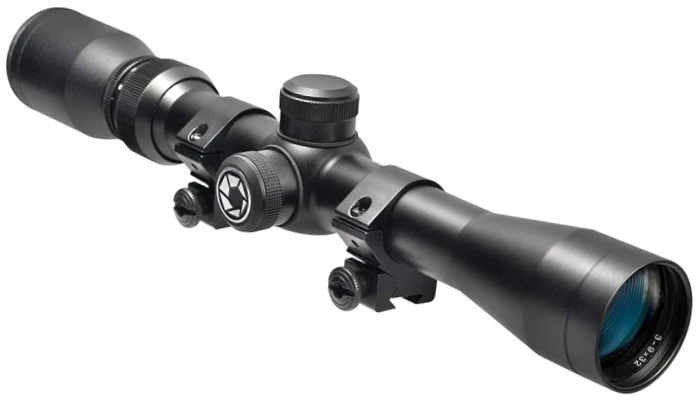 The Plinker 22 has been the go-to 22 firing scope for a while now. It's affordable, it's good, and it lasts for a while as well. What more could you ask from a cheap 22 compatible scope?
The material here is not plastic if you were wondering. It's still aluminum. This is something that ain't gonna change in the low-end either. The tube diameter is 1". It's similar to a lot of other scopes in this price range.
To make it fogproof, the inside of the tube is purged with chemicals. That eliminates all moisture from the inside and prevents moisture from leaking inside as well. While it's not rated to be submersible, the scope can withstand a bit of rain with ease.
For hunting, it's a good option to start with. Whether it's some bird hunting you are doing or some small animals, this scope will support you with good accuracy all the same. That's why it's a good match with the Rossi RS22.
Does the Plinker22 come with a mounting base?
Yes, it comes with standard dovetail mounting rings. You can use them on any 11mm dovetail supported weapons.
Are the turrets capped?
Yes, they are capped turrets. Once adjusted, they won't change the reading accidentally.
Will this work on an air rifle?
Yes, it will work with air rifles as well. The recoil and harshness of those weapons won't be able to dent it.
4. Simmons 3-9x32mm .22 Matte Black Riflescope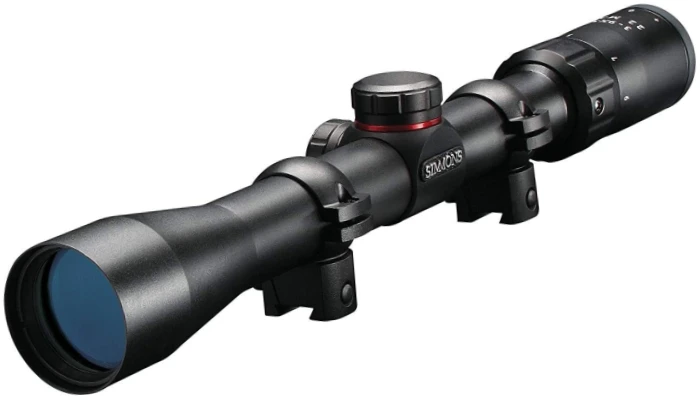 I feel like I have made this joke before, but hey what's another time? Simmons is not owned by J.K Simmons if you were wondering that. Jokes aside, Simmons is a well-known brand among budget enthusiasts.
They make scopes dirt cheap and they are not even bad! They are surprising, to say the least. The scope has a very robust body that is shockproof as well. That's why you see them being used with rifles like Rossi RS22.
The lenses are fully coated as well. It's still not immune to scratches, but it's well-protected against it. Oil and dust don't stick much on the lenses either. There is no color alteration but at maximum magnification, you might notice a slight grain of distortion at the border of the scope.
But while taking your shots or practicing for upcoming competitions, you won't notice any of that. Then again, if you have OCD, then you might. Otherwise, the value this Simmons scope packs is absolutely mind boggling.
Does this scope come with mounting rings?
Yes, the scope does come with rings. They are standard 11mm dovetail rings that tighten well enough.
Does Simmons offer a warranty?
They do offer a warranty. But they are not unconditional or no questions asked. You can find out about them on their website.
Is this a hunting scope?
It can be used for hunting, yes. It's a versatile scope. It can do almost anything you want it to do.
5. CVLIFE 3-9×40 Optics R4 Reticle Crosshair Scope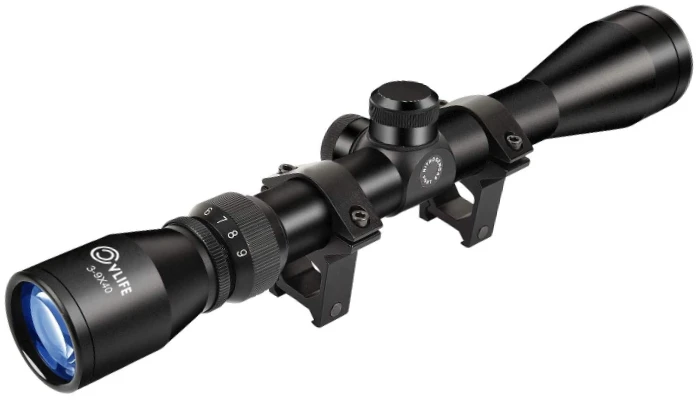 Last but not least, CVLIFE R4 Reticle scope. Another great cheap scope that is often being used with airsoft weapons. It's much cheaper than a pair of mounting rings from Vortex.
Despite being dirt cheap, CVLIFE still used aluminum alloy to make the scope. Props to them for not using plastic. The inside of the tube is also purged with nitrogen to remove any kind of moisture from the inside.
The lenses are coated. They are not fully multi-coated like a 300-400$ scope. But they are coated enough to remove any kind of glare coming directly from the light source. Keep in mind they are not scratch resistant. So, keep them away from sharp objects.
The adjustable turrets are hidden under a cap. Protecting them from being overturned or misadjustment in combat. CVLIFE tried their best to make a scope usable to every beginner and I think they succeeded.
Does this scope come with mounting rings?
Yes, it does. It comes with standard Picatinny mounting rings.
Does CVLIFE scope work on air rifles?
They do. Air rifles are known to break poorly made scopes, but this isn't the case here.
Is the reticle illuminated?
No, it's not illuminated.
Conclusion
There you go. You now have a list of the best scope for Rossi RS22 and how to choose the right one. I also mentioned briefly about how you can mount a scope on the RS22. Now do what you want to do with this knowledge.
Anyway, that's all for now. I hope you found this guide useful and now know which scope is the right one for you. With that said, that's all for now. I will be signing out for now. Will be back with more soon enough. Till then take care and stay safe.