The Crosman 1377 also known as the American Classic is a bolt-action pneumatic gun. It uses .177 caliber to shoot. With up to 600 FPS speed, 1377 is capable of firing in CQB.
With an effective range of 30 feet, you are not going to conquer the world with this. But you still can have fun while shooting. One of the things that makes this fun is scope. As the gun barrel is long enough to support full-sized scopes, you will see people put some scopes on top for fun.
Then what is the best scope for Crosman 1377? Which one will be worth it to have it on the gun and later carry on to a different rifle? That's what I'm here to let you guys know. Without further ado, let's start.
How To Choose The Best Scope For Crosman 1377?
Now that you are aware of all the available optics, how do you decide which one is the best for you? Well, let me tell you a couple of things that I tend to follow while purchasing a new scope.
Depending on the material and machining process, the build quality of an optic varies. While cheaper ones tend to have polymer housing and lenses, higher priced ones have aluminum and glass. So, make sure to take an optic that has great build quality.
Lens clarity is also important. You cannot consider an option that doesn't do the basic job it's supposed to do.
Last but not least the budget. The budget is the second most important part of the decision in my opinion. After all, depending on how much you can or are willing to spend, your decision making will differ drastically.
You have basic barebone stuff above and a fully-fledged scope that can be later placed in rifles if need be. So, what sails your boat? How much do you want to spend? Decide that, then your decision will be quite easy.
Best Scope For Crosman 1377 [Editor's Picks]
1. UTG 3-9X32 1″ BugBuster Scope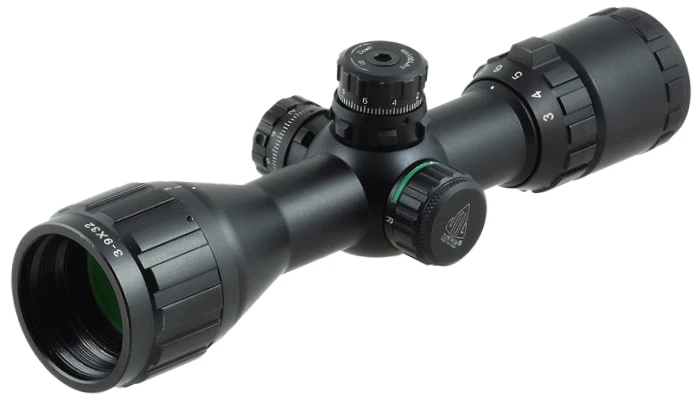 The BugBuster is made by Leaper. Leaper is not a new name in the industry. While they are known to make high-end scopes, they release budget ones under the UTG banner. The BugBuster is a cheap medium-range shooting scope with high close range accuracy.
While the BugBuster might look a bit comical in size in comparison to the gun, rest assured the gun can handle it. The scope is made out of alloy and it's quite durable. As the scope is purged with nitrogen, there won't be any internal fogging issues at all.
The lenses are fully multi-coated as well. They provide a clear vision between you and the target. With a maximum magnification of 9x, you might not need that with the 1377, but you can use it regardless.
While it's a bit of overkill for the pellet firing pistol, it makes sense why someone might want to go for this. You can learn more about scope adjustments and you can get better at bullet drop reading. Sounds like a winning deal, no?
Does this come with mounting rings?
Yes, it does. It comes with QD rings in the box. No extras are required.
Is it good for low-light shooting?
It's quite good for low-light conditions. Not the best, but it gets the job done regardless.
Can I hunt with this?
Yes, the scope is quite decent at short-range hunting.
2. NcStar 2-7x32E Red Illuminated Pistol Scope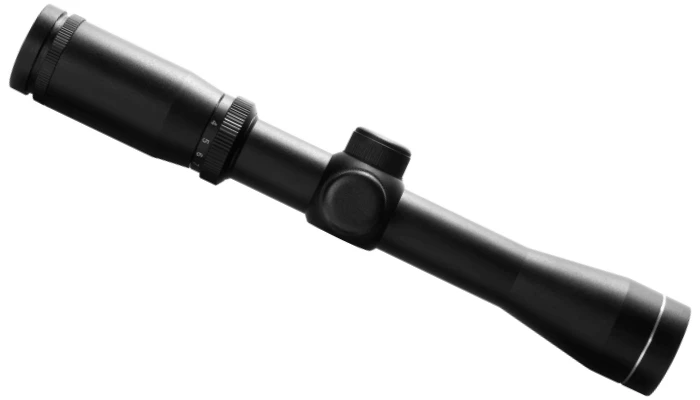 The NcStar scope is made for pistol calibers and rifles as well. This versatile scope has a 1" tube made through CNC machine processing. The tube is also filled with nitrogen to make it fogproof in cold conditions.
To prevent the water from getting inside, the turrets and the lenses are well-secured in place as well. While the scope is not rated to be submergible, you can get away with using this under light rain.
The scope is durable and can take shock enough to be paired up with a bolt-action rifle. If you want to hunt and shoot more than 50 yards, then you can pair this scope with an appropriate rifle down the line as well.
While the optics aren't as clear as HD lenses, they are quite good with vibrant color and clean vision. Long-eye relief allows you to pair this with something like the Crosman 1377 as well.
Do they come with mounting rings?
They don't. You will need to purchase a pair of low-profile scope mounting rings. But if you decide to get the Kit Variant, then they do come with mounting options.
Is the reticle illuminated?
Yes, the reticle is illuminated. It's a red illumination visible and vibrant under direct sunlight as well.
Does NcStar offer a warranty?
Yes, their optics are covered by a limited lifetime warranty.
3. TACFUN Red and Green Reflex Sight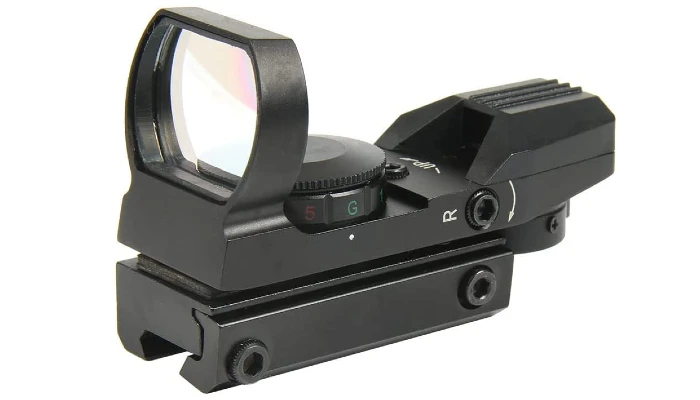 Want an extremely affordable reflex sight with an illuminated reticle? Tacfun got you covered. This reflex sight from Tacfun comes in two different illuminations. Depending on what kind of conditions you shoot at and what color reticle fancy you more, you can use it on red or green illumination.
On top of different illuminations, the optic also has 4 different reticles! The plan behind this sight was to ease everyone into the wonderful red dot world and ensure you guys are getting the best red dot for Crosman 1377.
In airsoft weapons, CQB is the more important part. For that sport, this optic is quite good. As it doesn't cost even a fraction of your weapon, you can easily buy it and get another if somehow it breaks.
The illumination is bright and vivid. While it's not as bright as a high-end reflex sight, the brightness is quite prominent and noticeable. You won't notice any glare or issues under bright sunlight either.
Does it require a battery to operate?
It does. It comes with a single CR2032 battery. The battery life is quite good as well.
Can you adjust the illumination?
Yes, it is. Lower brightness will ensure better battery life.
Will this fit my pistol?
If you have a dovetail rail, then it will fit. Any pistol with a dovetail rail will support this.
4. CVLIFE 3-9×40 Optics R4 Reticle Crosshair Scope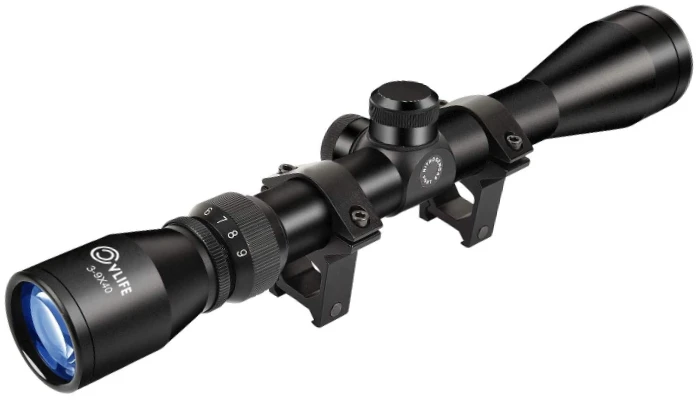 Riflescopes are getting cheaper day by day. And some of them are quite bad while others are pretty decent. The R4 Reticle scope from CVLIFE is a medium-range riflescope with good build quality and decent lenses.
There is no sugarcoating the fact that it's not built like a tank. Rather, it's built like a scope that can withstand bolt-action chambers and work under bad weather. The scope is made out of aluminum.
Rest assured, the aluminum is not bad quality or too thin. The 1" tube is decently made with internal purging. Making the scope immune to internal fogging. While the lenses are not ED or HD lenses, the lenses themselves are quite good.
While this scope is quite big in comparison to the 1377, it's still an option for folks who just want to admire a long-range view. Paired this scope with the 1377, you have a weapon in your hand that can easily take care of infestation issues in your garden.
Does this scope come with mounting rings?
Yes, the scope comes with mounting rings. They are standard 20mm mounting rings.
Are the turrets capped?
Yes, the turrets are capped and well-protected.
Is this good for hunting?
Yes, this is excellent for hunting. In fact, they encourage you to pair this with a hunting weapon.
5. Crosman 0290RD Wide View Red Dot Sight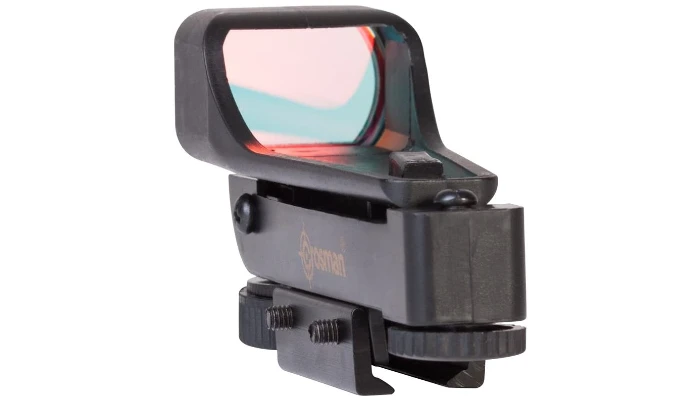 Last but not least, an optic from Crosman themselves. Crosman is aware of how people want to pair their weapons with an optic of some sort. The 0290RD is an optic with a wide viewing angle and robust structure.
While the optic is not made out of metal, the optic is still quite durable on its own. The optic doesn't have any glass lens either. It's made out of plastic. While the plastic is clean and much brighter than regular toy plastic lenses, it's still not comparable with glass lenses.
You can scratch it if you try with a prying tool or a key. But it won't accidentally break from recoil. Installing the optic on your 1377 is super easy as well. But that's about it. The optic is not the most durable nor the greatest performing.
It's a bare minimum optic that will get you started and allow you to partake in airsoft games.
Does this come with a mounting system?
Yes, it does have a built-in dovetail mounting system.
Is it poorly made?
It's cheap, thin, and light. So, yes, it has an okay build quality. You get what you pay for.
Should I buy this?
This is up to you. If you don't want to spend much and just want an optic with a reticle to shoot with the 1377, then it's worth it. Otherwise, you can get better if you want to spend more. Decide whether you want to spend more or not.
Conclusion
And there you have it. I hope you now know how to find the best scope for Crosman 1377 and make your shooting experience with the weapon a bit more pleasant. While the pistol can do just fine without a scope, what's stopping you from doing better with a scope?
With that said, that's all for now. I will return soon with more reviews for you guys. Till then, take care and stay out of trouble.