In order to give this unique must-have pistol caliber carbine the proper applause it deserves, I have come to the conclusion that this Sub 2k gun needs my serious attention.
This is why I have tried and tested it with many aftermarket accessories and come to a standpoint where I can gladly say this firearm is worth your attention.
Different from any typical PCC, the Kel Tec Sub 2000 gun comes with a foldable body structure which gives this firearm the uniqueness it demands. But the real problem arose with the debate between shooters about whether this carbine is worth their money or not.
If you ask me I would say this Sub 2k weapon is something that has a major potential of changing your entire shooting game. Just with some good aftermarket parts, you can turn this weapon into a solid eyecatcher.
With this intention, I have listed down all the best Sub 2000 upgrades you can find in the market. I have reviewed them for you so you know which ones will turn your Sub carbine into an irresistible weapon.
1. Kel Tec Sub 2000 Optic Upgrades
When we are talking about upgrades and accessories for any firearm, the first thing that comes to my mind is the optical sights and mounting system of that particular gun, because for me any optical sights and scopes can change your shooting accuracy for the better.
Then let us see which sight will be a perfect match for your Kel Tec Sub 2000 and how it will make targeting even better.
i) Bushnell Trophy TRS-25 Red Dot Sight Riflescope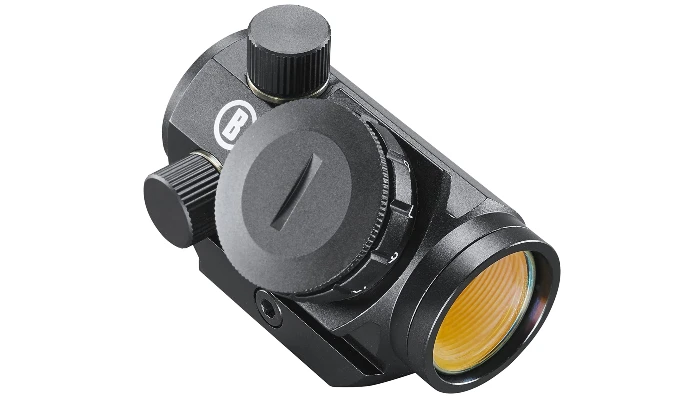 Bushnell comes with one of the most popular scope series and TRS-25 is one of the star players. This Sub 2k scope features a 3 MOA dot reticle which is perfect for any middle level targeting. Along with the 20mm anti-reflective objective lens, you will get the precise point of aim you have always wanted.
On top of that you are getting 11 different brightness settings to accommodate any hour of the day. Its CR2032 lithium battery lasts for 5000+ hours for continuous usage.
To prove its reliability, Bushnell has filled the interior of the TRS-25 red dot with Nitrogen so that you are safe from humidity and fog. The scope is shockproof and O-ring sealed to keep it safe from any splashes of unwanted water.
ii) STNGR Axiom II MOA Red Dot Sight with QD Mount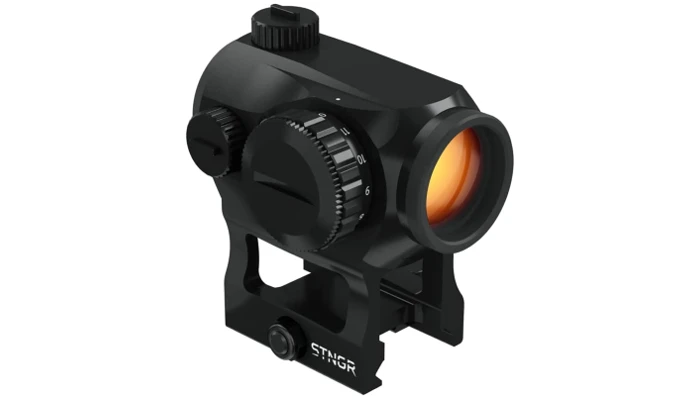 Another Sub 2000 sight I have for you is the STNG Axiom Red dot sight which has been reaching the discussion board of every shooting forum because of its high quality features.
The Axiom comes with a 2 MOA dot reticle and 11 brightness settings from which 2 of them are night-vision compatible. This you won't find in the Bushnell optic.
Also, the battery lifespan is much longer than the previous one. This sight has a solid 5 years of continuous runtime at setting 6. It is an IPX7 rated water resistant device that is also Nitrogen purged and shockproof.
Besides, the QD mount you will get with the device can lower ⅓ co-witness with the iron sights. Personally, I prefer this sight over any other optical device.
2. Kel Tec Sub 2000 Optic Mount Upgrades
Coming to the optic mount for your Kel Tec 2k Sub carbine, there are hundreds of mounts available in the market. But you can not just use anything with this gun.
Well, actually you can but then you can't fold the firearm like you could before. That is why choosing the right kind of optic mount is very important for this foldable gun. Hence, I am suggesting the Mcarbo and Midwest Industries Optic Mount which is specifically for the Kel Tec Sub 2000 firearm.
i) Midwest Industries MI GEN2 SUB 2000 Optic Mount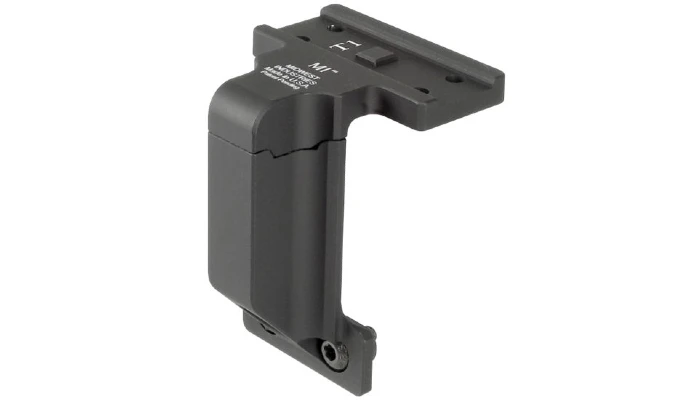 This optic mount by Midwest will sit perfectly on top of your Sub 2000 carbine as this is customized for this model. It has a rapid deployment feature where you will need only one click motion to detach the mount from your firearm. Plus, you get to keep the gun's foldable capacity intact with this mount.
The 6061 aluminum hard coat anodized finish makes the mount extremely durable, keeping it lightweight at the same time. You can easily use this optic mount to attach all Aimpoint T1, T2, H1 and H2 models along with other similar optic sights that come with the same mounting plate.
ii) KEL-TEC SUB-2000 Optic Mount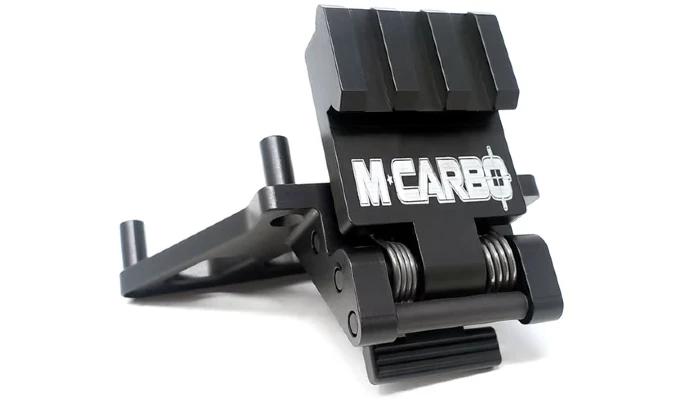 This optic mount by Mcarbo will sit perfectly on top of your Sub 2000 carbine as this is customized for this model. It has a rapid deployment feature where you will need only one click motion to detach the mount from your firearm.
Plus, you get to keep the gun's foldable capacity intact with this mount.
It does not end there. This optic mount also provides you with the freedom to absolute co-witness the external sight with your existing iron sights.
This mount is capable of holding repeatable zero even after long rounds of firing. And you are getting two separate versions to accommodate both right and left-handed shooters. I mean it can't get better than this right?
3. Kel Tec Sub 2000 Light Options
When we are talking about different kinds of sights for your Sub 2000 gun then how can we forget about tactical lights? Any kind of weapon light is an important accessory upgrade for any firearm since it gives proper support during night times which a red dot cannot cover.
Having a weapon light with your Kel Tec carbine will only help you locate your target better and enhance your overall targeting quality. This is why my next upgrade item is the battle light for the Kel Tec firearm.
i) Steiner Mk4 Low Profile Weapon Mounted White LED Light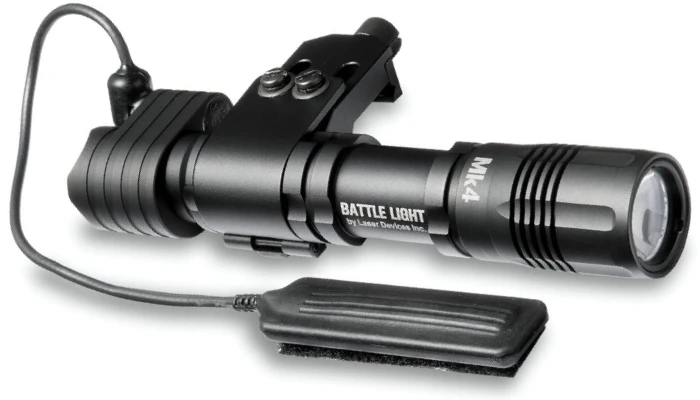 This Steiner MK4 battle light has the perfect height and low profile to mount it on the closest position of the PCC and that way it can almost eliminate the rifle barrel shadow.
At the same time, you are getting an enhanced weapon handling switchology which makes controlling the light easier. What makes it even better is that you can use either two CR123A batteries or one rechargeable Li-Ion battery. As a result, you can easily replace the batteries whenever you need to.
The Mk4 weapon light features a push button but you can also use a remote cable pressure pad. In addition, you get a low-profile thumb screw mount and a pressure pad. With high quality aluminum housing, the light remains durable for a really long time.
4. KelTec Sub 2000 Sling Options
Having a sling for your Keltec 2k Sub firearm is another upgrade I would suggest you get. Although it will depend on your personal preference I think attaching a sling to your gun will have a positive outcome, especially for having more control over the weapon itself. It is also good during long hours of hunting.
For the product list, I have one really great sling option for your Kel Tec along with a good adapter attachment in case you are looking for one to go with your sling.
i) Blue Force Gear Vickers One Sling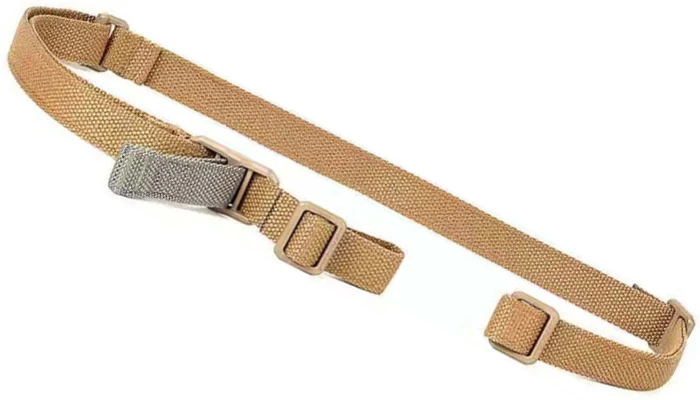 Blue Force swears by their sling quality and varieties. That is why having one of their slings in your collection will be a great choice if not the best. This Vicker One Sling is an inherently strong and reliable weapon sling that everyone in the Special Operations Forces uses.
This has a sling pad attached by a strong nylon thread using Vicker's famous "One-Strap" design. That way it can ensure a no-slip grip for any movement.
The sling is fully adjustable and comes with Fastex buckles for fast sling length changes of the modular webbing. There is also an additional loop that allows the shooters to attach carabiners and folded sling loops.
Although you get an M-LOK attachment with this sling you can also opt for the STNGR QD M-Lok Compatible Sling Mount Adapter Attachment for better connection.
4. KelTec Sub 2000 Muzzle Brake Upgrades
We are talking about the best Sub 2000 upgrades and not talking about muzzle brakes- that is not possible. Any PCC will need a good muzzle brake or compensator in order to control the cartridge pressure and recoil.
These brakes will not only help you manage the felt recoil but also reduce a significant amount of muzzle rise which will greatly change your shooting accuracy.
That's why I would recommend two of the great muzzle brakes available in the market for the Kel Tec Sub PCC.
i) Kaw Valley Precision Linear Compensator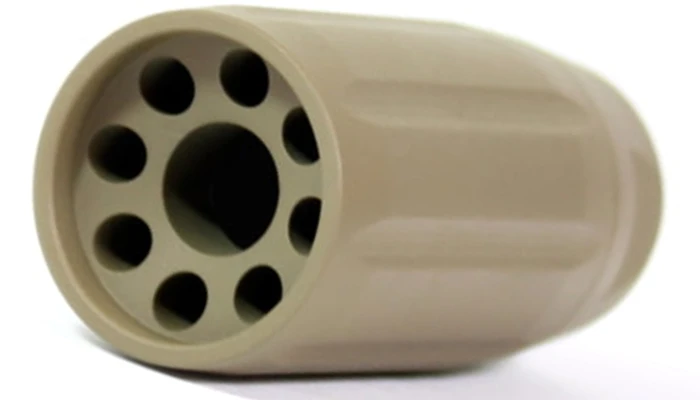 With the Kaw Valley Precision Linear Compensator, you get to reduce a significant amount of felt recoil from the gun. At the same time, the compensator works towards taming the muzzle concussion.
It collects and redirects muzzle gasses away from the shooter so that you can take those follow-up shots with ease.
Not only that, this Linear compensator also reduces that extra decibel which can disturb your ears like no other. That's why this product is perfect to pair up with your Kel Tec for close quarter combats, competition shooting, Varmint hunting, Law Enforcement, and many more.
ii) KEL-TEC SUB-2000 9mm Muzzle Brake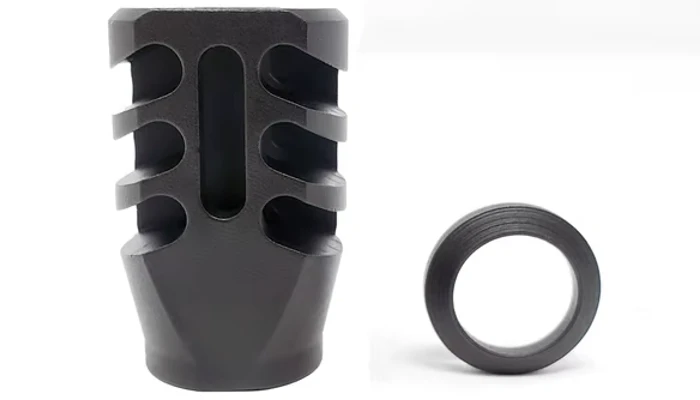 I have another really good muzzle brake for your Sub 2000 PCC. Well, it's actually a hybrid between a muzzle brake and a compensator. But that's not why I chose this product.
I chose this because this product is specifically made for the 9mm version of your Kel Tec Sub 2000 gun. This muzzle brake uses high quality A311 Stress-proof carbon steel.
This not only reduces the amount of felt recoil but also the muzzle flip that is common in big guns. It attaches to the ½"x28 threaded barrels of your firearm and comes with a crush washer. So, installation of this product is just a matter of a couple of minutes.
5. Keltec Sub 2000 Magazine Options
Another great upgrade for this gun can be the extended aftermarket magazines compatible with this weapon. This is because having an extended magazine will always give you better exposure and coverage for follow-up shots.
Plus, having a backup set with you can never hurt right? Now let's see what are some good extended magazines that will work great with your Kel Tec Sub.
i) ETS 9mm 31-Round Extended Magazine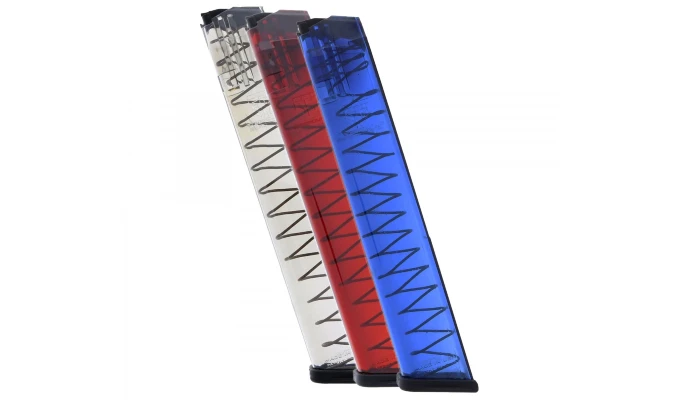 This ETS 31-round extended magazine with 9mm caliber is a perfect replacement as it has a translucent polymer construction that gives you an enhanced shooting experience every time you use it.
It also has a steel wire spring which ensures smooth execution with your Glock pistols and Kel Tec carbines.
Other than these construction features, the magazine has an injection-molded polymer follower and ergonomic polymer floor plate to make it easily accessible to the shooters.
ii) CZ 15-Round Steel Blue Magazine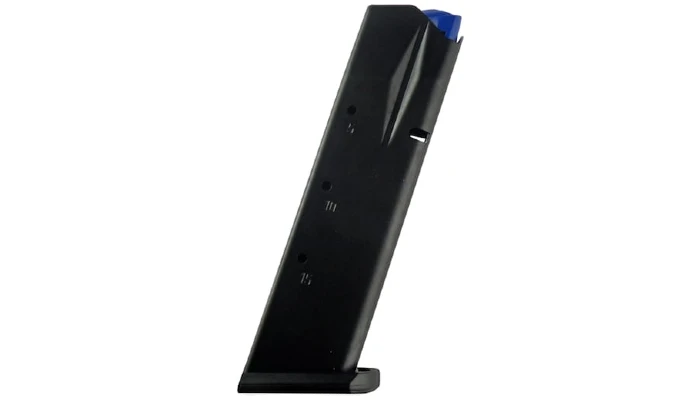 The CZ extended magazines are the factory original magazines that have the exact same specifications and tolerances as the original parts since they use the same manufacturing materials.
This ensures excellent fit and reliable operation during the time of execution.
Having these extra magazines will work as a backup as they will save your precious loading time at the range. That's why I will recommend keeping an extra one at hand at all times.
6. Kel Tec Sub 2000 Accessories
Finally, I am going to talk about some additional upgrades for your Sub 2000 PCC. These accessories will help you with better usability by targeting small changes. They are not compulsory but having them near will come in handy in times of need.
i) KEL-TEC SUB-2000 Bolt Tube Cover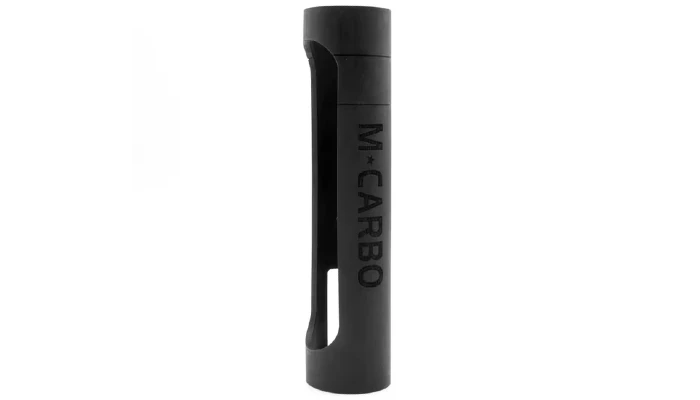 Getting a cheek pad for your Kel Tec is really a good choice on many levels. This Mcarbo Bolt Tube Cover will work as a great cheek pad to save all those extra shocks you can receive from your Kel Tec carbine.
Not only that, this pad is resistant to solvents, lubricants, heat, cold, UV, and sunlight, so basically anything that can harm your gun surface.
This shock absorbent pad comes in three different lengths of pull adjustments and has a tough rubber armor which improves comfort and ergonomics with its rigid support covering.
ii) KEL-TEC SUB-2000 Recoilless Charging Handle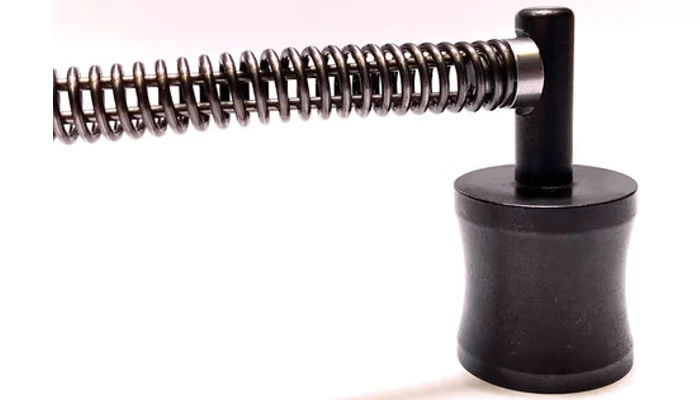 Last but not least I have a charging handle by Mcarbo especially optimized for the KelTec Sub 2000 which can reduce felt recoil by 68 percent.
It gives you a low profile along with a wider grip surface so that you don't have any issues with your holding posture. The product slows down the bolt to reduce the recoil amount and provides you with more positive control.
There is an integrated tool-less locking pin which makes installing this product much easier, adding only about 2.20 ounces to the overall weight of the gun. That's why I personally prefer having a charging handle with this gun.
Conclusion
Alright, let's wrap this up. The Kel Tec Sub 2000 is actually a pretty underrated firearm that will need your special attention. But trust me once you give that it will take you to another dimension.
This is why I would suggest you look through all the upgrades I have recommended for this guy.
Not that you have to get every one of them but having these accessories at hand will help you in the long run especially when you are preparing for a shooting competition. So trust my words and give this a go. Give your underrated friend the attention it needs.