The CZ Scorpion pistols are some of the most well-known handguns among tactical shooters and hunters. Under the Scorpion banner, there are tons of different models available for you to purchase.
In general, the Scorpion series can benefit from some upgrades. As there are tons of CZ accessories to choose from, you are bound to get confused about what to buy and what not to buy.
As there are so many ways to improve the gun, finding the best CZ Scorpion upgrades will be a bit harder than you imagine. Let me help you solve that issue for you. Without further ado, let's start.
How To Decide The Cz Scorpion Upgrade Order?
I'm not going to lie, I did overwhelm you with tons of upgrade options and choices. Here is a little bit of order between the chaos. Here is how I would handle the upgrade order.
What do you do with a gun?
Shooting, right? I mean, what kind of shooting do you do? Casual? Competitive? Perhaps hunting? Depending on what kind of shooting you do, you should upgrade the things that will give you an edge in that respective shooting method.
For example, flashlights are mandatory for hunters. On the other hand, a good trigger kit is needed for competition. You get my point, right?
Are you limited by your budget?
Let's be real, not all of us have the same budget. While some of us can just go ahead and buy everything at once and then upgrade, some of us want to upgrade what's needed and go from there.
If you have a budget constraint, no biggie. Slowly but surely, go ahead and upgrade the list in an orderly fashion.
Shooting hours
Do you shoot during the night a lot? Then everything related to nighttime shooting is mandatory for you. That includes an illuminated optic with a flashlight. A good night vision goggle or device if you can.
Maintain an order
Whatever the way you are upgrading, make an order and follow it. This will help you to make decisions easier and you will know what exactly to upgrade and what not to upgrade.
1. CZ Scorpion Stock Upgrades
The stock of the gun is always something that you upgrade first. It plays a big role in the comfort and shooting experience. There are quite a few CZ Scorpion stocks available for you to purchase.
Some are crazy expensive and some are more in the budget range. Here are some that I recommend you to purchase for your CZ Scorpion.
i) F5 Mfg Modular Stock System with Cz Scorpion Adapter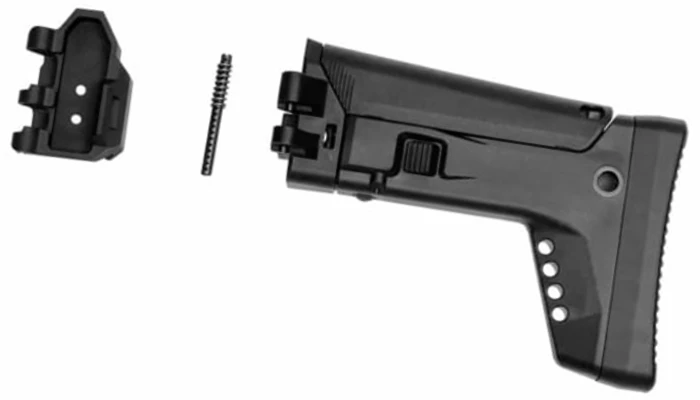 The F5 MFG Stock system is something that you might find in Scar 17. Vastly different guns, right? But hey, it's a stock that comes with a Scorpion adapter. Making it compatible with Scorpion EVO 3 a2 even.
The stock is machined from 6063 CNC aluminum and 6×6 Polymer. It has implemented an integrated locking hinge that keeps both parties locked in place. As I said, this stock was made for rifles like Scar 17.
To make it compatible, they add an adapter that attaches to the scorpion and makes it compatible with CZ guns. Rifle stocks are super comfortable and they will provide you with better stability while you are shooting fast. Also, I want to add another thing.
I highly recommend you to use this Brace from Gear Head Works if you are purchasing this stock. With this, it won't make your pistol a short barrel rifle, but rather make it look and perform as it was intended.
ii) SB Tactical SBT Evo Pistol Stabilizing Brace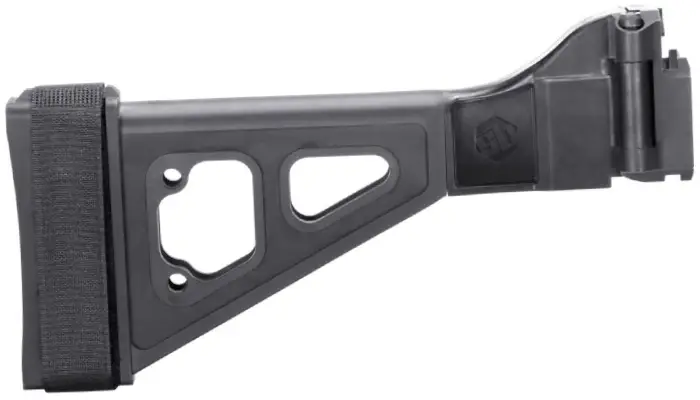 The next brace that I recommend is from SB Tactical. Another fabulous and trusty brand that has been around for a while now. They make good accessories for handguns and other weapons as well.
This one is a stabilizer brace. Better known as CZ Scorpion EVO pistol stock, this brace is made out of synthetic polymer.
To make your life easy, they took the liberty of sending you a completely assembled kit.
Just install and start shooting. Yes, it's that easy. As the stock supports Scorpion by default, you don't need to tweak anything or use an adapter even. For one handed shooters, this thing is fantastic.
2. CZ Scorpion Trigger Upgrades
The next necessary thing that I recommend is to change the trigger. The stock trigger is fine, it's not the end of the world. But for a better and more uniform experience, the trigger needs to go.
i) Timney Triggers CZ Scorpion Drop In Trigger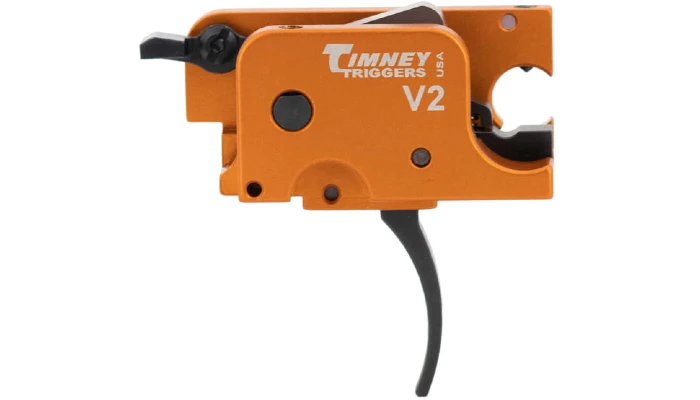 Timney Triggers is one of the oldest and largest trigger manufacturers in the world. Started way back in 1946, this Arizona based manufacturer is known for quality. Their products are highly praised by hunters and competitive shooters alike.
This trigger from them is made for the CZ Scorpion. A fantastic trigger for a great gun. You can configure the trigger pull weight to either 3-3.5 or 5-5.5lbs. Giving you the freedom of choosing which trigger pull weight is better for you.
Made from steel and getting a Rockwell C rating, Timney Triggers really gave their best to manufacture this trigger for you guys.
The black oxide finish looks amazing as well. It's made to fit the CZ Scorpion Evo 3 as well. A great combination of a beautiful look and beastly performance.
ii) Franklin Armory BFSIII CZ Scorpion Binary Firing System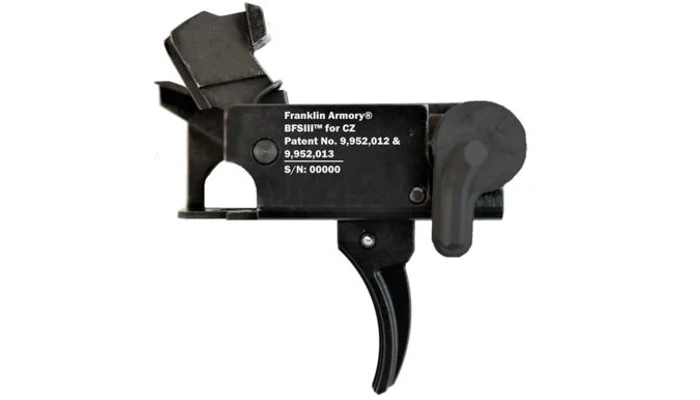 This is a complete CZ Scorpion trigger kit made from Franklin Armory. Franklin Armory isn't as old or experienced as Timney Triggers, but they do have experience of making AR and handgun triggers for nearly a decade now.
The BFSIII trigger features an ambidextrous 3 position safety lever. In the first position, the gun won't fire anything. In the second position, it will fire one round per pull, and In the third position, the gun will fire 1 round on pull and 1 round on release.
This is made to fit most CZ Scorpion firearms. That does mean you can use it on CZ Scorpion Evo 3 A2 as well. The features and compatibility are what makes it one of the best CZ Scorpion triggers.
3. Best CZ Scorpion Optics
The next thing that you should prioritize is an optic. In fact, I would say you should put this on the top of the list. A red dot sight or any optics, in general, will improve your aim and shooting experience by a lot.
i) Trijicon MRO HD 1x25mm Red Dot Sight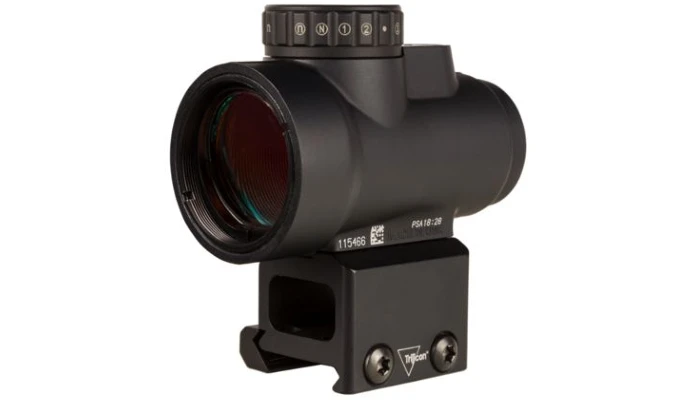 The first optic that I recommend is Trijicon MRO HD. Yes, it's from the same Trijicon that is famous for making ACOG rifle scopes. This one is a part of their red dot lineup.
Mainly made for handguns, this one can be used with rifles as well. So, if you buy a quick detach mount like this, you can easily swap between a handgun and a rifle.
The red dot is made out of aluminum. It's a cylinder design that you see in riflescopes. The inside of the tube is purged and the lenses are completely sealed with O-rings. That makes it water and fogproof as well.
This red dot is suitable for both hunting and competitive sports. The reticle is illuminated and you will find the required battery inside the package. With a 2-MOA red dot in the center and a 68-MOA circle surrounding it, the reticle looks gorgeous under bright light.
As for the mounting system, you should consider something like the Geissele Super Precision MRO Mount. It's a very durable mounting system that will last you for a long time.
ii) EOTech HWS EXPS 3 Circle Red Dot Sight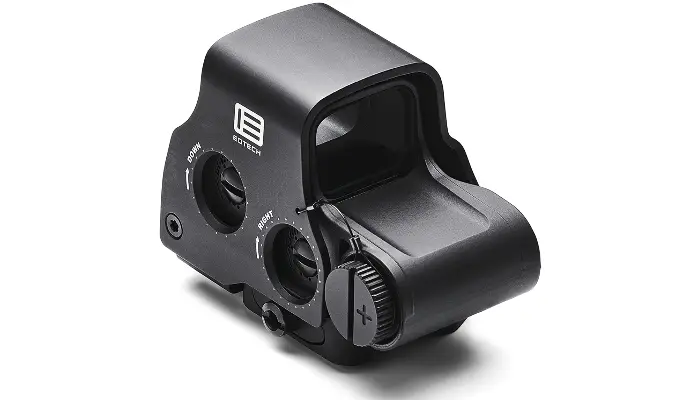 Holographic sights are super easy to use and very fun to use as well. In fact, they are one of my favorite types of optics out there. They look super classy and their durability is impeccable.
The EXPS3 from Eotech is a premium Holographic sight that is made in the USA. Unlike the clones from China, this one here is the real deal.
Holographic sights are super good for folks with astigmatism. During the night, the illuminated reticle won't give you a headache or make you miss shots.
The holographic sight is made out of aluminum. It's tested in a harsh environment to see how durable it is in a war-like environment. Eotech claimed it can survive any kind of shooting including military one. Have to admit, they are right.
iii) Aimpoint Micro T-2 Red Dot Reflex Sight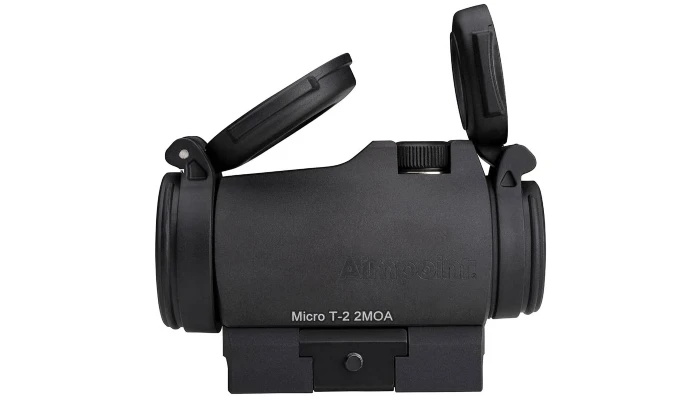 Another great red dot from none other than Aimpoint. The reason why I included another red dot that too from Aimpoint is night time shooting. While an illuminated reticle is fine and dandy, it's not enough to shoot in pitch black like conditions.
And for hunters, shooting in the dark is mandatory. That's why Aimpoint made the T2 to be compatible with all generation PVS14 Night goggles/devices. Yes, both TRYBE and ATN PVS14 are compatible with this sight.
The build quality of this sight is just incredible. It doesn't make sense how Aimpoint managed to make a sight so small and light this durable. The weight is only 3.3 oz. Right at the mark with most other red dots in the market.
A really good purchase for any gun in my opinion. And definitely one of the best CZ Scorpion red dot sights.
Don't forget to grab the Geissele Micro T2 mount if you are buying this red dot. The combination of this mount with this sight just goes. Synergy is super good. Will give you optimal compatibility and performance.
4. CZ Scorpion Handgun Upgrade
Handguards are quite important. They are the gateway to add more accessories and they keep the gun safe from exterior damage. And changing the handguard of the Scorpion is kind of mandatory. It will allow you to add more scopes and other accessories.
i) Midwest Industries Mi Cz Scorpion Handguard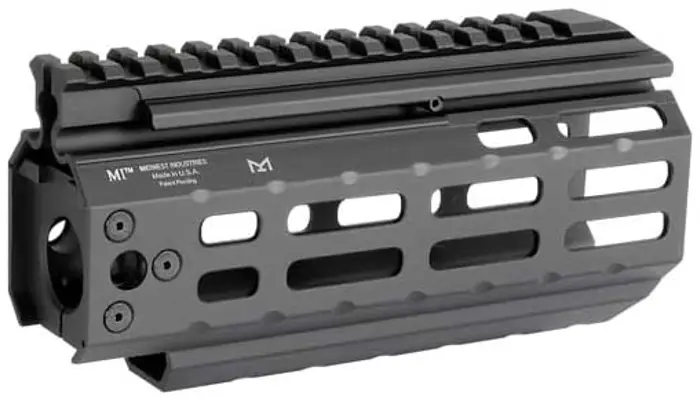 The Midwest MLOK Handguard is the perfect choice for this gun. Midwest Industries made sure the installation process is simple.
Even if you have never experienced changing the handguard of a gun before, you can easily change it on your own. No need to call your local gunsmith.
This handguard is constructed from 6061 aluminum. A very durable and light material. Often you will find this material in scope and mounts.
Sometimes, guns use this to make the framework even. You can guess just how durable this is.
This is available in 3 different lengths. Depending on which length you go for, the weight will increase by a bit as well. The heaviest one is 17 oz and that's 11.5" long. Pretty great weight balancing on all three variants.
The Anti Rotation QD sling swivel socket comes in super handy if you want to use a sling down the line. Which I bet you do. More on these slings later.
5. CZ Scorpion Pistol Grip Upgrade
Grips are the first thing you notice when you grab a gun. They determine if your experience is going to be a sore one or a great one. If the grips aren't comfortable, you will need to replace them ASAP. The Scorpion default grips aren't that bad. But it could use some love aka upgrades.
i) Magpul Industries CZ Scorpion EVO 3 Grip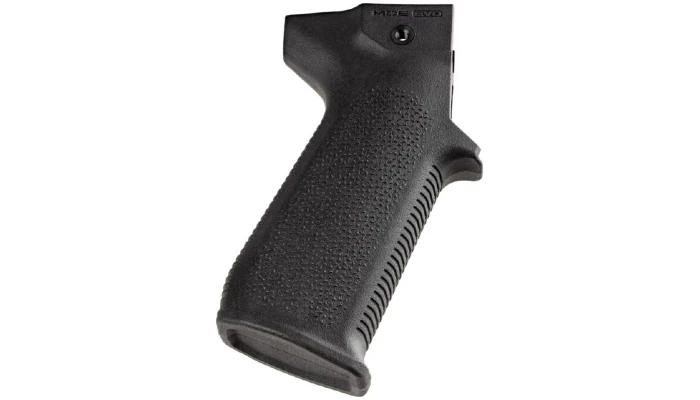 The Magpul CZ Scorpion EVO grip is the default choice for most scorpion owners. It is built from a synthetic polymer. The same type of polymer is used in gun making. It's durable and lightweight.
More importantly, it offers an incredible amount of gripping force. Whether you are wearing gloves or bare hands, you will find this grip quite comfortable and grippy.
Even in cold weather, your hand won't slip away from the grip. That's something the stock grip used to suffer from.
The angle you hold on to the grip is also comfortable. It's a bit more ergonomic but that's doubtful. I find the term "ergonomic" to be a bit gimmicky most of the time. But hey, it's kind of true. Comfort = no wrist pain. So, it's ergonomic. Ha-ha!
Some Cz Scorpion Evo Accessories Upgrades You Should Consider
These are optional. But for some, it is mandatory. Think of them as honorable mentions. You can live without them, but your life will be better with them. If that makes sense. Here are some good upgrades you can do to your Scorpion.
Flashlight
If you are a nightcrawler and don't want to spend like 3k USD behind an ATN PVS14, then you might as well get a flashlight. Granted it will make you less camouflage and more visible to your prey, but it's a solution nonetheless.
The Streamlight ProTac HL with AIM Sports Inc Modular M-LOK 45deg Offset Mount is a great combination that you can consider purchasing.
CZ Scorpion Magazine Upgrade
If you are a tactical shooter and shoot quite often in the range, then this is a must-buy for you. It will stop your habit of reloading often. Also, it helps you enjoy shooting for a longer session.
ETS Clear 40 RD Scorpion Mags is one of the best magazines for CZ Scorpion. Let's not forget it looks awesome as hell! They make a 30 round version of the same magazine, but why bother? Get 40. The extra 10 bullets never hurt anyone.
Sling
With all these upgrades left and right, your gun won't weigh the same as stock. While it won't suddenly become 20 pounds heavier, extra weight is still extra weight.
What do we do with heavy guns? We attach a sling to it. That makes it easier to carry it around and saves our arms from feeling heavy.
The Blue Force Gear Vickers Combat Sling is one of my favorite slings ever. It's a lightweight and durable sling coming with a nylon adjuster. Yes, metal adjusters are more durable, but nylons are lighter.
Conclusion
That brings us to the end. Honestly, I could go on days by including tons of different upgrades and more options. But that will lead to an endless pithole of argument that neither you nor I wants to fall in.
For now, these are some of the best CZ Scorpion upgrades you could do. If there are more worthwhile upgrades, I will let you guys know for sure.
But for now, we part ways here. Make sure to tune in later for more upgrade suggestions. Till then, take care and I will see you later.