Pardon the pun in the title, but it was practically begging for it. Jokes aside, Benjamin Marauder is a one of a kind PCP air rifle that has been the talk of the mouth for a while now.
The Marauder family is a big one. You have the smaller guy pistol, the Marauder PCP rifle, the semi-automatic, one with wood stock, and the multi-shot Regulated.
But you know what they all share in common? They don't come with a much needed riflescope. That's right, you can easily enhance the performance of this with the addition of a scope.
Here is the problem, which one is the best scope for Benjamin Marauder? There are thousands of rifle scopes out there and most of them are compatible with the gun as well.
Don't worry, I've handpicked some scopes to help you make that decision easier. Without further ado, let's get started.
How To Choose A Scope For Benjamin Marauder?
Here are some notable things you should keep in mind before making your decision…
Build Quality
This is something that you should never compromise. Even if the scope weighs a bit more than the others but offers a more durable structure, in my opinion, you should go for that scope. A well-built scope will keep your shooting experience new and blissful for a long time.
Lens Quality
Lenses are the heart of a scope. If the heart isn't working properly, the scope will cease to function. You should never cheap out on lenses. Even if they cost a premium, it's something you should pay with your eyes closed. Good lenses = good scope.
Mounting System
Most rifle scopes won't come with any mounting system. Some do, but most don't. That's because the scope makers don't know what gun you are going to pair their scope with. That's why they sell mounting systems separately. Make sure to buy the system that sits on your rail and fits your scope. Don't buy 1" rings for a 30mm scope and vice-versa.
Weight
Yes, lighter is often better. But that doesn't mean you shouldn't consider a bit heftier scopes. Heft often comes with better adjustability and durable housing. But if your gun is on the heavier side, then choosing a lightweight scope might be the wiser decision.
Warranty
Something that we often don't pay attention to. But this is like the 2nd life of your scope. Most companies nowadays offer a long-time warranty. Some offer over 30 years and lifetime even. Warranty is a good thing that shouldn't be neglected.
Ease Of Access
What I mean by this is, how easy is it to operate the scope. Some scopes have adjustable rings that are hidden behind a cap and often require a specific tool to operate them. I'm not saying there is anything wrong with that, but that can scare off newbies.
If you are relatively new to the scene and still learning the whole gun and scope topic, then you should choose an optic that is relatively easy to install and use.
Best Scope For Benjamin Marauder [Editor's Picks]
1. Hawke SideWinder 30 6.5-20×44 Riflescope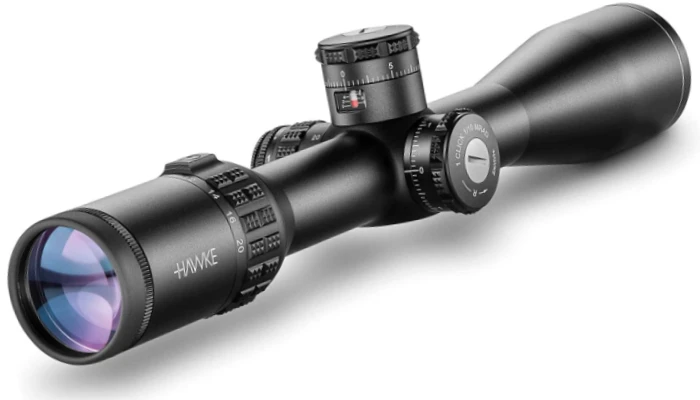 Hawke Optics is not a new name in the industry. The SideWinder is a series of optics from Hawke made for medium to long-range guns like the Marauder. The scope here is extremely durable and lightweight and it doesn't cost a fortune either.
The SideWinder 30 comes in two variants. The one I'm recommending is the SF version of the scope.
The SideWinder is constructed from high-quality aluminum. Despite being a relatively new release in the market SideWinder generated a lot of crowd in a short time.
Mostly due to how durable this is and how well this performs. The weight of the scope is 680 grams. That's without any kind of mountings included.
The best part of the scope is not even the exterior, it's what's inside. The scope has nitrogen purging inside that makes it fog and moisture proof. The outside is completely shock and waterproof as well. The lenses used in the scope are some of the best in its class.
They are fully multi-coated. Multiple coatings are done to make the glasses brighter and help the prism gather more light.
Despite gathering a ton of light, the lenses aren't reflective. They are anti-glare and they won't hinder your vision while in the middle of a target zone during high noon.
The reticle of the scope is a Half MIL reticle that stays accurate even in 20x magnification. The reticle is a great one for long-range target practice.
Even if you are feeling like you are in a plinking mood today, you can do that with this combination as well.
What is the tube diameter of this scope?
The tube diameter is 30mm. The 44 in the name of the scope stands for the objective lens diameter. And yes, the 30 in the name stands for the diameter of the cylinder.
Does SideWinder 30 come with mounting rings?
Unfortunately, no. You will not get any kinds of mounting accessories needed for the scope with it. You will need to buy them separately. If you are on the budget, you could get a "30mm High Weaver Style HQ Ring" for the scope.
Is the reticle illuminated?
Yes, the reticle has red color illumination to it. There are a total of 6 adjustable brightness settings present on the scope as well.
2. UTG 36-color Mil-dot 3-9X40 1″ AO Hunter Scope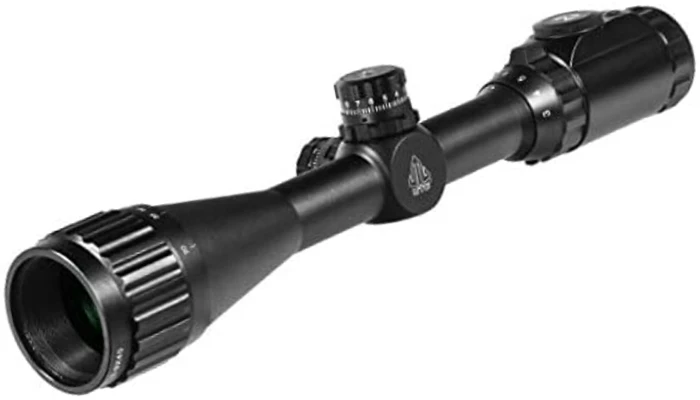 UTG is the sub-brand of Leapers. A very successful sports optics manufacturer. Their weapons related accessories are well-renowned around the world. UTG is their way of giving the budget folks a taste of premium products that they are missing out on.
The UTG 3-9×40 is a medium-range rifle scope for Benjamin Marauder.
The scope is made from aluminum. It's a durable material and lightweight as well. It weighs a little shy of 600 grams. The inside of the scope is also filled with nitrogen. Making it completely immune to fogging and internal moisture building.
But that won't mean much without proper waterproofing. That's why Leapers also made sure the scope doesn't let any water from the rain or accidents go through.
After seeing the price tag, one might think this has poor quality optics. I can understand that. But luckily, you don't need to worry. The scope has fully multi-coated lenses.
They are incredibly bright and resistant against oil and dirt. They are also glaring and aberration free. If you are looking for the best hunting scope for Benjamin Marauder, this is it. This scope was made for varmint/predator hunting.
To make sure your hunting doesn't stop during the dusk, they added dual illuminated reticles. Depending on what you prefer, you can turn the reticle into green or red.
A lot of folks enjoy the green reticle. UTG is here to grant their wish. Once you get the hang of the scope, trust me, you are going to love it to death.
Does this scope come with mounting rings?
Yes, it does. Not only that, it also comes with some flip up lens covers as well. The mounting rings are weaver/Picatinny rail compatible.
Does UTG provide a warranty?
Yes, they do. The best warranty is a never ending warranty. UTG/Leapers is a huge believer of this motto. That's why they provide a lifetime warranty with their scopes.
Is it true UTG has 36 colors in the reticle?
So, you have found out. Jokes aside, yes the UTG scope comes with 36 colors IE 9 dot reticle. The idea behind different colors was to compensate for the weather. For example, some colors are easier to locate during dusk. To help you hunt better, the scope comes with such features.
3. Mantis 3-9x32mm AO Mil-Dot Air Rifle Scope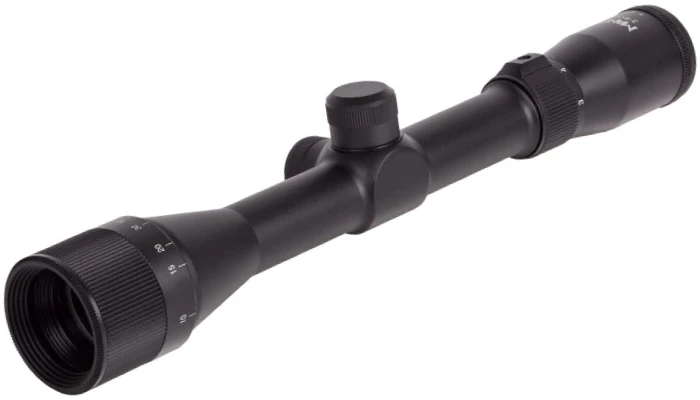 The next scope on the list is from Mantis. No, it's not the same Mantis from Kung Fu Panda. Mantis is a relatively lesser-known brand. They focus mostly on budget oriented items and this scope is one of their budget masterclasses. The price-to-performance this scope offers is quite hard to believe.
Despite the appearance and price tag, the scope isn't' poorly made. It's made with aluminum alloy. The design is a one-piece aluminum cylinder.
To finish off the housing, they used black color anodization as well. Anodization coating isn't top-tier or anything, but it gets a passing mark. To make the scope fog and moisture proof, the inside of it is filled with nitrogen. The outside is water and shockproof as well.
The lenses are quite good. They are not flimsy or show the wrong colors or anything like that. There is no blurriness in the pictures of the scope either.
They are crips and very usable. Sure, you are not getting a 600-quality hare. But you are not exactly paying that much either, are you?
The reticle is not illuminated. But it's quite fun to use. Once you get used to it and understand how to read the reticle, it's all fun and games from there. The ease of accessibility of the scope is quite good. It's not hard to install nor it's too hard to adjust/zero on Marauder.
Does Mantis offer a warranty?
They do. But it's not lifetime like most other manufacturers. You will only get a 1 year limited warranty with the scope.
Does it come with mounting accessories?
No, it doesn't come with any mounting rings or base. You will need to buy them separately. As this is a 1" tube scope, you could get "Barska AI13186 High 1″ Weaver Style Hq Rings". They are extremely cheap and work with the scope as well.
Does the scope include lens caps?
No, it doesn't include any lens covers either. That's a bit unfortunate. But these are quite cheap and you can't expect much from scopes that cost so low like this.
4. CVLIFE 4×32 Tactical Illuminated Reticle Scope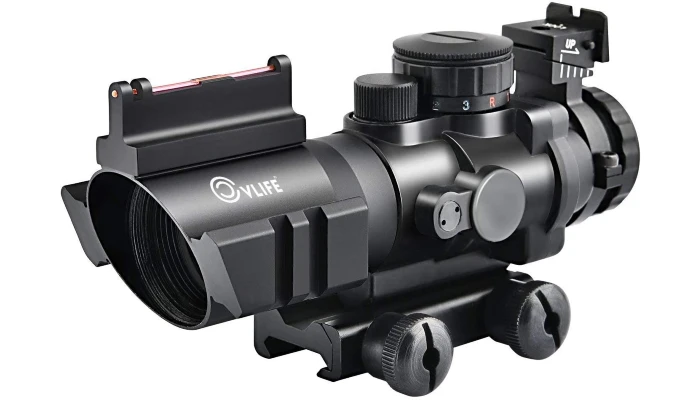 Tactical scopes are hard to come by. Especially when you are on a budget. While the Marauder isn't meant for tactical shooting, it still is one of the best airguns for mid-range shooting. This optic from CVLIFE is made for tactical shooting purposes.
Just from the pictures alone, you can see this scope is filled with stuff.
The first thing you will notice is the fiber optics on top of the scope itself. That's right, there is a sight on top of a sight. How cool is that? You can easily use that part of the optics to shoot during the night or in low-light conditions.
As for the scope itself, it's made out of durable aluminum.
The aluminum is also coated to make it sturdy and rugged from the outside. Despite not being a single tube design, the scope is still fog, water, and shockproof.
The scope also has rails on both sides of it to help you mount flashlights or laser rangefinders on the scope directly. A tactical scope through and through.
The lens has a green color coating to it. They are fully multi-coated lenses. There are no glare related issues present on the scope either. You won't find any chromatic aberration or discoloration present on the scope either. There are 3 color reticles present on the scope.
They are illuminated and you can change the illumination on the fly. When you're tired of the reticles, just steer back to the iron sight with fiber optic on top of the scope. Instantly switch up your shooting style and give it a new fire. You will find it fun to switch back and forth.
Does it come with a mounting ring?
Yes, it comes with a mounting base included. The base supports weaver/picatinny style mounting rails.
Is it too heavy?
Despite having so many features and so much going on with the scope, it's not that heavy. The weight is around 15.9 oz. That's quite light.
Does CVLIFE offer any warranty?
Yes, they offer 1 year warranty with their products. Within the first 30 days of purchase, you can initiate a free return if the product is dead on arrival.
5. Winchester by Daisy Outdoor Products 2-7×32 Scope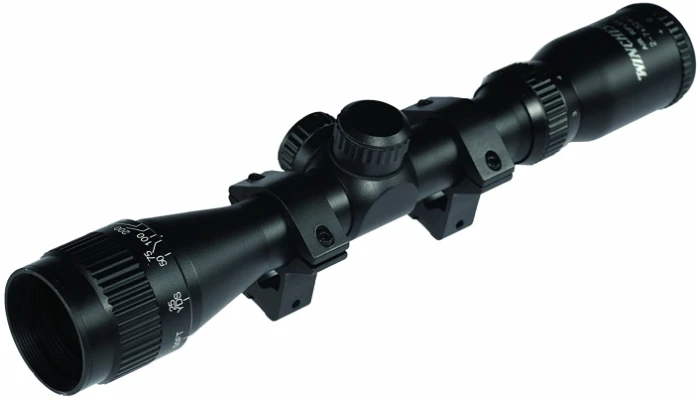 Daisy Outdoor is a brand known for making BB and modern Winchester guns. The one I have here is a scope that goes by the name Winchester and is also made by Daisy Outdoor.
The scope is extremely affordable and made for airguns and airsoft rifles. That does include our Marauder here.
The scope is not poorly constructed. In fact, it's quite durable and has minimal shock resistance. The coating on the outside is nothing to write home about. It's there and it does the job.
It protects the scope from unwanted scratches. The scope is water resistant, fog proof, and shock resistant. The good thing is, that it's not a plastic scope. So, it won't break down in the middle of the road.
The lenses are good. That's about it. They are fully coated and they are not bad like some tempered glass toy lenses you find in cheaper and fake scopes. They are here to show you a good sight at 7x magnification, and I have to admit, they do the job tremendously well.
The neat part is, the objective lens is 32mm. That's not small at all. It's wide enough to gather tons of light and work around.
The reticle is a simple cross-hair reticle. There isn't anything fancy going on at all. The center of the two crossed lines is where the red dot usually resides. But there isn't one. So, you will need a bit of getting used to it. But once you do, the reticle will be more than awesome.
Does it come with mounting rings?
Yes, the scope does come with mounting rings. The ones you see in the pictures are the ones that are included. They are not top of the line or anything. But they fit on a gun and they work.
Is it really waterproof?
It is water resistant. But it's not rated to be used under rainy weather. Make sure to use it in dry condition.
What is the ring diameter of the scope?
The cylinder diameter is 1". The included scope rings are also 1" and you can replace them with something else if you want.
Is this better than stock airsoft rifle scopes?
A billion times better, yes. The stock scopes most of the time tend to be made out of plastic and use poor quality lenses with no coating whatsoever. This is a lot better than that.
6. Pinty 2.5-10×40 Mil-dot Tactical Rifle Scope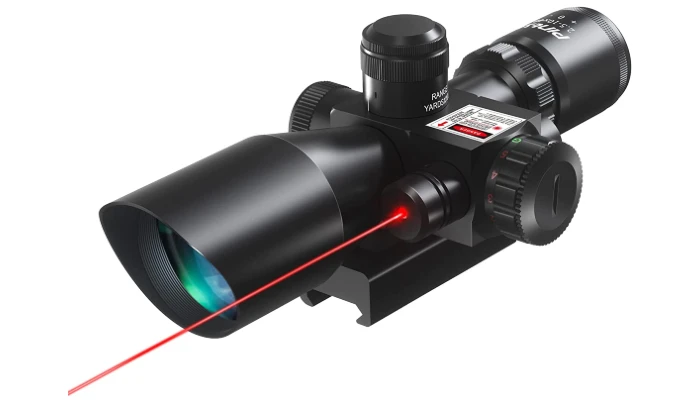 A very interesting scope from a relatively lesser-known brand. Let's be real, when you search for the best scopes for Marauder, you are looking for something from Vortex, Aimpoint, and the like. Nobody knows about Pinty. Even if they do, most of them think they are just there and not worth it.
Let me try to change your mind a bit. They are definitely worth it. Only when you compare this with other sub-100$ scopes.
If you are comparing this with let's say Vortex Strike Eagle 1-6×24, it won't perform even an inch like that. You are paying for a budget scope and you are getting a well-built budget scope.
The chassis of the scope is made of aluminum alloy. A durable and lightweight material that you will find in many objects besides scopes.
The scope has nitrogen purging inside. That makes it immune to fogging. A very needed feature for winter shooting or the folks that live in snowy areas.
While it's not submergible, it can resist rainwater quite decently. Shock resistance is quite on point as well. Air rifles won't be able to harm this scope. As the scope has O-ring sealing to it, rainy-day usage will be fine for this as well.
The lenses are quite good. They are not amazing, they are good. They are coated and they don't glare as much as a non-coated lens and They are decently resistant against oils. But hard scratches, not so much.
The reticles are etched directly on the glass. Your reticle won't move from accidents. The reticle illuminates in either red or green. Depending on what you choose, of course.
There is another selling point of this scope. There is a red laser built in the scope. The laser acts as a secondary target finder. It's quite accurate in short-range distance. Long/medium, not so much.
Does this come with a mount?
Yes, the Pinty scope comes with a mounting system. It suits standard weaver/picatinny mounting rails.
Does it require a battery?
Yes, the Pinty scope requires multiple batteries to operate. It requires a CR2032 battery to illuminate the reticle and an LR1130 for the laser. All of those batteries are included in the package to get you started.
Does Pinty provide a warranty?
Yes, they do. They offer a generous lifetime after-sales service with their scopes. You can find more information on their website and social media outlets.
7. CVLIFE 6-24×50 AOE Illuminated Hunting Gun Scope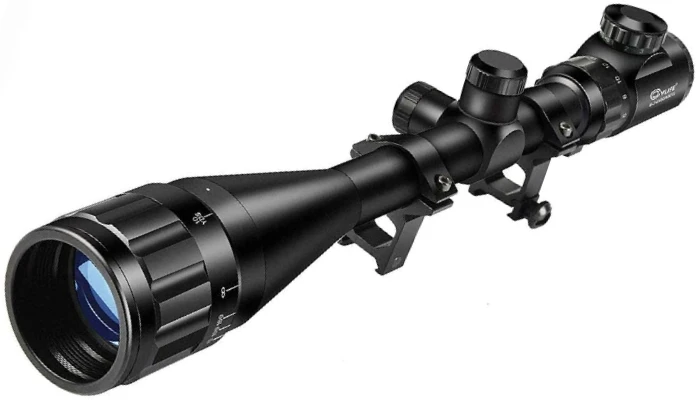 Last but not least, another scope from CVLIFE. To end off the list with a bang, this is the cheapest scope for Benjamin Marauder. But here is a big but, it's not the worst in the list either.
In fact, none of them are bad. If they were, I wouldn't include them, would I? The scope here costs less than the toys you buy for your children.
Yet, it's not made from cheap materials or bad quality materials. The scope is made out of aluminum. Weighing at 630 grams, the scope doesn't feel or look cheap at all. The anodization finish on it looks really, really good. It's unbelievable how much technology has improved over the years.
But look doesn't mean much if the scope doesn't perform well. It has nitrogen purging to make it immune to fogging. You can use it in cold weather if you want to.
While the water rating could have been better, it's still water and shock resistant. You can use it with Marauder with ease. The performance won't be bad at all.
The lenses here are quite good. For the money, surprisingly good even. They are, of course, your typical budget lenses. But they resist glare from sunlight quite well. The 50mm objective lens comes in clutch to gather plenty of sunlight and lets you view the most desirable scenery you have seen in a while.
The reticle is another interesting selling point of the scope. It is illuminated, yes. It is also illuminated in red and green. Depending on which color you fancy more, you can easily use either of those. Some prefer green in low light while others prefer red. It's a matter of perspective.
Does CVLIFE offer a warranty?
They offer 30 days of replacement and 1 year of after-sales service. That's not huge, but it is what it is.
Where is this scope made?
CVLIFE is a Chinese company. All of their scopes are made by Huihaozi. You will find distributors in America but not the company.
Does this come with mounting accessories?
Yes, it comes with a standard 1" ring. The rings fit a standard weaver/Picatinny rail. You will need a different pair of rings if you are using this on a dovetail.
Conclusion
And there you have it. Those were, are, and probably will be the best scope for Benjamin Marauder you can buy. They are incredibly versatile scopes that do medium to long-range shooting with breeze.
Their reticles are suitable for the Marauder as well. The main point is, they are all good for the Marauder. That's what we are looking for, right? And I hope I delivered what you have been looking for.
You can opt for the scope that fits with your budget and that you like the most. They are all equally good at their job. You can't go wrong here.
That's all for now, I will be back with more reviews for you guys soon. Don't forget to tune in later for more. Till then, take care and keep shooting.