Made of the 7075 Aluminum Alloy, the Browning Buckmark semi-automatic Rimfire pistol comes in .22LR caliber that gives you 10 rounds of fire. This pistol has been holding a strong position in the weaponry world since 1985. Shooters love this pistol because of its straight blowback action that ensures simplicity and reliability.
With the Picatinny rail base as the Browning Buckmark top rail, you have the freedom to play with many external devices such as scopes, reflex sights, magnifiers, etc.
Since you have the opportunity to add other optics on the gun, why don't we search for the best Browning Buckmark reflex sight that will not only help you enhance your shooting experience but also won't put a dent in your pocket?
Every optical sight will have some common ground along with some unique features that are the selling points of those sights. What you need to do is find which feature suits your Buckmark pistol the most and purchase that for yourself.
But for that you will need to know what features an optical sight can have and how these points are compatible with the Buckmark handgun.
I have reviewed the top 5 best Browning Buckmark sights that have the best features you will find in these optics. You can find the one that will be the perfect companion for your Buckmark.
Just to get more information about the optics, there is also a buying guide for you. The checklist in the guide section will help you to know more about your optical sight.
Buying Guide For Browning Buckmark Sights
The buying guide will focus on the important aspects of Buckmark sights. I will elaborate on these points so that you know what are the features you want in your handgun.
Footprint/Mount
First things first. I will talk about the different footprint or mounting options these reflex sights seem to offer and which will be adaptable with the Buckmark pistol. The footprint of any red dot sight is rather cryptic and you would want your pistol to match with the footprint of that particular sight.
However, that can be difficult since sometimes sights have unique footprints that do not match with that particular firearm. For example, the Trijicon RMR optics. In this case, you will need an adapter to mount the sight on your weapon.
Now, since the Buckmark pistol has a Picatinny rail base you need a sight that has the same pattern to attach to the gun. So to add the Browning Buckmark Picatinny rail with sight you will need sights that mount on it or use an adaptor for it.
Reticle
Next comes the point of the reticle. Now, reticles are very important as you need to use them for aiming at your games. Therefore, finding the right type of reticle for a particular shooting purpose is important.
There are different types of reticles such as Duplex, Mil-Dot, and BDC. you can choose the one that matches with your targets and purpose.
After that, you need to know the measurements of the reticle. There are two styles- MRAD and MOA. Usually, most reticles use the MOA measurement but you can go for MRAD if you feel comfortable with it.
Lens Quality
The quality of the lens is an important point since it will determine the quality of the picture. Lenses can have different types of coatings from which the fully multi-coating is the best version as it ensures the most light transmission.
Plus, checking the field of view, eye relief, and window box will give you an idea about the image size and clarity.
Battery
In the case of battery, most of the sights use lithium batteries as they save more energy giving good performance at the same time. Reflex sights like red dots, holographic sights, and night devices consume less power than scopes.
As a result, these sights tend to offer more battery life. In my opinion, sights with 10,000 to 30,000 hours of battery life will do a good job in giving support for a longer period of time.
Design & Weight
Structural design is another important point of an optical device since it directly connects with the comfort of the shooters. It is essential to choose a sight that has a design that pleases your shooting experience. You will find two design types for reflex sights- open and tube/pipe.
If you want a large field of view it will be better to go for an open reflex sight. However, keep in mind that these kinds of sights are prone to breakage.
On the other hand, tube style optics are very durable and protect the lens better than open sights but then the window box becomes limited.
That's why you need to be sure of your priorities and then choose a sight design in order to get the best service. Same with the weight range. Don't go over the 11 ounces sights because they will be heavier to carry around with your Buckmark pistol.
Durability
Last but not least, durability is very important as it will determine the overall lifespan of the sight. Although Buckmark is a handgun, it uses .22 long rifle cartridges.
Therefore, you need to be sure that the sight you are choosing has the strength of withstanding recoil from .22LR calibration. At the same time, check for the water resistant rate and impact resistance of the sight.
Reviews Of Top 5 Best Sights For Browning Buckmark
Let's look at the top products for your Browning Buckmark and find out what are the great points of all these sights.
1. Vortex Optics Venom Red Dot Sight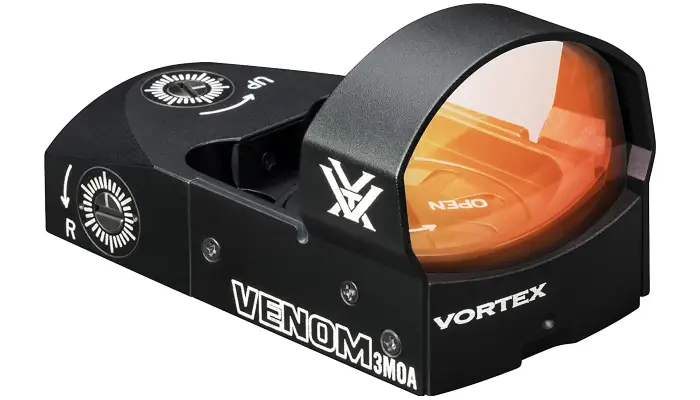 The first item of the best red dot sight for Browning Buckmark list is the Vortex Optics Venom Red Dot Sight. The reason for recommending this sight is its two diverse reticle options which you can choose depending on your shooting needs.
There is a 3 MOA reticle and a 6 MOA reticle option for this sight to advocate with different ranges.
With the 3 MOA reticle sight, you can easily pinpoint long distance big games as it will give you a more accurate point of aim.
On the other hand, when you are looking for something to use in close quarters, you can choose the 6 MOA model that has a much bigger dot size that works quite well for close-distance fast-moving games.
There are also 10 different brightness levels in this sight to adjust with all the light conditions. Another good feature of this sight is the auto brightness mode which uses an ambient light sensor to detect the change in the brightness and make adjustments accordingly. That way you don't need to manually change the dot intensity every time you need to.
The Venom sight uses a CR1632 lithium battery that gives 150 hours of continuous runtime at the highest setting and 30,000 hours at the lowest setting.
But since the sight has an auto brightness mode the battery life can vary. The top load system allows you to replace the battery without taking it off the handgun.
Its lens is fully multi-coated to ensure the highest light transmission. Besides, the sight offers a total of 130 MOA of elevation and 100 MOA of windage adjustments with 1 MOA click value. You simply need to turn the dials towards the indication arrows to increase and backward to decrease the adjustments.
Its aluminum housing and O-ring seals make the sight strong enough to withstand the vibration from .22LR Buck mark calibration. The Vortex Venom sight includes a Picatinny low rail mount with it so you can attach it to your Buckmark Browning Picatinny rail base. There is an optional riser mount as well in case you want to co-witness with your BuckMark iron sights.
Finally, I want to explain the mounting process for those who will find it a bit difficult. Let me explain it in a few steps:
First, attach the low rail mount to the sight using the screws you will find in the package.
Then attach the Venom sight to the top rail of your Browning Buck mark. Make sure the recoil lug is not sticking out and safely tucked in the base groove.
Check if the clamp is fully down and hooked around the outer part of the base.
Finally, press the sight down and push towards the muzzle and use a flat head screwdriver or coin to tighten the clamp screws.
Will this sight work with night vision devices?
No, unfortunately, the Vortex Optics Venom red dot sight does not have night vision compatible settings. It only comes with 10 daylight brightness levels.
Is the rail of this product separate?
Yes, the Picatinny rail included in the package of this sight is separated and comes with 2 different pieces.
Will this red dot sight co-witness with the factory sights on Browning Buckmark UDX?
No, this sight does not co-witness with the Browning Buckmark UDX iron sights. But you can use a riser in case you want to co-witness with them.
2. Burris FastFire III Red Dt Sight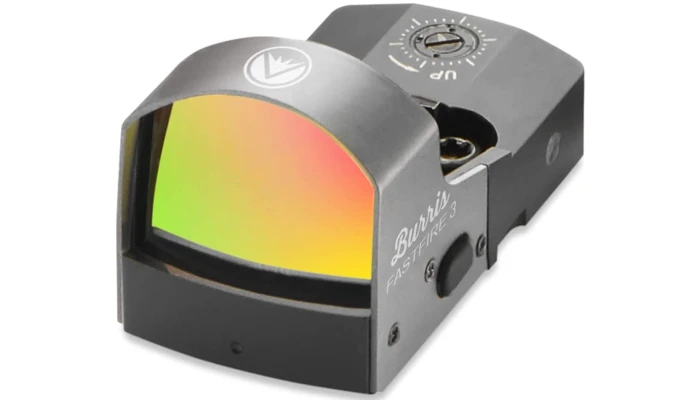 The next red dot for Buckmark is the Burris FastFire III with two reticle dot sizes- 3 MOA and 8 MOA. A good point of this sight is that its weight is light enough to be used as the primary sight of any handgun. This way you would not have the need to attach iron sights.
The two options for reticle are dedicated to satisfying the different needs of the shooters. For instance, you can get the 3 MOA reticle model which is a universal dot size to manage mid to long range targets. On the other hand, you can choose the 6 MOA FastFire for home defense or close range aiming.
In terms of the brightness intensity levels, the sight falls a little bit short in my opinion as you only get about 3 levels of brightness to adjust with various lighting conditions. But there is an automatic brightness sensor that works according to the lighting position and adjusts the dot intensity to match with it.
With a 21-15mm objective lens, the window panel has enough field of view to give good and clear quality pictures. This will help you to acquire your targets in an easier and faster way. The multi-coated lens also ensures better light transmission for life-like visibility.
You can use the easily accessible CR1632 lithium battery for this red dot sight. The battery will provide you with up to 50,000 hours of continuous runtime which is almost 5 years of battery life. This is actually a really good deal for the shooters who like to go on long hunting sprees and are badly in need of red dots with extreme battery hours.
The windage and elevation adjustments have a usual range of 86 MOA which is not bad considering the 1 MOA click value of the sight.
However, I would prefer the 0.5 MOA click adjustment as it gives a bit more accessibility in terms of changing the values for zeroing.
The battery compartment is on the top so you can easily replace your batteries without worrying about zeroing every time. There is also a low-battery indicator which will let you know when it is time to say goodbye to the old one.
The waterproof roof of the red dot is not bad considering the fact that it will save the sight from any liquid spill. But what is more important is that the sight is strong enough to take calibration from Buckmark 22.
Can you remove the Picatinny mount from the FastFire sight?
You actually do not need to remove the Picatinny mount from the FastFire red dot sight as it comes as a separate item in the package. You can use the mount when you want to attach it to the Browning Buckmark sight rail.
Does the red dot sight come with a sunshade?
Yes, the sunshade of this sight is a fixed part of the unit so you will find it attached with the objective lens.
What is the time out period of the FastFire red dot sight?
The sight has an automatic timeout of 8 hours. When you turn on the automatic option it will turn off after 8 hours but with the manual option on, the timeout feature is turned off.
3. Sightmark Mini Shot M-Spec Reflex Sight
The Sightmark Mini Shot sight is another good option as the Browning Buckmark red dot sight. It works as a good companion for your Buckmark firearm when you are using it for any competition shooting, hunting, or even LE applications.
Other than the Buckmark pistols, you can also mount this on shotguns and rifles.
This sight comes with a 3 MOA dot reticle that works best for both mid and long distance aiming. This kind of dot size can actually give enough coverage for close-range fast-moving targets but you can also stretch it for targets at 100 yards as well.
In order to adjust with different lighting conditions throughout the day, the sight offers 10 brightness levels. Unfortunately, the Sightmark does not have a setting option for night vision devices.
Therefore, it is not a night vision compatible sight.
Similar to the Burris FastFire sight, this sight also uses a CR1632 lithium battery. But it does not have as much battery life as the Burris sight. You can use this sight constantly for 300 hours when the highest setting is on. At the lowest setting the battery life goes up to 30,000 hours which is not too bad compared to the Burris sight.
You will find ambidextrous digital switches that will ensure accessibility for both types of shooters. This is a good thing considering that many left-handed shooters find it difficult to control other sights that only offer one-sided buttons.
There is also a 12 hours shutoff option so you don't waste your precious battery life when you are not using the sight.
Besides, you will also get a low profile mount for shotguns and handguns that keeps the sight low enough to align with the iron sights of any pistol.
As a result, you will be able to co-witness this sight with the Buckmark iron sights. In addition, the package includes a riser mount in case anyone wants to use it with AR platform rifles.
The whole sight is covered with a steel protective shield that protects the sight from light impacts up to 3 feet. The aluminum housing makes the sight durable and reliable enough to be used on shotguns, rifles, and handguns. Therefore, you can mount this on the Buckmark Browning weapon without worrying about the recoiling.
What kind of footprint does the sight have?
The sight follows the Doctor/Noblex Mounting Standard which is similar to other sights like Vortex Venom, and Viper red dots. For handguns such as Browning Buckmark, you will need adapting plates or Picatinny rail to mount this sight which is included with the sight.
Does the sight have the Shake Awake feature?
No, in this sight you will not find the Shake Awake facility since the sight only has a manual ON/OFF switch.
What kind of cover does the Sightmark red dot sight have?
The Sightmark red dot sight comes with rubber covers for the objective lens and eyepiece.
4. AT3 Tactical RD-50 Micro Reflex Red Dot Sight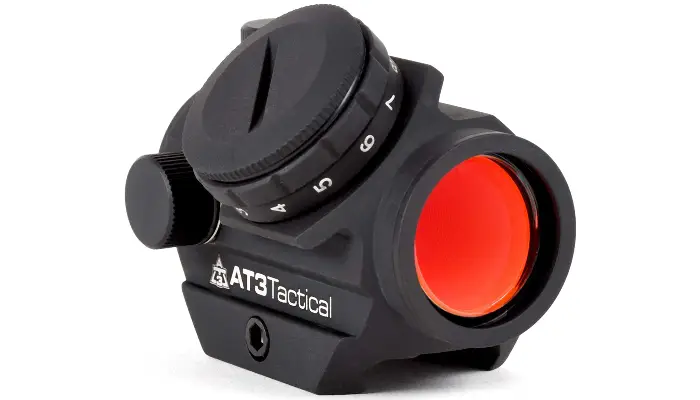 This tactical micro reflex sight by AT3 is another highly recommended product that comes with great features in order to enhance your shooting experience with the Buck Mark handgun. The 3.6 ounces sight has shockproof circuitry that resists any external damages from harsh handling.
It will give you the both-eyes-open shooting experience with the low height that will align with the iron sights of Browning BuckMark weapons. The 2 MOA dot reticle is best for any long distance big games as it will provide you with a precise and accurate point of aim.
Its 23mm amber objective lens is multi-coated and scratch resistant which has enough space to transmit high-contrast light for a clear and crisp image. The wide window box will give a better visibility of the targets for faster acquisition. You are getting a rubber bikini lens cover that will protect the lens glass from any external impact.
One thing that I really liked about this product is that it includes an original Renata CR2032 lithium battery which is high quality and long-lasting. You will get a massive 50,000 hours of constant battery life at the lowest setting with this battery. The battery is reliable and can give you support during the long days.
Now this red dot sight mounts on any Picatinny rail base and has been optimized for the AR platform. For this reason, the sight is versatile enough to go on top of any compatible rifle or handgun. You can without a doubt use this sight on your Browning Buckmark Picatinny rail.
6061 T6 aluminum housing confirms its durability and reliability which can withstand the strong vibration of rifles. Since the Buckmark uses 22 long rifle cartridges this sight will be able to survive the recoiling. With the nitrogen filled interior, the sight remains protected from water and fog.
What is the adjustment click value of this sight?
The sight has a 1 MOA adjustment click value and +/- 35 MOA for both windage and elevation adjustments. Hence, you are getting a total of 70 MOA of adjustments.
How can you replace the battery of this sight?
You can find a slot on top of the sight which is the cover cap for the battery & You will need a coin or flathead object to unscrew the cap and then insert the battery. You can close the cap using the same way but in the opposite direction.
Are there optional mounts for this AT3 sight?
Yes, you can purchase the AT3 sight with two optional riser mounts- one with the ¾ inch and the other one with 1 inch height.
5. Browning Buckmark Reflex Sight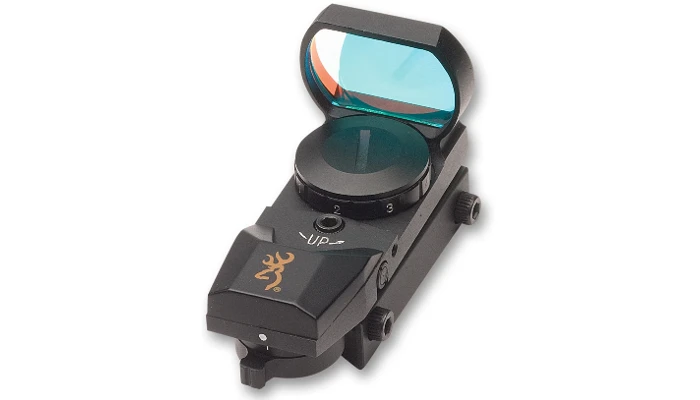 Last but not least I have kept the last hurrah for our home boy. This Browning Buckmark reflex sight can prove to be the perfect companion you are looking for in your Buckmark firearm. I have added this sight because nothing makes a better pair up than your own teammate.
The reflex sight offers a total of four reticle patterns to satisfy every need of the shooting and meet up with every one of their shooting adventures. You are getting the Circle-Dot reticle, 3 MOA dot reticle, Cross-Dot, and Circle-Dot reticles that will comply with various hunting purposes.
It's scratch resistant and high quality multi-coated objective lens can transmit high contrast light that will give you better visibility of your target with 15.7 m at 100 meters field of view, for faster and more precise acquisition.
In addition, there are seven different brightness positions in order to match various low light settings.
This Browning sight also works for other firearms such as rimfires so it is strong enough to withhold under harsh impact from .22LR calibration. It will mount on any Weaver-style base and you can directly attach to the top rail of BuckMark Browning pistols.
You can use the common CR2032 lithium battery which ensures better performance without consuming too much energy. Although there is no specific indication of the battery life, the sight offers a long lifespan that will last for a long time on your weapon.
The housing construction is similar to other red dot sights as it is built with high strength aluminum alloy which can give you a durable and reliable optics life to pair up with your Browning pistol for a long time. It is water resistant and fogproof to adjust with any harsh environment.
Will this sight mount on a Buck master Picatinny rail?
Yes, you can mount this reflex sight on a Buck master Picatinny rail along with the Buckmark Contour firearm.
Is the product compatible with the Browning Buckmark 22 pistol?
Yes, this sight is perfect for the Buckmark 22 pistol. You just need to swap out the rear sight assembly for the Picatinny rail assy which goes on top of the slide.
Is there an ON/OFF switch in the sight?
The switch for brightness intensity settings is the same switch for powering up the sight. You will need to use that button to turn off the sight as well.
Mounting Red Dot Sights: Most shooters remain confused about the mounting style of red dot sights. Most of these sights have a universal mounting standard that can directly attach to compatible handgun plates.
However, sometimes you will need to purchase extra plates in order to mount the red dot on a certain pistol. I will recommend the OuterImpact Adapter specifically for the Browning Buckmark slides to install red dot sights with most of the footprints.
Conclusion
To sum up, the recommendations I have for the Browning Buckmark weapon offer quite a good deal. Looking at each of their selling points will give you an idea of their compatibility with the Buckmark weapon. While searching for the best scope for a Browning Buckmark pistol, it is necessary that you have a clear idea about your priorities and needs. That way you will choose a more suitable option.
In case you have very little knowledge on this part, I have added a buying guide checklist that you can check to know more about the Buckmark sights. That way your search will be more informed and you will know which sight has impressed you more.