The SW22 Victory is a great beginner competitive and small hunting gun that fires .22 LR. The caliber is known for its versatility and how low recoil it has. On top of being a good beginner weapon, the S&W Victory can bring you big wins in your local competitions.
While some may argue against to use of night sights on the gun, I want to argue otherwise. If you take hunting or competition seriously, you want every possible advantage in your arsenal. A red dot will put you ahead of the night sight by a long shot.
How do you find the best red dot for S&W Victory? Quite easy if you ask me. Jokes aside, let's get into it and find out what you are here for.
How To Choose The Best Red Dot For S&W Victory?
Now that you know how good of a gun the SW22 Victory is; it can take quite a few red dot optics. It's about time you decide on which one you need for your gun. While some of them cost more than others, they are all priced in perfect positions.
You should take an optic that is made out of good material and is quite lightweight. At the end of the day, you are about to put an optic on a pistol. You don't want all the weight of the gun to be shifted backward. That may lead to unwanted misses while shooting.
While doing that, make sure to get an optic that offers an incredible viewing experience. Without a good viewing angle and obstruction free scenery, you won't have fun while shooting.
On top of that, if the optic has adjustable brightness, windage, elevation, and a good battery compartment, then it's even better.
Last but not least, the budget of the optic. As there are so many optics to choose from and they have different price tags, it's common to think that you are getting less by paying less. While that's not totally wrong, you are getting a good optic regardless.
So, decide on what you want from the optic and how much you are willing to pay for that optic. If you know that bit, the decision making is easier than you might think.
Best Red Dot For S&W Victory [Editor's Picks]
1. Vortex Optics Venom Red Dot Sight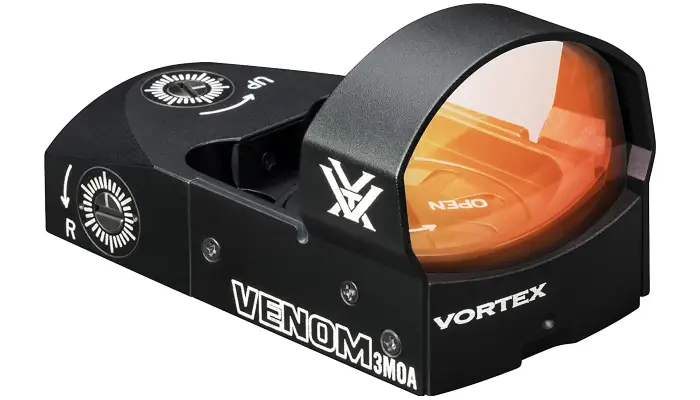 The Venom is a red dot optic from Vortex. While the Venom has scope counterparts, this is an open design reflex sight made for handguns. The Venom is made out of extremely durable aluminum.
It's lightweight, compact, easy to mount, and extremely versatile optic. The optic has a lens that is made out of durable fully multi-coated glass. The lens is extremely bright and vivid. Some of the best red dot lenses you will ever see through.
The structure of the red dot is water, fog, and shockproof. While the .22 LR isn't quite as daring as the .44 Magnum, the .22 can put up a good energy. The Venom will gobble up that kickback with ease.
As it's a reflex sight, you have a very generous amount of eye relief to work with. That's something all hunters will appreciate while hunting for small-game objects. The Venom is also available in two different reticle sizes. Choose the size that sings to you the best.
Does Venom come with a mounting rig?
Yes, the mounting process of the Venom is straightforward. The plate is included.
Does Vortex offer any warranty?
They do. They offer a lifetime warranty with their sold products.
Can I adjust the windage?
Yes, you can. Both windage and elevation are adjustable on this optic. Alongside the brightness of the reticle.
2. Burris FastFire 3 Red Dot Sight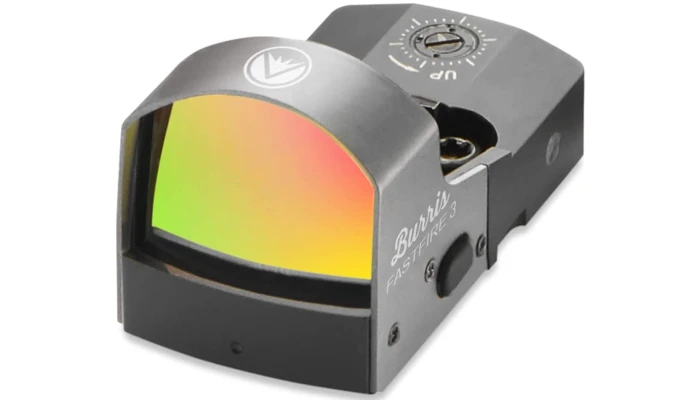 The FastFire series has always been a fan favorite. The 3 improves a lot of aspects and offers you a better viewing experience on a pistol. The FastFire 3 is not as expensive as other flagship red dot sights, yet it offers a lot of those features.
Featuring an illuminated reticle in 3 different reticle sizes, FastFire 3 is a perfect choice for hunting and competitive shooting. The chassis is made out of high-quality aluminum. It's extremely durable and conceals the lens well.
The battery is tucked inside a safe compartment as well. As the optic is waterproof and shockproof, you can use this with other weapons as well. And given that it's a good hunting optic, the red dot is extremely bright and vivid under any given lighting condition.
On top of being a good pistol sight, the optic is also capable of sitting on top of a scope and allows you to dual wield optics. This is something a lot of people appreciate. If you are one who has plans to swap this optic for a different weapon down the line, just know it's possible.
Does Burris offer any warranty?
Yes, they offer a good warranty. They have you covered for a lifetime.
Is this optic too heavy?
No, it's not. It weighs only 1.5 oz. It's super lightweight and won't put too much weight on your gun either.
Does this come with a mounting system?
Yes, the stock mounting plate is supported on Picatinny rails.
3. HOLOSUN- HS403B Compact Micro Red Dot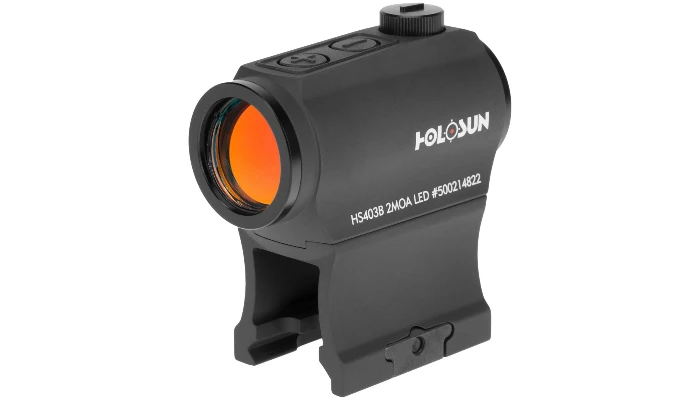 Looking for a compact micro-red dot optic? The HS403B is the perfect choice for you. While it's not open like reflex sights, this optic still offers unlimited eye relief that is needed in a red dot.
The optics housing is made out of 6061 T6 Aluminum. It's a lightweight and durable material that you will find in most other optics in this price range. The chassis is also water, fog, and shockproof.
And yes, it is usable on a rifle as well. In fact, the height is perfect for you to use with any weapons you may have in your mind. The lenses are also fully multi-coated. They are extremely vibrant and have no color alteration.
The 20 mm objective lens is good for collecting light. That's why the illuminated reticle is visible in any lighting condition. Yes, the optic is also good for CQB and small-game hunts. Long-range isn't recommended.
Does Holosun offer a warranty?
Yes, they do. They offer a limited lifetime warranty.
Is Holosun Chinese?
Yes, they are a brand hailing from China. But they offer service and replacement warranties worldwide as well.
4. Sig Sauer SOR52001 Romeo5 Red Dot Sight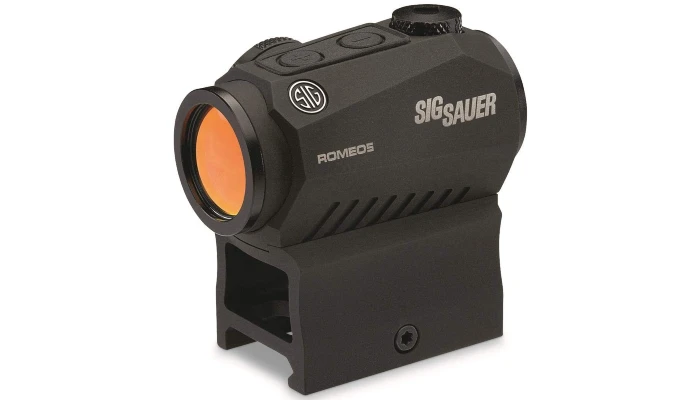 I can bet my left kidney that you have heard of Romeo5 already. Jokes aside, the Sig Sauer Romeo series has been the talk of the mouth for years now. The Romeo 5 is a one of a kind SW22 Victory red dot sight. While it follows the design of others, the price of this makes the most difference in the decision-making.
Being one of the cheapest shockproof red dot sights on the market, it's an easy recommendation for most gun users. Whether you are using the S&W Victory or AR-15, you can use the Romeo 5.
Romeo 5 is made out of durable aluminum. The aluminum is lightweight and extremely durable. Romeo 5 is one of the most versatile red dot optics in this price range. You may as well find that in airsoft sports, hunting games, competitive shooting, range-practicing, etc.
The synergy with S&W Victory is quite nice. They complement each other well. With a pair of fully multi-coated lenses, there is no distortion present on the optic. There is no blur or color alteration either.
Does Sig Sauer offer a warranty?
They do. But the warranty has some T&C. While the optic is covered for life, the electrical components are covered for 5 years.
Does it come with a mounting system?
It does come with a mounting system that supports Picatinny rail.
Does it support magnifiers?
It does. The Juliet 3 is a perfect pair for this red dot optic. But you cannot use the magnifier on the SW 22 Victory if you were wondering.
5. Bushnell Trophy TRS-25 Red Dot Sight Riflescope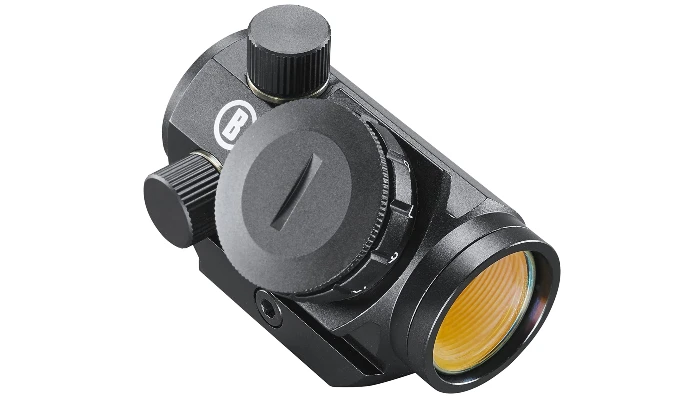 If you were holding your breath for the cheapest SW22 Victory red dot sight, time to take a deep breath in and soak in the glory of TRS-25. The Trophy series of optics from Bushnell is made for budget hunters who don't want to invest a ton of money while getting started in the journey.
The TRS-25 is not made out of any cheap material nor skimped out on the lenses. The optic has an aluminum chassis and it's nitrogen purged. Nitrogen purging removes any blemishes and moisture left inside from the machining process.
The lenses are also coated to be clear and vibrant. The 20 mm objective lens gathers plenty of light for you to work with. Allowing you to see the best possible view with zero obstructions.
Speaking of zero, there are a total of 11 adjustable brightness levels present on the optic. You can adjust them to your needs. While the optic isn't submergible, you still can use it in swamp-like areas. It won't affect the optic.
Does the Trophy have a mounting system?
Yes, it does. The mounting system is capable of sitting on a Picatinny rail.
Does Bushnell offer any warranty at all?
They do. They offer a limited lifetime warranty with their optics.
Can I use this on a bolt-action rifle?
Yes, you can. In fact, you can use it with any rifle you might have in your mind.
Conclusion
While purchasing an optic for a specific gun, it's quite hard to choose only one. That's why, I have given you multiple options with no wrong answers. Whatever you go for, it will be a good decision regardless. I tried to point you toward the best red dot for S&W Victory at any given price point.
Hopefully, you know your necessities and know which optic will suit your style and pocket the best. With that said, that's all for now. Don't worry, I will be back with more soon enough. Till then, take care and stay safe.