Muzzle brakes are the most common upgrades done to a gun. They are affordable and they are super easy to install as well. The idea is to compensate for the recoil a bit and stop spreading the propellant gas.
Helping you get rid of unwanted muzzle rise. Thus improving the recoil control. As there are so many muzzle brakes available for different guns and calibers, it's hard to find the best muzzle brake for 308.
After all, 308 is one of the most used calibers out there. Don't worry, your prayers have been heard and now they are getting answered. Without further ado, let's start.
How To Choose The Best Muzzle Brake For 308?
Choosing the right muzzle brake can be a bit of an ask. But when you know what you are looking for, it becomes easier. Here are a couple of pointers that you should keep in mind while purchasing a new brake for your gun.
Make sure if you are looking for a flash hider or a muzzle brake
Are you really looking for a muzzle brake? Or looking for a flash hider for hunting? If you know what you are looking for first, then your choices will drop down by a lot. Making it easier to pick up the best.
Build Quality
The next best thing is to make sure the brake is built well. If it's not durable, it will break during shooting. It will be a waste of money when that happens.
Length
A muzzle brake will never be as long as a silencer. If you are looking for something that will make your barrel even longer, these ain't it chief. So, keep in mind about the total length of the barrel with the brake attached.
1. Precision Armament Hypertap 308 Muzzle Brake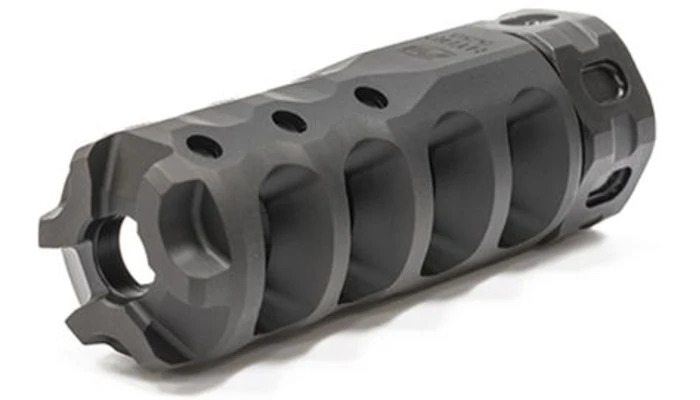 Precision Armament is one of the most popular manufacturers of muzzle brakes. Especially when it comes to 7.62mm/.308 brakes, they are one of the best at the job. Their customer service and how well their products are made speaks volume for them.
This one here the Hypertap is a muzzle brake for 7.62mm/.308 calibers. PA claims this is capable of up to 84% of recoil reduction. Don't worry, they have tested the product before claiming something so bold.
Instead of using aluminum or similar materials, Precision Armament used heat-treated stainless steel to make this muzzle brake. Stainless steel makes sure it doesn't catch any rust or get scratched easily. In my opinion, steel is a much superior material than aluminum for anything related to the gun barrel.
The weight of the brake is 2.94 oz and it's 2.54 inches long. It's not too big or wide like a silencer. And it won't make your gun silenced either. But it does the job of fixing the recoil of a .308 quite nicely.
Does this increase the flash?
No, it doesn't increase the flash of the gun at all. As PA claims, its zero flash increase is guaranteed.
Is the brake durable at all?
Yes, this symmetrical bore design is quite durable. The rugged skeleton-like exterior is more durable than you think.
What kind of tool does it require to install?
It requires spanner wrenches. And you will find them included with the brake.
2. Precision Armament – Ar .308 Severe-Duty 30 Caliber Brake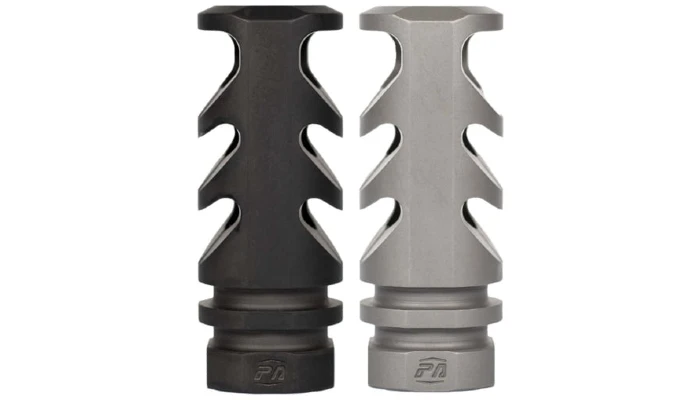 If you are thinking I'm done with PA, you are gravely mistaken. There is more to come from them. Stick around and find out.
Jokes aside, Precision Armament makes such good muzzle brakes, that it's not surprising to see most of their products on a roundup list about muzzle brakes.
The brake here is also made out of steel. It's heat treated as well. It's quite resilient against heat and won't melt from rapid fires either. As the material is stainless steel, corrosion doesn't exist here.
Even if you use the weapon in cold weather in general or use it under rain often, you don't need to worry about the brake.
The weight of the brake is 2.6 oz. It's not the lightest in the business, but it's far from being the heaviest. The length of the entire thing is 2.2cm. That's extremely small and compact for a muzzle brake.
If anything, it won't add too much extra to your gun. Yet, it will take away a huge portion of the recoil spread and hide a lot of muzzle flash at the same time as well. I see that as an absolute win.
Is this available in silver?
No, it's not. Unlike the Hypertap, this is only available in a matte black finish.
Does it come with washers?
No, You will need to buy Accu-washers that are sold separately.
Does it come with a warranty?
Yes, it comes with a forever warranty.
3. Surefire SFR Procomp 762 Muzzle Brake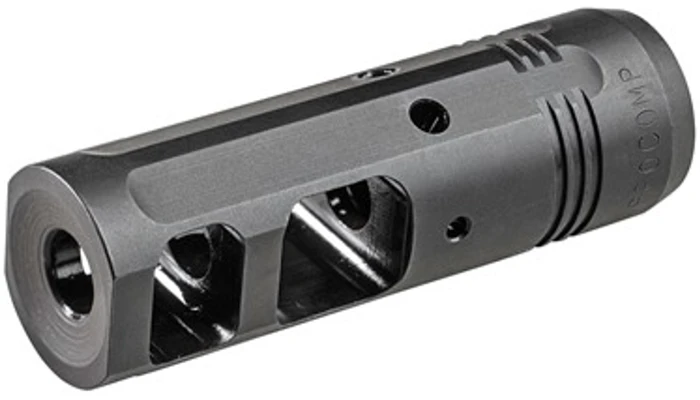 Tired of the annoying muzzle rise from your 308? It's about time you fix that issue. This little extension to your gun will greatly reduce the recoil impulse and muzzle rise of your gun.
SUREFIRE is not the most popular manufacturer in the market. But their customer service and product speaks volume for them.
This little muzzle brake is made out of a high-precision steel bar. The steel bar is stainless as well. As it's fire resistant, it won't heat up too much from the gun's blazing. The great thing is how well it handles the recoil pattern. You won't believe how much it helps till you use one yourself.
The total length of this brake is 2.67". Compared to many other muzzle brakes on the market, this is a bit taller than most.
That lengthy aspect of the brake helps it to hide the muzzle rise better and makes the flash less visible from afar. Thus, giving the hunters an edge over their prey.
To keep you on target and help you shoot faster, the vertical porting of this reduces the recoil by a lot. Easy to recover and keep your aim steady on the target. This muzzle brake will greatly improve your aim.
Does this come with a suppressor adapter?
No, it doesn't. It comes as a muzzle device only.
Where is this made?
This is made in the USA.
Do I need to modify the gun to install this?
No, you don't need to modify anything on the gun to use this.
4. Bang – Ar 308 Miculek 30 Caliber Compensator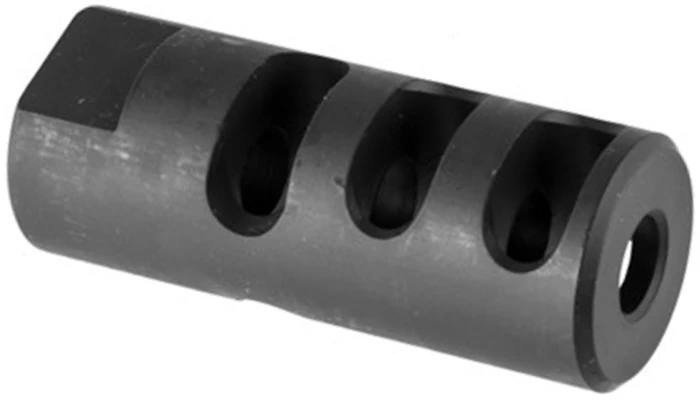 This is some clever naming. Have to hand it to Bang for coming up with such a clever name. The Miculek compensator is a great muzzle brake for all AR 308 shooters.
It reduces the recoil of the gun greatly and makes shooting more fun. As you can recover faster and shoot more targets, it will improve your aim as well.
While it won't make the gun stable like a tripod, it will reduce the vertical lump of the gun. Made from 4140 steel and treated with a manganese-phosphate finish, this is one of the most durable muzzle brakes on the market.
The weight of the brake is only 104 grams. That's extremely light and portable. With a total length of around 6cm or so, the Miculek is a great option for folks who are looking for small and light muzzle brakes.
Besides the portability, the main strength of this brake is how well it recovers at shooting fast. Just by installing it, you will add a new flare to your shooting. No pun intended.
The steady reduced recoil will make you feel lighter. Thus, improving the shooting potential and your aim greatly.
Will this muzzle brake work well with a .270 Winchester?
It will fit, but it won't be the best choice. It won't reduce the recoil a lot like dedicated .270 muzzle brakes.
Where is this made?
This is made in the USA.
Will this reduce the recoil?
Yes, this will minimize the recoil greatly. Add a bit of stability to the gun as well.
5. AR 308 A2 Birdcage Flash Hider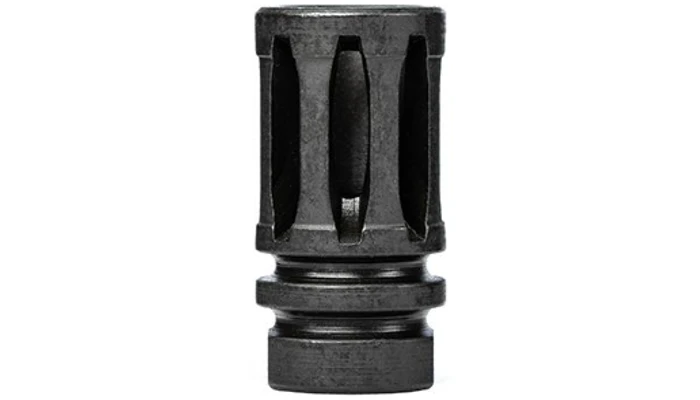 Last but not least, the A2 Birdcage from AeroPrecision. AeroPrecision is a very well-known brand in AR accessories. They make scope mounts for a lot of guns and scopes as well. Those gained them good popularity. Among that, the Birdcage also made me a fan of theirs.
The Birdcage is a flash hider made out of heat treated steel. Steel is really durable and is often the first choice of material for muzzle brakes. It can withstand the heat passing through and can hide the flash of the gun quite well.
The weight of this flash hider is less than 2 oz. It's 1.9oz to be exact. The length of the brake is 1.75". It's not too long to change the look of your gun.
Just a little add-on that will make your life a lot easier and fun. If you are a hunter, you will love the A2 Birdcage more than you are anticipating.
The mil-spec phosphate finish is amazing to say the least. Besides being durable and lightweight, this thing looks premium as well. I know, it's not that hard to make something so small look premium, but the extra effort put into craftsmanship is always appreciated.
Is flash hider and muzzle brake the same thing?
No, the flash hider's main purpose is to hide the flash coming from the gun. But it can work as a muzzle brake as well. Albeit not as effective as a muzzle brake, but it gets the job done.
Where is this made?
AeroPrecision is an American brand. Yes, this is made in the USA.
Should I buy this instead of a muzzle brake?
That's up to you to decide. Do you need a flash hider more than a brake? Then yes, this is the best you could get. Otherwise, pick up a different muzzle brake from the list. It helps that this is extremely cheap as well, might want to pick up this and another muzzle brake. Your call.
Conclusion
And that's about it. Those are some of the best muzzle brakes for 308 you could buy without breaking the bank. They are good at their job and will serve you tremendously well. I threw in a flash hider in the bunch as well. If you are looking for one, you are in luck there.
Choosing the right one will depend mostly on you. I hope you make the right decision and I helped a bit in that decision making. That's all for now, I will see you guys with more later. Till then, take care.