The Stribog guns are quite popular among new shooters. They are affordable and they are quite easy to upgrade as well. Stribog accessories are not that hard to find nowadays.
But finding the best Stribog upgrades among them is not that easy a subject. You will find countless arguments in gun forums about what to upgrade and what not to upgrade. A lot of people will suggest you against upgrading it as well. But I don't share the same sentiment as them.
If I get the chance to upgrade something and make the best out of it, I will definitely seize the opportunity. Enough talk, let's find out some Stribog SP9A1 upgrades.
1. Stribog Stock Upgrades
While you can find the SP9A1 with foldable stock at some places, often it will come without any stocks installed. And some don't like factory stock. That's totally fine. Whatever your reasoning may be, a stock upgrade can do wonders for you.
i) F5 MFG Modular Brace System For STRIBOG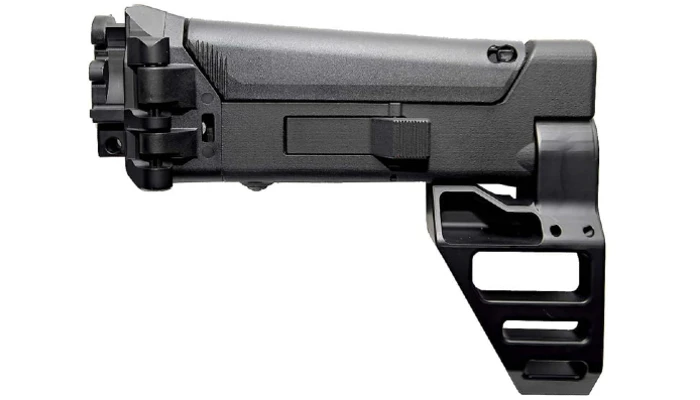 This modular brace system from F5 MFG is made for Stribog guns. It also comes with Cyberarm. The weight of the entire system is around 2 lbs. That's extremely light considering it's made out of aluminum.
That's right, it's made through CNC machined aluminum. 6061 is one of the toughest billets out there. The stock also has a nylon polymer part to it. Overall, it's one of the most durable pistol braces out there.
The modular adjustability allows you to increase or decrease the total length of the gun. Thanks to this, both young and female gunners can use this without any issues. On top of that, you can fold it as well. Thanks to that, you can easily pack it while traveling or safely store it in the vault.
ii) F5 MFG Modular Stock System with Stribog Adapter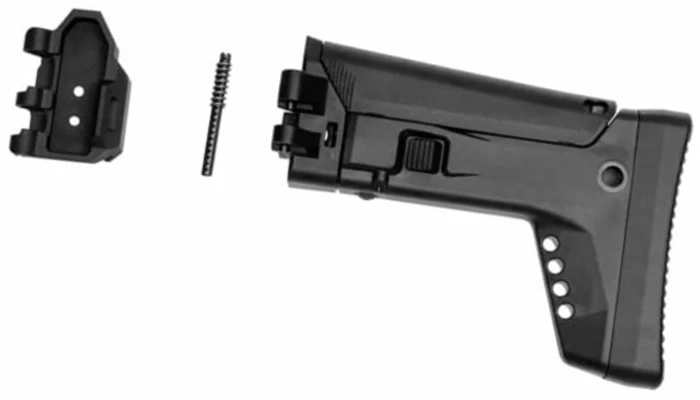 Suitable for SP9A1-SP9A3, this brace system comes with both the adapter and the modular stock. The stock is adjustable to different lengths for you to comfortably grab it at any given angle.
On top of that, the brace system is foldable. You can fold it to easily pack it inside the bag and can safely store it away. The adapter is machined from 6061 aluminum. The brace part is made out of nylon polymer.
An incredible combination of two materials that we often see in weapon accessories. F5 MFG wanted to make a stock that was suitable for all sorts of shooting, and they managed to do that with ease.
2. Stribog Magazine Upgrade
The stock magazine of the Stribog can't hold that many bullets. While 20-30 bullets sounds fine on a daily shooting competition, having more doesn't hurt. On top of that, a well-built drum magazine will improve your firing comfort a lot as well.
i) Stribog SP9A1 50 Round 9mm Drum Magazine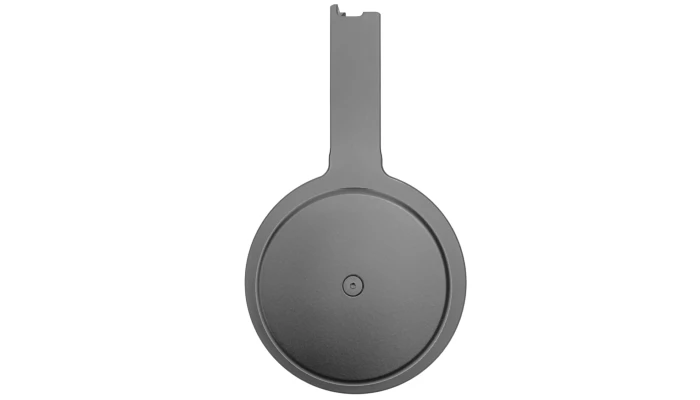 This drum magazine from F5 MFG is capable of holding up to 50 rounds of 9mm in a drum format. The drum magazines are quite good for semi/automatic weapons. Instead of ABS or polymer, F5 went with aluminum for this magazine.
It's extremely durable and lightweight as well. If you are planning to join into a sport shooting battle with the Stribog, this is what you need. Two of these are in your pocket and nothing can stop you.
You will be smoking targets while your competitors are busy reloading their weapons. F5 is known for their durability and this is no exception. It will serve you nicely for a long time as well.
3. Stribog Muzzle Device Upgrade
If you are planning to enter a competition with this gun, then you absolutely need to invest in a muzzle device. The recoil reduction will help you shift targets on the fly flawlessly. The muzzle rise will get lower as well. A win-win situation.
i) Grand Power Stribog Muzzle Brake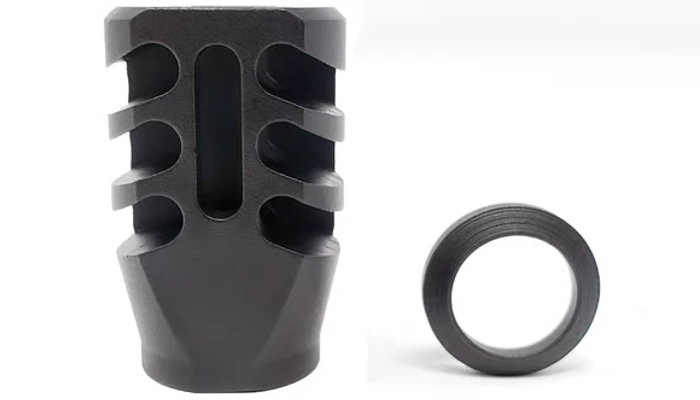 One of the best Grand Power Stribog accessories you can buy. This muzzle brake here is made for the Stribog guns. Designed and manufactured in the USA, this brake can easily be threaded into your barrel.
The choice of material here is quite interesting. They went with A311 Stress-proof Carbon Steel. A proven to be durable and heat-resistant material that is perfect for a muzzle device.
This muzzle brake will reduce the recoil of your gun by a lot. But it does come with a small problem. It won't lower the noise of your gun like a flash hider does. Instead, you will hear your gun louder.
4. Stribog Handguard Upgrade
While 9mm guns often don't need a handguard, as they are easy to control. You still can benefit a lot from one. On top of that, it allows you to install other accessories underneath the gun as well.
i) Polymer Stribog Extended M-Lok Handguard
Using a handguard with M-Lok is a huge plus for most. As it allows you to install more M-Lok accessories, you have now opened a new door of adventure. This Polymer Extended handguard is made far away in New Zealand.
Made by Summit Arms, this handguard won't interfere with your gun barrel like a lot of Chinese handguards. While it's not surprising to see a handguard made out of Polymer, it's kind of surprising to see how durable a polymer handguard turned out to be.
If you were worried it would break on your first day of shooting, well you can kick away your worries. It's a very durable handguard. Gripping it is fun and adding accessories to it is even more fun.
5. Stribog Sights Upgrade
Sights are good for your aim and they are great for competitions. After all, you wouldn't want to fall behind your competitors in a crucial moment. While the Stribog can accept almost any picatinny scopes available in the market, it doesn't make sense to use a rifle scope on this gun. So, here are a couple of sights that you should consider.
i) Sig Sauer SOR52001 Romeo5 1x20mm Red Dot Sight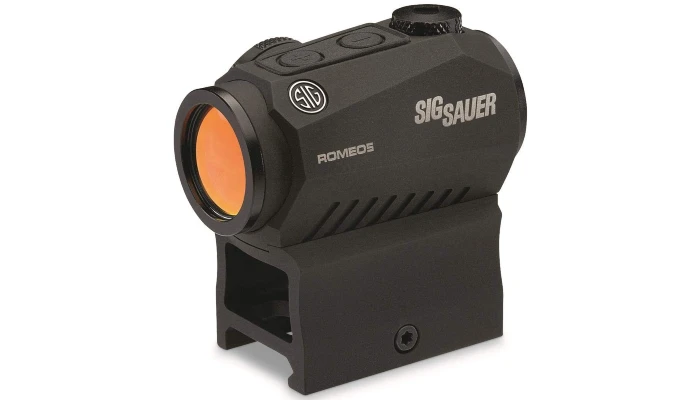 The first optic that I would like to recommend is from none other than Sig Sauer. Another brand that is known for their weapons and optics. The Romeo series has always been something that I love to recommend. It's fun to use an optic that won't require you to take a loan from the bank.
The sight is made out of aluminum. With proper CNC machining and anodized finish, it's a beauty to look at. The inside of the optic is also purged with nitrogen. Making it fog, water, and shockproof. If you want to use it in cold weather or even under heavy rain, you can certainly do that.
The reticle is illuminated 2 MOA in size. It's not humongous. It won't cloud your vision when you are trying to hit a mid-range target. Speaking of mid-range, you should try the Romeo with the Sig Sauer Juliet 3x magnifier. A killer mid-range combination for sports and hunting.
ii) EZshoot Red Green Dot Sight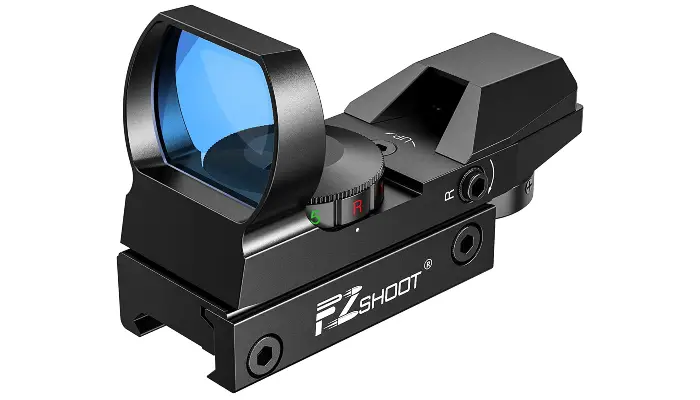 If you are just starting out on the scene and not ready to commit too much behind an optic yet, then this is your best bet. EZshoot red and green dot sight is a good beginner dot optic.
The dot reticle on this can illuminate in green or red. You can choose the illumination color from the knob on top of the optics body. While they claim it's waterproof, I wouldn't be too keen on using it in the rain. Then again, they are so cheap you could just buy another.
Surprisingly, the build quality isn't that poor. It's totally usable and suitable for a gun like Stribog. As Stribog isn't harsh with the recoil and doesn't break optics, this is the perfect option for most beginners out there. Just don't expect a Romeo5-like performance from this and you are good to go.
Should You Upgrade Your Stribog?
It's a competitive gun and can easily win you some shooting games. While it's not the best 9mm weapon out there, certainly not the worst either. It's a very good stock weapon that can get better with minor upgrades.
The upgrades don't cost a fortune like other 9mm weapon upgrades. For the money, you are not going to get a better stock gun that will not require any kind of modification.
At the end of the day, if you are a tinkerer and like to explore your options and tip your toes in the modification world, Stribog can be a great beginning.
Conclusion
No matter what others say, modification is fun and always will be. While a gun should be good out of the factory, that doesn't mean you shouldn't attempt to improve that gun. Nothing is perfect, Stribog isn't perfect either. But it can be perfect for you if you treat it right.
Finding the best Stribog upgrades is a challenge that I said yes to. The problem with Stribog is, it doesn't support every single 9mm accessory out there. That makes the choices limited and makes you wonder if the upgrades are worth it at all or not.
I hope I was able to answer those questions above and I hope you know better now. That's all for now, I will be seeing you with more upgrades in the future. Till then, take care and upgrade your Stribog to the max.