In the race of the best concealed carry guns, the Springfield Hellcat is a strong competitor. It's perfect for all tactical and defense situations.
However, even though the Hellcat series comes with many useful features, there is room of improvement. Well, the upgrades are not something you must do. But when you can enhance your shooting experience by making some changes in your firearm then why not do it.
Now, the problem is many of you may not know or be sure what sorts of upgrades are possible or what you should do in your Hellcat. Don't worry! This article covers it all.
Here, you will find the possible upgrade suggestions for your gun. Plus, you will get recommendations for the best products for the upgrades. So, without any delay, let's begin!
1. Springfield Hellcat Trigger Upgrade
The factory trigger of the Hellcat is quite good and easy to use. However, if you want to make quicker responses in tactical situations, you may consider upgrading your Hellcat trigger.
The main reason for it is, that this upgrade will reduce the trigger pull weight as well as the overall trigger travel. So, if you need a trigger upgrade, Apex Tactical is the best call you can make!
i) Apex Tactical Action Enhancement Trigger Kit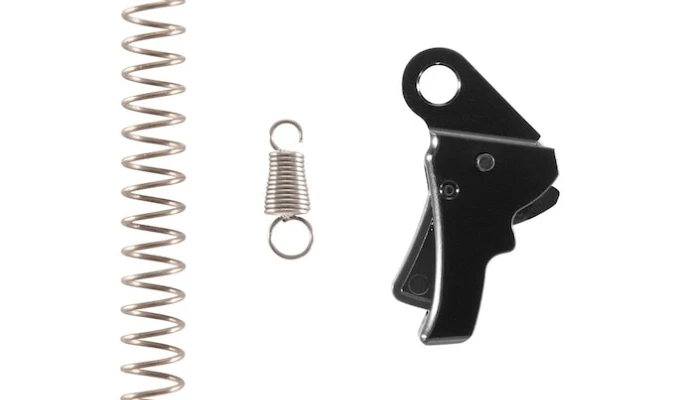 There are a good number of benefits of this trigger kit. The highlighted part of the trigger is that it reduces the weight of the trigger pull to 5.0 from 5.5 Ibs after the break-in period.
Additionally, it also smooths uptake and reset distance. As the trigger delivers a crisp break, you can make your shots as quickly as possible.
Moreover, the product is provided with a sear spring and a striker spring so that you can install the trigger without any additional fitting.
Besides, the trigger is constructed with Aluminum and has an anodized finish, so you won't need to be worrying about its durability as well.
2. Springfield Hellcat Grip Upgrade
It is essential that you have a positive grip of the gun. Otherwise, it becomes really difficult to have good control over the gun. Even though the grip of the Hellcat works perfectly, after quite some time it loses its grippiness.
Therefore, you might need to upgrade your Hellcat's grip at some point of using the gun.
i) Hogue HandAll Beavertail Hellcat Grip Sleeve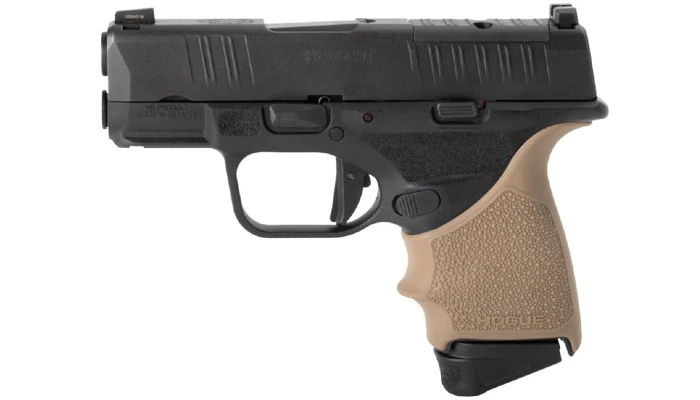 This gun grip has been designed for a tight and secure fit so that it can ensure a comfortable grip for you. The crafted finger grooves allow your fingers to position naturally to have an easy grip of the gun.
The best part of it is, it has been textured with Hogue's famous Cobblestone pattern. This texture mainly works to increase the comfort and grip of the product.
In addition, the Beavertail cushions during the recoil, providing you as best comfort as possible.
Moreover, it has been made out of a durable thermoplastic elastomer which makes sure you can use the grip for a long period of time.
3. Springfield Hellcat Barrel Upgrade
In order to mount different devices and sights, you will need a threaded barrel on your Hellcat. Now, if you already own a Hellcat with a threaded barrel, you may not buy a new barrel (unless you want to try something new).
But if you have a non-threaded barrel, you can swipe it with the given threaded barrel.
i) True Precision Springfield Hellcat 9mm Threaded Barrel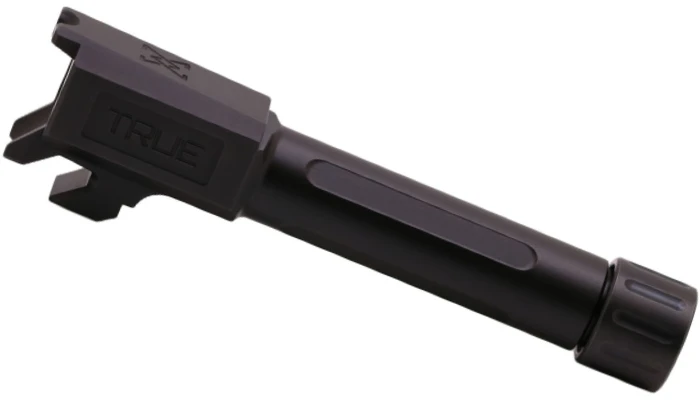 Like the company name, the product is actually a true, precise threaded barrel for the Springfield Hellcat. Because it has been crafted according to the factory specifications. The barrels have a cut of 1/2-28 TPI so that they can match with the muzzle threads of the same measurement.
Besides, it has special chamfers, radius cuts, and other small touches, making it a perfect barrel to mount on the gun.
Additionally, the product is offered with a thread protector which is secured with an O-ring lock, allowing you to protect the barrel when you don't use a device with it.
Moreover, the barrel is available in different finishes such as Stainless Steel, Black Nitride, and gold-colored Titanium Nitride. So, you can go with any barrel finish you want.
However, in case you're looking for a non-threaded barrel for your Hellcat, you can check out this barrel.
4. Springfield Hellcat Optic Upgrade
Optics are the most used Springfield Armory Hellcat accessories that are preferred by shooters. Since these optics help them to improve the shooting performance, they are really popular among the shooters. So, depending on your shooting needs, you can choose any optic for your firearm.
4.1: Red Dot Sight
When you want to take accurate shots on the target in the daytime, red dots are the perfect choice. They allow you to acquire targets in the shortest span of time. The red dots are quite lightweight to mount on the gun. They have other benefits as well which make them a perfect choice to use in daylight conditions.
Unless you're not using a red dot with an illuminated reticle system, you are suggested to choose the red dot for daytime shooting situations.
i) Trijicon RMRcc Sight Adjustable LED Red Dot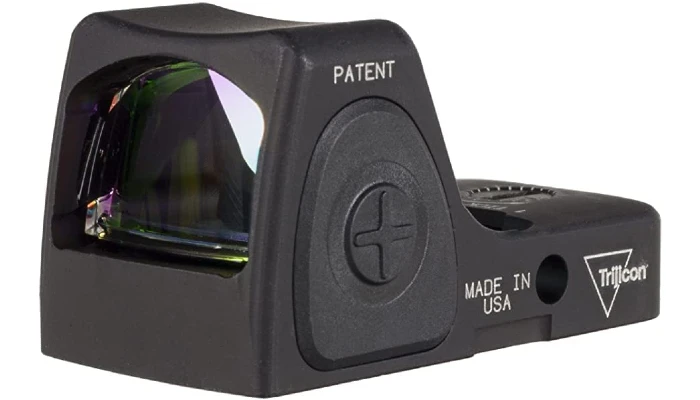 Trijicon has developed this small red dot to fit into different concealed carry guns such as Springfield Hellcat. The RMRcc red dot is made out of Aluminum so that it can provide durable performance and also remain lightweight at the same time. It has a unique, patented housing shape that diverts the impacts away from the sight lens.
The best part of the red dot is, that it has an illuminated reticle system. You can manually control the brightness level by using the push buttons of the optic. It has an 8-level brightness setting which includes 1 super bright mode and 2 night vision modes.
Note that, the red dot is offered with 2 MOA dot sizes such as 3.25 MOA and 6.5 MOA. So, while purchasing the optic don't forget to check the MOA dot size of the device.
4.2: Laser Sight
The laser sights come in very handy for beginner level shooters and law enforcement agents. Since the laser beam emits out of the sight, it helps to draw a direct reference on the target. Hence, if you like to have a visible reference on the target, laser sights are for you.
i) Crimson Trace CMR-206 Rail Master Universal Laser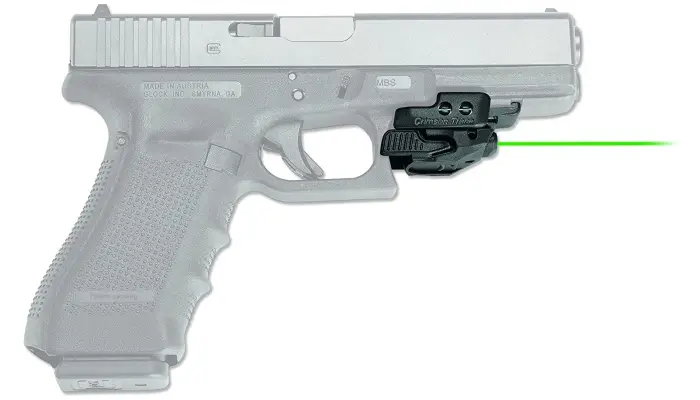 The main feature of a laser sight is that it will offer a bright beam to aim at the target. What makes this sight one of the best around in the market is, it features the brightest beam allowed by law. It is designed to have a 5Mw peak, 515-532 Nm, class 3R visible green laser.
To operate the laser sight, it is provided with a 1/3N battery, allowing the optic to run over 2 hours of its battery life.
Additionally, it has an instant activation system. The laser sight has ambidextrous tap-on / tap-off controls, making sure that you can power on or off the optic whenever you want.
Plus, it has a user-friendly windage and elevation system. The optic comes factory-sighted at 50 feet, so if you want to adjust the laser sight, the optic helps you do that as quickly as possible.
Another noteworthy laser sight is "Viridian Green Laser E Series Green Laser Sight". Since it has been specially made for the Springfield Hellcat, you can consider it for your Hellcat as well.
4.3: Night Sight
Compared to the other sights, the night sights are a bit costlier. It is because they are made with the Tritium which glows in low light conditions and dark environments without any external power source.
Therefore, the accuracy they provide in night conditions is quite unparalleled. So, if you mostly use your Hellcat in low lights or night environments, night sights will be the right choice for you.
i) AmeriGlo Spartan 3 Dot Springfield Hellcat Night Sight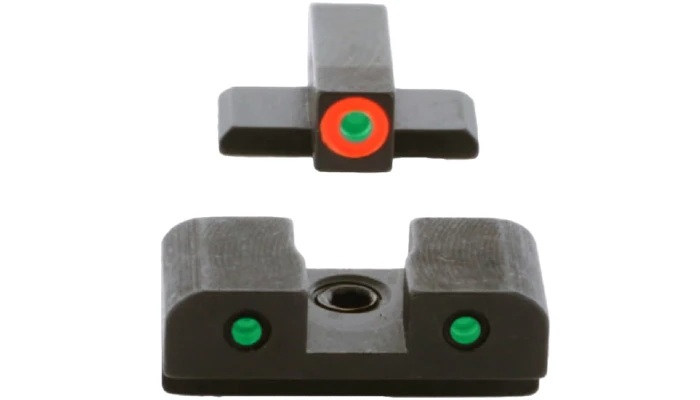 The Spartan night sight series has especially been designed to be used with the concealed carry gun in all lighting conditions. With the help of its 3-dot design, you can have a clear aim on your target. These 3-dots come in various outline combinations.
Hence, you get an open option to pick your preferred color Tritium vials in your front and rear sights. The rear sight has a square style notch which allows you to make precise shots on your target.
4.4: Tactical Light
Another most used accessory you can consider for your Springfield Hellcat. It helps to see the target in dark environments. The difference between the lights and other optics is that the lights don't particularly aim better for the targets rather they allow you to have a better visibility of them.
Hence, if you only want to have a target visibility in low lights and nighttime, then choose lights over other sights.
i) Streamlight 69291 TLR-6 100-Lumen Pistol Light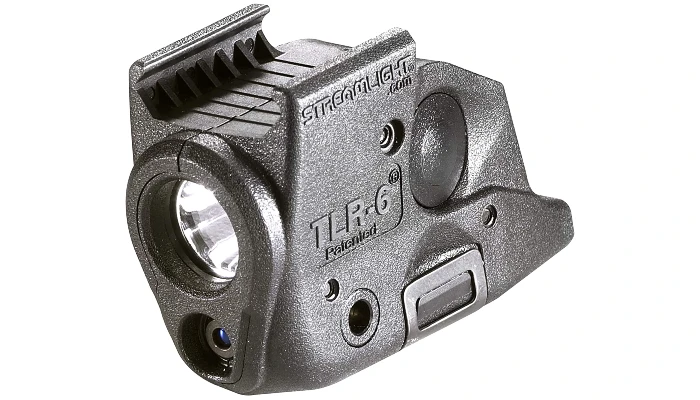 The polymer made light is what you need to have a clear visibility of the target and your shooting environment. The device has been specially designed for the Springfield Armory XD, XD(M), and XD MOD.2 railed handguns.
It has three modes of operation such as LED only, LED/laser, or laser only. You can switch among these modes by using its ambidextrous push-button switch. These buttons also help you on/off the light.
In order to run the device, the company offers two 3-volt CR-1 /3N lithium coin batteries (IEC CR11108) with a storage life of 10 years. The light is quite lightweight to mount on the gun.
The good thing is, you don't need to detach the light while changing the battery. In fact, you don't have to resight the laser after replacing the battery.
In case you specifically want light for Springfield Armory Hellcat 3″ Micro Compact, then you can consider this version of the light. Now, after mounting the optics, you may find it difficult to fit the gun into the regular holster.
Hence, I would recommend you to buy holsters like "CrossBreed Holster" or "Springfield Hellcat Holster" to store your Hellcat.
5. Springfield Hellcat Magazine Upgrade
The magazine provided with the gun doesn't offer a comfortable position for your finger to rest. Therefore, some shooters like to replace the factory magazine with the aftermarket product. Below you will see one of the best aftermarket magazines which come with a finger extension.
i) Springfield Armory Hellcat 9mm 10 Round Magazine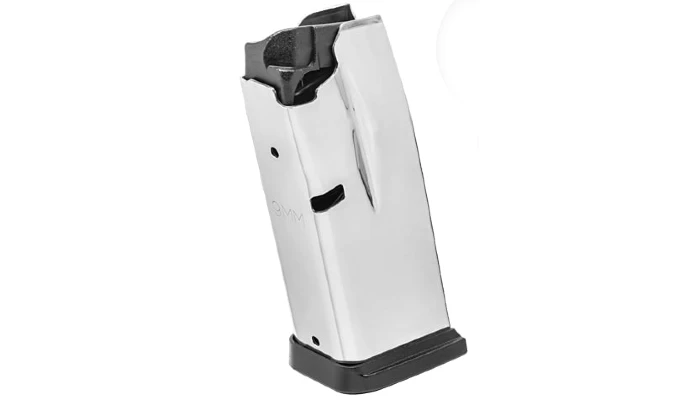 This is a 10 round magazine, compatible with the 9mm Luger cartridge. You can easily detach and attach the magazine to your gun. To ensure its durability, it has been crafted with stainless steel. The construction material not only works to ensure its longevity but also protects it from corrosion and abrasion.
Besides, the magazine has a finger extension, enabling your finger to properly rest while aiming for the target.
However, if you don't want to invest in a whole magazine but still wish to have a finger extension, then check this meg extension for your firearm.
6. Springfield Hellcat Suppressor/Silencer Upgrade
If you don't like the sounds of the shots, you can mount a silencer on your gun. Now, don't get your hopes high. The silencers don't eliminate the sound entirely. They work to mitigate the sound, ensuring that the sound gets reduced as much as possible.
i) Gemtech Lunar 9 Suppressor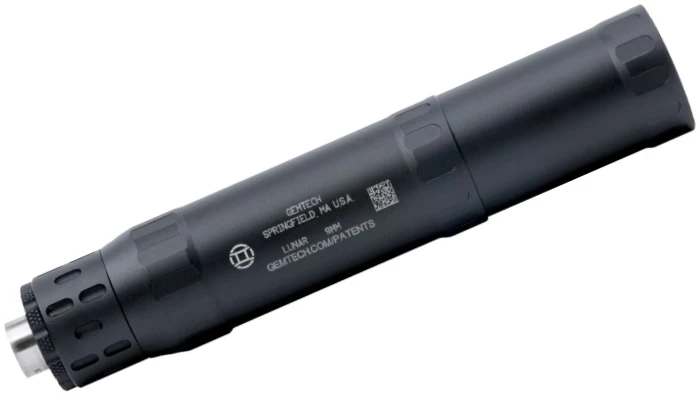 The reason for its being one of the best sound suppressors in the market is that it features the latest baffle design. It works to deliver the internal volume and turbulence that is needed for serious sound suppression with both 9mm and 300BLK subsonic cartridges.
The device has been engineered with the Type III hard-coat anodized 7075 Aluminum and a 17-4 Stainless Steel blast baffle. As a result, you will find this hellcat silencer both sturdy and lightweight to mount on the gun.
Conclusion
To sum up, by upgrading your firearm, you can unleash its full potential. Also, it allows you to improve your shooting performance.
Therefore, depending on your shooting needs, you can choose the types of changes you would like to do in your Hellcat.
Since looking for the best upgrade products needs a bit of investment, you're suggested to do good research before being decisive about it.
However, if you want to cut short the research work, you're most welcome to go with my recommendations. The suggested upgrades and products are the best ones you can find in the market. So, you can consider them without any worries. Good luck!