Lazy pun aside, the MPX is a one of a kind submachine gun. Designed way back in 2013, the MPX has been in service since 2015. Even now, there are tons of owners present in the country.
While the gun has no issues regarding gas operation, the gun does however have a low quality stock/brace that doesn't feel good. It also doesn't allow you to use the gun with one hand. Making it hard for disabled shooters to operate the MPX.
What if I told you, both of those issues can be fixed with one simple solution? You guessed it right. I'm talking about braces. A little accessory that is used in pistol carbines, and AR15 pistols. Nowadays, they are available for SMGs as well. Thus, my quest is to find the best Sig MPX Brace. Without further ado, let's jump straight into it.
How Do You Choose The Best Sig MPX Brace Then?
Durability
As we are going to use it with Sig MPX, an SMG, it needs to be durable enough to withstand these calibers. It can be made out of polymer as well. That doesn't matter. As long as it's made with proper machining and process, it will be durable.
Compatibility
Being compatible with the gun is very important as well. The ones I have mentioned here are compatible with the MPX and other Sig Sauer guns as well. If you are buying a different model, make sure it's compatible.
Budget
If you have a budget constraint, that can cause some issues while purchasing something new. On the other hand, if you know how much you are going to spend on the accessory, you can easily choose the right one.
1. A3T Sig MPX Modular Folding Brace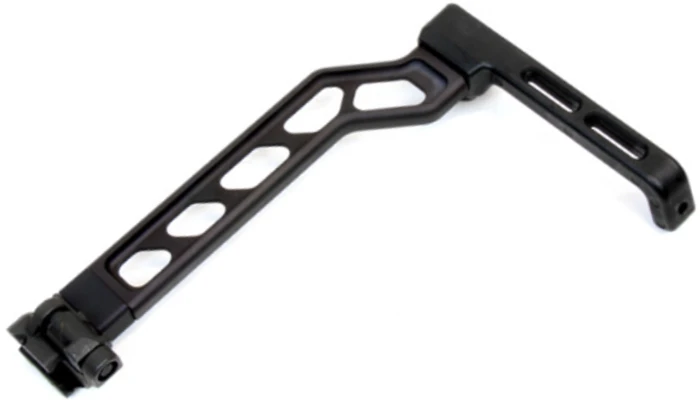 The first brace that I recommend to you guys is from A3 Tactical. This brand is known for upgrading and changing accessories quite often. They just can't stop being innovative. A variant of this modular brace is already discontinued.
But the one I have here isn't. It's also one of the most expensive braces here. Honestly, it's worth every penny you are about to pay for it.
The brace is made out of aluminum. The finish on the brace is done with an anodized coating. It looks extremely premium. A really great part of this is how unique it looks. Trust me, I know what you are thinking. It looks so fragile, right? But it's not fragile in the slightest.
It can handle the recoil of the MPX with ease. It will also stabilize the gun and help you shoot faster with more accuracy.
On top of that, the brace also helps you aim more steadily and allows you to use the gun with one hand. Yes, one hand is like a pistol. That sounds great, doesn't it?
That's possible because of the lightweight design with good support to hold it close to your shoulder. Using the shoulder to stabilize the gun even further.
Thus, allowing you to shoot accurately faster. The foldable and modular design is simply put, great. It allows you to change the brace for something else. Maybe even a Tailhook Mod 1.
How many configurations is this available in?
The modular kit is available in 4 different configurations. You can choose the choice of material for the brace while you buy it as well. That's pretty cool.
Is modular worth it?
100%. It's very pricey, but it's totally worth it. The modular capability allows you to use so many different braces, it's quite insane actually.
Is there any locking mechanism present in the folding action?
Yes, there are two locking systems present on the brace. One, when you fold it to stick to your gun. Two, when you use it and you need to stand straight.
2. Sig Sauer MPX Folding Pivoting Contour Brace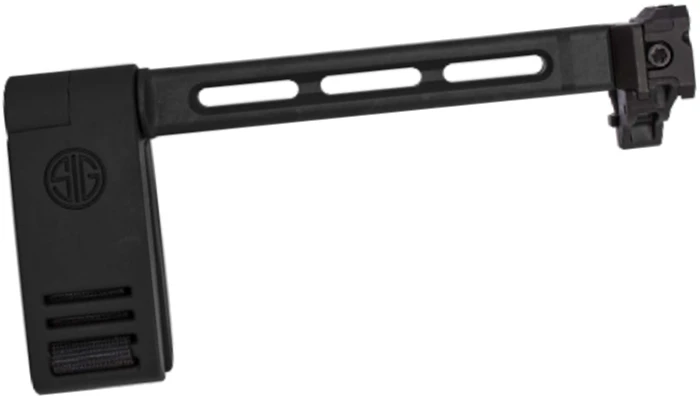 The MPX is made by Sig. They are aware of the importance of a brace. That's why they sell braces separately as well. This one here is compatible with MPX and MCX both guns. The braces are made out of multiple materials. Instead of making it out of aluminum or polymer only, Sig went with both aluminum and polymer.
The weight of the brace is not too much either. It is quite lightweight and won't make your gun back heavy either. This brace supports 9mm, 5.56x45mm, .223 Rem, .300 Blackout, and 7.62x39mm calibers. These are some of the most popular ones out there. No wonder this brace is popular among MPX owners.
Just like other braces that you will come across, this one is also here to stabilize your weapon and give it a new feeling. Once you get used to using braces, trust me, there is no going back. Now that I think about it, the idea behind a pistol brace and teeth brace is quite similar.
This is not any cheaper than SB Tactical products. So, the obvious question is if this is worth it or not. After all, SB is known to be the undisputed king among pistol braces. But this is made by the same company that is making these guns.
A lot of shooters will prefer accessories made by the gun maker instead of a third party. Besides this, This is a foldable brace that is made with excellent materials and will last you a long time.
Where is this made?
Sig Sauer is a joint company of Germany and the USA. Just like the other Sig accessories, this one is made and distributed by their sister brand in the USA.
Is the polymer used in this fragile?
No, not at all. It's quite durable and lightweight. Resisting heat naturally is quite well on this as well. The mixture of different materials is just fantastic.
Is it only available in black color?
Glad you asked that! No, it's available in Coyote brown and tan finish as well. The finish on this is just amazing.
3. SB Tactical SBA3 Pistol Stabilizing Brace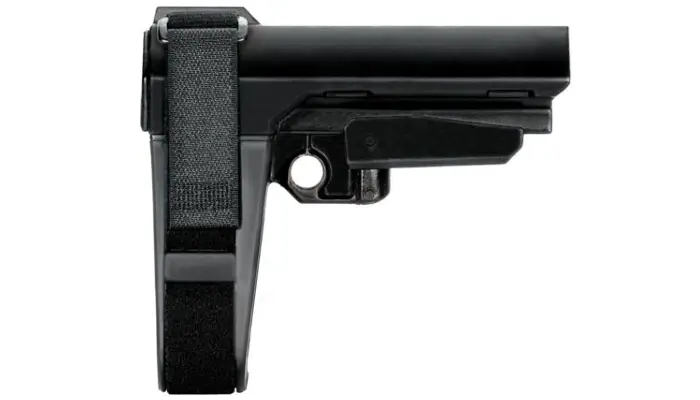 SB Tactical is one of the most trusted brands when it comes to a good brace. They have been in the business for quite a while now and have gotten a steady fanbase.
They are quite true to their words and their products speak volumes for how good they are. The one here is for AR pistols and it's also compatible with anything that supports a buffer tube.
The brace comes in a sleek black finish with a great texture coating. There are no anodization or machining errors visible in the brace. As it's made out of metal instead of polymer, scratches won't be visible and it's very durable against drop and other damages that might occur.
To help you hold the gun with only one hand, there is a nylon strap installed on the brace itself. You put your hand through the strap and tighten it according to your arm's thickness.
Make sure to tighten it properly so it doesn't wiggle on your arm. Kind of like how you tighten snow gloves.
The brace was made for AR pistols. So, it supports buffer tube extension. But the package doesn't come with any buffer tube. You could try purchasing this AR 15 buffer tube extender to use it on your gun.
Where is this made?
Like every other SB Tactical product, this one is also designed and made in the USA. Their customer service is American based as well.
What is the total length of this brace?
This will vary depending on the length of your buffer tube. It can be anywhere from 6.75" to 9.5".
Is it adjustable?
Just like a regular stock of a rifle. This one is also adjustable in up to 5 different positions.
Now that we know a bit more about the best braces for Sig MPX, how do we choose the right one? Don't worry, this little section is about braces only and how to choose them. If you are new to braces, don't skip this part.
Do you need a pistol brace?
This is the most frequent question among new gun owners. Why would I need a brace? After all, I'm good at using this with one hand. Why would I buy a brace? Well, a brace will stabilize the shooting pattern of a gun and will help you aim better. Who wouldn't want that for their pistol and SMGs? So, yes, you do need a brace. Get one asap.
Are braces illegal?
As of writing this in late 2022, no, they are not illegal at all. Most braces are certified and they are listed as legal weapon accessories as well. Bottom line, they are not illegal.
Conclusion
There are quite a few more braces compatible with the MPX. But all of them aren't that good for the gun. Many have negative reviews as well. The ones I have here are some of the best braces for Sig MPX.
They are quite durable and well-made. Braces are quite important for a gun like the MPX. My plan for today was to introduce you guys to some cool-looking and performing braces, and I have managed to do that.
The rest is in your hands. And for now, this is where we part ways. I hope to see you again in the future. Till then, take care and be safe.