Carrying a firearm always serves a personal cause whether it's for your personal safety or hunting or even for competition purposes.
This is why everyone wants to own the best pistol they can find in the market. My protagonist of today gives somewhat the same vibe for shooters.
Ruger Mark IV 22/45 Lite gun comes with almost all the features you will want to have in your personal safety package. This .22LR chambered pistol has become popular among shooters because of its low weight range and high capacity performance.
Although this handgun does not require any change when you are using it for basic use, you can upgrade its level of capacity and performance by making changes in some specific parts of this Ruger Mark pistol.
Before I dive into the best upgrades for your Ruger Mark IV 22/45 Lite handgun, I want to clarify one thing. The upgrades will fully depend on your personal preference.
Whether you want to change that certain part is up to you. What I will do is suggest to you some of the best upgrades available in the market for your Ruger Mark. so, let's begin!
1. Ruger 22/45 Lite Trigger Upgrades
The trigger of the Ruger Mark IV pistol can use some upgrades. With its 1911-style grip, the curved trigger can feel out of place, especially when you are thinking about using the gun in a Steel Competition.
I have two options for you if you want to upgrade your Ruger 22 45 trigger. One is the trigger itself and another one is the accurizing kit which has all the tools you will need to install the trigger into your Ruger gun.
Let's look at what these products will do for your Ruger 22 45 upgrades. I will review the products so that you have a clear idea about which upgrades are suitable for your Ruger Mark IV.
i) Tandemkross Victory Ruger Mark IV Trigger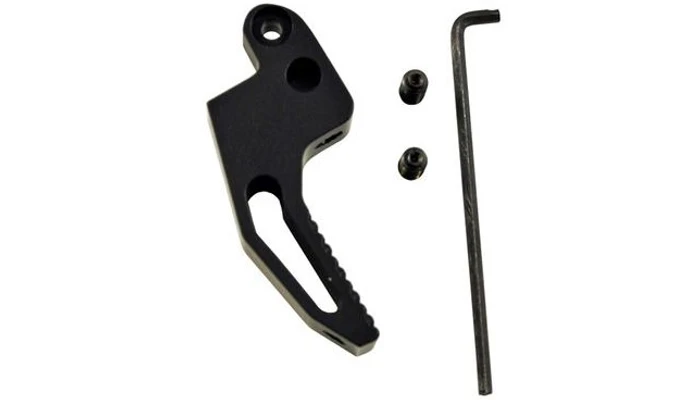 With the Ruger Mark IV factory curve trigger, Ruger has stepped into a new style of triggers that has promised to do more for the shooters. But for some people like me, we need our comfort back. Now, I am not saying the stock trigger is anywhere bad.
I am just saying when I am proving that I am the best I want my trustee friend, the old but gold flat-faced 1911 style trigger.
And this Tandemkross Victory Trigger gives me that comfort along with the accuracy I need for my "Victory". This flat-faced trigger keeps it simple and lightweight. The skeletonized design gives the straight pull I would prefer in my Ruger Mark 22/45 trigger.
If you are those shooters who like the curved, stock trigger then you can skip. But if you are anything like me then this my friend will be your next bestie. Thank me later.
ii) Volquartsen Firearms Ruger MK IV Accurizing Kit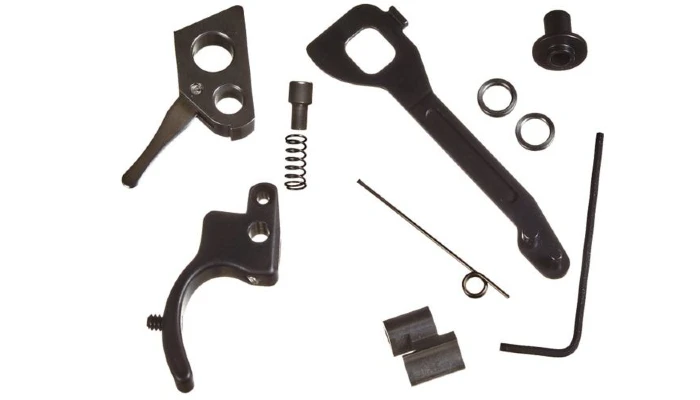 This Volquartsen Accurizing kit has everything you need to install a trigger upgrade into your Ruger Mark IV lite 22/45 handgun. The traditional stock trigger in the Ruger handgun is gritty pull and heavy weighing around 5 lbs.
This can be a hindrance when you are competing against other shooters because you want the best posture for accurate shots.
With the Accurizing kit, you can achieve that expected position with your gun. The trigger parts included in this kit gives the trigger a crisp and light 2.25lbs trigger pull which is almost half of what you had before.
Coming with a disconnector, target hammer, hummer bushing, and target searing, this drop-in kit has everything you will need to control your trigger pull. It also eliminates any chance of magazine disconnect.
Now you just need to attach these parts with either your existing Ruger trigger or you can use the aftermarket trigger from Tandemkross I mentioned before. That's up to you.
2. Ruger Mark IV 22 45 Lite Grip Upgrades
Coming to the grips, you can give a makeover in this part of your Ruger pistol. Grips are important considering the fact that they can again interfere with your posture and shooting accuracy.
In case you are thinking about switching your Ruger Mark IV grip, I have just the perfect two grip upgrades for you. I am giving two different texture options for the grip so that you can pick the one you feel more comfortable using.
i) Tandemkross Ruger Mkiv 22/45 Hivegrip
The Tandemkross HiveGrip hand grip is good for shooters who prefer finger grooves on their grip. This HiveGrip is perfect for your Ruger 22/45 Mark gun as the aggressively textured rubbers on the product improve your shooting condition.
I also like the fact that its vibration dampening material helps the shooter to have better control over his shooting position.
In addition, the ergonomic finger grooves are best for speed and accuracy when taking shots. Another good budget friendly grip option would be the Hogue Ruger MKIV 22/45 Rubber Grip which also comes with finger grooves.
ii) Tandemkross Hivebrid Ruger Mkiv 22/45 G10 Panel Grip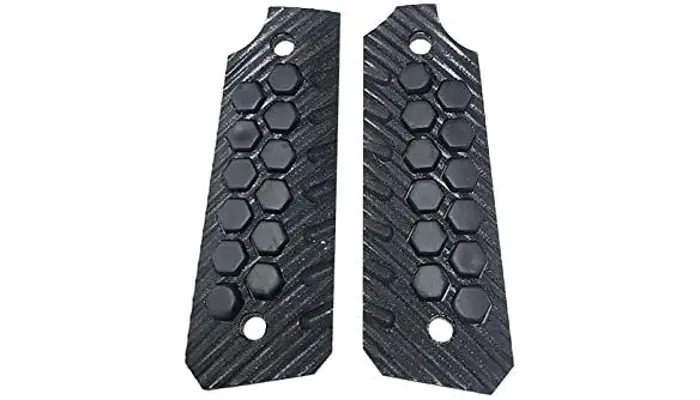 Another grip product from Tandemkross is especially for those shooters who hate the feeling of finger grooves on their pistol grip. For you high maintenance people, I have this panel grip.
I love this product because of the soft, sticky rubber-like material which gives solid control that feels like the gun is literally stuck to your hand.
On top of that, the HiveBrid grip comes with highly durable G10 material that is resistant to heat, impact, and chemicals giving you a long lasting performance. You can also customize the Hex insert as it is removable. You get four engraved titanium grip screws for easy installation.
3. Ruger 22/45 Compensator Upgrades
One thing I would appreciate for the Ruger Mark 22/45 Lite having is a threaded barrel. Which means you can attach a compensator or even a suppressor with the gun. In case you are not a fan of a suppressor, I have the perfect 22 45 lite compensator for your gun.
It will not only help you minimize the amount of recoil, but also help you with muzzle rise for better follow-up shots which is very important in Steel Competition. Then let us see how this compensator will upgrade the quality of your Ruger firearm.
i) TandemKross Ruger Mark IV Game Changer PRO Compensator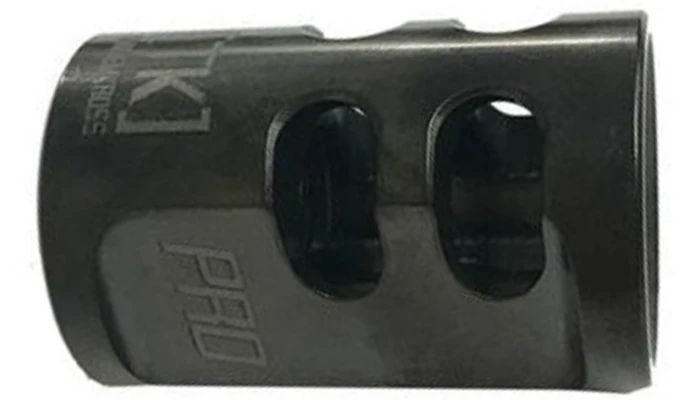 The Tandemkross Game Changer Pro Compensator proves to be a perfect companion for the Ruger Mark IV handguns. This compensator works hand-in-hand with the .22LR cartridges as it reduces the amount of recoil this long rifle bullet can produce.
Although the .22LR does not produce significant muzzle rise, having a compensator will help minimize the time gap between shots. This becomes clearer in a rimfire shooting competition where even a millisecond gap can change the result of the competition.
This stainless steel compensator adds weight to the front part of the gun for better balance and vents gasses at dual 45 degree angles which will give you better visibility and control.
4. Ruger 22 45 Rail Upgrades
My next upgrade recommendation for your Ruger Mark is its rail. The 22/45 Picatinny rail of this Ruger gun is versatile enough to mount a wide range of red dots and holographic sights.
Now I am not saying you really need to change the rail because it will work perfectly in a normal situation. But when it comes to competition we do want the best, don't we?
Removing the factory picatinny rail and attaching a low profile optic mount will do just that for you. The Picatinny rail on the Ruger mounts the optics a bit higher than usual.
Using a low profile mount will keep the optic aligned with your pistol's iron sights. This is perfect when you want to co-witness both sights.
That's why, I would suggest the Tandemkross Shadow Mount for your Ruger Mark aftermarket rail, which has the perfect height.
i) Tandemkross Shadow Mount V2.0 Compatible With Ruger® 22/45™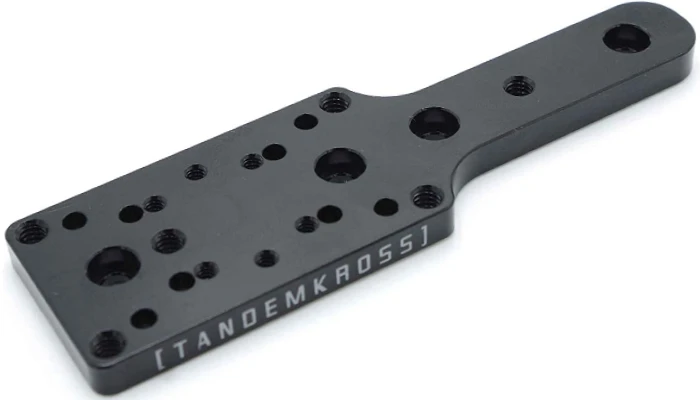 The main reason for suggesting this Tandemkross Shadow mount is its versatility. This sight is reversible, meaning you can customize your optic placement in both forward and rear mounting positions.
This gives you the freedom to mount over ten optical devices on your Ruger 22/45 Lite handgun, including one of the most popular red dots, the Vortex Optics Venom Red Dot Sight.
This low-profile mount helps reduce the overall height of the optic as you can mount the sight to the receiver without the issue of attaching on top of the rail. You can easily practice both-eyes-open shooting with this facility which will also ensure better precision.
5. Ruger Mark IV Charging Ring Upgrades
The next upgrade I want to recommend for your Ruger Mark IV pistol is related to the holding issue while cycling the bolt. You can notice when you need to cycle the bolt of your Ruger 22/45 lite gun, you have to grab the bolt ears with your fingers. There are no other options.
Now what happens because of that is you can not chamber a round quickly when you are in a hurry. Plus, it also becomes difficult to clear any malfunction because fingers are occupied on the bolt ears.
There is another possibility of slipping your fingers easily when your hands sweat on a hot summer day. This is very difficult to manage for young shooters or any shooters who have dexterity issues.
That is why having a charging ring on the rear side of your Ruger pistol has become a necessity. You can add any charging ring of your liking or you can use the one I have added on my Ruger Mark.
i) Tandemkross Halo Ruger Mark Iv & 22/45 Charging Ring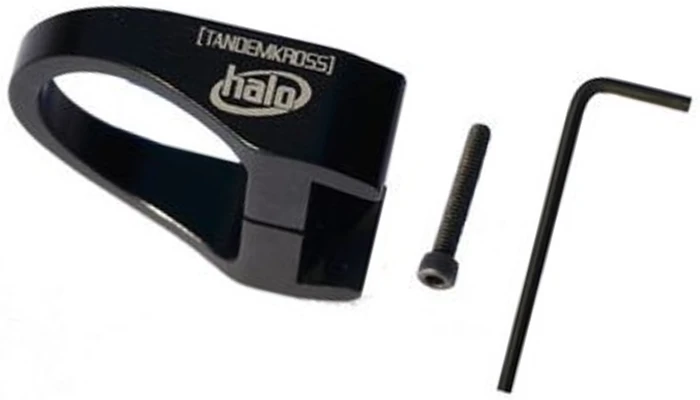 I like the Tandemkross Halo CHarging Ring because of its smooth, curved ring that improves leverage and makes charging easy. This charging ring has an ambidextrous design that fits with any kind of holster for both hands like the Kydex Concealment OT Hip Holster for the Ruger Mark 22/45 Lite gun. You will need size 30 in case you want to use it for your Ruger Mark as well.
This will be an ideal upgrade to be used in a competition for shooters who may need to charge the pistol or clear a jam quickly. The aircraft grade aluminum housing keeps the charging ring durable and lightweight. Hence, you can attach this Ruger 22/45 upgrade without adding extra weight to your gun and eliminating all the slipping issues at the same time.
6. Ruger Magazine Upgrades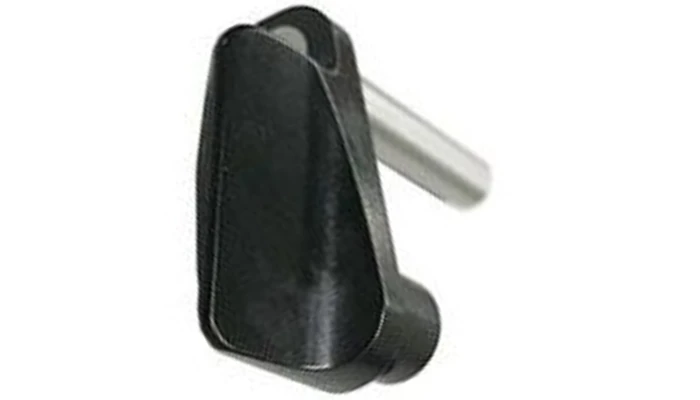 Finally, I wanted to recommend another upgrade for your Ruger Mark Lite gun. This is for the shooters who have dexterity issues or small hands. The factory magazine of the Ruger Mark IV pistol can seem a bit smaller, especially when you are trying to reload it quickly.
To solve this issue, I would suggest an extended magazine release that will give you the right amount of grip and space for easy and faster reloading.
i) TandemKross Titan Ruger Mark IV 22/45 Extended Magazine Release
This Tandemkross Titan Extended Magazine Release will give you more surface area and height for quicker and more consistent magazine changes, especially for young shooters or shooters with small hands who find it difficult to reach the magazine release button.
You get two different button options with the Titan Magazine release. One has a round, textured button which is taller and slightly wider than the factory magazine release button. But it is also low profile so that the shooters with larger hands can easily reach for it.
On the other hand, the textured, paddle-style button extends the magazine release out and away from the gun and back towards the shooter at the same time. This kind of button style is perfect for junior shooters or small handed shooters.
Therefore, whether you are a senior shooter with large hands or a newbie, or someone who has small hands, this magazine release covers you all.
7. Ruger 22 45 Lite Accessories
Now I am going to suggest some accessory upgrades for the Ruger Mark pistol. These aftermarket accessories are not mandatory but they will help you achieve the highest level of comfort every shooter looks for in his firearm.
I personally think the thumb rest and thumb ledge can use some upgrades on this pistol for better control. Also, you can use an upgraded magazine release for this handgun. Now let's see what these upgrades are and how they will make your life easier.
7:1. Ruger Mark IV Safety Thumb Ledge
When it comes to control points, the Ruger Mark 22 45 lite lacks in the thumb safety section. The one that Ruger pistol offers is not comfortable enough to rest your thumb on.
Hence, I have suggested the following safety thumb ledge that you can replace with the existing one.
1. Tandemkross Cornerstone Ruger Mkiv 22/45 Safety Thumb Ledge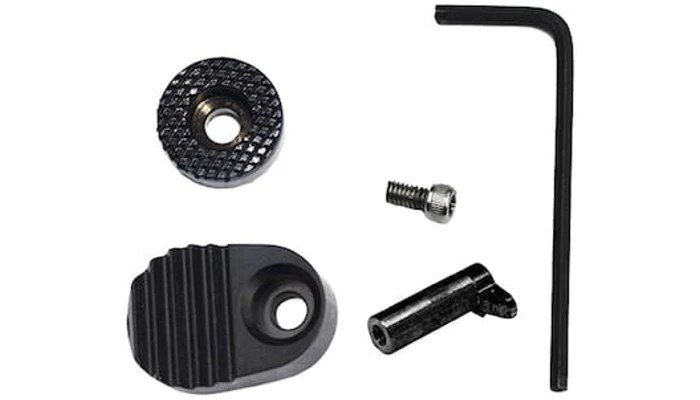 The Cornerstone Safety Thumb Ledge by Tandemkross is an oversized 1911-style thumb ledge that will give you the control you want and need during any shooting competition. It enhances the external factory safety, without modifying the internals of the safety mechanism.
Since the factory ambidextrous thumb ledge can be uncomfortable for most shooters as it pinch fingers while shooting, it is better to upgrade the existing one with a better specific handed thumb ledge.
With this aftermarket thumb ledge, you can have an ideal placement for your thumb for secured griping along with a consistent hand positioning which also helps to control muzzle flip.
What's better is that you can easily install it without interfering with any internal components of the gun. So, don't let this tiny hassle turn into something big. Go and grab a thumb ledge that will ensure your utmost comfort.
Conclusion
Before I conclude this article, I want to give a disclaimer. The Ruger Mark IV 22/45 Lite pistol has all the features and components that are perfect for your daily plinking and shooting.
The above-mentioned Ruger Mark upgrades are there to give you aftermarket options just in case you want to switch around and test the water.
These upgrades will also help you to ensure that your Ruger pistol is competition capable and can take down any of your competitors just by making some small changes. Now the decision is up to you.
Whether you want to use these extended upgrades or stay with what you already have will depend on your personal preference.
If you ask me, I would get these accessories to get my gun competition ready. Now then, you can decide which upgrades will make your Ruger Mark IV competition-ready.