FN PS90 is the semi-automatic carbine version of the famous P90. Unlike P90 which receives all the love, PS90 seems to be a bit overshadowed. But that's the benefit of being the underdog. You get more room to work with and your potential is higher than others.
Some of the best PS90 upgrades include some parts that you might see in other guns. That's the beauty of the gun community, there are so many universal parts. That's why I have decided to find out some of the best PS90 accessories and share it with you guys.
There are some upgrades that you can consider optional and some are mandatory. Finding out the importance of those accessories is the key takeaway here. Without further ado, let's start.
1. PS90 Short Barrel Upgrades
The first thing a lot of PS90 owners do is to change the gun into a short barrel one. Unfortunately, everyone won't be able to perform this mod. It will depend on your state laws.
For those who can, you should. This way, you can get the taste of an original P90 without buying the P90. Do keep in mind, it's a tedious and time consuming process.
i) Cmmg Ps90 10.5″ Barrel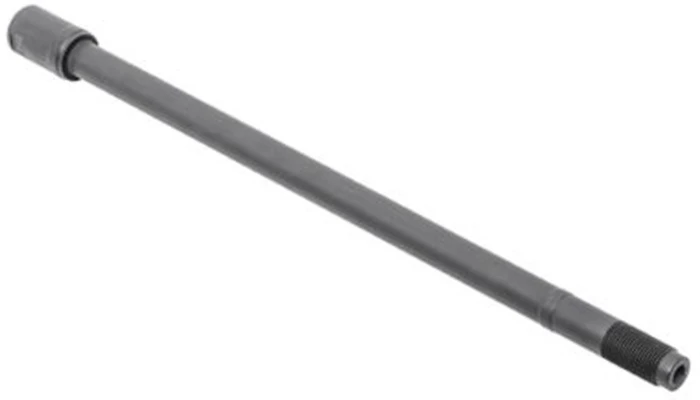 If you got your permit to change the barrel on your hand, it's about time you get the barrel and get to work. For the PS90, I highly recommend using the CMMG 10.5" barrel. It's not humongous like the standard 14 or 20" barrels.
It's made out of 4150 chrome moly & quite lightweight and extremely sturdy. Even if water gets inside the barrel, it won't catch rust. It's quite immune to rust and internal collisions.
The inside of the tube is smooth and fast. Allowing your bullets to travel through without any obstructions. The salt bath nitride finish on this looks fantastic, to say the least. But then again looks aren't everything. The performance of this barrel is what makes it the number one PS90 barrel.
ii) CMMG Thread Adaptor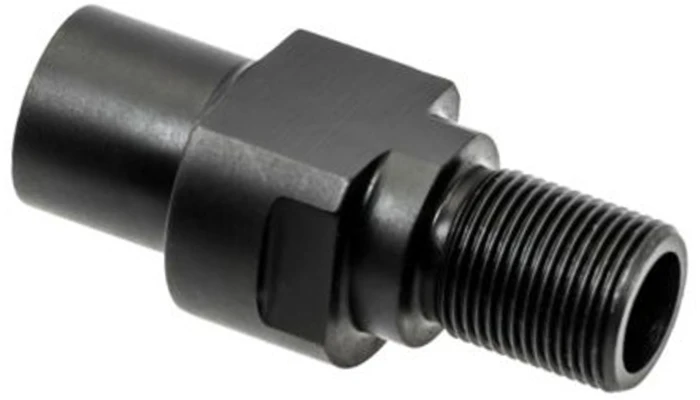 Hold on your horses for a second there. Once you get your permits and bought the barrel, you can go ahead and install this. But what about the barrel attachments? How are you supposed to add in a muzzle brake or suppressor down the line?
Go on, get another permit for this thread adaptor. This will allow you to attach muzzle attachments down the line. Keep in mind, that without a proper permit, you are not allowed to use this muzzle. I don't want you to face legal troubles.
2. PS90 Trigger Upgrade
The next thing to do on the list is change the stock trigger. The stock trigger of the PS90 is not that bad. But we are going the ultimate custom route. So, stock triggers need to go. There are quite a few triggers available for PS90. Take a look at some of them.
i) Man Kave PS90 Trigger Pack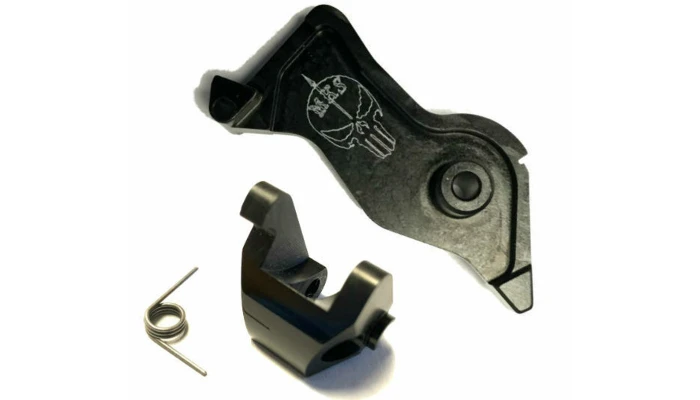 The Man Kave PS90 trigger is one of the easiest to install trigger kits on the market. The ease of access is what makes it a great pick for newbies. The PS90 Gen 1 Hammer is made out of a 7075 T6 aluminum billet. It's then treated with 8625 hard anodization.
This trigger will reduce your trigger pull by nearly 35%. On top of that, it will also reduce felt trigger weight by 15%. It is heavier than the plastic variant. But this is much better than the plastic variant in terms of longevity.
The Man Kave PS90 aluminum sear is compatible with all gen trigger packs. Due to the longevity and price of this trigger pack, it's an easy recommendation over any other PS90 triggers.
3. PS90 Sight Upgrades
The next thing you should look forward to is adding a sight on the gun. But first, you will need to find out the mounting solution. To make it a more universal fit, I highly recommend you to get the PS 90 Optic Rail.
i) EOTech HWS EXPS3 Circle Red Dot Sight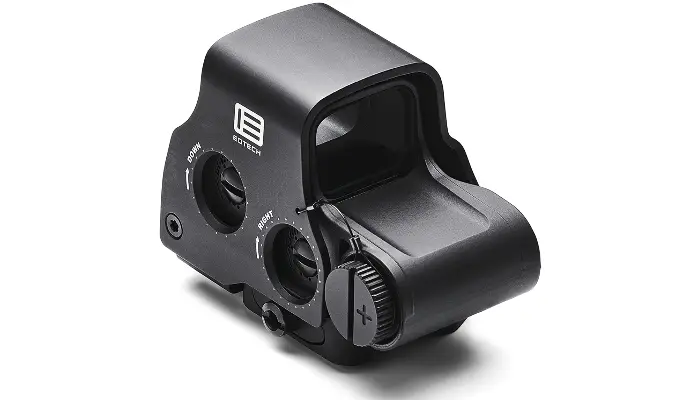 When it comes to holographic sights, no other sights comes close to Eotech sights. They are so popular, that people started to make knock-offs for them. You can easily find and get fooled by a knockoff on the internet. But the one I have here for you is not a knock off.
The EXPS 3 is made out of aircraft-grade aluminum and it's highly durable. It is lightweight as well. On top of that it is also water, fog, and shockproof. The PS90 makes perfect sense to use with this sight.
The reticle on this is a 68 MOA circle with a 1 MOA dot in the center. The reticle is illuminated as well. It's an ideal choice for both range shooting and fast target acquisition in close combat. Best of both worlds.
ii) Aimpoint Micro T-2 Red Dot Reflex Sight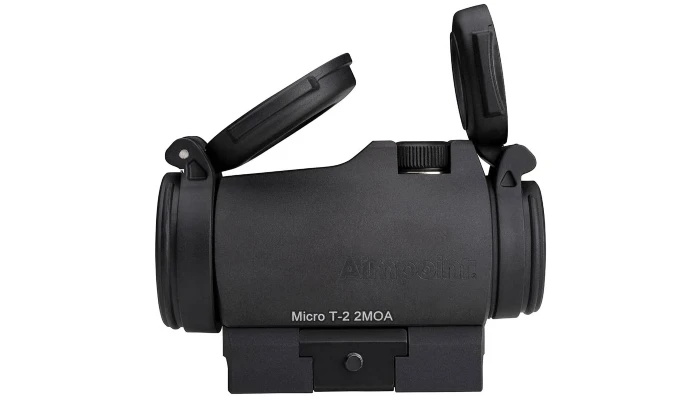 The next recommended optic for PS90 is from Aimpoint. Another red dot giant in the market. Their red dots are readily available and they are often priced quite competitively. The one I recommend from them is the Micro T2 model.
It's a compact and lightweight optic that is widely used with AR, SMG, Shotgun, Pistols, etc. PS90 is a perfect vessel for this red dot sight. Like the PS90, this one is built to last harsh environments. It's made out of aluminum with internal purging involved. Making it fog, water, and shock resistant.
The optic features a 2 MOA illuminated reticle. The reticle allows you to switch to target fast and smoothly. As it doesn't have much blur and no chromatic aberration at all, it's the perfect choice for daytime shooting.
4. PS90 Sling Upgrades
Slings are another important part of a rifle. While some say this is optional, I think it's something you should have in your possession. It will come in handy when you take the gun outside and it makes hanging the gun in your safe room easier.
i) Magpul MS4 Dual QD GEN 2 Multi-Mission Sling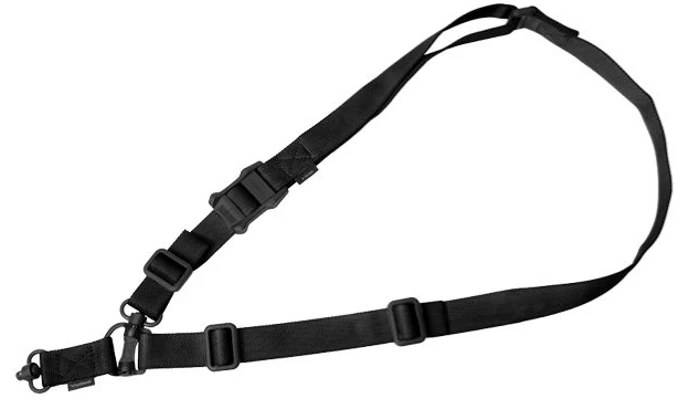 The Magpul MS4 is a hybrid sling that offers you the best of both worlds service. You can use this as a single point mount or dual point mount. Both offer you the same amount of comfort.
MS4 is made out of nylon. This heavy duty nylon webbing is guaranteed to last you a long time. On top of that MS4 features adjustable plastic slides. By using them, you can decrease or increase the range of the sling on the fly.
On top of that, MS4 is available in multiple colors. If you are fancying something other than black, go for it. You won't regret any of the colors. They are quite vibrant and use the same high-quality webbing.
5. PS90 Weapon Light Upgrade
Weapon light is the best friend of a nightcrawler. Whether you are hunting during the night or just want to be on the safer side for self-defense purposes, a weapon light is something that will help you a lot. Here are some of the best weapon lights for PS90.
i) SureFire M600U 1000 Lumens LED Weapon Light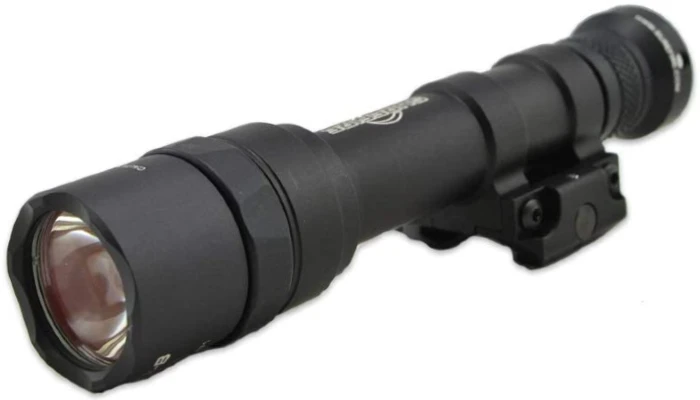 SureFire M600 was one of the best weapon lights for any gun. SureFire decided to discontinue that and refresh the light with some new features and better build quality. Thus the M600u was born.
The 1000 Lumens LED is safely enclosed in an aluminum housing. To power up the light, you can use the batteries included with the box, or buy them on your own. With the 2 CR123A batteries, you can get up to 1.25 hours of battery life in a full 1000 lumens in its glory.
But this light cannot be installed on the PS90. Not without the help of a side rail. By using this side rail, you are now allowing your PS90 to take accessories on the side as well. The best accessory to add on that side is of course this weapon light.
ii) SureFire M Series Weaponlight Switch Assembly and Tape Switches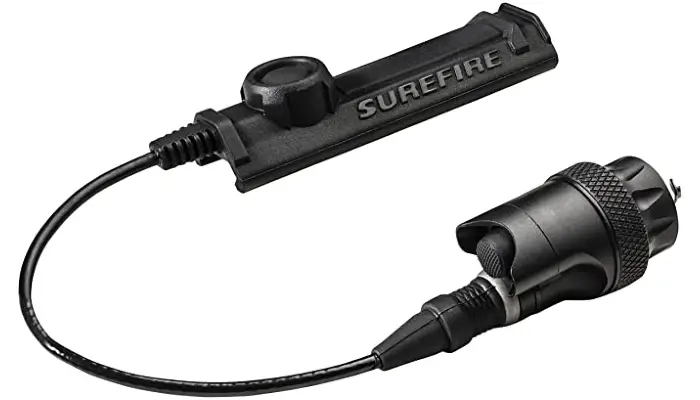 The point of this product is to replace the stock switch on your M600u and add you an extra easy-to-press button. It also features a constant On-Off button. That helps a lot in saving the battery while hunting.
Installing this is quite easy as it comes with all the necessary accessories. You can easily tape the switch to a location where you find it optimal. Make sure it's placed somewhere you can easily reach while shooting.
Are Ps90 Upgrades Worth It?
After seeing so many crazy options, it's understandable you are a bit confused and overwhelmed. And this question is not totally uncalled for. So, is it worth it?
They are 100% worth it. If you can bring the performance to match a FN-P90, why not take the chance? Yes, they are a bit costly and the end price will set you back quite a bit. But the end result will bring in satisfaction and a smile in your face that you probably never knew existed.
Upgrading guns has always been a good option for both newbies and veterans. Part of the journey is to learn more about the gun you are using and unleash its full potential of it by breaking barriers aka upgrading it.
Conclusion
There you have it. A bit short but sweet upgrade guide for you guys. Hopefully, you learned a bit more about the potential of the gun and now know how to find the best PS90 upgrades.
Ultimately, the decision is in your hands. I'm nothing but a sign that leads you toward the right path. You still have to choose to go the right path yourself. Wordplay aside, I hope you actually decide to upgrade the PS90 instead of grabbing a P90. The PS90 deserves as much love as the P90 gets.
That's all for today. I hope you enjoyed your stay and come back for more. Till then, take care and stay safe.